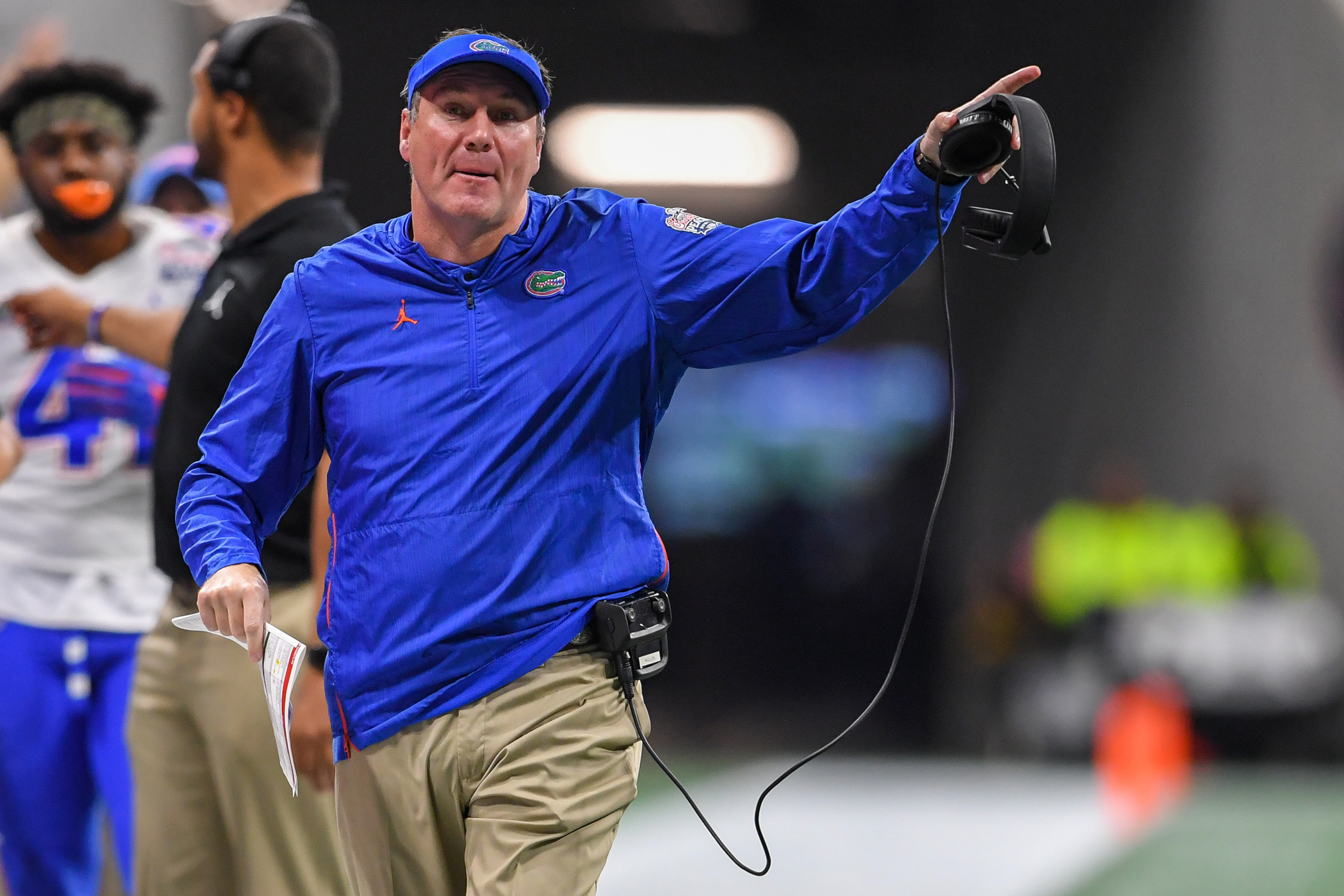 FLORIDA
How Florida closed the gap on Georgia and Alabama with a strong Signing Day finish
For the second consecutive season, Dan Mullen and the Florida coaching staff finished a recruiting cycle with a Signing Day flourish.
A year after Florida closed with what on paper was the best transition class in school history, Mullen and the Gators added four critical pieces on Signing Day 2019 to help secure what 247's Team Rankings Composite rates as the program's first top-ten recruiting class since 2014.
Here's a breakdown of the class:
The Haul: 25 players, 17 4-stars, 8 3-stars
For the first time since the inception of recruiting rankings, Florida's football roster will lack a 5-star recruit in the 2019 season.
Still, the Gators penned 17 blue-chip recruits (4- or 5-stars), a number only exceeded nationally by Alabama (25), Georgia (22) and Penn State (18). And Florida cracking the Top 10 after spending most the cycles in the 20s is a testament not just to the staff's ability to close, but to the improving perception of the program as a national power again after Mullen's outstanding first season.
What we liked most: The Close of Khris Bogle and Kaiir Elam
The two largest coups of Signing Day — and two of the biggest "gets" in this class for Florida — came on defense.
First, Florida secured the signature of 4-star defensive end Khris Bogle out of Fort Lauderdale. Bogle recorded 22 sacks in his final two seasons at South Florida power Cardinal Gibbons, where he won a state championship. He was a surprise flip from Alabama.
The main reason for Bogle's decision?
The chance to play in Todd Grantham's Steelers 3-4 scheme, which values Bogle's speed on the edge as either a stand-up outside linebacker or a hand-in-the-dirt jet end, always moving downhill.
Bogle will need to add strength and muscle to deal with the down-to-down rigors of the run game and life on the edge in the SEC, but Grantham sold the young man on a chance to play for the top program in his home state and contribute quickly as a pass-rushing specialist. The fact he chose Florida with Tennessee in hot pursuit, Nick Saban in-home late in the process and Florida rival Miami getting the last visit speaks volumes about the connection Bogle felt with Florida's coaching staff.
It also marked the second consecutive season Florida had won a high-profile Signing Day battle over an in-state recruit with Alabama (Jacob Copeland last season), a trend that must continue if the Gators are to close the gap with Georgia and the Tide in the SEC.
Florida's second big Signing Day victory came just after lunch, and might be even more impactful than Bogle.
Four-star cornerback Kaiir Elam, the nephew of former Florida All-American Matt Elam, decided to stay home and play for the Gators.
In late November, we wrote that we felt Elam was Florida's most important recruiting battle, for a few reasons.
First, he's a sensational football player who can come in and immediately help a Gators secondary that was precariously thin in 2018. The nation's number six cornerback in the 247 Composite rankings, Elam is the second-highest rated recruit in a Florida class that contains 16 blue-chip players.
Second, he's another South Florida kid, hailing from Palm Beach County, a prospect-rich area that Florida has struggled to recruit consistently this decade. The reasons for Florida's Palm Beach recruiting issues are complicated, but the backdrop illustrates why Elam's recruitment was so essential for Mullen's staff.
Elam played at the private Benjamin School, in Palm Beach Gardens, but his uncle Matt played at nearby William T. Dwyer, the county's most consistent program and one led by a Florida alum, Jack Daniels.
Will Muschamp signed a record haul of Dwyer players early in his tenure, but Daniels and Muschamp's relationship soured when Florida's staff opted to continue playing the struggling Jeff Driskel over Dwyer product Jacoby Brissett, and when Florida's staff appeared less than interested in playing other Dwyer talents like Gerald Christian and Robert Clark. Both Clark and Christian transferred, the latter becoming an All-ACC player at Louisville. That misstep, coupled with Jimbo Fisher's mastery over the Gators and Florida's passive recruitment of fellow Palm Beach County star Lamar Jackson, opened the door for other programs in an area that historically was kind to Florida. Elam, then, was a vital recruit in reversing that trend.
Finally, this was Mullen's most high-profile head-to-head recruiting battle with Kirby Smart and Georgia to date.
Elam was at the top of Georgia's January board, and Smart wanted him so badly he paid over half-a-million dollars to lure Florida DB coach Charlton Warren, who had been a key recruiter for Florida in the push for Elam, to Georgia. Smart and the Georgia faithful will argue, with some merit, that a hire is never about one player, but the narrative at the time of the Warren hire was that Elam would be part of the package. That narrative crumbled Wednesday, giving Mullen and Florida a huge recruiting victory and depriving Georgia of a huge talent at a position of need for Smart.
@GatorsFB locked up Kaiir Elam. #GoGators pic.twitter.com/N0iF822hL5

— Dennis Johnson (@DennisPatJohn) February 6, 2019
Best Player: Mohamoud Diabate, LB, Auburn, Ala.
There's an argument for Elam here or the class's highest rated player, 4-star corner Chris Steele. Both will play immediately for Florida, and Steele, who hails from California and flipped from USC, is huge optically because of what he says about Florida again establishing a national recruiting footprint under Mullen.
But the player who stands out consistently on video is Diabate, the 4-star outside linebacker from Auburn. Diabate is in between ideal linebacker and defensive end size, but plays fast and physical in a way that fits perfectly with Grantham's scheme. His explosive first step and lateral quickness will compensate for his lack of size as a freshman, and he's more physically ready to play on day one than class counterpart Tyron Hopper. He'll need to add mass to be every down linebacker in the SEC, but Grantham is masterful at putting players in a position to succeed and Diabate will contribute from day one on campus.
Biggest Misses: Edge-setting DL and Trey Sanders
Florida's close of Bogle gives Grantham another pass-rusher as he tries to replace likely first-round draft pick Jachai Polite, but the Gators failed to land an edge-setting defensive end in the mold of departed Cece Jefferson in this class. Florida wasn't great against the run in 2018; the failure to address this specific need is a blemish on a very good class.
Florida also landed the 4-star Lakeland three of Keon Zipperer (the nation's second-ranked tight end), defensive end Lloyd Summerall and massive offensive lineman Deyavie Hammond. The latter fills a vital position of need as John Hevesy reconstructs Mullen's offensive line this offseason. Landing this in-state trio was immense, but the Gators did miss in-state on IMG Academy lineman Evan Neal and the jewel of the class, running back Trey Sanders. The Neal miss was anticipated; the Sanders miss feels more like a staff whiff, especially considering Sanders' brother, Umstead Sanders, plays linebacker and special teams for the Gators.
It's progress that this staff won in-state recruiting battles with Alabama and Georgia for the second consecutive cycle. Florida should also benefit from the discord under Willie Taggart at Florida State and the general perception that despite Manny Diaz's early momentum, the Hurricanes are behind in the aftermath of Mark Richt's surprise departure last month.
But Florida needs to start landing program-changing superstars like Sanders if they want to make their College Football Playoff ambitions a reality.
They can start by inking Zipperer, Hammond and Summerall's high school teammate, 5-star running back Demarkcus Bowman, in the 2020 class.
Final Class Grade: A-
The Gators closed strong and maintained their Peach Bowl momentum on Signing Day by winning head-to-heads over the two SEC programs they are chasing: Georgia and Alabama.
They also added depth at positions of need, especially filling out the offensive line and linebacker positions. The signature of three of the nation's top corners is immense, as is the addition of quarterback Jalon Jones, who gives the Gators a quarterback room filled with blue-chip talent.
Florida didn't do as well as it needed to on the defensive line, but Bogle's signature made it a slight blemish, as opposed to an obvious shortcoming.
This class makes Florida immediately better and the map says things will improve even more in 2020.