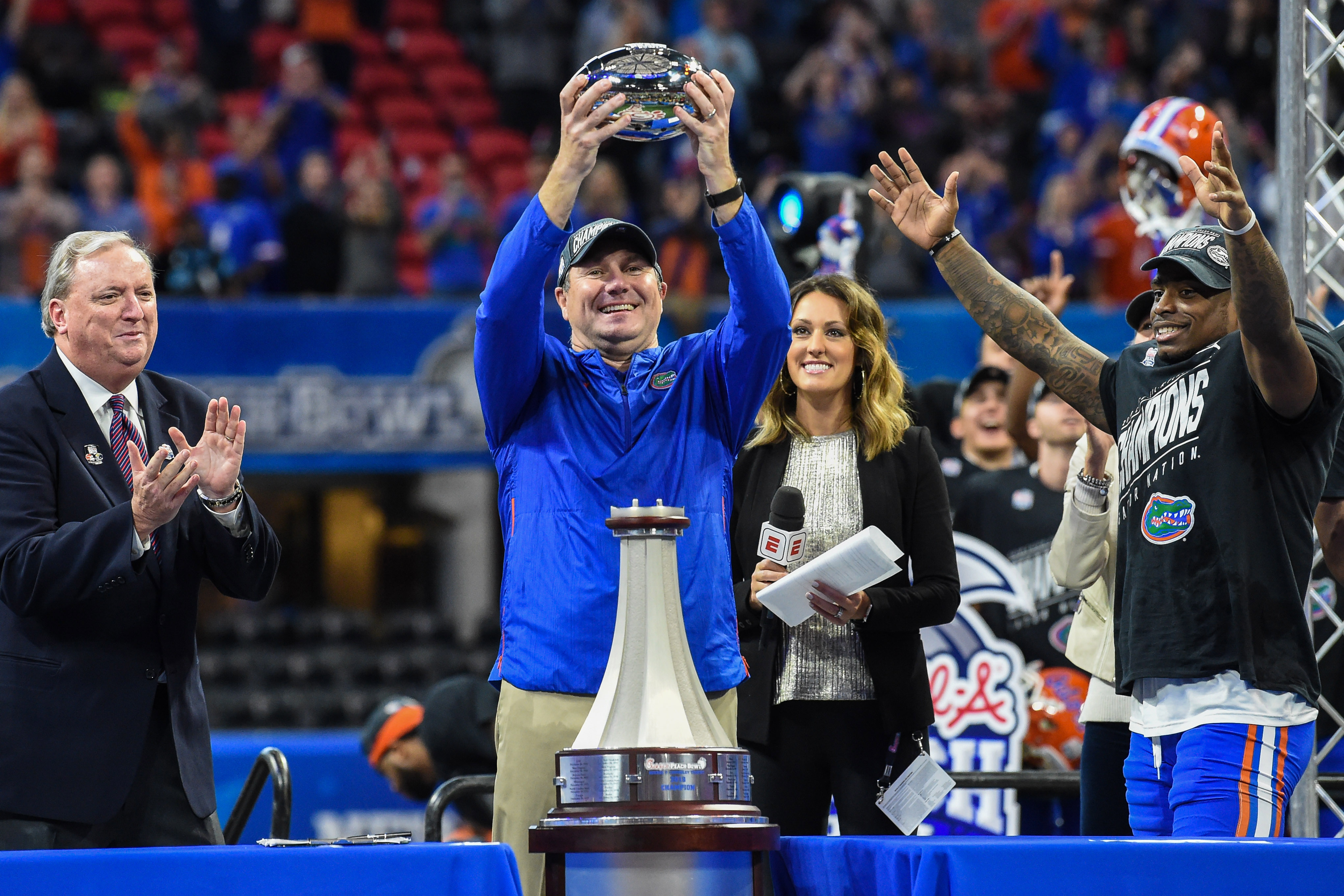 FLORIDA
Surging Florida, reeling Georgia enter 2019 heading in opposite directions. How quickly can Gators completely erase the gap?
"Florida will always be our conference's sleeping giant. When someone wakes up that little program in that big, talented state, there will be hell to pay. I'd prefer we just not poke the sleepy bear." — Bear Bryant
All who enter here be forewarned.
If the past two weeks are any indicator, the sleepy giant in Gainesville might be coming out of hibernation.
Since Tim Tebow's graduation in 2009, Florida has searched with great heartache for answers under three coaching staffs, hoping to find its feet again.
Like so many contemporary stories about college football, much of this begins with Alabama.
After all, when Tebow cried and Florida was felled by Nick Saban's ascendant Alabama and "the process" , Florida's blistering run of brilliance under the relentless, fiery Urban Meyer was over. A year later, Meyer was gone and Florida spent the 2010s lost in college football's wilderness, suffering its worst-decade from a win percentage standpoint since the 1970s, when the program floundered under the hapless Doug Dickey.
There have been close calls and false alarms, memorable Saturdays and satisfying seasons, from Will Muschamp's tremendous second year in 2012 to Jim McElwain's two SEC East winners in 2015 and 2016, all of which gave a proud fan base hope.
But for every great win or trip to the Sugar Bowl or SEC Championship weekend in Atlanta, there has been regression and ultimately, failure and sorrow.
Plagued by paltry offensive production, an inability to find competent play at quarterback and eventually, enough high-level talent, Florida found itself mired in mediocrity, the gap between the Gators and college football's elite seemingly more and more distant.
Finally, under Dan Mullen, the program appears to have found itself again.
Maybe, just maybe, Florida's "lost decade" is over.
If it isn't, this is the greatest false alarm yet.
The past two weeks have been the best two weeks for Florida football this decade.
First, Florida clobbered Jim Harbaugh and Michigan in the Chick-Fil-A Peach Bowl, vanquishing all manner of 2010s demons in the process.
It wasn't just that Florida won, it was how, with steady quarterback play from Feleipe Franks finally giving respite to Florida's seemingly endless string of splendid defense. Franks' performance from mid-November forward had the hints of being just the beginning of what he can accomplish under the tutelage of Dan Mullen.
In his final 14 quarters of football in 2018, Feleipe Franks put up the following numbers, which included games against two Top 30 defenses in terms of yards allowed per play (FSU and Michigan): 55-for-87, 807 yards, 8 TDs, 0 INTs, 9.22 yards per attempt.
Franks has also added 4 rushing touchdowns in that span and posted two of the best rushing yardage numbers of his career, gaining 46 tough yards in Florida's 41-14 dismantling of rival FSU and 74 in the Peach Bowl, including this touchdown run where he called his own number.
https://twitter.com/AllKindsWeather/status/1079082682657714177
With Franks' stock suddenly rising, the Michigan bully finally vanquished, a 10-win season in Year 1 under Mullen complete and the in-state script against reeling rival FSU finally flipped, Florida fans were right to leave Atlanta with holiday cheer and great hope for what 2019 and the future beyond it may hold.
Things only got better from there.
A day after Florida's Peach Bowl win, Mark Richt resigned at Miami, sending a Hurricanes program that was already staggering after a disappointing 7-6 2018 campaign into disarray. Former defensive coordinator Manny Diaz, who had left weeks earlier to become the head coach at Temple, was quickly hired as Richt's successor, a reasonable stopgap measure that should stop the bleeding in Coral Gables, but Diaz is hardly an inspired hire. The Gators open with Miami in 2019, and the Hurricanes will enter that game in Orlando with far more questions than answers.
Later that week, rival Georgia lost the Sugar Bowl decisively to resurgent Texas, a sign Kirby Smart's program might have been too impressed with themselves and what game they felt they should have been playing instead of interested in making a statement in the one they were playing.
The Bulldogs are the one program in the SEC East Mullen and Florida are definitively chasing, but that chase became a little easier over the last month of the season, at least from a momentum standpoint.
Georgia didn't just lose the SEC Championship Game in heartbreaking fashion or stumble in the Sugar Bowl after claiming the Twitter trash talk national championship.
They lost a massive amount of production and potential production for 2019.
Justin Fields, the jewel of Kirby Smart's best recruiting class to date, transferred to Ohio State. Days after the Sugar Bowl defeat, junior playmakers Riley Ridley and Mecole Hardmon declared for the NFL Draft. Tight end Isaac Nauta, who terrorized Florida, also declared, as did All-SEC running back Elijah Holyfield.
Then Tuesday night, in a shocking development, Georgia also lost its offensive coordinator, Jim Chaney, the quarterback-whisperer who so often seemed to have Todd Grantham's number over the past two years, to SEC East rival Tennessee. This after defensive coordinator Mel Tucker accepted the head coaching job at Colorado.
There's no question that Smart has recruited well enough for his program to simply wish kids luck and say "next man up." But it's a heady challenge to replace your leading rusher, best two receivers and top playmaker in the same offseason without staff turnover, let alone with a new offensive coordinator.
Further, while Florida will have to rebuild its offensive line this offseason, the Gators will enter 2019 with the bulk of their big-name underclassmen returning.
On Saturday alone, Florida received word that wide receivers Tyrie Cleveland and Van Jefferson will be back, as will star running back Lamical Perine, who will undoubtedly be a consensus preseason All-SEC back in what figures to be one of the SEC's best running back rooms, even with the departure of Jordan Scarlett.
Defensively, Florida will lose All-SEC defensive end Jachai Polite, Peach Bowl Defensive MVP Chauncey Gardner-Johnson and linebacker Vosean Joseph, but Todd Grantham had to jump for joy when he received word that coveted NFL prospect Jabari Zuniga will return at defensive end as will key defensive tackle Adam Shuler and All-SEC linebacker and captain David Reese. Those announcements also came with more recruiting good news, as highly-touted 4-star corner Chris Steele of Los Angeles committed to the Gators Saturday evening and enrolled early this week.
In other words, Mullen and Florida are cooking with gas at present, with their eyes on making a leap back into the national conversation in 2019.
None of this means Alabama, which will be plenty motivated after Monday night's shellacking at the hands of Clemson in Santa Clara, is going anywhere. Nor does Georgia's rough December and New Year's Day mean Smart's program is giving up its stranglehold on the East without a fight.
But the fight is starting to look fairer.
Florida is entering a vital offseason within striking distance, and Florida's coaches can sell the players on the idea that with hard work, the gap will close entirely.
If the past two weeks are any indication, Florida's time is coming.