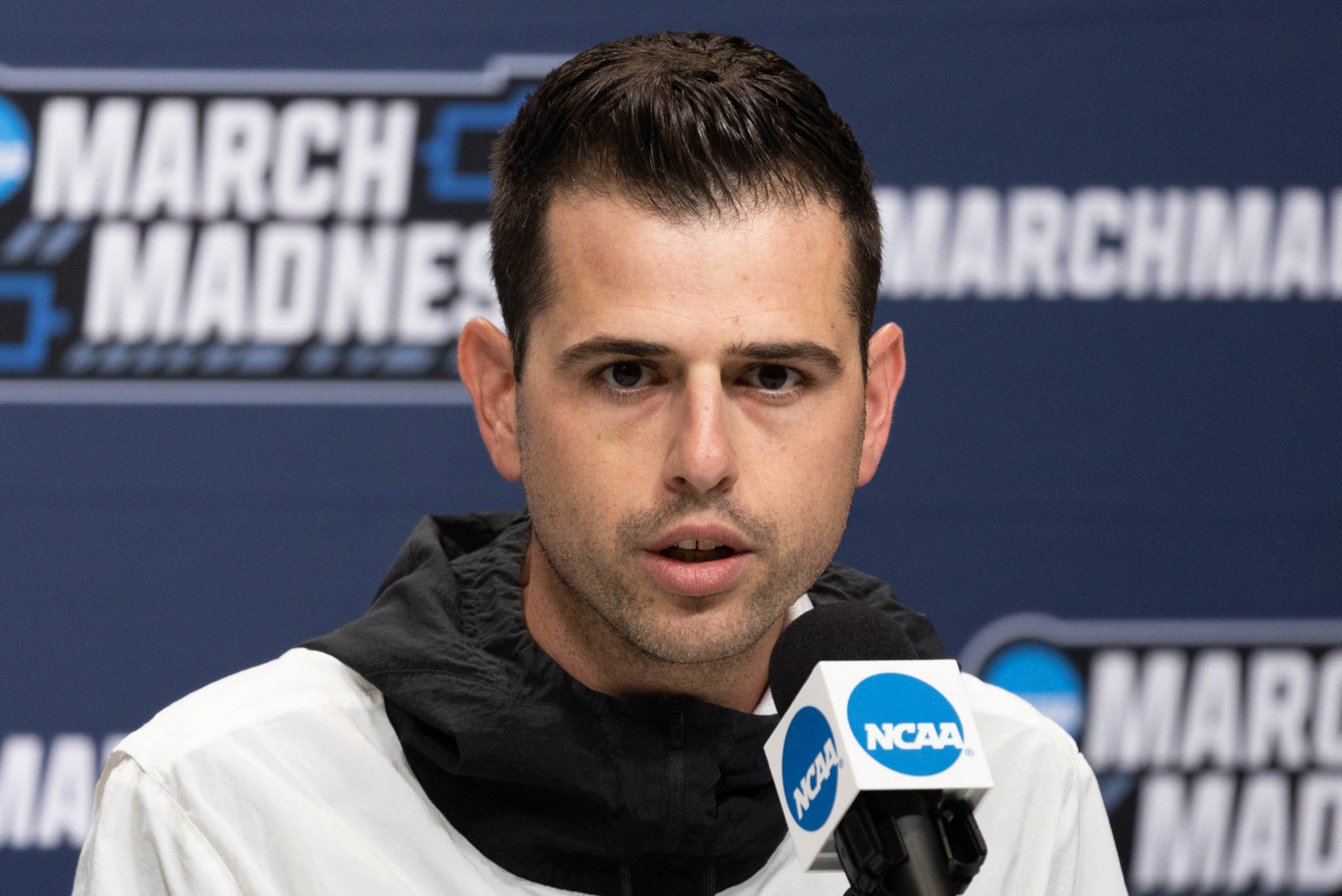 FLORIDA
Todd Golden hire has golden potential for Gators, but plenty of risk, too
Florida has hired San Francisco head coach Todd Golden to be the Gators' next basketball coach. Golden was 57-36 in 3 seasons at San Francisco. This season, he led the Dons to a 24-10 record and the program's first NCAA Tournament appearance since 1998. The Dons lost an overtime thriller to Murray State on Thursday night, paving the way for his departure to Florida.
Welcome to The Golden Era!

Todd Golden is officially the 20th Florida Men's Basketball Head Coach ?#GoGators | #GatorsHoop pic.twitter.com/PX9u1NV3bl

— Florida Gators Men's Basketball (@GatorsMBK) March 18, 2022
Florida has been down this road before.
More than any other nationally relevant college basketball program — and make no mistake, Florida, which has won more national championships and tallied more 20-win seasons than any SEC program this century, remains nationally relevant — the Gators are well aware of the potential rewards and risks of hiring a mid-major coach.
Golden fits the mold of Florida's previous two hires: an up and coming, mid-major head coach still in his 30s. Unlike Billy Donovan and Mike White, however, Golden has an NCAA Tournament appearance as a head coach as he takes the job in Gainesville. The differences almost entirely stop there. Like Donovan and White, Golden played professional basketball as a guard overseas. Like Donovan and White, Golden played under a well-respected college coach in Randy Bennett at St. Mary's. Like Donovan and White, Golden played in the NCAA Tournament. And like Donovan and White, Golden spent time as an assistant coach in the SEC, having worked for Bruce Pearl at Auburn from 2014-2016.
These similarities were likely comforting to Florida athletic director Scott Stricklin before and after he finalized a deal with Golden on Friday morning. An endorsement from Florida's executive athletic director, Jay Jacobs, who brought Pearl (and thus Golden) to Auburn, was also likely helpful.
Florida knows that plucking a coveted, young coach from the mid-major ranks can work.
Donovan, of course, went from a 30-year-old gamble from Marshall to a national championship-winning legend in 20 seasons in Gainesville, and his name now graces Florida's homecourt. White didn't win at Donovan's level, but his teams never missed a postseason, won at least 20 games in each of his 5 full-length seasons and advanced to the NCAA Tournament 4 times, winning at least 1 game in each of those appearances. White's departure for Georgia last week served the best interests of both parties, but it's hardly appropriate or accurate to call White's tenure in Gainesville a failure. White simply didn't win enough games to compete for championships, and that's the ultimate goal at Florida, a place that has won more college basketball games than any SEC program save Kentucky since 1990.
Of course, White's inability to compete for SEC Championships does fairly speak to the risk of hiring a midmajor coach at a nationally relevant program.
White's failures, namely, the inability of his pressing style of defense and a pragmatic at-best, simplistic at-worst offense, made the transition from the midmajor ranks to the SEC difficult, and once White lost Billy Donovan's recruits, his teams struggled to find an identity or continuity on offense. White built a culture that was good enough to avoid losing seasons and missed postseasons, but the program never had an identity that assured it was championship-caliber on occasion as well. As one high-level Florida booster told me this week, "Gators fans could deal with a losing season on occasion if it meant a championship one was around the bend." Under White, Florida's ceiling and its floor were bundled too closely together.
For Golden to deliver on the reward and not the risk, the Gators will need his positive traits to deliver a higher ceiling than the program had under White. Just 36 years old, Golden is thought of as an innovator.
I'll tell you this Gators fans. Todd Golden's use of lineup data, 2-foul first half participation, 2-for-1s, intentional fouls in the 1-and-1, shot selection, fouling up 3, fouling up TWO, and other analytical concepts is going to be very different than what you're used to seeing

— Eric Fawcett (@Efawcett7) March 18, 2022
Like his mentor Kyle Smith, who is now the head coach at Washington State but who employed Golden for multiple seasons as they rebuilt the San Francisco program back to heights not seen since the Bill Russell days, Golden loves analytics. He approaches basketball data that informs his "moneyball" approach to recruiting and in particular, the transfer portal. Golden asks what the data suggests he needs to compete, and he goes and finds a player that offers that data point.
Golden also runs a modern offense, a blend of concepts he learned under Pearl and Randy Bennett, that while not married to any particular type of tempo (the Dons have ranged from 91st in tempo to 167th in Golden's 3 seasons, per KenPom), does place a huge priority on sharing the basketball and cutting with purpose. It is far less ball-screen reliant than White's recent offenses.
A look into Todd Golden's offense at San Francisco. First, zoom offense using pin downs into dribble handoffs that are tough to guard with a spaced out floor. Modern basketball at it's finest. @CoachToddGolden pic.twitter.com/KEV7bxZO1J

— Eric Fawcett (@Efawcett7) March 18, 2022
Golden's teams have consistently been excellent defensively, led by this season's top-20 finish. Golden emphasizes guarding the 3-point line, rebounding percentage, and kills, a statistic that measures 3 consecutive defensive stops. Golden's teams run sprints in practice when they post an offensive-rebounding percentage below 33, and run again if the defensive rebounding percentage is below 25. In other words, data drives everything, from practice habits to how they game plan.
The heavy reliance on data as a "great equalizer" is part of modern basketball, commonplace in the NBA but still foreign in parts of the college hoops universe. In the SEC, only Nate Oats and Alabama, Buzz Williams and Texas A&M and Rick Barnes and Tennessee have bought in fully to data-driven basketball. It is noteworthy that 2 of these teams just played for the SEC Tournament title and all 3 should have been invited to the NCAA Tournament. In Golden, Florida places its program on the right side of a modernizing trend.
None of this means Golden will win big at Florida.
He's only coached 3 seasons of Division I basketball, and the team he just led to the NCAA Tournament was populated largely by players identified and recruited by his mentor, Smith. What will happen when Golden has to both adjust to high major basketball and reconstruct a Florida roster populated by seniors remains to be seen.
Golden also has ties to the south and knows the lay of the land in SEC recruiting, thanks to his time with Pearl. But if he fails to retain Florida assistant Erik Pastrana, a fellow rising star in the coaching industry and one of the nation's best recruiters, will Golden be tying one hand behind his back from the beginning? Time will tell, but retaining Pastrana should be priority No. 1 for Golden starting Friday night.
Finally, there's the "wow" factor, or lack thereof, with this hire.
Scott Stricklin courted the likes of Tony Bennett and Anthony Grant before Florida zeroed in on Golden late this week. Hiring a big name, which Bennett is and Grant is on the cusp of becoming (he would have secured a 1 seed at Dayton in 2020 but for the COVID cancellation of the NCAA Tournament), would have injected much-needed energy into the Florida fan base and program.
Hiring Golden, who is not well-known outside of basketball circles, won't "wow" the casual Gators fan.
That means Golden will need to win to win over Gators fans, who wanted terribly to win the press conference with a splash hire.
Golden is a hire with golden potential. But it's hard to find the next Billy Donovan. No one knows that better than Florida, which will just have to wait and see with their latest hire.