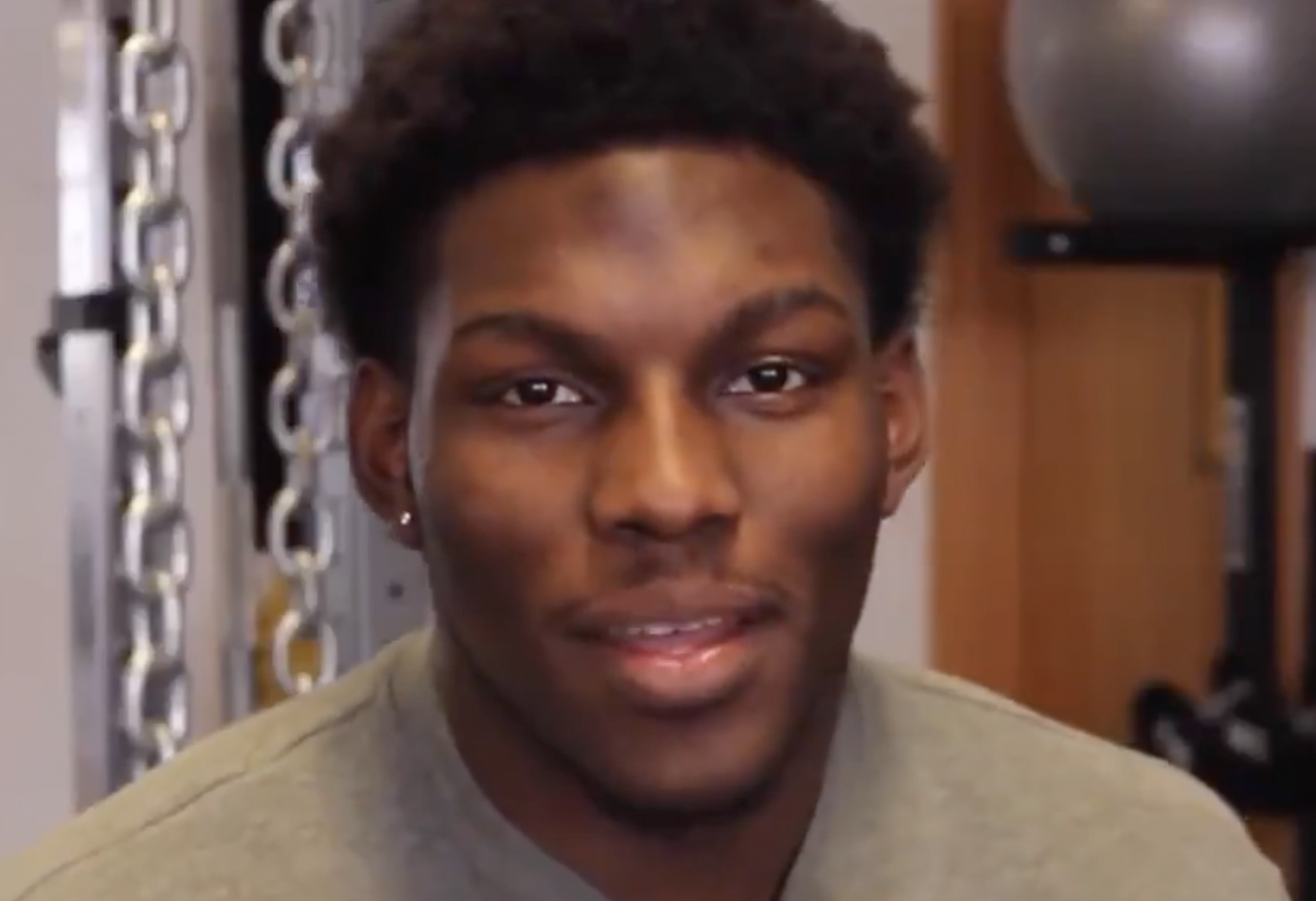 GEORGIA
Arik Gilbert is back to playing and back to playing tight end, so let's reset some expectations
In a different era of college football, we'd look back on Arik Gilbert's 2021 absence and just chalk it up to being a byproduct of NCAA rules. Before 2021, undergraduate transfers were required to sit a year before becoming eligible. Gilbert, as someone who left LSU after his true freshman season in 2020 to play in his home state of Georgia, would've been just that.
But as we know, Gilbert's 2021 absence wasn't the byproduct of a flawed system. Gilbert missed the 2021 season with his new team for what Kirby Smart called "personal issues." The former 5-star recruit didn't suit up once following his well-documented transfer, which actually began with a verbal commitment to Florida. The world never got to see the converted tight end in his new role at receiver.
That's all water under the bridge now. Sort of.
On Thursday, Smart updated the status of Gilbert with another change:
Arik Gilbert is back at tight end, per Kirby Smart, after first being moved to wide receiver when he came to Georgia last year:

"He's a tight end. That's probably what he's going to develop at."

— Seth Emerson (@SethWEmerson) March 31, 2022
A new/old position? Alright. Let's reset those expectations for Gilbert. Again.
In the grand scheme of things, Gilbert being officially listed as a tight end is by no means some stunning development. A casual fan might wonder why the Dawgs, who are admittedly thin at receiver, would make such a move when Brock Bowers is coming off one of the best seasons we've ever seen from a college tight end. Combine that with the expected emergence of tight end Darnell Washington and to the average consumer, it would appear that UGA has a logjam at tight end once those 2 return after being sidelined with injuries this spring.
But I'd actually argue last year's announcement of Gilbert moving to receiver was more significant than him switching back to tight end. Let's explain.
For starters, we should note that Georgia offensive coordinator Todd Monken moved Bowers all over the field during his breakout freshman season. Gilbert's presence shouldn't change that.
Here was Gilbert's snap count during his true freshman season at LSU, wherein he played in 8 games before opting out:
Inline: 319
Slot: 195
Wide: 36
Smart said that the biggest challenges Gilbert is facing in spring is learning the playbook and conditioning. In other words, any expectation that he's in a high volume role from the jump is ambitious. Just because Gilbert did things we rarely see from true freshmen tight ends in 2020 doesn't necessarily mean that Smart wants to rely on him to play 30-35 snaps per game.
Having said that, it's by no means a stretch to think that Monken can help Gilbert become an impact player again if he does indeed make those steps.
In 2021, Bowers, Washington and John FitzPatrick all played north of 300 snaps. No other SEC program had 3 tight ends play 300 snaps. Oklahoma, Rutgers, Utah and Michigan were the only other Power 5 programs who could claim that.
One would think with a tight end who feasted like Bowers that Georgia would be built a bit more like Texas A&M with Jalen Wydermyer, who accounted for 72% of his team's tight end snaps. That's simply not the case. We saw Monken utilize 12 personnel (1 running back and 2 tight ends) plenty. Even though Bowers played on 67% of Georgia's offensive snaps, he still only accounted for 42% of the total snaps played by UGA tight ends.
In other words, yes, we can assume that Bowers and Gilbert can co-exist just fine.
Gilbert's ability to play in the slot should allow him to spell Kearis Jackson, who served as the team's primary target in that spot when healthy. One would think eventually, Monken would like to be able to line Gilbert up out wide more than the 36 snaps he saw there in 2020, especially with George Pickens off to the NFL and Jermaine Burton off to Alabama.
When Smart mentions that Gilbert needs to learn the playbook, we can assume mastering those concepts as a true outside receiver is a big part of that. If you watch all of his 2020 targets, you can see that he didn't get targeted as an outside receiver (excluding lining up in the slot) until Game No. 3.
In watching that, I counted Gilbert getting 51 targets (he caught 35 of them). Of those 51 targets, however, only 8 of them came when he was lined up out wide. Two of them were incomplete fade routes near the goal line. A total of 4 of those targets were complete, and they were all quick slants in which Gilbert worked his way back to the middle of the field.
We shouldn't expect Gilbert to start high-pointing downfield throws on the outside like he's Pickens. To be fair, Bowers really didn't even do that when he was at superhuman levels in 2021.
I'd also expect very few instances in which Gilbert is on the field operating as a pass-blocker, which is by no means a strength of his. The same goes for Bowers, who played just 31 snaps as a pass-blocker in 15 games. Even as Bowers emerged as a pass-catching machine, it wasn't like he was only on the field to run routes. He played 312 snaps (roughly 20 per game) as a run-blocker.
Gilbert wasn't exactly the second coming of George Kittle as a run-blocker when he last took the field, but he was serviceable. That's not going to make or break whether his time at UGA is a success. Obviously. It still matters because Monken doesn't want to tip his hand with the tight end(s) he plays. Even though it was widely understood that FitzPatrick was the better blocker among the Georgia tight ends, we know that his presence didn't necessarily tip the defense that a run play was coming.
That's the goal. If all goes according to plan, Monken will have 3 tight ends that he can use somewhat interchangeably. Shoot, maybe Oscar Delp carves out a role as a true freshman and Monken has 4 reliable tight ends. Ideally, an admittedly thin group of UGA receivers will benefit from so much defensive attention being put on the tight ends.
Does that mean Gilbert should be expected to average 6.4 targets per game like he did as a true freshman? Nope. Bowers should still be the go-target when healthy. But the good news for Gilbert is that with Bowers and Washington out, he's going to get a chance to make up for some lost time after taking an unofficial redshirt in 2021.
The chemistry that Bowers and Bennett developed was one of the reasons why JT Daniels couldn't reclaim his starting job. It's up to Gilbert to develop an undeniable connection with Bennett that rivals the trust he had at LSU with Myles Brennan.
If Gilbert could simply match his 2020 production — he had 35 catches for 368 yards and 2 touchdowns in 8 games — that'd be a nice boost. Well, that changes if Bowers and/or Washington end up missing significant time with injuries. If Gilbert is back in a primary role getting the majority of the tight end snaps, Georgia will need more production from the former LSU transfer.
This spring should be good prep for that. Gilbert's next chapter was put on the back burner in part because Bowers was a revelation and there were enough active players to talk about on a team in the midst of winning its first national title in 41 years.
Now, though, Gilbert is back to being in the spotlight. He has expectations once again.
Fingers crossed that he lives up to them this time.