Heisman Odds 2021 Update: Smith Surges Ahead as Clear Favorite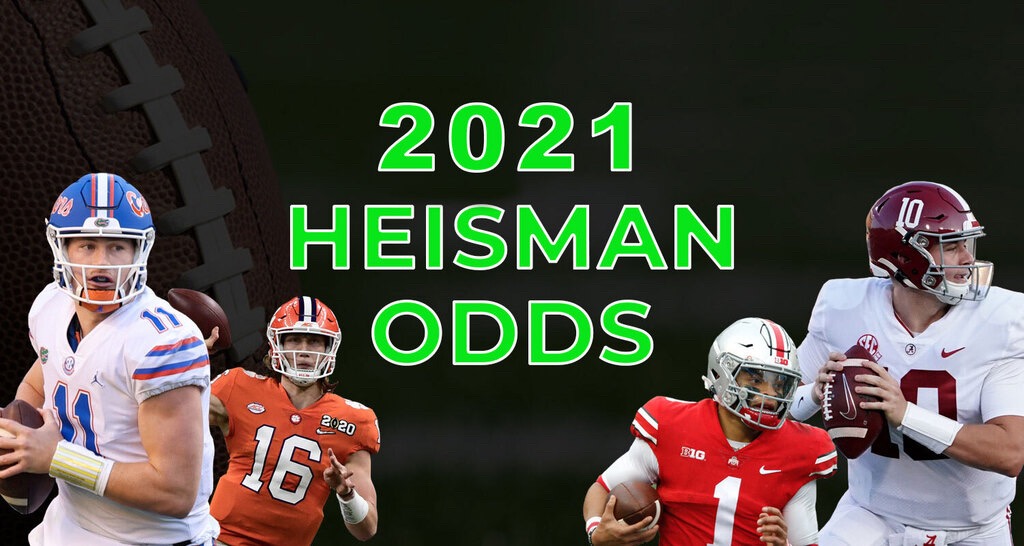 The 2021 Heisman Trophy race took an unexpected turn over championship weekend as Alabama's DeVonta Smith became the odds-on favorite to win the award. That oddsmakers vaulted Smith past teammate Mac Jones in the latest Heisman odds after the quarterback threw for 418 yards and five scores in the SEC Championship Game is remarkable– and perhaps warranted. Smith was terrific in a 15-catch, 184-yard performance in which he also pulled in a pair of touchdowns.
The latest developments set up what should make for a fascinating lead up to the Heisman Trophy presentation next month.
As this unparalleled and chaotic college football season heads near its close, oddsmakers have dwindled the list of Heisman contenders down to four players.
Smith and Jones are among the finalists but teammate Najee Harris, who turned in a remarkable effort in which he tallied 245 yards from scrimmage and five touchdowns against Florida, was left out in favor of Florida's Kyle Trash.
Meanwhile, after helping Clemson avenge its lone loss of the season with a big afternoon in the ACC Championship Game, Tigers quarterback Trevor Lawrence remains firmly in the mix and has seen his odds improve in recent days.
Included on this page is a comprehensive guide on how to bet on the Heisman, Heisman odds, analysis and history of the prestigious award.
Note: Tennessee online sports betting is now live. Featured odds are courtesy of DraftKings Sportsbook  and FanDuel Sportsbook.
2021 Heisman Trophy Odds
Note: Heisman odds from DraftKings Sportsbook are used for this breakdown. Remember, the final votes were cast prior to the CFP semifinal rounds, so the most recent performances from Trevor Lawrence, Mac Jones, Kyle Trask and DeVonta Smith do not impact the vote.
Just one week after Alabama quarterback Mac Jones emerged as the Heisman Trophy favorite, he threw for 400+ yards and five scores to help his team win the SEC Championship Game. And for his efforts, he was dropped down the board. Tough break.
Let's take a look at how the Heisman Trophy odds stack up as we head into bowl season and the College Football Playoff.
| Player (School) | DraftKings Sportsbook |
| --- | --- |
| DeVonta Smith (Alabama) | -1000 |
| Mac Jones (Alabama) | +600 |
| Trevor Lawrence (Clemson) | +1000 |
| Kyle Trask (Florida) | +5000 |
DeVonta Smith (-1000)
Smith's 15-catch performance in the SEC title game helped propel the Crimson Tide to a wild 52-46 win over the Gators. It also helped flip Smith from +200 odds to -200 odds following the game, moving him in front of Jones. In recent days, however, Smith has vaulted all the way from -200 to -1000 to win the award. Clearly, bettors have rallied around Smith, more skyrocketing his price in the process.
This shift continues the meteoric rise of Smith's odds in recent weeks, shifting him from fringe contender to clear-cut leader in a three-game span. That's particularly amazing given a wide receiver hasn't won the Heisman Trophy since Desmond Howard did it following the 1991 season.
Smith enters the Heisman ceremony with an outrageous stat line: 105 receptions, 1,641 yards and 20 touchdowns.
Latest odds movement: After his big performance in the SEC Championship Game, Smith moved to -200 odds to win it all. He has since surged to -1000 odds.
Mac Jones (+600)
Poor Mac Jones. The guy throws for over 400 yards and five touchdown passes only to see his Heisman odds drop from -200 to +175 following the SEC title game. Jones, who has thrown for 4,036 yards and 36 touchdowns this season, was outstanding in both the SEC Championship Game as well as the CFP semifinal win over Notre Dame, but his case seems to be weakening mostly in part because of the incredible talent that surrounds him.
Amazingly, one could argue that Jones was the third-best player on the Alabama offense against Florida and Notre Dame.
Recent movement: Jones was priced at +175 following the SEC Championship Game, but his odds quickly dropped to +200. In recent days, Jones' odds have swelled all thee way up to +600. While he remains in the mix, it certainly appears the race has gotten away from him.
Trevor Lawrence (+1000)
Oddsmakers at DraftKings and FanDuel mostly agree on the odds of the remaining candidates–except those of Lawrence.
DraftKings has the Clemson QB at +750, while FanDuel prices him out at +900 odds. He was fantastic against Notre Dame in the ACC Championship Game, a contest in which he completed nearly 70% of his pass attempts for 322 yards and a pair of touchdowns. Lawrence also added 90 yards on the ground with a score. The revenge was sweet, and so was the ACC Championship, but was it enough to shift the feeling of this race? Although the CFP semifinals have no impact on voting, money has shifted away from Lawrence. He moved all the way up to +400 in the days following the Notre Dame win, but has since fallen back to +1000. The feeling here is that he just doesn't have enough support to steal the award.
Recent movement: Lawrence was +700 at DraftKings and +1600 at FanDuel following the ACC Championship Game, but his odds dramatically improved to as high as +400. That surge was short-lived, however, as he is currently +1000.
Kyle Trask (+5000)
Trask has had a monster season and played admirably in Florida's loss to Alabama, but he is the quarterback of a four-loss team (three-loss at the time of voting) and the only player among the finalists who did not compete for a national title. He lost to Mac Jones head-to-head and made some critical mistakes against LSU. It's hard to see how he beats out Smith, Jones, or Lawrence, who, as mentioned above, has seen his odds soar in recent days.
Late movement: Trask does have one thing working in his favor. He wasn't even listed in FanDuel's Heisman market following the SEC Championship game, but he is a finalist. His odds sat at +2000 following the SEC Championship Game, but his market has since ballooned to +5000.
Najee Harris (No longer listed)
Harris has been one the nation's best running backs all season, but his five-touchdown performance in the SEC title game was a breakout showing. Harris, who has compiled over 3,500 yards from scrimmage along with 27 total touchdowns, deserves to be in the Heisman conversation, but it remains highly unlikely that he passed his two teammates and Lawrence to win this race.
Recent movement: Harris was priced at +2200 following his epic performance against Florida, but he is now off the board as he was not named a Heisman finalist.
DRAFTKINGS SPORTSBOOK APP
BET $1, WIN $100!


STATES: TN, PA, NJ, CO, IL, WV, IA, IN, VA, MI


Who's Going to Win the Heisman Trophy? –
We've said over the last three weeks that this award is going to an SEC player. We still think we're right, but we may have had the player wrong.
2021 Heisman Prediction
Previously, we thought Mac Jones would take home the hardware, but Smith's jump following his dazzling performance SEC Championship Game and further surge seems telling given how well Jones played.
Reputable independent and informal media polls have Smith comfortably winning the award and there's no reason to think those polls aren't accurate. Maybe some voters mull it over and a quarterback bias prevails, but that seems unlikely.
Prediction: Alabama wide receiver DeVonta Smith
How to Bet on the Heisman Trophy
The winner of the Heisman Trophy is consistently one of the top college football futures betting markets and the action is heating up as the 2020 race nears a close. In order to bet on the Heisman winner, follow these simple steps:
Register for an online sportsbook account.
Log into your account and make a deposit.
Find the college football betting menu and select the "futures" option.
Select "Heisman Trophy" and then pick a player.
– Where to Bet on the Heisman Trophy –
There are plenty of legal online sportsbook options that offer Heisman Trophy betting. Here are some of the top ones.
DraftKings Sportsbook
DraftKings Sportsbook offers up to $1,000 of free bets and has a robust offering of college football game and futures markets. Moreover, DraftKings Sportsbook is among the best online operators when it comes to offering both in-game live betting options and pregame profit boost specials.
States available: PA, NJ, WV, IN, IL, IA, CO, TN
Click here to get up to $1,000 of free bets and bet on the Heimsan winner at DraftKings Sportsbook.
DRAFTKINGS SPORTSBOOK APP
BET $1, WIN $100!


STATES: TN, PA, NJ, CO, IL, WV, IA, IN, VA, MI


FanDuel Sportsbook
FanDuel Sportsbook offers a first-rate app experience and an industry-best $1,000 risk-free first bet for new users. Like other top sportsbooks, FanDuel has expansive college football betting options and provides a Heisman market throughout the year.
States available: PA, NJ, WV, IN, IA, CO, TN, IL
Click here to get a $1,000 risk-free first bet and wager on the Heisman winner at FanDuel Sportsbook.
FanDuel Sportsbook
States: TN, NJ, PA, IN, IA IL, CO, VA
BetMGM
BetMGM is backed by one of America's most prestigious gaming brands and offers new players a $500 first deposit match. Like its competition, BetMGM offers a full-range of college football game and futures markets, including Heisman odds.
States available: NJ, IN, CO, TN
Click here to get a $500 first-deposit match with promo code SDS500 at BetMGM.
BetMGM Sportsbook App
STATES: CO, IN, IA, MI, NV, NJ, PA, TN, WV, VA


Previous 2020 Heisman Updates (pre-conference championship weekend)
Heisman Odds Leader
After Trask was unable to rescue the Gators from an embarrassing loss to depleted LSU, Jones alone vaulted to favorite status following Alabama's 52-3 romp of Arkansas. In the process, Jones, who was priced +100 at DraftKings last week, leapfrogged Trask and is now atop the board at -200.
Second Tier
As for Trask, his price moved from -125 ahead of the LSU game all the way down to +350 ahead of the SEC Championship Game. Trask wasn't terrible in the loss, but a key pick-six helped dig a hole early from which the Gators could not escape. Trask would need a simply lights-out performance (and a win) over Alabama to revive his suddenly fading chances.
The true wild card in all of this is Smith, who despite hauling in just three passes for 22 yards against Arkansas, saw his odds jump from +2200 to +200 over the weekend. An electric punt return combined with Jones'  workmanlike effort has given the Crimson Tide's top playmaker some late life in this race.
Third Tier
The third tier consists of a trio of quarterbacks in Ian Book, Trevor Lawrence, and Justin Fields. Book (who moved from +1600 to +900 at DraftKings) could make things interesting with a second victory against Clemson.
Meanwhile, Lawrence has the benefit being the likely No. 1 pick in next year's NFL Draft and a shot to avenge Clemson's lone loss against undefeated Notre Dame on Saturday. As for Fields, the Michigan cancellation hurts. It's hard to envision the winner playing in just six games.
Mac Jones, QB, Alabama (-200)
One thing you can say for Alabama is that it is certainly not interested in padding stats for the sake of building Jones' Heisman resume. He completed 24 of 29 passes for 208 yards but didn't throw for a touchdown against Arkansas. That's shocking given the Crimson Tied tallied 52 points.
For the season, Jones has completed 76.4% of his attempts for 3,321 yards and 27 touchdowns against just three interceptions.
Working in Jones' favor is that the top-ranked Crimson Tide will arrive at the SEC Championship Game against the Gators as a considerable favorite. If Alabama disposes of Florida en route to a College Football Playoff berth, not only do Trask's fading odds take a knockout punch, Jones' should become the overwhelming favorite.
The one caveat to this otherwise simple setup is the explosive play of Alabama wide receiver DeVonta Smith. It's not unprecedented, nor is always detrimental for teammates to find themselves among the short list of Heisman finalists, but in this case, it could hurt Jones' chances. Whereas Trask's path seems clear–play the game of his life and pull a stunning upset–Jones must continue his lights-out play while also holding off his top playmaker, one who is surging up the board of Heisman odds.
DeVonta Smith, WR, Alabama (+200)
Just last week, Smith was a long shot at +2200 odds. Things have changed. Trask still has the better odds at FanDuel, but the Alabama wide receiver now has the second-best Heisman odds at DraftKings. His surge began two weeks ago with a 231-yard, three touchdown performance against LSU, which featured a catch of the year candidate over 2019 Consensus All-American Derek Stingley:
DEVONTA SMITH IS RIDICULOUS pic.twitter.com/NhCkPJAccB

— CBS Sports (@CBSSports) December 6, 2020
Smith caught just three passes for 22 yards against Arkansas but produced an electric 84-yard punt return for a touchdown. For the season, Smith now has 83 receptions for 1,327 yards and 16 touchdowns (one return).
Despite his rapid ascent, there's the matter of recent history. No wide receiver this century has won the Heisman. In fact, the last wide receiver to win was back in 1991 when Michigan's Desmond Howard did it.
Kyle Trask, QB, Florida (+325)
Trask's odds took a huge hit following a brutal upset loss to LSU in which he threw for 474 yards and two touchdowns. However, he also threw two interceptions, including this pick-six to Eli Ricks:
https://twitter.com/LSUfootball/status/1337924335764447234?s=20
Working in Trask's favor is an impressive stat line (68.5% completion percentage, 3,717 yards, 40 TD, 5 INT) and that he has an opportunity to pull a stunning upset on the national stage this weekend.  If he can put up big numbers and help the Gators rebound as a three-score underdog in Atlanta this Saturday, he may very well still win the award.
That's a big if, I know.
Ian Book, QB, Notre Dame (+900)
With Notre Dame sidelined last weekend, Book saw his odds jump from +1600 all the way up to +900. With Trask, Jones and Smith each failing to have a monster game, Book benefited from Notre Dame's bye week.
No disrespect to Book, who is having a fine season, but I still don't get his price at DraftKings (+900). His FanDuel price (+16oo) seems more reasonable. Book (2,382 passing yards, 465 rushing yards, 23 total touchdowns) has made plays with both his arm and legs all season long for the undefeated Fighting Irish, but his stats don't stack up with those of Jones or Trask. One of those two quarterbacks is getting to the College Football Playoff. Book may do the same, but it would take an all-time performance in which he outduels Lawrence while the other two quarterbacks (and Smith) have quiet days.
Trevor Lawrence, QB, Clemson (+900)
Lawrence entered the season as an overwhelming Heisman favorite at DraftKings (+200) and remains in contention for the award, though he finds himself playing from behind as he prepares for the ACC Championship Game.
It's not that Lawrence hasn't played well this season (69.2% completion percentage, 2,431 passing yards, 20 touchdown passes, three interceptions), it's just that he hasn't played that much. Lawrence was sidelined for over a month as both he and Clemson dealt with COVID-19 issues.
While Lawrence will have an opportunity to avenge his team's lone blemish this season when Clemson plays Notre Dame on Dec. 19, it's still hard to envision how he wins the award. After all, it's not like Clemson lost the first meeting because of quarterback play. Freshman backup D.J. Uiagalele threw for 439 yards and two touchdowns without a pick in a 40-point effort during the loss. Not only does Clemson need to win this time around, Lawrence likely needs a gaudy stat line and a signature moment — all while both Trask and Jones struggle in the SEC Championship Game — in order to drastically alter the landscape.
Justin Fields, QB, Ohio State (+5000)
Unlike Book, Fields' odds took a hit with Ohio State on the sidelines. With the Buckeyes' game against Michigan canned, Fields missed yet another opportunity to build his case. He will play just his sixth game of the season in the Big Ten Championship and from this perspective, there's just not enough on his resume to jump ahead of the other contenders.
Past Heisman Trophy Winners
Here is a look at the past Heisman Trophy winners, dating back to the 2000 season.
Winners by school:  Oklahoma (4),  Alabama (2), Florida State (2), USC (3), Nebraska (1), Ohio State (1), Florida (1), Baylor. (1), Oregon (1), LSU (1), Auburn (1), Texas A&M (1), Louisville (1)
Winners by position: quarterback (17), running back (3)
| Player | Position | School |
| --- | --- | --- |
| Joe Burrow | QB | LSU |
| Kyler Murray | QB | Oklahoma |
| Baker Mayfield | QB | Oklahoma |
| Lamar Jackson | QB | Louisville |
| Derrick Henry | RB | Alabama |
| Marcus Mariota | QB | Oregon |
| Jameis Winston | QB | Florida State |
| Johnny Manziel | QB | Texas A&M |
| Robert Griffin III | QB | Baylor |
| Cam Newton | QB | Auburn |
| Mark Ingram | RB | Alabama |
| Sam Bradford | QB | Oklahoma |
| Tim Tebow | QB | Florida |
| Troy Smith | QB | Ohio State |
| Reggie Bush | RB | USC (vacated) |
| Matt Leinart | QB | USC |
| Jason White | QB | Oklahoma |
| Carson Palmer | QB | USC |
| Eric Crouch | QB | Nebraska |
| Chris Weinke | QB | Florida State |
Heisman Betting History
A look at the recent Heisman Trophy winners, as well as their opening and closing odds.
| Year | Player | Position | School | Opening Odds | Closing Odds |
| --- | --- | --- | --- | --- | --- |
| 2019 | Joe Burrow | QB | LSU | +20000 | -12500 |
| 2018 | Kyler Murray | QB | Oklahoma | +2000 | +700 |
| 2017 | Baker Mayfield | QB | Oklahoma | +700 | -1800 |
| 2016 | Lamar Jackson | QB | Louisville | +10000 | -1345 |
| 2015 | Derrick Henry | RB | Alabama | +2500 | -465 |
| 2014 | Marcus Mariota | QB | Oregon | +500 | -1500 |
Heisman Betting Strategy
The Heisman Trophy race is often misunderstood by the general betting public. The general public still views Heisman candidates in the same way that political parties view their candidates — through the lens of electability, or in the case of the Heisman, viability. Conventional wisdom dictates that you have to be an established player from an established and powerful program to even entertain the notion that you could be enshrined as one of the game's greats.
The preseason Heisman odds going into the 2019 college football season offer us an important example. Trevor Lawrence and Tua Tagovailoa entered the 2019 season as co-favorites to hoist the trophy at 3:1 odds. They had just played against each other in the national title game, and were the faces of the two most dominant programs in the sport. To casual fans, it was a no-brainer for them to share the spotlight as preseason Heisman favorites. But to savvy veterans of the sports gambling space, the only thing noteworthy about two players separating themselves from the pack over the summer was that it inflated odds for everyone else.
To put it bluntly, the prevailing wisdom surrounding Heisman odds is wrong and that disconnect is born out in the final Heisman voting year after year. Only one preseason Heisman favorite has gone "wire-to-wire" since 2000. All it took from Marcus Mariota (9:2 preseason odds) was a near-flawless season (TD-INT Ratio 42:4) and a berth in the inaugural College Football Playoff. In contrast to Mariota's favorite-to-recipient feat, is the fact that 8 of the past 10 Heisman winners weren't considered Top 10 candidates in the preseason by oddsmakers. Joe Burrow (40:1), Kyler Murray (30:1), Lamar Jackson (100:1) and Derrick Henry (25:1) represent a new wave of Heisman profitability for sports gamblers. And after a run of one-year wonders who took home the hardware as preseason "FIELD" bets (Cam Newton, Johnny Manziel, Jameis Winston) in the early 2010s, sportsbooks finally started to post more comprehensive preseason lists. The average offering has essentially doubled from the 20-25 player range in 2010 to a 35-40 range in 2019.
Heisman longshots have proven to be incredibly profitable in the past 10 years, but their odds quickly come down to earth once the general public has seen them play. The Heisman winners over the 2015-2019 seasons saw their preseason odds fall by an average of 68% from the preseason through Week 3.
This illustrates that for a gambler to capture worthwhile value, they often need to have skin in the game before the season starts.
The start of the 2020 season offered a similar situation as our 2019 example. Neither Lawrence nor Tagovailoa were Heisman finalists in 2019, but that didn't stop oddsmakers from setting up the 2020 preseason Heisman odds in nearly identical fashion. Lawrence was joined by Justin Fields as a co-favorite falling in the 4:1 to 9:2 range. And as we now know, of course, neither Lawrence or Fields are expected to win the trophy.
Hedging Strategies When Betting The Heisman
Hedging is when a gambler places a bet on the opposite side of their original wager in order to reduce losses or to guarantee a profit. Despite the simplicity of the tactic, casual gamblers often fail to consider hedging opportunities. For small stakes gamblers, in-game hedging might not be worth their time, but that isn't true of futures betting. Even small wagers can net huge returns and are worthy of thoughtful hedge strategies.
Season-long futures for individual players and teams present a host of hedge opportunities, some clear and others more convoluted. As shown above, pundits and the public are awful at predicting who will end up as a Heisman finalist. In fact, 4 of the 5 Heisman presentations between 2015-2019 have included at least 1 finalist who entered the season as a 100:1 longshot or higher. Simply having a finalist with long odds can guarantee you money by properly hedging is a game-changer for most casual bettors.
If you were fortunate enough to place a bet on Joe Burrow before Week 3 of the 2019 season, you had a ticket paying out between 40:1 and 200:1 on the Bayou Bengal. Even if you had waited until the end of the regular season to hedge, the 3 other eventual finalists all presented decent value and insurance with Fields (6:1), Jalen Hurts (17:1), Chase Young (100:1) all offering handsome payouts.
While it appeared that Burrow was a "lock" by Week 13 during the 2019 season, this same hedge strategy would have saved Tagovailoa bettors the year prior. The Crimson Tide signal-caller was listed as a -900 favorite during Week 13, but would be overtaken by Kyler Murray just 2 weeks later. If you had spread out your risk by betting the likely finalists in Week 13 (Murray+600, Dwayne Haskins+6000, Will Grier+1100) you would have turned a gambling heartbreak into a decent payday.
If you are making preseason Heisman bets, targeting longshots with the potential to become finalists instead of winners is one way that you can turn an all-or-nothing proposition into a less volatile and more profitable long-term strategy. This brings into play running backs, wide receivers and defensive players that you might not have considered at all in previous seasons.
DRAFTKINGS SPORTSBOOK APP
BET $1, WIN $100!


STATES: TN, PA, NJ, CO, IL, WV, IA, IN, VA, MI