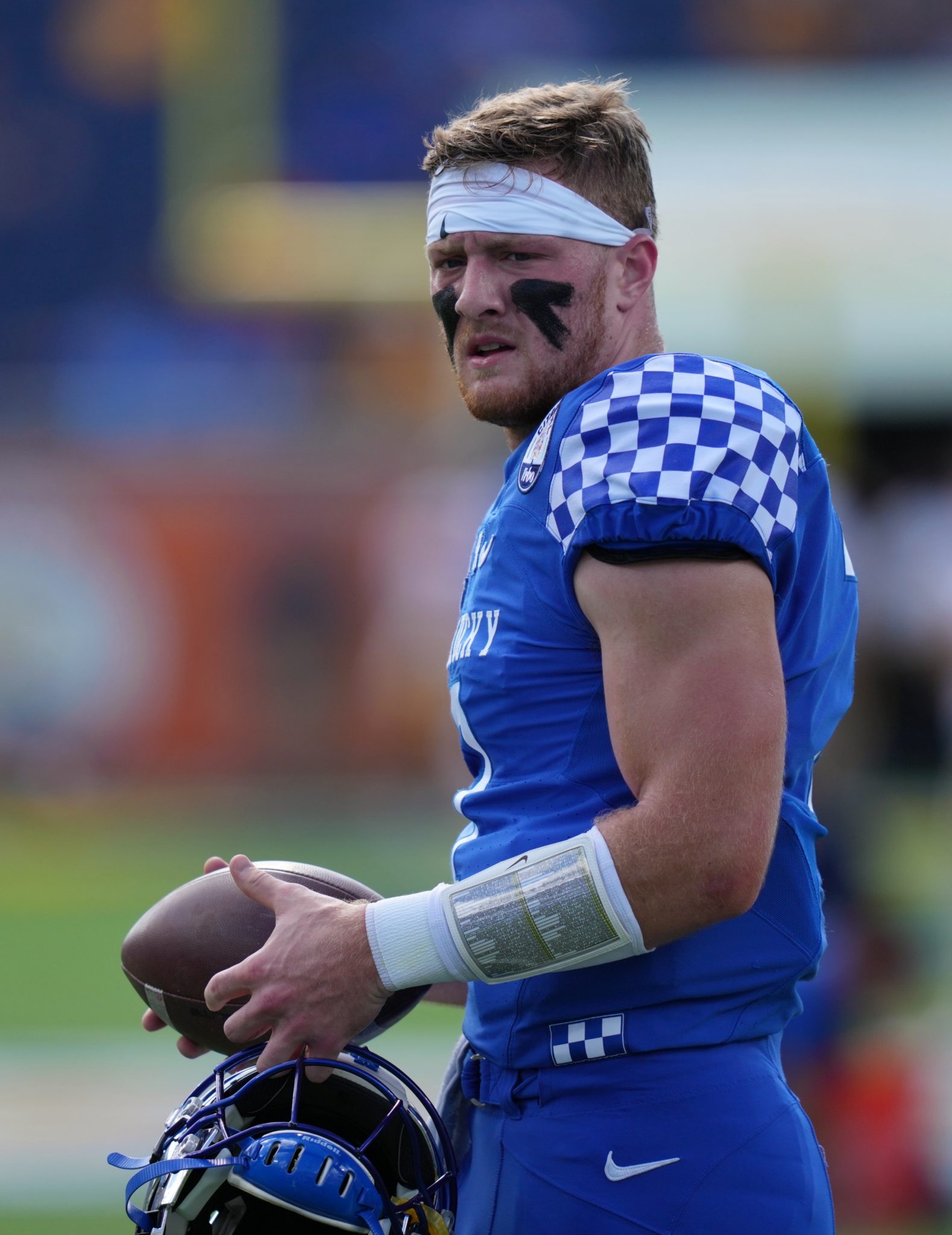 KENTUCKY
7 way-too-early predictions for Kentucky's offense in 2022
Kentucky football's surprising renaissance under Mark Stoops expanded to include a passing game in 2021. With QB Will Levis returning this season, RB Chris Rodriguez threatening to become the program's all-time leading rusher and a wealth of pass-catching possibilities on the roster, Kentucky's offense is the subject of substantial optimism from Big Blue Nation. Here are 7 admittedly way-too-early predictions for the next installment of the Wildcats' offense.
1. Levis becomes UK's first 3,000-yard passer since … Mike Hartline
Yes, Mark Stoops, 2nd-longest tenured coach in the SEC, has never had a 3,000-yard passer at UK. UK's last 3,000-yard passer was Mike Hartline, in Joker Phillips' first season in 2010.
Levis had 2,812 passing yards last year, despite having precious few SEC-level targets available outside of record-breaking 2nd-round NFL pick Wan'Dale Robinson. Given Kentucky's continued emphasis of the passing game and the addition of several significant pass targets (led by Virginia Tech transfer Tayvion Robinson and Alabama transfer Javon Baker), the Wildcats will throw enough to make Levis the program's most successful quarterback since Andre Woodson in 2007. Not just that …
2. Levis will be UK's first offensive 1st-round pick since Tim Couch
Stoops is, of course, a defensive guy. And while UK is putting more players in the NFL than ever before, most of the standouts played defense. All 3 of Stoops' 1st-round picks were defensive guys — Bud Dupree, Josh Allen and Jamin Davis.
Before Dupree, who was drafted in 2014, Kentucky hadn't produced a 1st-round pick since DeWayne Robertson, a defensive lineman who was picked in 2003. Before that? It's Couch, who went No. 1 overall to the Browns in 1999, making him UK's most recent offensive 1st-round pick (and 1st-round QB selection, of course).
Levis is getting some traction within even the top 5 of some early mock drafts, and even if that doesn't happen, given his arm, decision-making and size, he'll become the first UK offensive player taken in the opening round in almost a quarter century.
3. Chris Rodriguez will become UK's all-time leading rusher
Kentucky running back Chris Rodriguez, rather serious offseason legal troubles aside, is likely to have a historic 2022 season. Rodriguez hasn't been punished after his recent DUI arrest, but most think there will be some type of suspension.
Rodriguez has steadily improved over his previous 4 seasons in Lexington, culminating in a 2021 season when he finished with 1,379 rushing yards and 9 touchdowns. Rodriguez has amassed 2,740 rushing yards at UK, within striking range of Benny Snell's UK record of 3,873 rushing yards. If Kentucky plays 13 games — which seems likely — Rodriguez would need to average just 87.2 yards per game to break Snell's record. Rodriguez topped 98 yards in 10 of Kentucky's 13 games in 2021. The legal troubles may well earn Rodriguez some manner of season-opening discipline and the emphasis on UK's passing game will probably keep C-Rod below his 2021 level of production, but he has an excellent shot at UK's all-time record, and could well become the Wildcats' first 4,000-yard rusher.
4. Kentucky has 3 players with 40+ catches for the first time since 2007
No, Wan'Dale Robinson's 104 catches worth of production won't be back in 2022. But the Wildcats are hopeful to build an offense around a variety of play-making receivers. Transfers Robinson and Baker, noted above, figure in that picture, but so does returning tight end Keaton Upshaw, who missed the 2021 season due to injury.
True frosh standouts Dane Key and Barion Brown could be significant parts of the offense as well. The guess here is that 3 Wildcats grab 40 passes. Earliest thought would be Robinson, who seems on pace to become the new top target, Upshaw, who will be a red-zone target like Kentucky hasn't seen since perhaps Jacob Tamme, and Key, whose height and ball skills should continue to shine as the season goes.
Kentucky hasn't had 3 receivers catch 40 passes on the same team since 2007, when 4 Wildcats caught 56+ passes.
5. Kentucky will trim down the 23 turnovers significantly
The Wildcats won 10 games last season despite a -11 turnover margin on the season. Part of that issue was defense, but offensively, UK's 23 turnovers put UK near the bottom of the league in interceptions (13 tied for 3rd-most in the SEC) and fumbles lost (10 tied for 2nd-most in the league).
Admittedly, an offense that zeroed in on one receiver probably forced a few unlucky Levis throws. But Kentucky's fumble problems were inexplicable. While improving the turnover margin will take work on both sides of the ball, the early guess is the UK offense drops back to 17 or 18 turnovers in 2022 … which could be the difference in a game or two next season.
6. Kentucky will give up 30 sacks in 2022
UK's offensive line has been a standout position group, but they'll be replacing 3 starters in 2022. A pair of those starters will be tackles, and when Kentucky was without Dare Rosenthal in the Citrus Bowl last season, the line struggled to contain the Iowa pass rush. Kentucky allowed 6 sacks in that game; it allowed 25 for the season.
Given an expected increase in pass attempts and the lack of experience at the tackle spots, UK's line is going to give up more sacks — 30 is a reasonable projection. The question is whether those sacks will be mild annoyances in games where the line mostly plays well, or whether they'll be game-changing plays. That might make the difference between 10-2 and 8-4 (or 8-4 and 6-6).
7. Kentucky will average 35 points per game in 2022
Kentucky has managed a pair of 10-win seasons in the past 4 years largely on the back of its defense, scoring just under 27 points per game in 2018 and just over 32 per game in 2021.
Even that 2021 performance was an improvement, as Kentucky hadn't scored 30 points per game since 2016. The last Kentucky team to reach 35 points per game? That'd be the 2007 team, with an offense loaded with All-SEC level players (QB Andre Woodson, RB Rafael Little, WRs Keenan Burton and Stevie Johnson, TE Jacob Tamme).
While the 2022 receivers are something of an unknown, this team presents probably the best QB-RB duo Kentucky has had since Woodson's team. In an SEC that seems to increasingly value offense, there'll probably be a few more Big 12-type games for Kentucky this season than Stoops would prefer. But altogether, it'll be the top UK offense in a decade and a half.