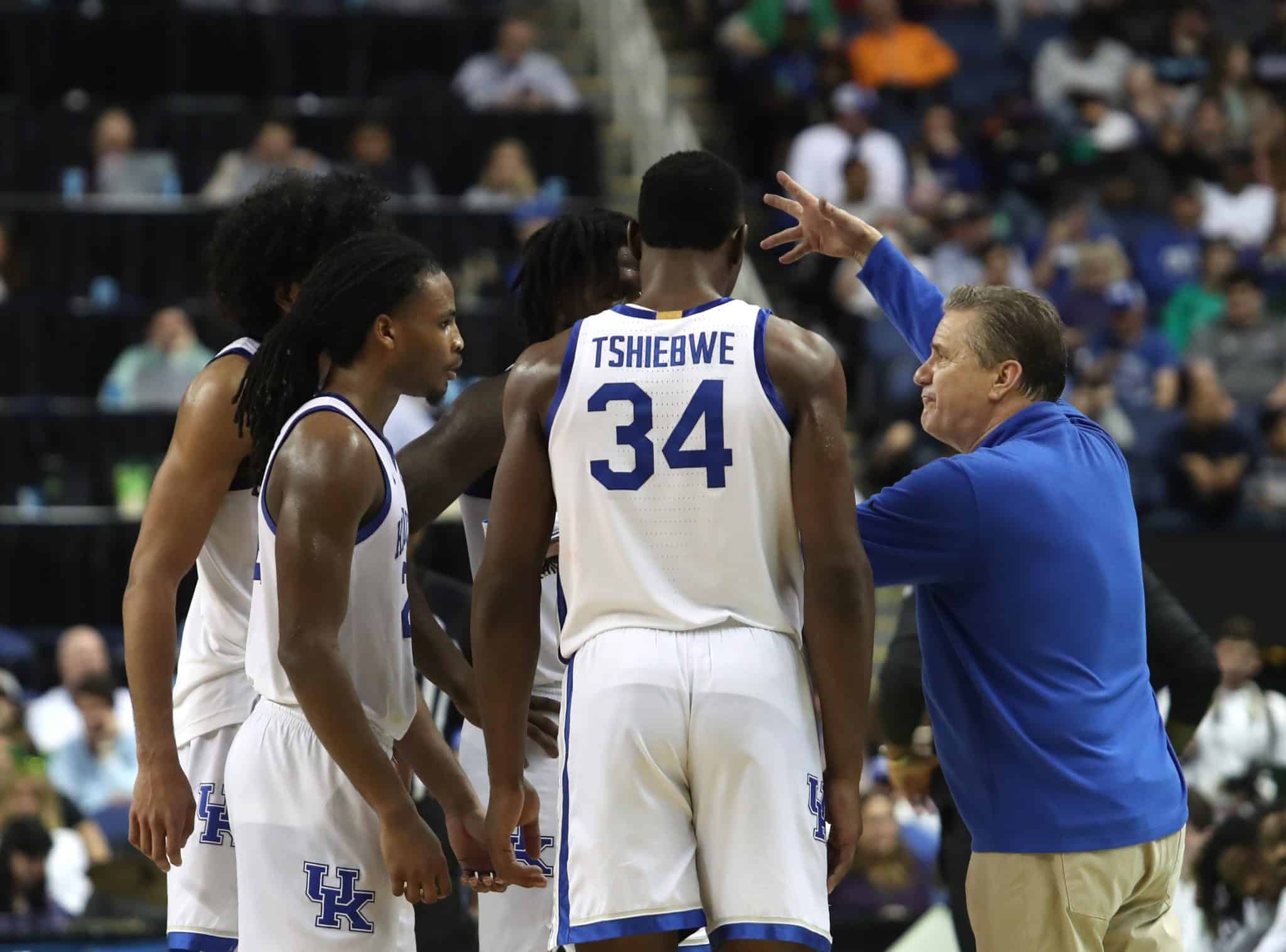 KENTUCKY
UK basketball: Time to panic? NBA decisions do little to calm wild offseason
Oscar Tshiebwe is gone. The 2-time All-American's NBA announcement was perhaps the least surprising part of a difficult Kentucky basketball offseason. Big Oscar, horrific NCAA Tournament team experiences aside, had little to gain by sticking around.
Chris Livingston is also gone. The work-in-progress freshman is the kind of player who once would have been ear-marked for a second or even third season at Kentucky instead of a year which will likely be spent bouncing around the G-League. Such is the business of basketball.
And even though Antonio Reeves isn't gone to the NBA, he might also be gone to a different school. Give Reeves credit for recognizing that his skill set doesn't scream NBA, but at the same time, rather than immediately saying, "Run it back" for another season as UK's leading perimeter scoring threat, he too is perusing other college options.
Don't forget previous UK transfers Sahvir Wheeler (Washington), CJ Fredrick (Cincinnati), Lance Ware (Villanova), and Daimion Collins (LSU). Or NBA entrants Cason Wallace and Jacob Toppin. So yes, Kentucky is now down at least 8 of the 9 players who played the most minutes last season — with Reeves as a question mark being the only hope at avoiding an 0 for 9.
But the Wildcats have had an aptitude for the transfer portal themselves. Surely John Calipari — master recruiter, motivator, player's coach — has replaced this mass exodus with veteran talent?
Um, no. Not a one.
At the beginning of June, less than 6 weeks before UK is slated to play a series of exhibition games in Toronto, Kentucky's roster is Calipari's outstanding 5-man freshman class, reserve sophomore center Ugonna Onyenso, 4 walk-ons, and prayers of Reeves returning.
On one hand, no problem. This is John Calipari. He's done total rebuilds before, like 2011 and 2014 when teams heavily dependent on freshman classes went to the Final Four. He's got this. Right? Right???
On the other hand, big problem. Kentucky has 1 NCAA Tournament win since March 2019. Last season's team featured 5 veteran transfers in the first 7 players. This hasn't been the Calipari who was ready to turn over control of his teams to John Wall or Michael Kidd-Gilchrist or Karl-Anthony Towns.
The bottom line for Calipari's future at Kentucky is this: Things are pretty dicey.
Yes, in 2019, Calipari signed his "lifetime" contract, but that feels about a million miles ago at this point. For the past several seasons, Kentucky has gone from being the dominant figure in SEC basketball to an also-ran. Sure, the circumstances have been bizarre and sometimes unexpected. The ghost of Shaedon Sharpe hung heavy over the 2023 Wildcats (and it's not hard to imagine that UK would have gone pretty darn far in the Tournament with Sharpe). The 2022 Wildcats stumbled into the program's biggest first-round collapse in the 64-team NCAA Tournament era. The 2021 Wildcats never got untracked with COVID restrictions, and the 2020 team may well have done some March damage, but due to the pandemic, that'll never be known.
But for whatever reason, the shine is certainly off of Calipari's tenure at Kentucky. If proof is needed, consider the mass exodus of role players for other Power 5 schools or Kentucky's inability to land a big fish (Hunter Dickinson, Kobe Brown) or even smaller fish (Keshad Johnson, for instance). Yes, the top recruiting class in the nation has remained intact — but even that has had its fair share of backstream whispers about players with one foot already half out the door.
Calipari needs a good season badly. And admittedly, the program's wagon is pretty obviously hitched to freshmen DJ Wagner, Aaron Bradshaw, Justin Edwards, Rob Dillingham and Reed Sheppard. But that doesn't mean a few wily old veterans wouldn't be nice to have. Every incoming freshman star doesn't deliver. And even for those who do, injuries are a significant part of the college game.
Calipari still has chances to fix the situation. Maybe he can talk Reeves into returning. Maybe he can add a couple of late-grab portal additions to at least reach an 8-9 man rotation in terms of depth. But in early June, things haven't been going well. And the clock is ticking toward what feels increasing like a make-or-break season for Coach Cal. Wednesday certainly didn't relieve any pressure.