LSU TIGERS
Attorney for LSU associate AD Miriam Segar sends letter to Louisiana legislature ripping Husch Blackwell report
LSU associate AD Miriam Segar, who was named in the recent Husch Blackwell report and was subsequently suspended for 21 days, was requested to speak in front of the Louisiana Senate Select Committee on Women and Children on April 8.
In lieu of that, Segar's attorney, Mary Olive Pierson, sent a letter to the committee.
As you can see below, the letter from Segar's attorney was worded quite strongly, ripping the Husch Blackwell report:
Oh wow. Miriam Segar's attorney, Mary Olive Pierson, says Husch Blackwell:

"either does not know how to do a thorough investigation or had an end game in mind before they started and did whatever was necessary to get to their goal." https://t.co/VAsEzyumjl

— Brody Miller (@BrodyAMiller) April 6, 2021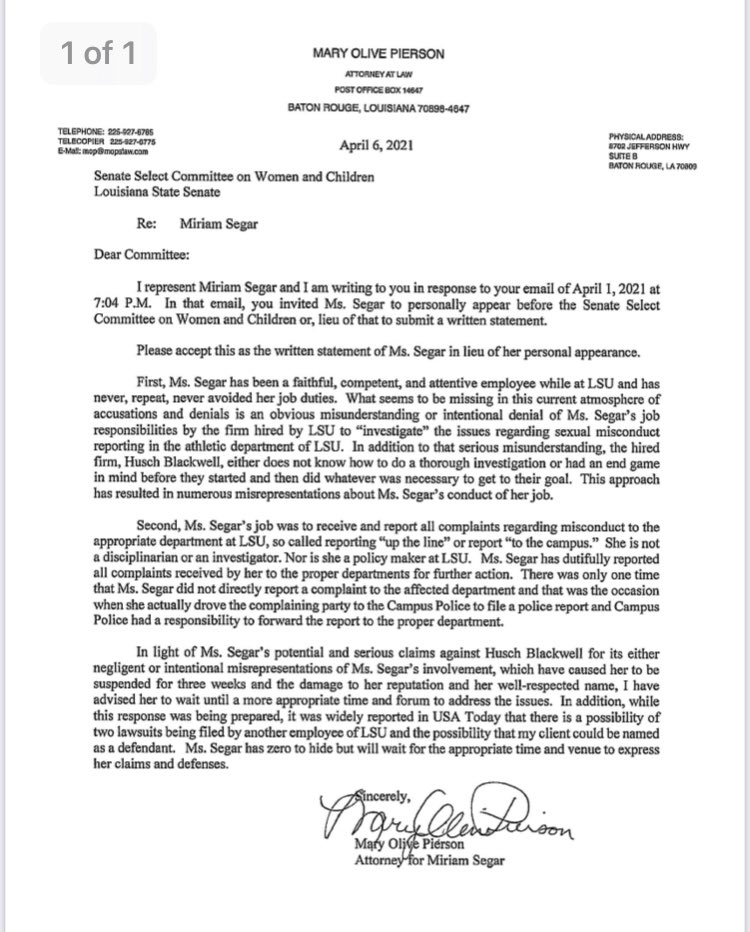 What happens after the committee meets on Thursday remains to be seen. Coach Ed Orgeron also submitted a letter in lieu of a public appearance.
We'll see what comes of this as the Husch Blackwell report continues to cause waves in the college athletics community.
Read More
Louisiana online sports betting is officially live in much of the state. Louisiana joined the handful of other SEC football states with legalized sports betting in January 2022.