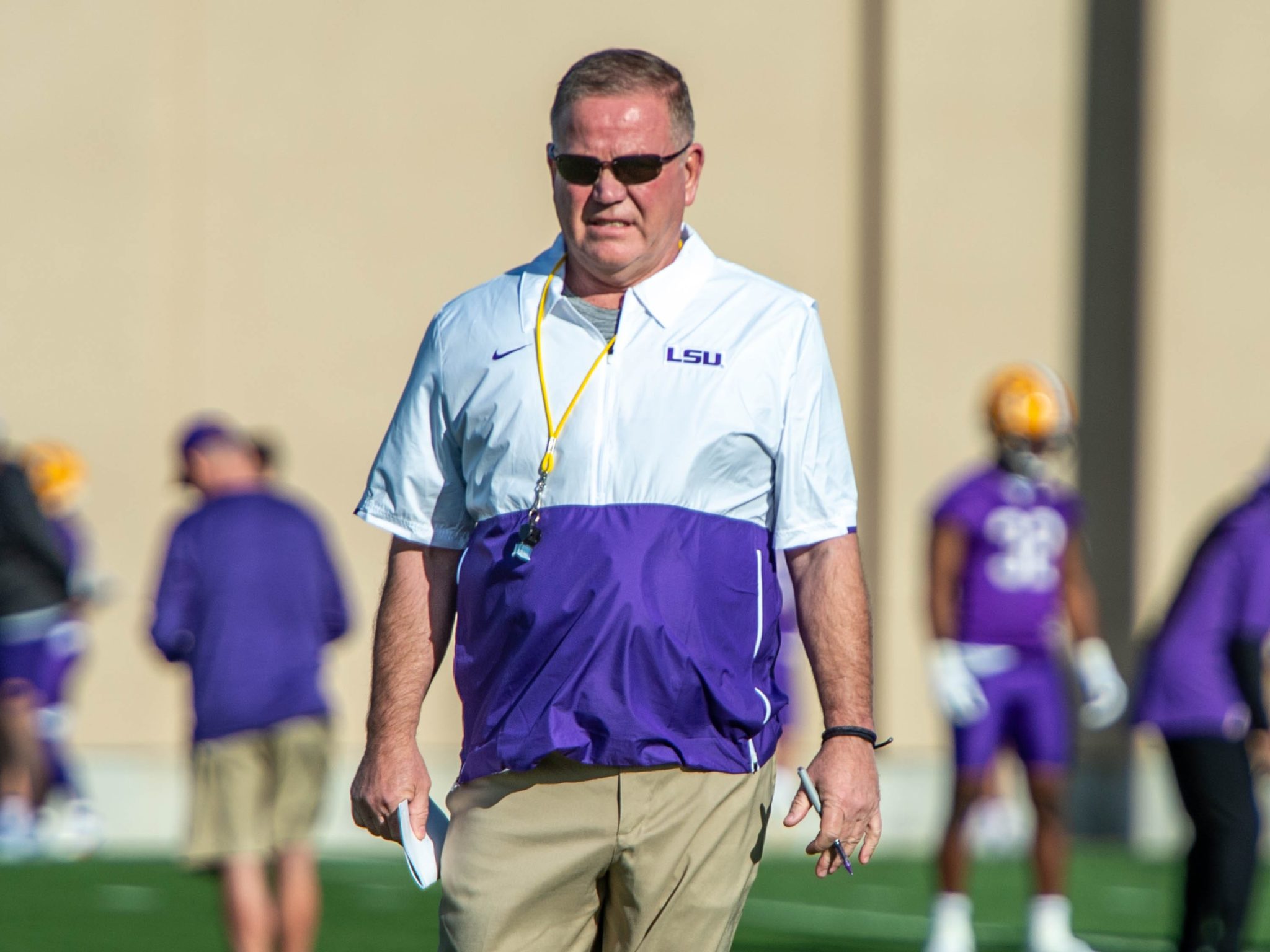 LSU TIGERS
LSU football: 5 statistical trends the Tigers must reverse in 2022
LSU is getting ready to start a new era.
It's too early to know exactly what the characteristics of Brian Kelly's teams are going to be.
The characteristics of his teams at Notre Dame (and to a lesser degree, the ones at Cincinnati, Central Michigan and even Grand Valley State) might provide some hints.
The traditional characteristics that the Tigers' program has prided itself on might provide a few more hints.
But Kelly is just beginning a multiyear process to build his program.
For now, he's simply trying to improve on what he inherited from Ed Orgeron after a 5-5 record in 2020 and a 6-7 record in 2021.
The first thing he has to do is fix some things that contributed to the program's recent slippage.
Here are 5 statistical trends the Tigers must reverse in 2022:
1. Stop allowing so many big plays
The LSU defense allowed 65 plays of 20-plus yards last season, the third most in the SEC.
That was bad, but it wasn't as bad as 2020, when the Tigers gave up a whopping 79 such plays — most in the SEC — in 3 fewer games. Even in the national championship season of 2019, they gave up 65 such plays, though that team played 15 games.
So LSU has gotten in the habit of giving up way too many big plays — and it has happened on both running and passing plays.
Matt House is the Tigers' 4th defensive coordinator in 4 seasons. It's unlikely that yet another new system is going to make the problem go away immediately, but a significant reduction in the number of big plays allowed would be a good start.
2. Allow fewer sacks
LSU hasn't decided on its starting quarterback yet, but it will be important that whoever he is — and whatever backups might also play — doesn't get harassed as badly as Max Johnson and Garrett Nussmeier were last season.
The Tigers allowed 38 sacks last season, 3rd most in the SEC.
The offensive line didn't have much stability, and that led to too many sacks and too much pressure.
This year's line features several changes from last season. That could create some continuity challenges early, though Kelly says the line is looking better.
The line does have some stability with Brad Davis, the lone Orgeron assistant Kelly retained.
3. Run the ball better
LSU traditionally has been very good at running the football. Not always, but quite frequently.
In fact, a really good running game has long been a trademark of the Tigers' best teams — at least until that Joe Burrow guy came along.
Even when Burrow had his record-shattering passing season in 2019, LSU still ran the ball well enough to be in the middle of the pack of the SEC.
But the Tigers slipped to 12th in the conference in rushing yards per game (121.7) and yards per rush (3.33) in 2020.
Last season, they slipped a spot in both categories, averaging 114.08 rushing yards per game and (again) 3.33 yards per rush.
So Davis and his O-line have a lot of fixing to do.
4. How about a few more interceptions?
DB-who?
LSU is one of the programs that likes to call itself "DBU" because of its impressive track record at producing top-flight defensive backs.
But the Tigers have been trending away from that recently.
Last season, they made exactly 8 interceptions. If that sounds like a really small number, it's because it is.
It matched the total of the 2008 team, which is the fewest since the 1975 team had 6.
Eight interceptions is also the LSU career record for individuals and the team record for a single game.
5. And fewer touchdown passes would help, too
The Tigers' pass defense has had more problems besides just too few interceptions.
Too many touchdown passes — way too many touchdown passes — have also been an issue.
Last season, LSU — which was 11th in passing yards (236.8) and pass completion percentage (64.2) in the SEC — allowed 29 touchdown passes, tying Vanderbilt for the most in the conference. It was also the most allowed by an LSU defense since at least 1961.
The leaky pass defense was a carryover from 2020, when the Tigers allowed 24 touchdown passes in just 10 games — which was actually an even worse number.
Read More
Sports betting in Louisiana is officially live in the great state of Louisiana. Whether it is betting on who will win the SEC this year or the next New Orleans Saints football game... if you live in Louisiana, you can now do it from your mobile phone.