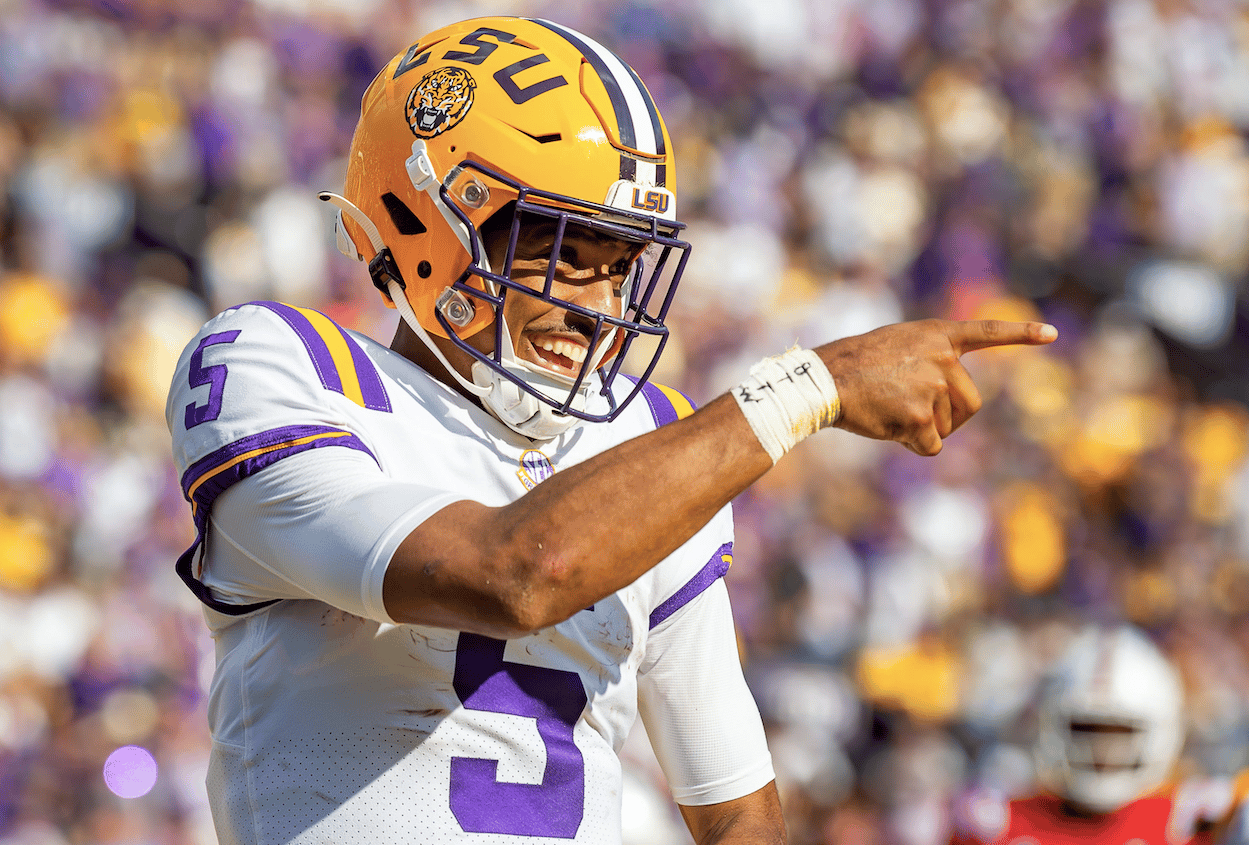 LSU TIGERS
LSU football: The Tigers have fixed a lot, but there's lots more to do
LSU's season got off to a disappointing start.
It gradually has gotten better, but the progress hasn't been linear.
There have been backward steps along the way.
A 4-game winning streak led to a brief initial appearance in the AP Poll at No. 25.
That was followed immediately by a sloppy 40-13 thrashing at the hands of then-No. 6 Tennessee.
Then came a 45-35 victory at Florida and a 45-20 whipping of then-No. 7 Ole Miss on Saturday — the 2 best performances of head coach Brian Kelly's 1st season in a span of 8 days.
And now LSU will certainly be back in the Top 25 as it enters its bye week. And no one in the SEC West has fewer conference losses than the Tigers.
This is a much better team than it was in September — or even earlier this month.
But it's still a work in progress.
Next up is a visit to Tiger Stadium by No. 6 Alabama on Nov. 5.
In the meantime, here's what has worked and what hasn't for the Tigers, who are 6-2 and 4-1 in the SEC:
What has worked:
1. The quarterback
Jayden Daniels' maturation as the quarterback has mirrored that of the team. In fact, it probably has set the tone for it.
Daniels battled inconsistency early on, and so did the team. He has been exceptional the past 2 games — 6 touchdown runs and 5 touchdown passes — and the team mostly has been as well.
Daniels has been the catalyst for the running game all season, and he has become more efficient and productive in the passing game — especially the past 2 games.
The confidence level of the team as a whole has risen significantly as Daniels and the offense have demonstrated that they can keep up — and even thrive — in a shootout.
2. The offensive line
The line has been a week-to-week deal — sometimes because of performance, sometimes because of injury.
The Tigers have started 5 different combinations, but the group seems to be stabilizing.
The anchors have been a pair of true freshman tackles — Will Campbell on the left side and Emery Jones Jr. on the right.
Offensive line coach Brad Davis has coached up the youngsters, and others have adjusted to position switches when necessary.
In the past 2 weeks, offensive coordinator Mike Denbrock's play-calling has demonstrated increasing confidence in the line.
3. The adjustments
Kelly and his staff have been adjusting from week to week — and within individual games.
The offensive line is just one example of personnel adjustments that have been made.
Injuries and performance have dictated other changes as well.
The adjustments have worked more often than not — and this is a better team because of that.
Davis isn't the only assistant who has been busy making changes.
Defensive coordinator Matt House and his colleagues had to replace star defensive tackle Maason Smith after he suffered a season-ending injury in the opener.
They have rearranged pieces in the secondary. They've carved out an expanded role for freshman linebacker Harold Perkins Jr.
As for the in-game adjustments, the Tigers finished their win over Mississippi State with a 31-3 push, they scored the final 21 points of the 21-17 win at Auburn, they finished the win at Florida with a 31-14 push and they outscored Ole Miss 42-3 from early in the 2nd quarter onward.
What hasn't worked:
1. The starts
All of those strong finishes were preceded by bad starts, something LSU still doesn't have a handle on.
The Tigers have yet to score 1st in an SEC game.
They fell behind Mississippi State 13-0, Auburn 17-0, Tennessee 20-0, Florida 7-0 and Ole Miss 7-0.
The past 2 weeks have been better because LSU answered Florida's opening touchdown with one of its own and answered Ole Miss' opening touchdown with a field goal. But the Gators also took leads of 14-7 and 21-14, and the Rebels opened a 17-3 lead before the Tigers turned those games in their favor.
Getting off to better starts — perhaps even scoring the 1st points of the game — has been an emphasis for weeks, and it has yet to occur.
2. The special teams
This, too, has been something Kelly and his staff have been trying to fix for weeks, with minimal success.
Whether it has been a muffed punt or kickoff, a long punt or kickoff return by the opponent, a missed field goal, a blocked PAT or damaging penalties, Brian Polian's units have been a continual source of frustration for the Tigers.
This week provides an opportunity for self-scouting.
Kelly and his staff will be able to find significant areas of improvement — and others still in need of improvement.
Read More
Louisiana online sports betting is officially live in much of the state. Louisiana joined the handful of other SEC football states with legalized sports betting in January 2022.