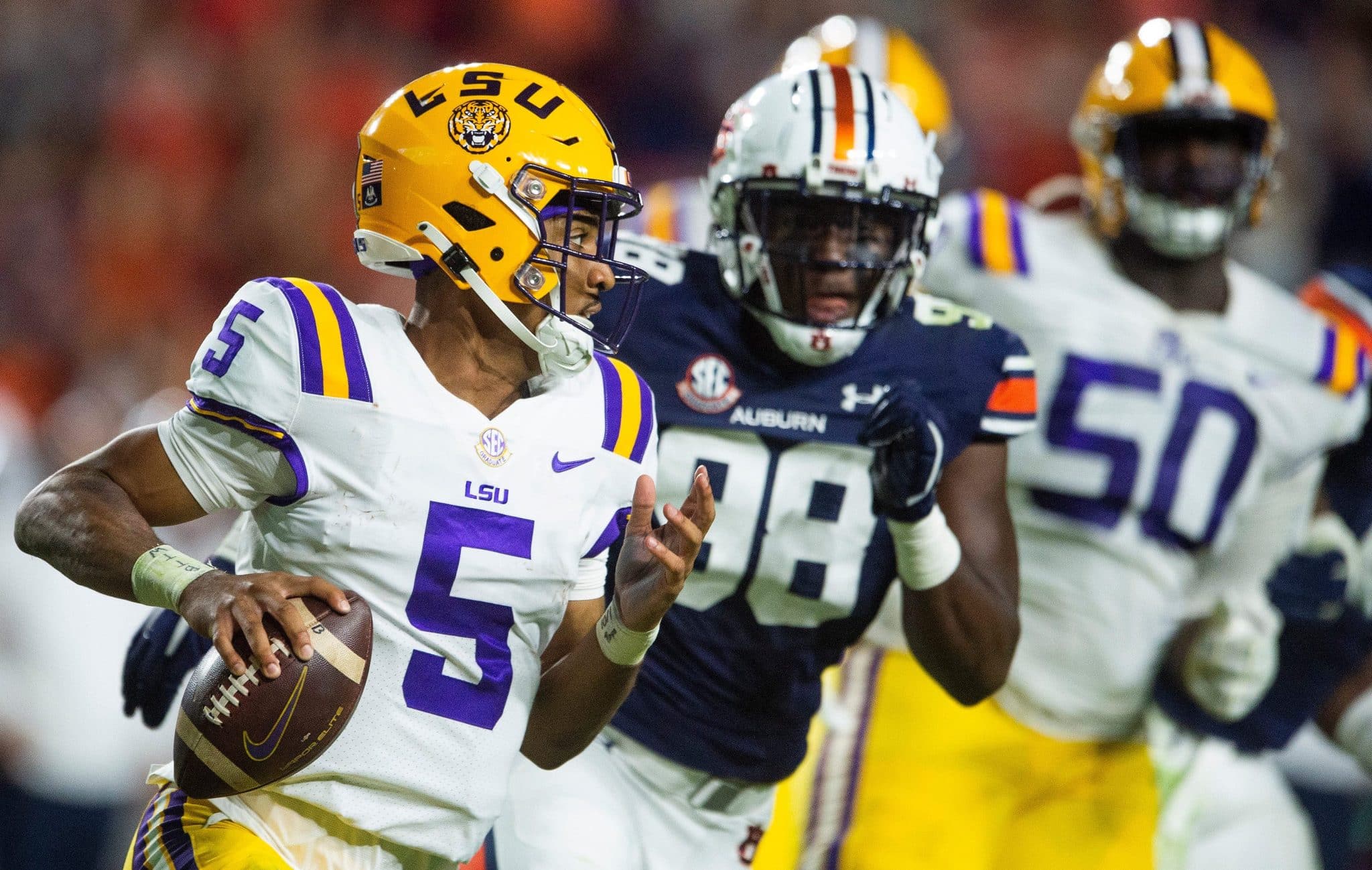 LSU TIGERS
Tell the Truth Monday: LSU has a chance to prove itself this week
LSU has won 4 games in a row.
That's its longest winning streak since the 15-0 national championship season in 2019.
The Tigers are 4-1 overall and 2-0 in the SEC after a sloppy but nonetheless significant 21-17 victory at Auburn on Saturday night.
It's Tell the Truth Monday, and the truth is that LSU still has a lot to prove — even though it has improved enough to sneak into the AP poll at No. 25 on Sunday.
The Tigers get an opportunity to prove themselves next Saturday when they play a ranked team for the 1st time this season — meeting No. 8 Tennessee in Tiger Stadium.
If the Tigers manage to upset the Volunteers, they will match their SEC win total from last season.
That will take their best performance of the season. It will take a much better performance than the one they put on Saturday night.
In its 1st SEC game LSU trailed Mississippi State 13-0 in the 2nd quarter and roared back to win 31-13.
On Saturday night, it trailed Auburn 17-0 in the 2nd quarter and roared back to win 21-17.
So in roughly the first 29 minutes against State and the first 23 minutes against Auburn, LSU was outscored by a total of 30-0.
That's very bad.
But in roughly the last 31 minutes against State and the last 37 against Auburn, it outscored the opposition 52-3.
That's very good.
The truth is, that indicates a team that was not as well-prepared to start those games as its opponents were. That blame must be shared by coaches and players.
The truth is that before the games were halfway over, LSU started to turn things around and was dominant the rest of the way. That credit must be shared by coaches and players as well.
But if LSU starts against the Tennessee the way it started against State and Auburn, it's going to be really, really hard to duplicate the turnarounds it has had in the 1st 2 SEC games.
Tennessee is averaging 48.5 points per game. It's hard to imagine LSU slowing down the Vols' offense the way it slowed down the State and Auburn offenses for more than a half.
It's also hard to imagine the LSU offense scoring enough points to overcome a double-digit deficit against the Vols.
The truth is that LSU has to get off to a better start.
It has to defend the pass a heck of a lot better than it did Saturday night. It gave up 337 passing yards to Auburn. If it has the kind of breakdowns against Tennessee that it had against Auburn, the Vols will keep their gaudy scoring average intact.
Head coach Brian Kelly said the breakdowns mostly were due to communication issues, which weren't as problematic in the 2nd half as they were in the 1st.
Safety Major Burns was beginning what is expected to be at least a 3-game absence due to a neck injury. His replacement, Arkansas transfer Joe Foucha, made his LSU debut after being ineligible for the 1st 4 games.
If LSU can't pass the ball better than it did against Auburn — 85 yards — it's going to face the biggest deficit it has faced in SEC play. In fact, it will have to pass the ball a whole lot better.
A lot of that will depend on how healthy Jayden Daniels is after leaving the last 2 games early because of injuries. He suffered a lower back strain against New Mexico last week, but he was well enough to start against Auburn
On Saturday, Daniels injured a knee. Kelly said there was no structural damage, and that Daniels could have returned to the game and should be OK to start against Tennessee.
But a lot of the passing game's success will have to do with the wide receivers.
They're the most talented and deepest unit on the team, but their collective productivity hasn't matched their collective talent.
There were communication issues with Daniels and 4 drops against Auburn.
The truth is that Daniels has to be better, the wide receivers have to be better and the pass defense has to be better.
But if the Tigers can continue to be on the plus side of turnovers (plus-3 against Auburn), they can mitigate some shortcomings.
On this Tell the Truth Monday, this is the biggest truth of all: Kelly and his staff have to find a way to get LSU playing for 60 minutes the way it has played in the last 30-some minutes of its 1st 2 SEC games.
Read More
Louisiana sports betting is officially live in much of the state. Whether it is betting on SEC football or LSU football games or the Heisman race each year, if you live in Louisiana, you can now do it from your mobile phone.