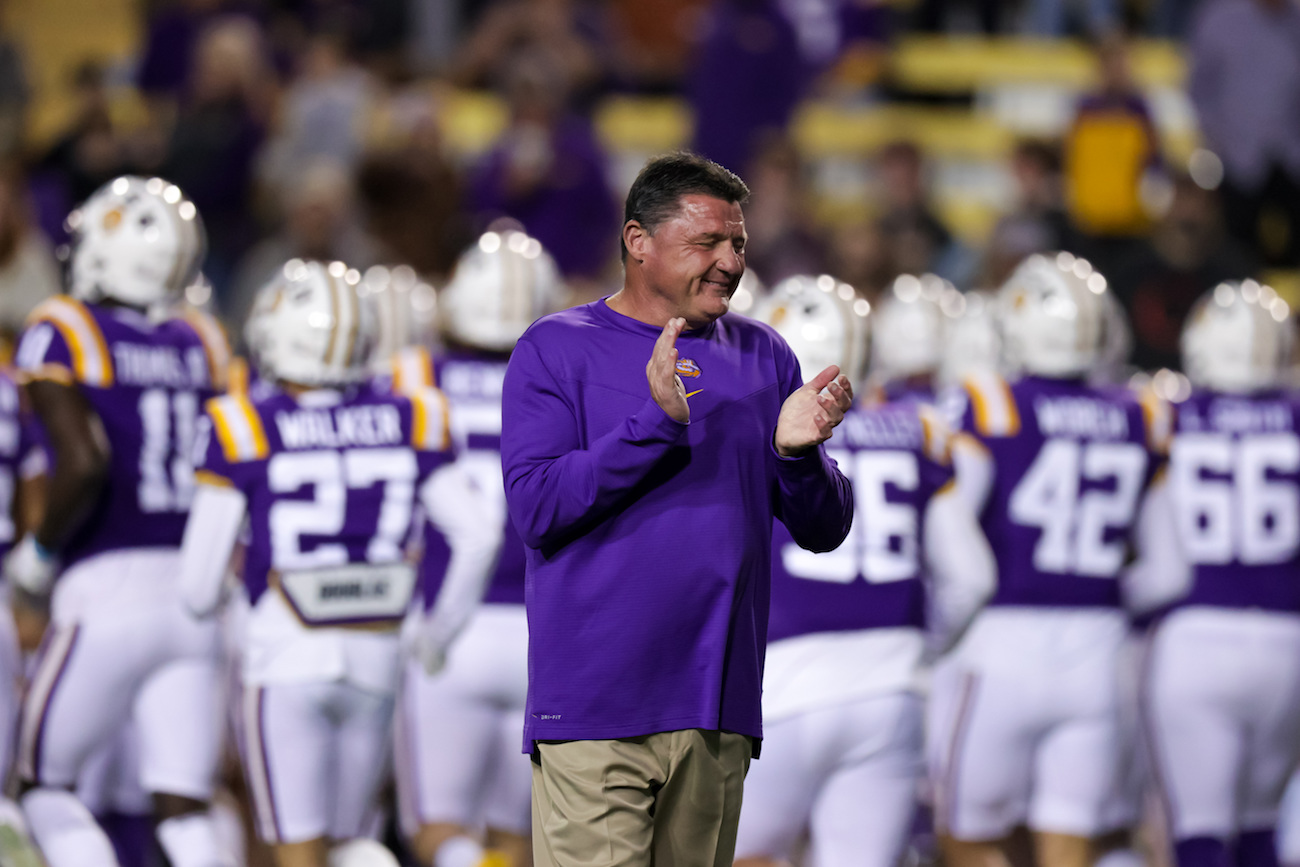 LSU TIGERS
LSU football: What's at stake against Texas A&M
LSU beat Louisiana-Monroe 27-14 on Saturday night at Tiger Stadium.
That was better than the alternative.
But that's pretty much the extent of the meaning of that victory.
LSU hasn't won an SEC game in 5 weeks.
It hasn't scored more than 17 points in its last 3 games against SEC opponents.
It has been a bad season, but it's not over yet.
LSU gets 1 more crack at an SEC opponent in the regular-season finale against No. 16 Texas A&M on Saturday night at Tiger Stadium.
The only way the Tigers (5-6, 2-5) can avoid sole possession of last place in the SEC West is to beat the Aggies and often-rumored but never hired coach Jimbo Fisher — and get some help in Arkansas losing to Missouri or (more likely) Auburn losing to Alabama.
LSU can't escape the cellar, but misery does love company, and at this point the Tigers have to take whatever consolation they can get.
Still, LSU has more at stake against A&M than its SEC record or placement in the standings.
That mostly has to do with getting to 6-6 and being eligible for a bowl.
The Tigers went 5-5 last season, but they self-imposed a bowl ban before finishing the season with consecutive victories in an attempt to mitigate potential NCAA sanctions that could still happen.
A 2nd consecutive bowl-free season would further damage the image of a program that has had a rough 2 years since winning the national championship.
Any bid to an insignificant bowl isn't going to save lame-duck head coach Ed Orgeron's job or entice athletic director Scott Woodward's dream choice to accept the job as Orgeron's successor.
Nor is it going to make an appreciable difference in recruiting. But it would be the biggest thing LSU can accomplish in Orgeron's final game at Tiger Stadium.
Cosmetically, 6-6 looks better than 5-7. But more importantly, a trip to a bowl game would mean a bunch of additional practices for this team in preparation for that game.
The Tigers have lost a whole bunch of key players to injury during this season. In fact, the mostly healthy team that was ranked No. 16 in the preseason poll before falling short of expectations in a 36-27 opening loss at UCLA would be a double-digit favorite over the team that will take the field against the Aggies.
A whole bunch of young Tigers have been forced to take on expanded roles before they were ready to handle them, and their greenness has been exposed.
But those who choose to stick around under Orgeron's successor will have an opportunity to take on even more responsibility next season and contribute to a potential renaissance.
The added preparation for a bowl game, the focus on the challenge of another game and the competition against a fellow bowl-worthy opponent will accelerate the players' development.
It also will provide additional data for the new coaching staff to evaluate in preparation for the 2022 season.
Much is uncertain for LSU going into Thanksgiving weekend.
We don't know who the new coach will be.
We don't know if Orgeron will receive a bonus game to coach beyond next week.
We don't know how the outcome of the game against the Aggies might affect the coaching hire or recruiting.
But we do know that a victory against A&M would make the end of the Orgeron era a little less disappointing and would provide a slight boost to whoever the new coach is.
As stakes go for season-ending games, that's not real high. But at this point, it's all that the Tigers have.
Read More
Sports betting in Louisiana is officially live in the great state of Louisiana. Whether it is betting on who will win the SEC this year or the next New Orleans Saints football game... if you live in Louisiana, you can now do it from your mobile phone.