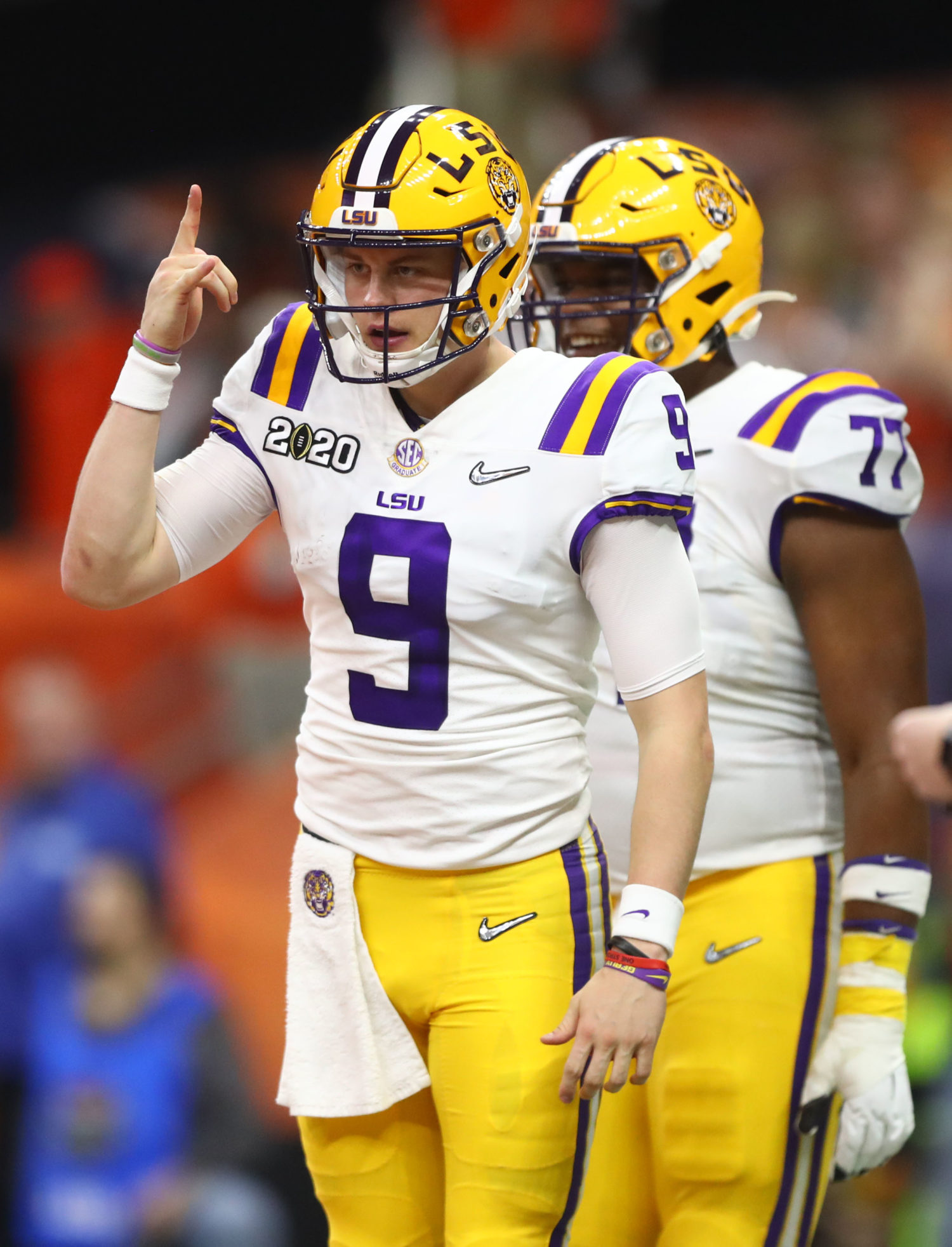 LSU TIGERS
Rapid Reaction: Perfect in every way, Joe Burrow, LSU crush Clemson to win national title
Absolutely perfect.
There's no other way to describe what happened Monday night in New Orleans.
Heisman Trophy winner Joe Burrow completed the college football trifecta, rallying the Tigers to a 42-25 victory over Clemson to win the national championship. LSU finished 15-0 and ended Clemson's 29-game winning streak. It was the Tigers' 4th national title and 3rd this century.
College football has seen unbeaten national champions — LSU is the 2nd consecutive 15-0 champ — but it's never seen an offense like this, led by a quarterback like this.
Burrow capped the greatest individual season in SEC history — check that, college football history — by throwing for 5 TDs and 463 yards. His 4th TD pass set the FBS single-season record. His 5th gave him 60 for the season.
He was perfect when LSU needed him most.
Clemson stormed to a 17-7 lead, the largest deficit LSU faced all season. The Tigers were the last team in the country to face a 10-point deficit this season.
They responded with TD drives on their next 3 possessions.
Burrow accounted for all 3. He started the 21-0 scoring surge with a 3-yard TD run to make it 17-14. He gave the Tigers the lead for good with a 14-yard TD pass to Ja'Marr Chase to make it 21-17. Chase's TD — his 2nd of the night and SEC-record 20th this season — capped an 87-yard drive.
Then, in the final minutes of the opening half, Burrow drove LSU 95 yards, hitting Thaddeus Moss for a 6-yard TD to stretch the cushion to 28-17. He took a crushing hit to the ribs on the throw, but in typical Burrow fashion, shook off any assistance as he trotted to the sideline.
Burrow finished the 1st half with 3 TD passes and 270 yards. He added 55 yards rushing and a score.
But he was far from finished.
Neither was Clemson.
Clemson stopped LSU to open the 2nd half, then drove 50 yards for a TD. The 2-point conversion trimmed LSU's lead to 28-25. Clemson never scored again.
Burrow's next TD pass — his 59th of the season — broke Colt Brennan's single-season FBS record and pushed the cushion to 35-25. Again he found Moss, this time on a swing route. It came one play following a targeting call to Clemson star linebacker James Skalski, who delivered the big hit on Burrow in the 1st half.
After LSU forced another Clemson punt, Burrow delivered the dagger. He hit Terrace Marshall for a 24-yard TD to make it 42-25.
That was Burrow's 5th TD pass of the night, his 60th of the season.
LSU threw just 59 TD passes combined in the 4 previous seasons.
Burrow said in the offseason this offense was different.
It was better than that. It was historic.
Monday night, on the biggest stage against the nation's best defense, it was absolutely, unstoppably perfect.
Read More
Louisiana online sports betting is officially live in much of the state. Louisiana joined the handful of other SEC football states with legalized sports betting in January 2022.