MISS STATE
A behind-the-scenes look at Media Day with Joe Moorhead, AKA the coolest coach in the SEC
HOOVER, Ala. — "Pittsburgh Central Catholic?"
SEC commissioner Greg Sankey asks that question at the end of the long hallway that opens to the main ballroom of the Wynfrey Hotel. There, Sankey waits to introduce the first coach of the Wednesday afternoon session of SEC Media Days, Joe Moorhead. Surrounded by Mississippi State sports information director Bill Martin, an SEC employee, a security guard, a designated coordinator assigned to keep the coach on schedule, and me, Moorhead and Sankey start chatting about Pittsburgh Central Catholic.
That's where Moorhead went to high school. He mentions that he's not even the best quarterback to come from there because that's where his idol, Dan Marino, attended (NFL veteran Marc Bulger also went there, so Moorhead puts himself third).
The MSU coach is Pittsburgh through and through. Following Media Days, he'll spend 4 days back in Pittsburgh with his family, where they'll see his beloved Pirates play. Moorhead recited the Pirates' entire 1979 World Series starting lineup for Sankey, much to the SEC commissioner's amazement.
Moorhead isn't in Hoover to talk about Pittsburgh, though. The Pittsburgh Central Catholic reference is a last-second confirmation of Moorhead's high school before he's introduced by Sankey. He's there to describe the state of his program as he enters his second season in Starkville.
This year, Moorhead's plan is not to speak of ring sizes like he did last year. Admittedly, Moorhead got a bit ahead of his skis by asking MSU players to learn their ring sizes upon arrival. He'll address that in his opening statement, which the former English major wrote out in an MSU notepad that has big picture subjects highlighted in orange with notes in his all-caps handwriting below.
The last thing Moorhead wants is for the post-lunch media crowd to be half asleep. I tell Moorhead to make sure he doesn't repeat Tennessee coach Jeremy Pruitt's 22-minute opening statement. Moorhead says that won't be a problem, and that his plan is to follow the George Costanza approach of staying "right in that meaty curve" of 8-12 minutes.
"You got me on a timer?" he asks me. "If I hit 10 (minutes), hold up both hands."
It's a new year with a new approach, and Moorhead is ready to take the SEC stage.
****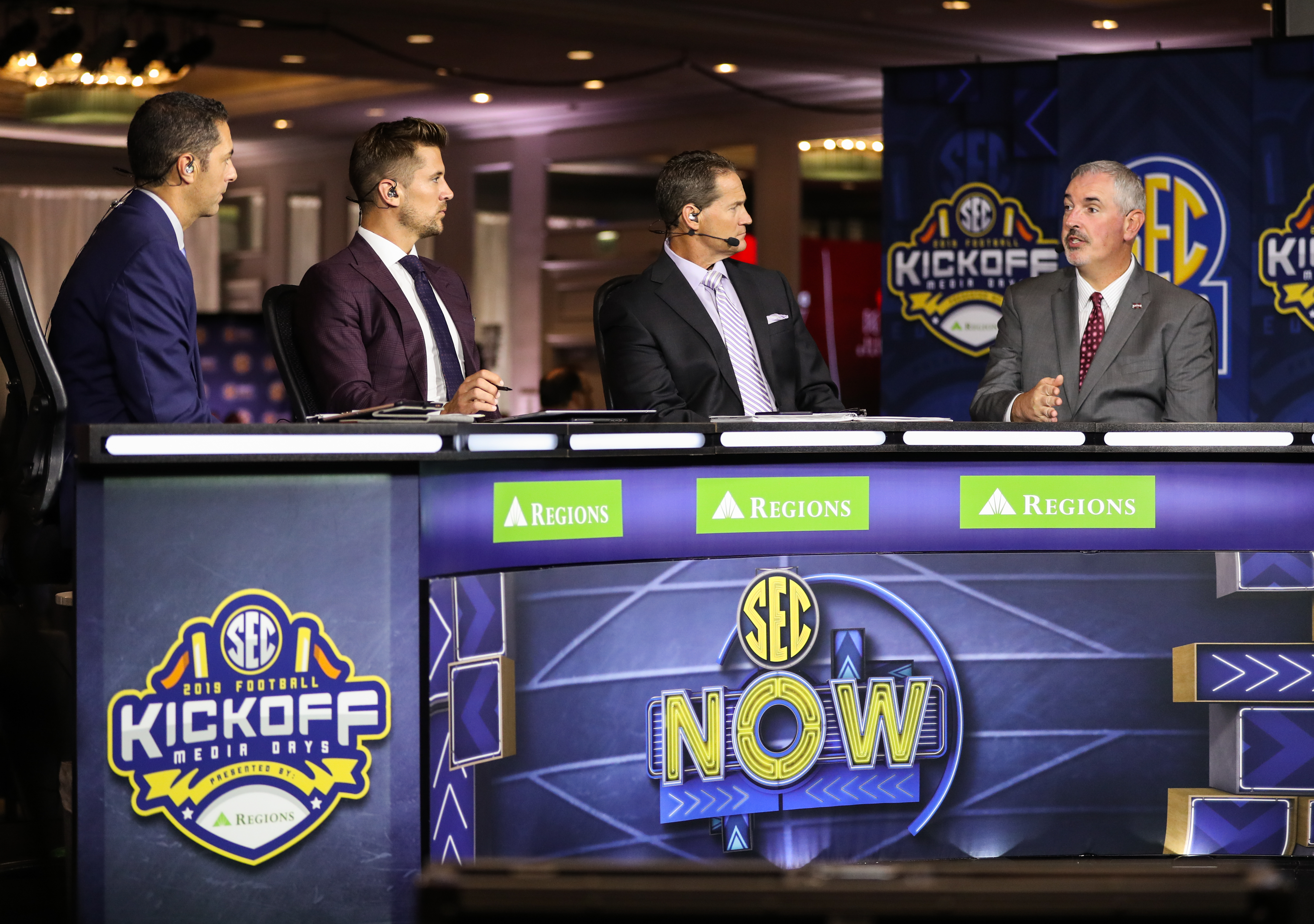 Moorhead hasn't changed his easygoing swagger so much as refined it. He still loves him some mid-90s hip hop. He surprises the SEC Network crew when he rattles off his top 5 artists list of Jay-Z, Notorious B.I.G., Tupac, Nas and a fifth spot that's up for grabs (Moorhead shares in between interviews that it's "B.S." that his wife has seen Jay-Z in concert, but he hasn't).
Last year at Media Days, I asked Moorhead about what his "Welcome to the South" moment was, to which he responded by citing the humidity and that "everything is wrapped in bacon." This year, Moorhead and I spent 20 minutes talking about his weight loss before he made his way down to the main podium.
Following Mississippi State's Outback Bowl loss, his mom told him she was worried. She watched her son balloon up to 295 pounds in his first year in Starkville. He was about 60 pounds north of his playing weight as a southpaw quarterback roughly 25 years ago.
"I got tired of recruits asking me if I played left tackle or right tackle," Moorhead says.
Mississippi State offensive line coach Marcus Johnson told Moorhead about the increasingly popular diet trend "intermittent fasting." On this new plan, Moorhead blocks out food until 6 p.m. He drinks green tea in the morning and water throughout the day with the occasional Diet Mountain Dew. He'll eat dinner with his wife and go back for seconds. He eats roughly 2,000 calories in a given day and sticks to that 6 p.m. to midnight window, even though he says, "no board certified person would sign off on what I'm doing."
Moorhead and his wife bought bikes to take on rides together because as he found out, he can't stand the stationary stuff. Stick him on a treadmill and all he's thinking about is texting recruits.
That new combination of lifestyle changes is working. A lot. Moorhead lost 57 pounds in about 6 months. His goal is to get down to his playing weight of 235 pounds. And yes, he plans on continuing the diet into the season.
For the 5 hours and 21 minutes that Moorhead is at Media Days, he's asked about his weight loss at nearly every one of the dozen media appearances he makes.
"How are you doing it?" "Did you change the foods you eat?" "Aren't you starving right now?"
Moorhead is indeed hungry. He asks whatever media member he's being interviewed by what time it is, not because he wants the day to be over — every person from production assistants to Paul Finebaum is greeted upon arrival and left with a "thank you" when he leaves the room — but because he wants to know if it's 6 o'clock yet so he can eat.
Surprisingly, Moorhead's suit from last year's Media Days still fits him, albeit with a tighter belt around his waist. It's fitting that Moorhead and Martin are both dressed in gray suits with white shirts and maroon ties. "I don't own many suits," Moorhead says.
All day, Moorhead and Martin are perfectly in sync. When Moorhead steps off the main podium at Media Days and comes back to the long hallway, he turns to Martin and asks "what's next?"
"TV," Martin tells Moorhead.
"TV? Let's do it."
****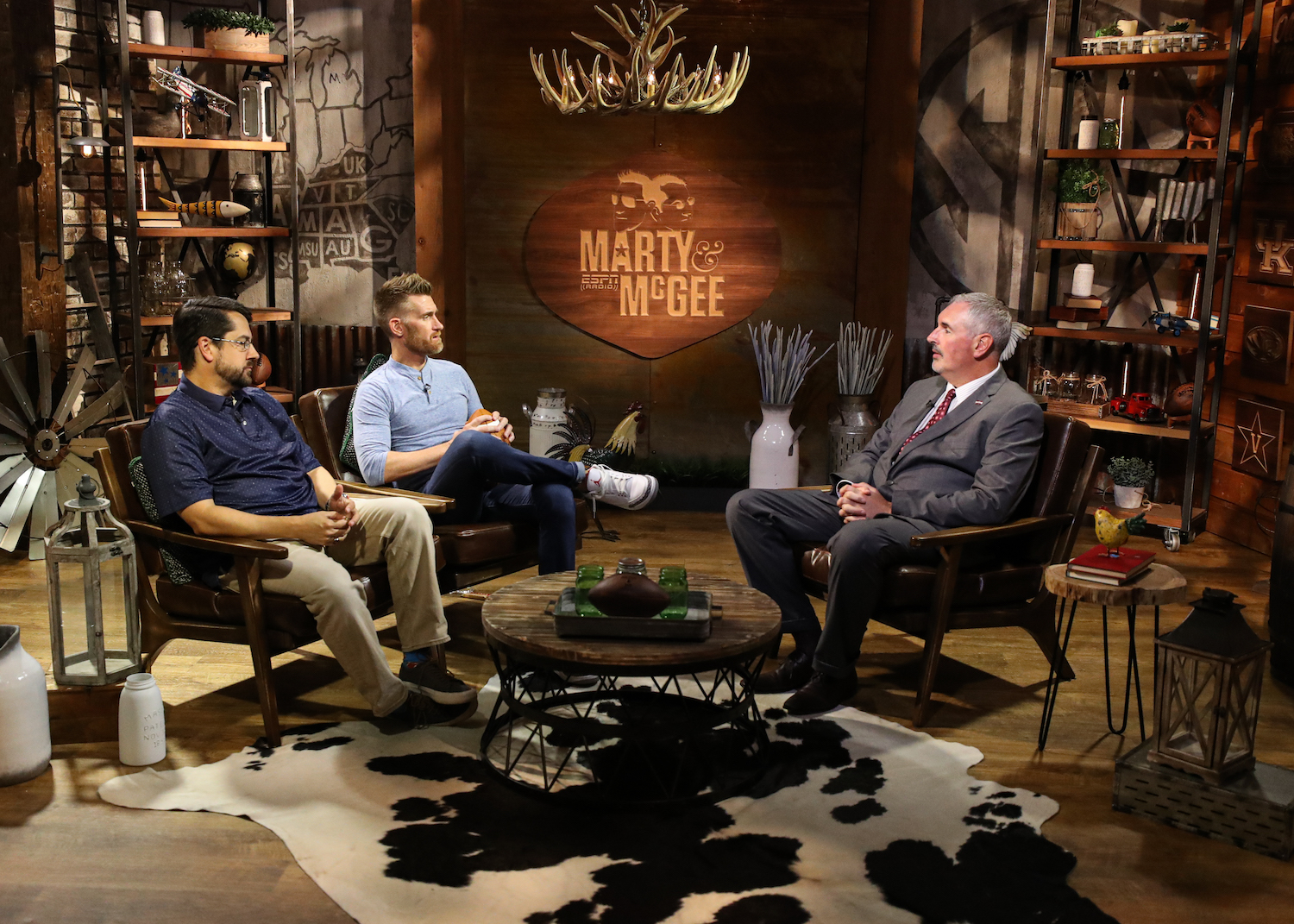 That's the type of attitude Moorhead carries everywhere he goes. When he does pre-recorded soundbites for College GameDay, he's ready to roll (but the rapid fire stuff admittedly throws him off with some of those questions). When he goes on SEC Network's "Marty and McGee," Moorhead looks like he's the third member of their show within roughly 2 minutes of walking on set. Marty Smith asks the production crew 10 minutes into their conversation if the cameras were recording.
They get into talking about the Pirates, which leads to a discussion on collecting baseball cards and talking about which box set they owned. They all start throwing out card brands like Fleer, Topps, Donruss and they collectively get stumped on the name of another mainstay trading card. After a moment of pause, Moorhead blurts out the exact answer they're looking for — "Bowman!" — which prompts a raucous celebration from the guys.
Moorhead might not pride himself on the rapid fire questions, but he has a knack for adapting into whatever situation he's in, on or off the field.
When Sirius XM radio host Rachel Baribeau pulls Moorhead aside following his second Media Days press conference and asks him a question about mental health, he responds by addressing the need to have more education on the subject than ever.
When Moorhead was questioned upon his Starkville arrival about how he'd recruit without southern ties, he responded by signing a Top 25 class with just 1 signee north of the Mason-Dixon Line.
Adapting is what got Moorhead to where he is today. Having others adapt to him is something that he brings up throughout his day in Hoover. He repeatedly cites the Year 2 success players have in his system and how he believes Nick Fitzgerald would have had a much different closing note had he been able to experience that.
Someone who did get multiple years in Moorhead's system, Tommy Stevens, is a popular topic of discussion throughout Moorhead's afternoon. It was Stevens who nearly beat out Trace McSorley for the starting job at Penn State in 2016 when Moorhead was the Lions' first-year offensive coordinator. This offseason, Stevens announced he was transferring to MSU to reunite with Moorhead for his final year of eligibility. Stevens' competition, Keytaon Thompson, is entering his second year with Moorhead having played sparingly, but well, as Fitzgerald's backup.
Moorhead wishes he had a quarterback as one of MSU's 3 player representatives at Media Days. That's not to say he was reluctant to have Erroll Thompson, Farrod Green and Darryl Williams in Hoover, but just that he knows the value of having an established starting quarterback as one of the faces of the program.
Sitting in the 12th floor hospitality room before his day of media obligations begins, I joke to Moorhead that he should have just brought Stevens and Thompson (who Moorhead refers to as "K.T.")
"That would've been sweet. (Martin) nixed that," Moorhead says as he turns to his chuckling S.I.D.
While Moorhead jokes, he addresses the elephant in the room throughout the day. He wants consistency from an offense that he watched get shut out one week and score 52 points the next. Watching 3 players from MSU's top-ranked defense get picked in the first round of the NFL Draft put the pressure back on Moorhead to make sure that Year 2 improvement comes as advertised.
The pressure Moorhead put on his team last year is something that he regrets. He mentions several times how he wished he kept the ring size and Heisman talk internal. He's transparent about the mistake he made by raising fan expectations so high from the jump without acknowledging the program's history (2 10-win seasons since World War II). In an appearance on Sirius XM Radio with Cole Cubelic and Aaron Murray, Moorhead talks about needing to experience the "gauntlet" that is the SEC for that reality to sink in.
That, of course, was followed by Moorhead pointing out Cubelic's Air Jordans. That was a theme throughout the day. If you were in a room with Moorhead and rocking Air Jordans, he'd identify them even though he's not a big sneaker-wearer.
Moorhead stays up to date on all of that stuff. That was his approach with Twitter, where he didn't get verified until after his first SEC Media Days (Moorhead doesn't have an explanation on that, but says that "my kids tell me that's important"). He uses it mainly for recruits, retweeting stuff about the Pirates and reaching out to his childhood idols.
During his time in the main SEC media room, Moorhead tries to make another Twitter splash. His goal? Get Marino to follow him on Twitter (he even shares his Twitter handle @BallCoachJoeMo). He admits that he tried the follow/unfollow trick about 50 times to no avail. During a rare off-air period, Moorhead turns to Martin and asks if he can have his phone to see if Marino followed him back yet. Nothing.
By the time Moorhead walks out of the Wynfrey Hotel lobby and is about to step on to the white shuttle van to take he and the MSU contingent on the 10-minute drive back to Bessemer Municipal Airport, he asks Martin again about Marino following him back. Still nothing.
"I'm kinda pissed," Moorhead says.
It doesn't matter to him that Marino hasn't tweeted in 2 weeks and that he only follows 60 people. Oh well. Add another Year 2 goal to the list for @BallCoachJoeMo.
****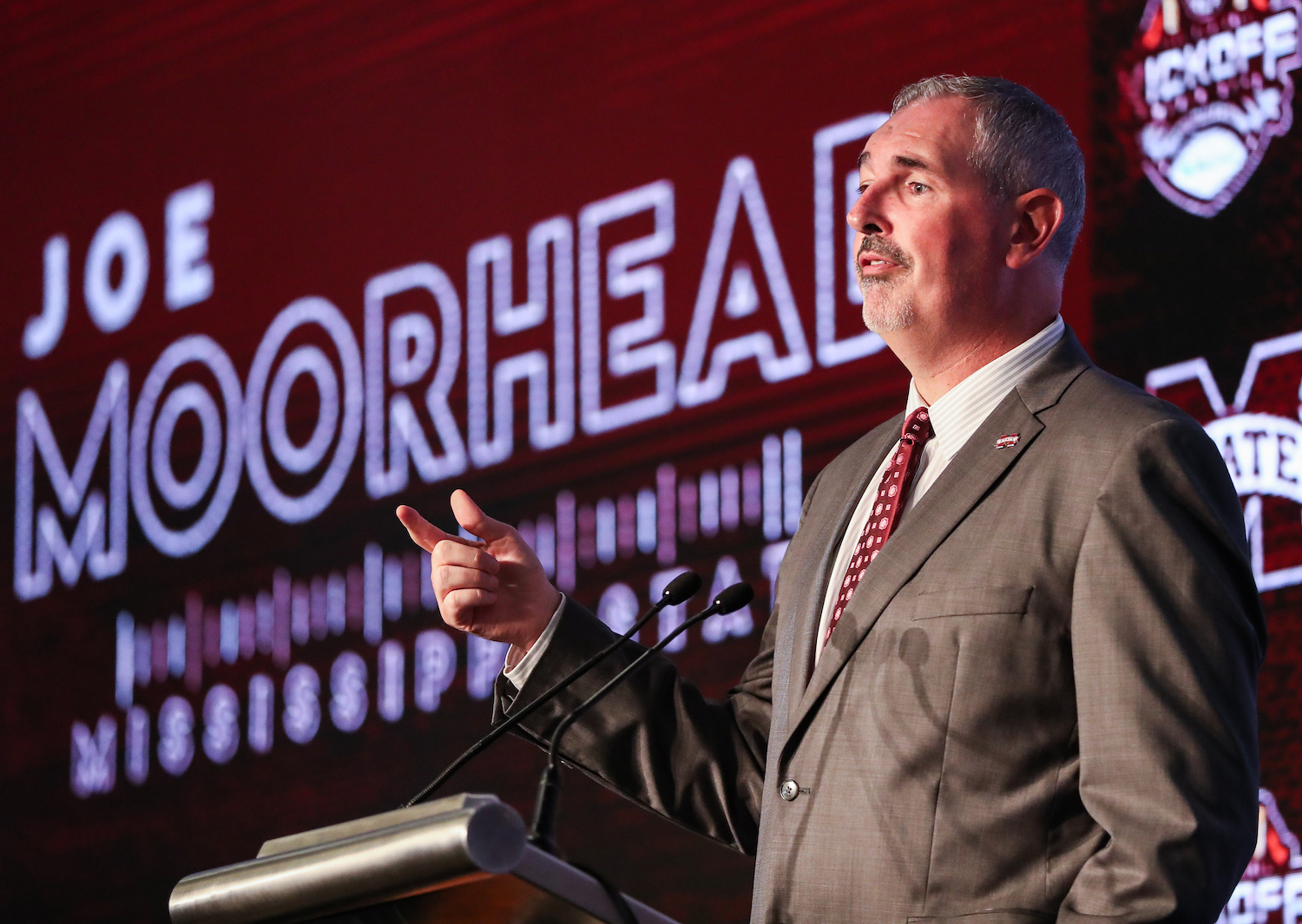 "Where did I come in at?"
Moorhead asks me that as he walks into the long Wynfrey Hotel hallway following his press conference in the main media room.
"12:39," I respond.
"Alright, I'll take it. That's what we talked about on the plane." Moorhead says to Martin.
Right in that meaty curve, he was. Basically.
By the time Moorhead closes the book on 2019, he'd like to be better than the meaty curve he finished in Year 1. An 8-5 overall record and a 4-4 SEC record was decent by normal standards — Moorhead did tie the program record for wins by a first-year head coach — but he still has championships on the brain.
He speaks about them differently now, though. It's a goal, not a guarantee. It's a belief, not a promise. No longer guns blazing entering Year 2, Moorhead would prefer to be the calm, cool coach who lets his high-powered offense do the talking like it did at Fordham and Penn State.
Over the course of the next 4 hours, the rest of the SEC media sees that approach from Moorhead. Martin sees that type of transparency every day. Moorhead makes his job easier and vice versa. He's as go with-the-flow, low maintenance as it gets (Moorhead did joke to a photographer in one of the SEC Network rooms that that he'd prefer to be shot from the right side because of how his broken nose looks from the opposite angle).
A diva, Moorhead certainly isn't. An SEC savant, he is not, though he certainly is more comfortable in Year 2. Then again, Moorhead says he never felt uncomfortable in his new surroundings in 2018. A new swagger was on display in Hoover, but that hunger is still with him 24/7.
Well, unless it's after 6 p.m.
Photos by: Aaron Cornia, MSU Athletics.