MISS STATE
Kylin Hill's push for change has the support of his team, fans, Ice Cube and especially Sylvester Croom
On Tuesday morning, Sylvester Croom was informed about what Mississippi State running back Kylin Hill tweeted on Monday afternoon.
Now retired, Croom, who was the first Black head coach in SEC football history when he accepted the MSU job in 2004, isn't on Twitter. He didn't see Hill's push for Mississippi to change its state flag, which features the Confederate logo in the top left corner.
In case you missed it, here was Hill's call to action in response to Mississippi Gov. Tate Reeves: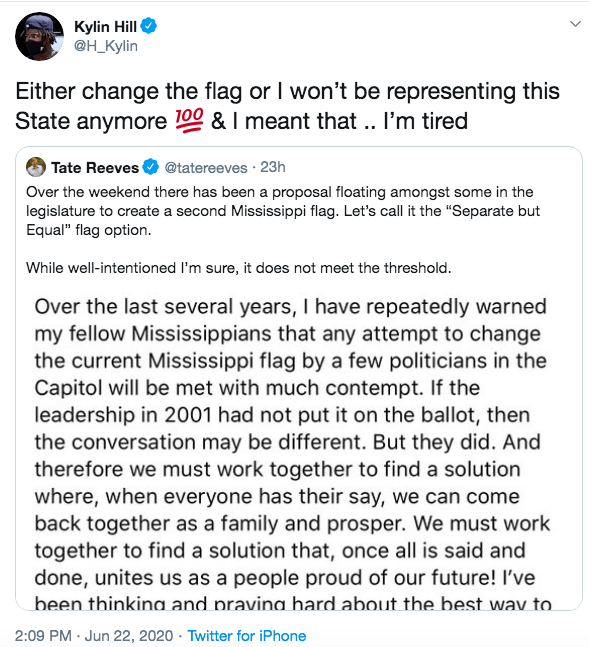 That viral tweet came 4 days after SEC commissioner Greg Sankey released a statement announcing that the SEC won't host SEC championship events in Mississippi as long as the state's flag remains. In response to Sankey, Conference-USA (home to Southern Miss) and the NCAA announced that they would not permit championship events in the state of Mississippi unless the flag was changed.
"I think this is a move in the right direction, not only for the conference but for the state of Mississippi. I think a lot of people will embrace it," Croom told SDS. "You'll have some that don't, but I think a lot people are going to embrace it and change will be made."
Among the thousands of shares, likes and retweets that Hill got from his stance were from his MSU teammates and coaches, as well as current/former SEC players like Rakeem Boyd and Lynn Bowden. The group in Hill's corner also included rapper/actor Ice Cube, who quote-tweeted Hill's call to action with 3 clapping emojis.
Add Croom to that group of supporters.
"What I've said all along is that when college athletes realize how powerful they are, they will start to use their voices for change," Croom said, "and that's what's happening now."
Many of the comments on Hill's tweet were about the fact that someone who returns as a first-team All-SEC running back was willing to take a stand. According to Croom, there's "no question" Hill's status as an established player matters when it comes to taking a statement like that seriously. Hill is the only returning first-team All-SEC player from Mississippi State or Ole Miss.
It's unknown how much of an impact Hill's statement will make. We know that before Sankey released a statement, Mississippi State president Mark Keenum sent a letter to Mississippi's governor, lieutenant governor and speaker of the House calling for a change to the flag. While there was public support to change the flag from Dan Mullen and Hugh Freeze in 2015, the subject hasn't been revisited since there was a 2-to-1 vote in Mississippi to keep the flag in 2001.
However, change could be on the horizon. According to Sports Illustrated, state lawmakers reportedly authored a bill to change the flag. The immediate stalemate could be that a 2/3 vote is needed from the Mississippi House and Senate Chambers in order to save the bill or else it won't see the senate floor because the Mississippi Legislative Session closes on June 28.
But again, that was before Hill made his announcement.
The Mississippi State flag hasn't been flown on MSU or Ole Miss' campus since 2016. While Croom was at MSU from 2004-08, he said that it was never flown on MSU's campus or "anything to do with Mississippi State."
"(Flying the state flag on campus) was an Ole Miss thing," Croom said. "Because if it had been (an MSU tradition), I wouldn't have been there. I can assure you that."
Croom cited MSU's progressive nature as one reason he accepted the job and broke the color barrier for Black head football coaches in the SEC. It mattered to him that MSU and Tennessee became the first SEC schools to start a Black quarterback in 1972. He wanted to coach at a place like MSU, which famously ignored opposition from Gov. Ross Barnett to play in the 1963 NCAA Tournament against a Loyola team that had 4 Black players.
Croom said it's not MSU, but rather the state's history with race relations, that still impacts the university.
"It's still a problem when you go recruit out of state," Croom said. "Especially when you talk about recruiting 4- and 5-star recruits from out of state, it's a serious problem."
Hill was once a 4-star recruit, but he was born and raised in Mississippi. In the 247sports era, MSU signed 7 5-star recruits. All were from Mississippi. Of the top 20 MSU recruits in the 247sports era, 18 were from Mississippi.
It remains to be seen what change will result from the stance taken by Hill, the SEC and NCAA. Reeves, who was quote-tweeted by Hill, has the power to call for a special session to vote on a potential new bill later in 2020.
Whether that happens or not, we've seen a growing trend in college athletics. Specifically college football.
Hill's statement came after Oklahoma State running back Chuba Hubbard and Florida State defensive tackle Marvin Wilson publicly voiced their frustrations with their respective coach's handling of racial injustice. Hill, Hubbard and Wilson could all likely garner first-team all-conference honors in a matter of weeks. All of them made national headlines for declaring they wouldn't play until they saw the change they sought for racial injustice.
As Croom said, "college athletes are realizing how powerful they are." And it's happening now.
Comments have been disabled on this column. The Saturday Down South community is a robust community of passionate football fans, but the comments exist for healthy debate around the game of college football. Nasty arguing or name calling with inappropriate and explicit language will get users removed from the system and/or a shutting down of comments on various articles. Our goal is to facilitate a healthy community of football fans. Arguments over politics and other non-football issues are for other websites. On occasion, we will preemptively shut down comments on articles of sensitive topics if we have seen a recent history of such topics leading to inappropriate arguments. Thanks for understanding.