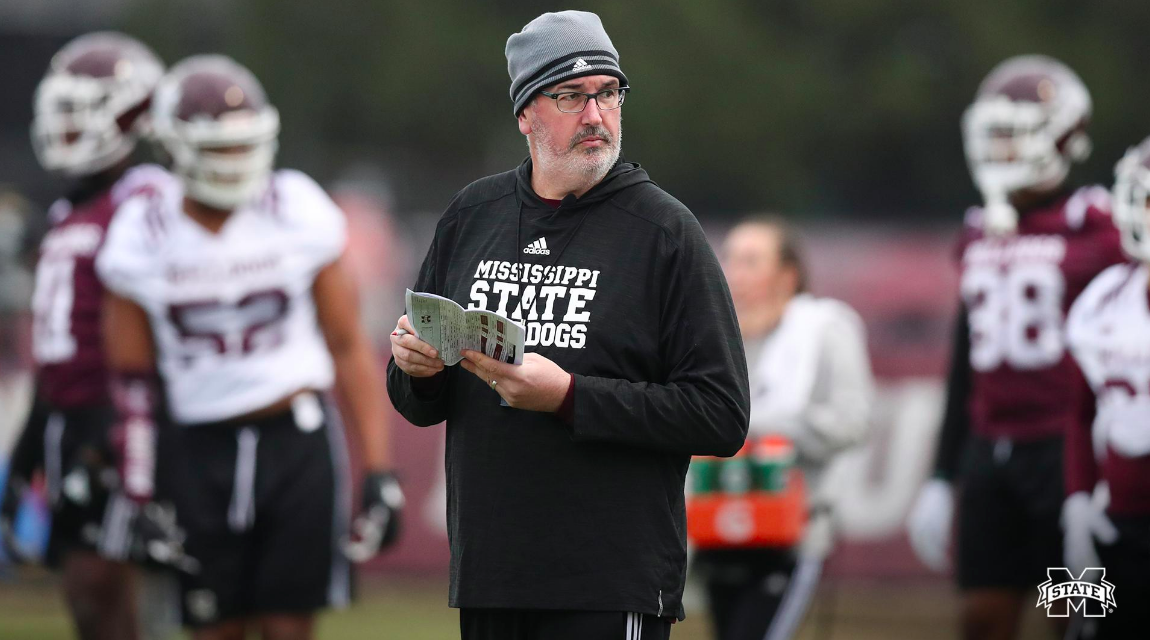 MISS STATE
Mississippi State football: 10 things I want to see this spring
Every college football team suffers personnel losses after every season. It's literally like clockwork, given there's only so many years of eligibility. Few teams, however, have to try and replace the quantity and quality that Mississippi State is now replacing, with 11 starters (8 on defense alone) now off to the greener pastures of the NFL.
It's safe to say this is a very important spring for Joe Moorhead, who enters his second year at the helm. Not only does he need to get the offense up to the level he desires, but he needs to try and somehow replace all the lost production from what was the best defense in the country last year.
After two practices, here are 10 things I'd like to see from the Bulldogs this spring as they work toward the Maroon and White Game on April 13.
"Every single DETAIL matters. Nothing is too small."

Mic'd up with @BallCoachJoeMo#HailState? pic.twitter.com/jwjSPEdeKq

— Mississippi State Football (@HailStateFB) March 8, 2019
10. Someone emerge as WR1
The receiving corps has been a problem for a few years now, and the team has lacked a consistent and reliable No. 1 guy since Fred Ross departed after the 2016 season. Last year was the second in a row that no Bulldog caught more than 27 passes, which is unconscionable for any team not running a triple option. Virtually everyone will be back this fall and there is some talent on hand, but now is the time for guys like Stephen Guidry, Osirus Mitchell or Devonta Jason to step up start realizing their full potential.
9. Sharp and Peters replace Jenkins and Abram
Two of the biggest losses to replace this year both in terms of production and leadership are Elgton Jenkins and Johnathan Abram. To try and help fill the void, Moorhead dipped into the JUCO ranks to sign LaQuinston Sharp and Fred Peters, each of whom are enrolled and going through spring drills. Now, I know Sharp is playing OG, so he's not truly replacing Jenkins at C (Darryl Williams has slid over from LG), but in a perfect world he replaces some of the lost leadership while providing a similar level of effectiveness in the ground game. Based off his JUCO film Peters looks like an Abram clone, now the hope is that he replicates his production.
8. Somehow replace starting defensive line
The Bulldogs fielded arguably the best defensive line in the country last year, and they were a primary catalyst for the defense as a whole being so effective and menacing. Unfortunately, all 4 starters and one of the primary backups either graduated or left early for the NFL and must now be replaced. There's optimism that the unit won't totally nosedive, however, as the Bulldogs have consistently done a nice job on the recruiting trail, so it's been one of the deepest units on the team. They may not be able to match the star power of a Montez Sweat or Jeffery Simmons, but they should be able to replace some of the lost production.
https://twitter.com/HailStateFB/status/1103856027089420288
7. Kylin Hill becomes a leader
With guys like Nick Fitzgerald, Aeris Williams, Elgton Jenkins and Deion Calhoun off to the NFL, you can make the case that the most accomplished returning player on offense is running back Kylin Hill, who rushed for 734 yards and 4 touchdowns last year, averaging 6.3 yards per carry. He has the ability to literally take over games with his unique combination of speed and power, but the offense needs him to become more consistent and they need him to take on more of a leadership role, both on and off the field.
6. Linebackers take over
The defensive line and secondary are replacing a combined 8 players who started or played significant roles from last year. This is the lone unit largely untouched by personnel losses, but it also was arguably the weakest unit on the defense last year. Time for Erroll Thompson, Leo Lewis and Willie Gay to shine, right? Both Thompson and Gay have continued to show progress on the field, but Lewis has been sliding backwards since a terrific freshman campaign in '16.
5. Chauncey Rivers takes next step developmentally
I already mentioned I want to see is some fresh faces step up along the defensive line, but one guy in particular is Chauncey Rivers. He was 3rd among defensive linemen last year in TFLs (7.5) while adding 3 sacks as a rotational backup, showing flashes of what he can do when given the opportunity. Well, now he has ample opportunity to show what he can do in his final audition before the NFL.
4. Charles Cross adjusts to speed
There's a couple of signees from the 2019 recruiting class I'm excited to see, but chief among them is 5-star OT Charles Cross, who enrolled early to get a jump start on his college career. His footwork and shuffle in pass protection is NFL-caliber, and it'll likely make him a very high draft pick as early as 2022, but first he needs to adjust to the increased speed of the game.
I'm sure Laurel High School – where Cross played — faces plenty of fine competition, but it's a tough transition for practically every freshman entering the SEC, so don't be surprised if Cross needs some time to adapt. Greg Eiland, the starter at LT last year and who struggled with speed off the edge, has already moved over to RT, clearing the way for Cross to win the job this spring.
3. Fans temper expectations for defense
The defense last year, as everyone knows, was unbelievable. Not only in terms of talent, as they could have 3 players picked in the 1st round of the 2019 NFL Draft, but in production, where they were No. 2 nationally in scoring defense, allowing just 13.1 points per game.
Naturally, the inclination of many fans is to believe a new bar has been set in Starkville, and they should expect that type of performance every year.
Pump the brakes, my friends. I still think the Bulldogs will have a high quality defense this year and I still think Bob Shoop is one of the better defensive coordinators in the country, but replacing the kind of personnel that they are is brutal, unless you recruit like Alabama or Clemson. Just being pragmatic and rational is what I'd like to see when it comes to expectations of the defense moving forward.
2. Quarterback battle resolved
The battle to replace Nick Fitzgerald under center has started and will be the most fascinating aspect of the spring and fall. It appears to be a 3-horse race right now between junior Keytaon Thompson, redshirt freshman Jalen Mayden (a 4-star prospect from 2018) and early enrollee Garrett Shrader, a highly touted 4-star prospect who picked the Bulldogs over Alabama, Florida and Tennessee).
Thompson obviously enters spring as the leader, given that he's the only one who has ever taken meaningful snaps at the college level, but Moorhead didn't sign Mayden and Shrader to look good on the sidelines – he obviously thinks they have the ability to help the team win at some point. More than likely, this battle will rage into fall camp, but ideally someone emerges from this race as the clear-cut guy, and the offense can start building around him.
1. Moorhead's vision of offense emerge
Considering how electric the Penn State offense was in 2016 and 2017 under Moorhead, Mississippi State fans obviously were expecting (somewhat unfairly) a similar product from their Bulldogs last year. Given the up-and-down performance of the offense in 2018, I can understand some of disappointment. But you have to remember, Moorhead couldn't run the same offense in Starkville that he did in State College, because he was dealing with two vastly different personnel groups.
Moorhead's offense is designed to create one-on-one opportunities, both in the run game and the passing game, and it necessitates proper reads and execution. Ultimately, if you really narrow things down, it requires the quarterback to be able to complete passes downfield and capitalize on those one-on-one's. Fitz, God bless him, was a really good college quarterback, but he was a thrower, not a passer.
Now, it wasn't all his fault. But he was just wasn't a great fit for Moorhead's offense from a skill set perspective.
The hope is that either Thompson, Mayden or Shrader is the guy Moorhead needs to really open up the playbook. When he's got a quarterback who can keep defenses honest with his arm is when we'll really see this offense emerge. That's when everyone will suddenly remember why Moorhead was such a good hire to begin with.
Joe Moorhead cover photo via @HailStateFB