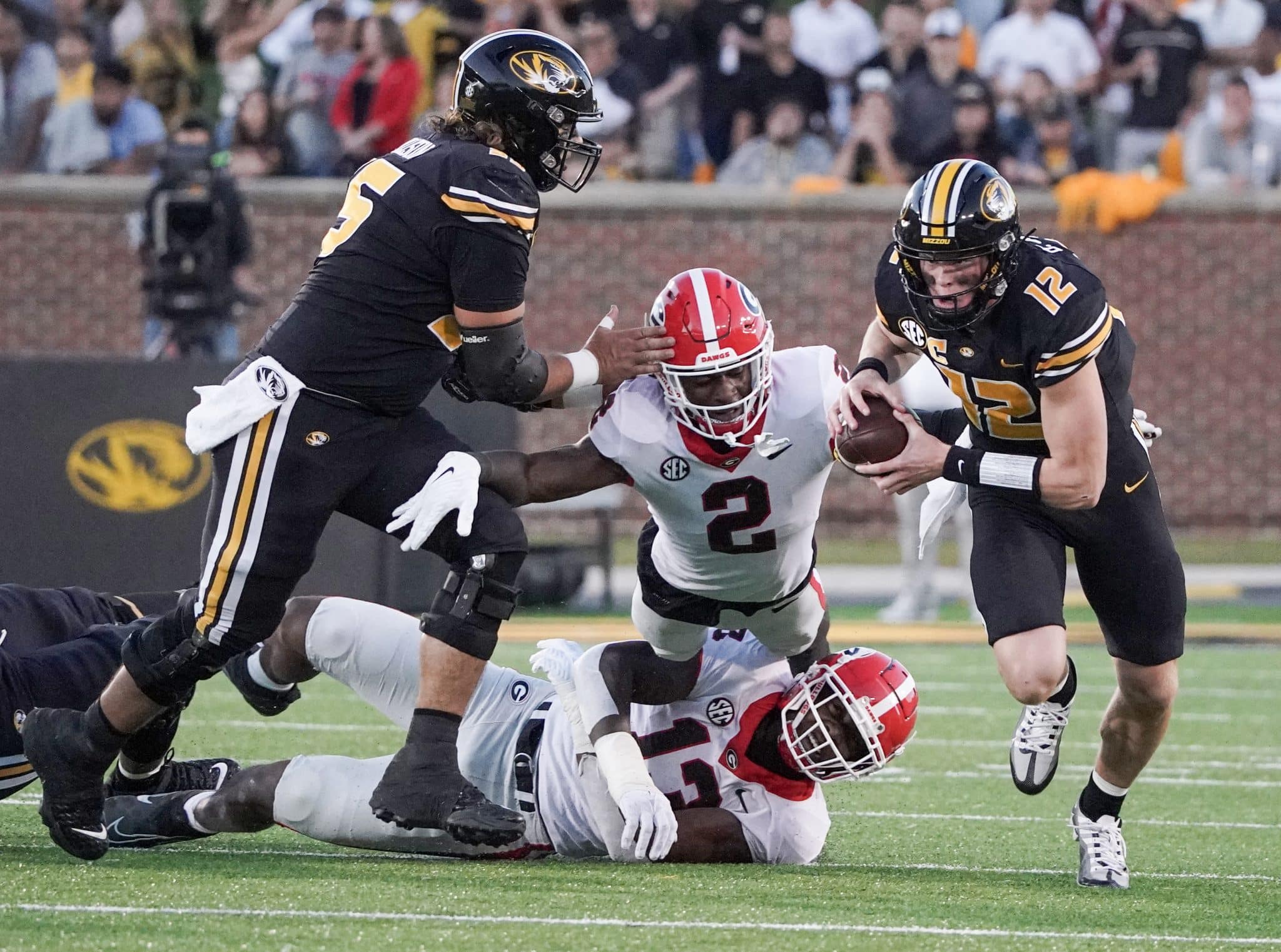 MIZZOU
Missouri football: Quarterback Brady Cook continuing to make strides
It wasn't long ago that many were speculating that there could be a quarterback controversy at Missouri after the team's disastrous offensive effort in which Brady Cook and graduate transfer Jack Abraham both saw time in the 40-12 loss to Kansas State.
Head coach Eli Drinkwitz made it plenty well-known after that that Cook was the team's starting quarterback, and he has not deviated from that statement since the day he made it. And while there have been plenty of ups and downs for Cook since, he has made some progress and is beginning to show signs of developing into a legitimate SEC starter.
And perhaps his best showing of the season was against none other than the Georgia Bulldogs in the team's closer-than-expected 26-22 loss to the then-No. 1 team in the nation. Cook completed 20-of-32 passes for 192 yards with 1 touchdown while cutting down on some of the errors that have showed up in his game in some other contests.
So far this season, Cook has completed 63.1 percent of his passes for 997 yards, with 5 touchdowns and 4 interceptions, adding 147 yards on the ground and 2 touchdowns.
It's also important to note that Cook has made this progress behind an offensive line that hasn't been the most consistent with pass protection — though it was better than usual in this loss — something that can work against a quarterback who is still largely inexperienced and coming into his own.
According to Pro Football Focus, Cook found his largest amount of success on passes behind the line of scrimmage and up to 10 yards. In those situations, he completed 17 of his 22 attempts.
He's still got to get better as an intermediate passer, which was reflected by the numbers. While Cook has at times struggled on the deep ball, he had some shining moments as his chemistry with wide receiver Dominic Lovett continued to shine through against one of the best passing defenses both in the conference and the country.
Cook completed 2 of his 3 deep passes to Lovett for 27 and 36 yards. Cook shined most on play-action plays, in which he recorded an offensive grade of 71.3 on and completed 8-of-10 passes for 102 yards.
Those numbers reflect both positives and room for growth. But there was no question that Cook played a part in giving Georgia a run for its money and rose to the occasion in one of the best ways a young quarterback could against a team that has given many a signal-caller a world of trouble, including those with more experience and better overall supporting casts.
There is also the thought that Drinkwitz's continuous conservative play-calling, which cost the Tigers the game against Auburn and could be argued did the same in what would have been the biggest upset of the week, has an influence on the way Cook appears as a quarterback. The Georgia defense hindered Cook's production on the ground, and while he continues to get better as a passer and work through things in those areas, his legs are typically a threat that Mizzou might benefit from leaning on more.
While there is still a long way to go to fill the talent gap that exists and a lot to prove, Cook has shown some Josh Allen-type traits, and it will be interesting to see how he expands upon that and if he can reach the levels of consistent top-tier play that is expected in a conference like the SEC.
He'll have a chance to take the next step on Saturday on the road against Florida.