NFL
Underdog Fantasy Promo: Jalen Hurts just needs 1 yard in Super Bowl LVII for users to cash in
Underdog Fantasy is the place to be for Super Bowl LVII on Sunday between the Kansas City Chiefs and Philadelphia Eagles.
In fact, Underdog is basically handing you a free win on Sunday via a special Underdog fantasy promo code involving Philadelphia QB (and former Alabama and Oklahoma star) Jalen Hurts!
Do you think Hurts will account for at least 1 yard of total offense on Sunday? Well, check out Underdog Fantasy and get in on the action for the big game.
What is Underdog and why should fans care?
Underdog Fantasy is a new daily fantasy platform backed by investors such as Mark Cuban, Kevin Durant and Adam Schefter.
Through Underdog's "Pick'em" contests, you can bundle a few selections of player prop picks similar to what you find at sportsbooks and put real money against those picks.
Underdog Fantasy is available in 41 states, so in a lot of states where sports betting isn't legal, you can do Underdog Fantasy picks for real money, as we're outlining here. It's really fun.
Underdog Fantasy is not available in the following states: CT, DE, HI, ID, IA, LA, MI, MT, NV.
Underdog is available in these states, but Pick'em contests as we outline here are not available: AZ, CO, MD, MO, NH, NJ, OH, PA, TN, WA, WV.
If you want to get started, Underdog will match your first deposit up to $100 by clicking here or using promo code SOUTH.
My picks for Super Bowl LVII
Jalen Hurts higher 0.5 total yards. This is a special promo from Underdog and it's a guarantee to hit. I don't need to break down the numbers and tell you that the Philadelphia quarterback accounted for at least 1 total yard of offense in each game he suited up for in 2022.
AJ Brown higher 5.0 receptions. Now is when things get a bit trickier. I think if the Eagles are going to compete in this game, Hurts will have to look to his go-to guy early and often. That's AJ Brown. The former Ole Miss star had at least 5 receptions in 10 games during the regular season. He only had 4 catches against the 49ers and 3 against the Giants earlier in the playoffs, but both of those games were blowouts in favor of the Eagles. Look for the Super Bowl to be a closer affair.
Travis Kelce higher 7.5 receptions. Similarly to Hurts, if the Chiefs are going to have success on Sunday, QB Patrick Mahomes is going to need to look Kelce's way a lot. The Philly pass rush has been historically great this year, so Mahomes will have to get the ball out of his hands quickly. That favors quick passes to Kelce, who is an absolute machine in the middle of the field. He should be plenty busy on Sunday.
How many picks should you make?
The more picks you string together, the higher the "multiplier" or payout. Of course, the more you string together, the less likely you are to win because all of the picks have to hit in order for you to win.
A 3-way parlay of the picks I listed above would pay out $60 on a $10 bet: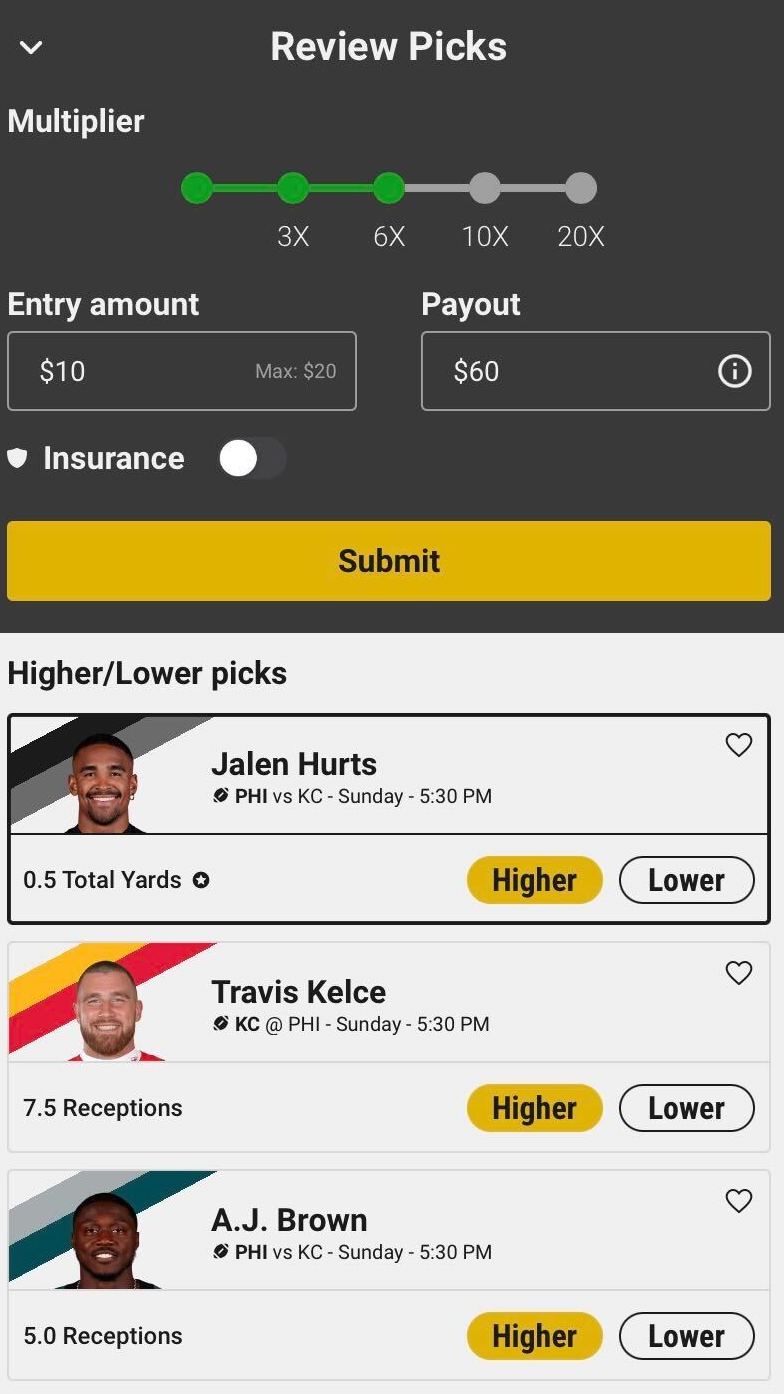 You know the Hurts pick is going to hit, so be creative with the rest of your picks! The Super Bowl is one of the biggest fantasy days of the year. Get in on the action at Underdog Fantasy!
Get started on Underdog by clicking here and make your picks for Super Bowl LVII or other CFB, CBB, NFL and NBA games. Using this link means Underdog will match your deposit up to $100. If you deposit $25, you'll get an extra $25 to start playing right away.