OLE MISS
Hugh Freeze responds to HS coach saying Ole Miss would get 'skull-drug' by overlooked players
An angry high school football coach gave the entire SEC a good laugh on Wednesday.
Following one of his players receiving an offer from Mississippi State earlier in the day, Bill Conides Tweeted at the Ole Miss football Twitter account to vent his frustration about his program's lack of attention from the other in-state SEC program.
You can read up on Wednesday's event here, but here's a look at the since-deleted Tweet in question: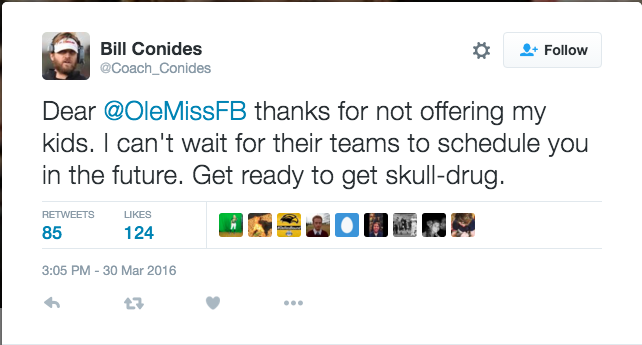 On Thursday, Ole Miss coach Hugh Freeze was giving a chance to respond while at a pro-am golf event.
Now, keep in mind that he is not able to mention any high school coaches or athletes specifically, per NCAA rules.
According to The Sun Herald, this was Freeze's response to the situation:
"I can't comment on recruiting publicly about a school or coach," Freeze said. "We haven't even gone out for the evaluations yet. That starts April 15 or so and then we'll have our camps. A lot of times in recruiting it's not only how good a player is, it's how many did you sign at that position last year.

"Evaluation of prospects is ongoing always."
According to the newspaper report, Conides' St. Stanislaus program in South Mississippi does have four rising seniors that have scholarship offers. Just none from Ole Miss.
Chase Rogers, the player whose Mississippi State offer seems to have brought this drama on, is committed to play TE at Tennessee.
QB Myles Brennan has SEC offers from Arkansas, Kentucky and Vanderbilt among many other FBS programs, and WR Corbin Blanchard and TE Darius Pittman also have offers.