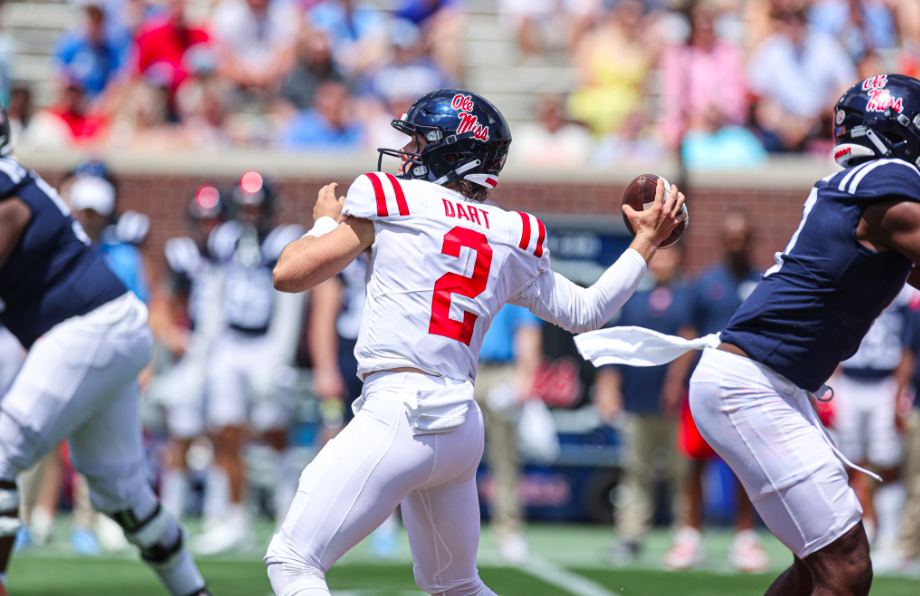 OLE MISS
Ole Miss football: 5 biggest areas of concern ... and possible solutions
Ole Miss fans will want to buy a program, entering Vaught-Hemingway Stadium, to identify the players in 2022.
One would think that following the school's first 10-win regular season that continuity would be the theme for 2022. But the program more resembles a revolving door on and off the field. And that has to be a concern for head coach Lane Kiffin as he looks to keep the program at a high level in the most competitive division in college football.
But credit to Kiffin for being the hardest-working coach in the offseason. He had to be. And while Kiffin didn't lead the country in recruiting high school talent, he had Ole Miss ranked No. 1 nationally (by 247sports.com) in the transfer portal rankings.
So how do the Rebels follow up their first 10-win regular season? With spring ball over and portal deadlines passed, let's take a look at 5 of the biggest areas of concern entering the 2022 season, and perhaps a few possible solutions as well.
1. How do you replace Matt Corral?
There's really no replacing a talent like that. How do even begin to replace 57 passing touchdowns, another 18 rushing TDs and more than 8,000 passing yards in a 4-year career?
The answer is: You can't. Credit Kiffin for trying. He brought a good one over from Southern Cal via the transfer portal. A 5-star recruit, Jaxson Dart appears to be the guy to step into those gigantic shoes.
Dart had some success at USC in his freshman year, throwing for 1,353 yards and 9 touchdowns (5 INTs) while completing 62 percent of his passes over 6 games. In Kiffin's system, those numbers will likely balloon. They'll have to for the Rebels to have any chance at a repeat of last year.
The Rebels also have Luke Altmyer in the QB room, and that's not a bad thing, either. Altmyer performed admirably in the Sugar Bowl for the injured Corral. And though he didn't pull out a victory, the freshman got valuable playing experience that can only help in whatever role he winds up playing in 2022.
Many thought Dart's arrival signified a decision had been made regarding the starter.
It's hasn't. This battle will be decided in fall camp. Altmyer's experience in the system makes him a legitimate threat to win the job.
2. Who will the new QB throw to?
Perhaps the most decimated position in the program is at wide receiver. Kiffin must replace his top 4 pass-catchers from 2021. Combined, 5 of the team's top 7 receivers have departed.
The answer could come from the transfer portal, where Kiffin brought over a couple of 3-star wideouts. Receivers Malik Heath, from Mississippi State, and Jordan Watkins, from Louisville, figure to step into prominent roles.
Heath hauled in 71 passes over the past 2 seasons with the Bulldogs, accounting for 749 yards and 8 TDs. Watkins put up similar numbers last season in his freshman year with the Cardinals, ranking 2nd on the team with 544 receiving yards (4 TDs) on 35 receptions.
If healthy, veteran receiver Jonathan Mingo could have a breakout season, and Dannis Jackson flashed signs of his abilities with 6 catches for 126 yards and a TD against Liberty last season. Additionally, Missouri transfer Jalen Knox figures to play a key role in the passing game as well.
3. Where have all the RBs run?
The team's top 3 running backs have departed, and if you add Corral to the mix, it's the top 4.
That's a scary situation with or without the transfer portal. But that's where Kiffin dove in, landing TCU transfer Zach Evans. The 5-star recruit led the Horned Frogs last season with 648 yards (5 TDs) on 92 carries. And that was accomplished in just 6 games because of a lingering toe injury that cut his season short.
If healthy, Evans could be the go-to guy in the backfield this season.
4. Coaching change
Programs strive for continuity, so when coaching changes occur as they often do, it's always a challenge. The Rebels lost their offensive coordinator, co-defensive coordinator and strength coach.
So Kiffin searched for personal continuity in luring Charlie Weis Jr. as co-OC. Weis called plays for Kiffin at FAU and was also on the staff when the 2 were at Alabama. More recently, Kiffin brought in Maurice Crum from Western Kentucky as co-DC.
Only time will tell if the new faces mesh with the players and the program.
5. O-line
There's a changing of the guard, and at center as well. The Rebels must replace a couple of key figures in the offensive line. Getting Nick Broeker back for his senior year is big, but plugging those holes is critical to the development of an already revamped offense at the skilled positions.
Bringing in 4-star tackle Mason Brooks (6-6, 305), from Western Kentucky, is a big help.
Jaxson Dart cover photo via Twitter @OleMissFB