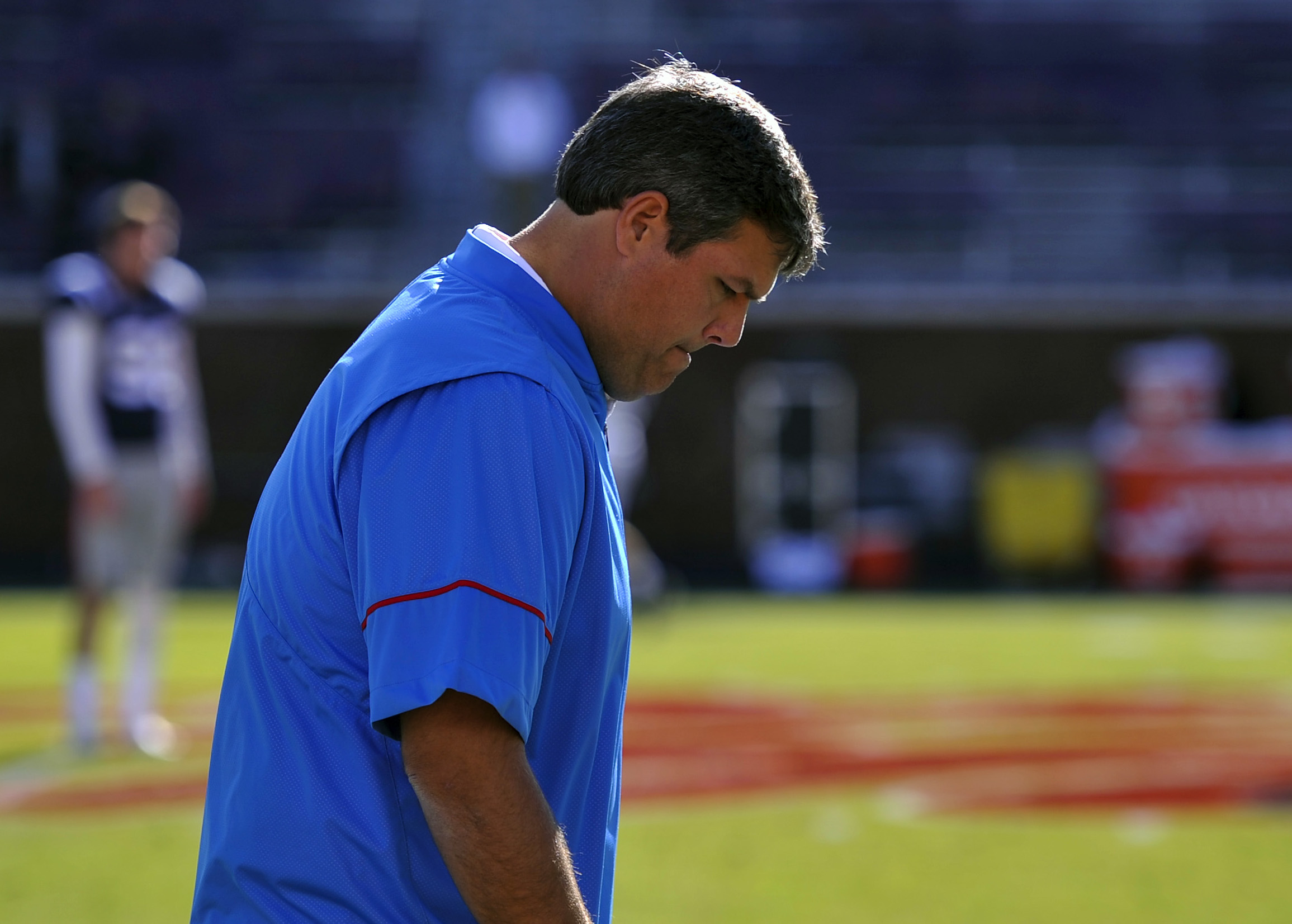 OLE MISS
How Ole Miss recruiting has changed with Matt Luke in charge
The Ole Miss Rebels could be in a heap of trouble for the next couple of seasons.
The NCAA levied its punishments against Ole Miss and they weren't pretty. Scholarship reductions, massive fines, a four-year probation, and a bowl ban in 2018. The NCAA gave them a two-year bowl ban, but Ole Miss self-imposed that punishment in 2017. These restrictions will devastate the Rebels' chances to compete in the SEC in recruiting.
Quarterback Shea Patterson left to play for Jim Harbaugh at Michigan. He might not be the only Ole Miss player leaving for greener pastures in the offseason. Every coach competing with Ole Miss can bring up the punishments the Rebels are enduring.
Here is how far recruiting has fallen lately for Ole Miss with permanent head coach Matt Luke.
Recent decommits
Allen Love
Allen Love decommitted from Ole Miss on Dec. 11. Recruiting website 247Sports.com predicts he will wind up at Louisville. Love runs a 4.7 40-yard dash and is ranked the No. 54 best defensive tackle in the country. Arkansas and Kentucky are the other SEC schools that have offered him a scholarship. Alabama, Auburn and South Carolina have shown interest.
Going with Gods plan thank you rebel nation !! pic.twitter.com/e7pVjUKLz9

— Allen Love (@rfy_55) December 12, 2017
As of Sunday, Love was the only player to decommit from Ole Miss after the season.
Recent commits
Matt Corral
Ole Miss might have snagged a diamond in a field full of ashes on Dec. 14. Matt Corral is rated the No. 3 pro-style quarterback in the 2018 class and originally committed to Florida. Corral had a monster senior year with almost 2,500 passing yards and 33 total touchdowns.
He had his pick from some of the top programs in the country. Corral will be a part of the 2018 U.S. All-American Bowl, with some of America's other top prospects. Even an old alum is excited about him choosing Ole Miss.
@corral_matt ohhhhhh my it's about to be a scary scene .. welcome home

— Donte Moncrief (@drm_12) December 15, 2017
Cameron White
In the wake of the NCAA cracking down, Ole Miss snagged Cameron White, a hometown kid out of Madison Central High School. White is a 3-star prospect and is ranked the No. 18 player in Mississippi coming out in 2018. He chose the Rebels over the Alabama Crimson Tide and several other schools.
White shined on both sides of the ball in high school, but is expected to play safety in college.
WATCH: Ole Miss fans, here's a look at your newest commit: @cam_white25. He shined on both offense and defense for @MCJags_Football this season. pic.twitter.com/xvT3T4DE52

— Tyler Greever (@Tyler_Greever) December 9, 2017
Quick analysis
The Rebels have 12 hard commits from recruits in the 2018 class. The punishments from the NCAA came out more than two weeks ago, so it's positive for the program that many of those players look to be sticking with Ole Miss. But of course with early signing approaching, that could change.
Nine of the 12 players committed play on defense. That's not a bad move because Ole Miss was atrocious on defense in 2017. The Rebels allowed 34.6 points per game in 2017 and Luke will want to bring that down.
According to 247Sports, the Ole Miss recruiting class is rated 14th (last) in the SEC and No. 62 in the country. Luke and his staff have to pick up the pace, or the Rebels are in for a rough 2018 season.
It's weird not seeing a single 5-star player committed to Ole Miss, and Corral is the only 4-star player. In 2016, the Rebels had the No. 5 recruiting class in the country. In 2015 they signed seven 4-star players. In 2014, Ole Miss ranked inside the top 15.
One thing Luke doesn't have to work against is changing systems. When he was hired as the permanent coach in late November, it was a huge step for the program. Players advocated for it, including standout wide receiver A.J. Brown.
.@Brown1arthur loves Matt Luke and wants him to be his head coach pic.twitter.com/4RNPvSgfDw

— Waverly McCarthy (@waverlymccarthy) November 24, 2017
Anyone close to Luke would tell you it's his dream job. He is connected to Ole Miss through three generations of family members. He went to school and played football in Oxford.
Though he faces a number of difficult challenges ahead, Luke might be the perfect candidate for enduring turbulent times ahead. The Rebels shocked Mississippi State in Davis Wade Stadium to end their 2017 regular season, which is always a boost since many of their recruiting targets live in Mississippi. Luke showed promise in his first year.
Wesley McGriff is still heading the defense and Phil Longo again will control the offense. The Rebels will try to reload on defense and add some more offensive pieces.
Almost half of the class is from Mississippi. Luke is doing his best to beat out the Bulldogs for recruits inside the state. That might be easier said than done.