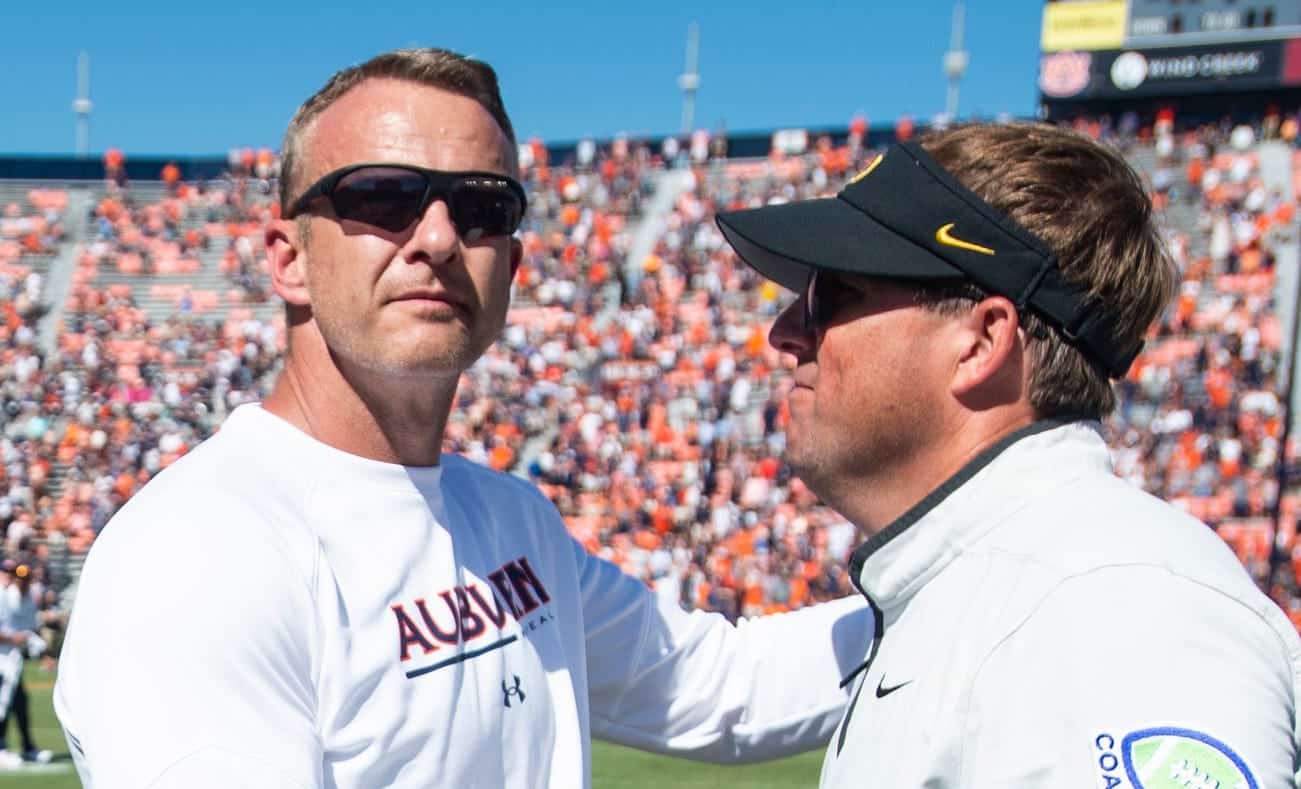 SEC
1 thing I learned from every SEC team in Week 4
Are we having fun yet?
Saturday's Week 4 slate wasn't expected to be anything to write home about, but I'd argue that it delivered. It gave us that wild Mizzou-Auburn ending, we got a nearly wild Florida-Tennessee ending and then the absolutely wild Arkansas-A&M ending.
Have I said "wild" enough? Yeah?
OK, here's 1 thing I learned about every SEC team in Week 4:
Alabama — Jase McClellan is carving out a major role for himself
I found it interesting that McClellan out-touched Jahmyr Gibbs 3-0 on Alabama's opening drive. In a lopsided game, numbers can be skewed, but McClellan had 6 touches in the 1st quarter, and he got 8 touches before Gibbs got on the board. That's not nothing, in my opinion. McClellan had a powerful touchdown run to highlight a 78-yard, 11-carry day. He out-touched Gibbs 13-6 by day's end.
It was McClellan who had Alabama's lone chunk play in the Texas game with that 81-yard touchdown run in the 1st quarter. He also watched his carries go up in each game. I'm not saying he's about to overtake the versatile Gibbs, who has immense value in the passing game. Gibbs had played 97 snaps to McClellan's 54 entering the day. I do, however, think we could see him eat into Gibbs' workload as a potential 3-down back, especially if he continues to run like he did on Saturday night.
Arkansas — The ground game has its limitations
The final stats would suggest that 244 rushing yards was far from the problem. So what do I mean by that? It's not always easy to stop the bleeding. It didn't help that Arkansas' best back, Rocket Sanders, appeared to be banged up in the 2nd half with a rib injury. But what we saw from the Razorbacks wasn't just that college kickers are frustrating and mostly unreliable. We saw that they had major issues generating offense once KJ Jefferson's confidence appeared to be shaken on that goal-line fumble.
Granted, the Hogs rallied back and nearly pulled off a comeback. But we saw instances in which Arkansas got a little too cute with the Malik Hornsby package, and when Arkansas needed that late dominance up front, it couldn't quite take over. That was the 1st time all year that it couldn't truly lean on the ground game to do the heavy lifting for 60 minutes. That was a setback game ahead of Alabama.
Auburn — Bryan Harsin owes Mizzou his job
Let's recap the scenarios here. If Harrison Mevis, an All-America kicker, makes a 26-yard field goal from right down the middle, Harsin is likely out of a job. If Nathaniel Peat simply goes out of bounds or does ANYTHING besides fumble into the end zone before crossing the goal line, Harsin is probably out of a job. It's as simple as that. Oh! I forgot that if Mizzou doesn't jump offsides on Anders Carlson's shanked kick in overtime, Harsin might've been out of a job, too. But that didn't happen.
Instead, Auburn won a game that nobody wanted to win. Credit Auburn's defensive line for stepping up and not allowing a 2nd-half point, because it was a nightmarish offensive performance on both sides. A week after getting embarrassed by Penn State, Auburn didn't suddenly find the remedy to suggest a 9-3 season is in the works. But for 1 afternoon, the Tigers (the home ones) somehow avoided being the butt of every joke. Unlike Mizzou.
Florida — Anthony Richardson ain't broken
Many overreacted to his brilliance, and many overreacted when he struggled in consecutive weeks. What did Saturday's showing at Tennessee tell us? That Richardson can indeed throw the football and take advantage of a porous Tennessee pass defense. Richardson did get his 1st touchdown pass of the year, and it fittingly came in highlight-reel fashion.
Anthony Richardson's first TD pass of 2022 was wild. Goodness, what a play. pic.twitter.com/EzQV0c0d8o

— Connor O'Gara (@cjogara) September 24, 2022
Yeah, Richardson had the costly fumble early in the 4th quarter. You can't beat a top-15 team on the road and make a mistake at a critical juncture like that. But Richardson still settled in nicely. He had more touch on his downfield throws, he showed good decision-making as a runner, and when plays were covered, he usually made the best of a broken play. There was a world in which Richardson could've been a 45 percent passer with a couple picks. But Richardson and coach Billy Napier appeared to be on the same page, and there was a lot more life from the Florida passing game even though Montrell Johnson Jr. and Trevor Etienne were mostly bottled up. That was the best positive Florida could've asked for in a losing effort.
Georgia — We got ahead of our skis in a couple ways
Through 3 weeks, the conversation with some was that "Georgia might be even better than last year's group." Offensively? Sure. Defensively, come on. There was no way a group with 8 new starters was going to be better than the best defense of the 21st century. It was Kent State, of all teams, that exploited that. The Flashes ran right at the Dawgs and made those 1st-stringers stay on the field way longer than they probably expected. Kirby Smart will have plenty to pick apart watching that film back.
Oh, and something else? Ladd McConkey is a human being. He had a nightmare 1st half. A muffed punt earned a tongue-lashing from Smart, and it didn't help that McConkey then dropped a ball in the end zone, fumbled after a little bubble screen and then dropped another likely touchdown. On that last play, McConkey had the look I usually have on the 11th hole. As in, "Wow, I can't do anything right." That sort of summed up the mood for UGA, but at the very least, it came in a win by double digits and not some historic letdown loss.
Kentucky — Those offensive line issues are still preventing the Cats from looking the part
By "look the part," I mean looking like a top-10 team. Mark Stoops was disappointed that his team really couldn't put its foot on the gas late against Youngstown State, and you know he was hoping to have his team put the foot on the gas against a MAC team with a backup quarterback. Instead, though, offensive line issues left Will Levis exposed, and a ground game that has been a bit of an issue without Chris Rodriguez Jr. couldn't really shift into overdrive.
The good news? Rodriguez returns next week for Ole Miss. The bad news? Kentucky has allowed plenty of hits on Levis. You hope that he can last in SEC play, or at the very least that Rodriguez takes some of that offensive burden off his plate with a somewhat limited offensive line.
LSU — Noah Cain is ready to be a fixture of the backfield
If you followed Cain's career, you know that it hasn't gone exactly according to plan. He looked promising as a true freshman at Penn State, but a combination of injuries, some poor offensive line play and an extremely talented young Penn State backfield led to him transferring back home. Up until Saturday night, Cain has been somewhat buried on the depth chart as LSU's 4th-string back. But we finally saw some of that power and burst that once made him one of the nation's most promising true freshman tailbacks back in 2019.
Shedding tacklers. @therealnoahcain for 49 yards and TD No. 2 pic.twitter.com/dGFamgBWkZ

— LSU Football (@LSUfootball) September 25, 2022
That was the 1st run of his career that went for more than 20 yards. Cain showed that burst, albeit against a struggling New Mexico program. Still, if he's healthy, he needs to be a fixture in that backfield along with John Emery Jr. and Armoni Goodwin.
Mizzou — There's no such thing as a free win
Auburn truly tried to give it away to Mizzou, and yet the visiting Tigers refused to take it. It would be a disservice to those programs to say that neither team wanted to win, but man, you could've fooled me. Eli Drinkwitz was roasted after Saturday's loss, and understandably so. It wasn't just that Luther Burden didn't have an offensive touch. Drinkwitz elected for 3 knees on 1st and goal on the Auburn 3-yard line to turn it over to Mevis. That was after his offense couldn't score a point in the 2nd half. You can't necessarily blame Drinkwitz for Peat losing the ball (and the game) by reaching for the goal line in overtime.
But Saturday was as deflating a loss as any in recent memory for Mizzou. A prime opportunity was sitting there to start SEC play. Drinkwitz is in Year 3, and the athletic director who hired him, Jim Sterk, is no longer around. If things go from bad to worse, we'll look back on the Auburn game as the one that Drinkwitz will want back more than any loss at Mizzou.
MSU — LSU hangover? Nope.
A week after Mississippi State collapsed in the 4th quarter to kick off SEC play, we figured that Bowling Green wouldn't put up much of a fight. But Mike Leach's team responded exactly the way one would've hoped. Will Rogers had 106 passing yards and 2 touchdowns in the 1st 4 minutes. A week removed from having his worst completion percentage game of his career (57 percent), Rogers looked as calm as ever. His connection with Caleb Ducking is blossoming into what he had last year with Makai Polk, which is a crucial development heading into October.
Rocking those throwback unis, MSU went to work and moved past an ugly ending with a lights-out performance.
Ole Miss — We had reason to be skeptical of some of those dominant defensive numbers
I don't want to diminish what we've seen so far from AJ Finley, Khari Coleman and that Ole Miss defense. They've been rock solid, albeit against some lesser foes. Hence, there was reason to be skeptical of the 4.3 points per game allowed stat. The SEC's No. 2 run defense and the 1 touchdown pass allowed was everything Lane Kiffin could've asked for. But against Tulsa, who had the nation's No. 1 passing attack entering Week 4, it was a different story.
It didn't matter that Davis Brin was sidelined in the 2nd quarter. Ole Miss still struggled to get off the field against a Tulsa offense that gained 26 1st downs, thanks in large part to 262 rushing yards. Ole Miss is a mystery from quarter to quarter on both sides of the ball. We knew it was a favorable September for a team with 30 new players. But the question is now whether Kiffin's squad is actually going to be able to slow down SEC offenses.
South Carolina — MarShawn Lloyd is a problem when he's able to get in space
If you didn't get a chance to see Lloyd on Saturday night, go back and watch him. Trust me. That is, if you're someone who enjoys watching dudes run over and through people. Better yet, why don't I just show you what the South Carolina back did on his career night:
MARSHAWN LLOYD (@m_lloyd_2) GOT UP ⏫⏫ pic.twitter.com/3KcV6snOdI

— Mitchel Summers (@MitchSummersTV) September 25, 2022
MarShawn Lloyd BULLY BALL! He's having a nice game 162 yards & 2 TDs on 14 carries! pic.twitter.com/hGO0HhLF4J

— ?????? @???????? (@FTBeard7) September 25, 2022
Lloyd more than tripled his career high with 169 rushing yards, which was something South Carolina fans have been waiting 2 years for after he came in as a decorated class of 2020 tailback. But beyond the numbers, it was how physical he was at the point of attack. For a South Carolina offense in desperate search of an offensive identity for the first 3 weeks, Lloyd might've just made the best possible case to be the focal point. Perhaps the Gamecocks won't have to rely so much on their offensive line protecting Spencer Rattler.
Tennessee — Rivalry demons, be gone
I know, I know. The Vols were double-digit favorites. They were the higher-ranked team. It's Year 1 of the Billy Napier era. But if Tennessee fans are being honest, they had the thought to themselves once Florida recovered the onside kick. As in, "Maybe we're cursed." Nah. Tennessee ain't cursed. It did need every bit of Hendon Hooker's brilliance — he had the most passing yards vs. Florida since Peyton Manning in 1997 — to fend off the Gators. In a game in which Hooker was without Cedric Tillman, Bru McCoy was phenomenal.
But it was more than that. Tennessee's defense, though it had its issues defending the pass by allowing UF's Richardson to rack up 453 passing yards, contained Florida's ground game, and it forced that key Richardson fumble early in the 4th quarter when it looked as if the Gators were about to make it a 3-point game. That was the pivotal play for the Vols. Tennessee has a long way to go to hang in any sort of Playoff discussion, but as Josh Heupel said afterward, "Rocky Top is back." Back to relevancy, at least.
Texas A&M — There's some dog in those Aggies after all
When the Aggies were down 14-0, I thought they were cooked. Arkansas looked like it was ready to go up 3 scores while driving into A&M territory. But then those consecutive failed plays to Hornsby brought the Aggies back in it. That'll get lost in the shuffle on a night when KJ Jefferson's goal-line fumble, which was forced by Chris Russell Jr., went back for 6 thanks to some incredible awareness by Tyreek Chappell and Demani Richardson.
Remember that 2 weeks ago, we were blasting the Aggies for the lack of urgency against Appalachian State. Against Arkansas, they sensed that window came open and scored 23 straight. That was the byproduct of Max Johnson handling pressure well AND that young A&M defense stymieing that Arkansas ground attack long enough to get back into it. That was an incredibly gritty win, even if it was helped by a missed Arkansas field goal off the top upright.
Vanderbilt — AJ Swann is going to have a tough time staying protected against SEC fronts
To be fair, he won't see Will Anderson Jr. every week. Also to be fair, the true freshman quarterback might see Anderson every time he closes his eyes for the rest of the season. Swann was harassed in somewhat predictable fashion by that loaded Alabama front. But the bigger issue was how easy it looked at times against that unproven Vandy offensive line. Swann was a surprising switch to QB1 past Mike Wright, who has much more mobility but isn't on Swann's level as a downfield passer.
I'd consider 4 Alabama sacks an early sign that Swann is going to be climbing an uphill battle until further notice.