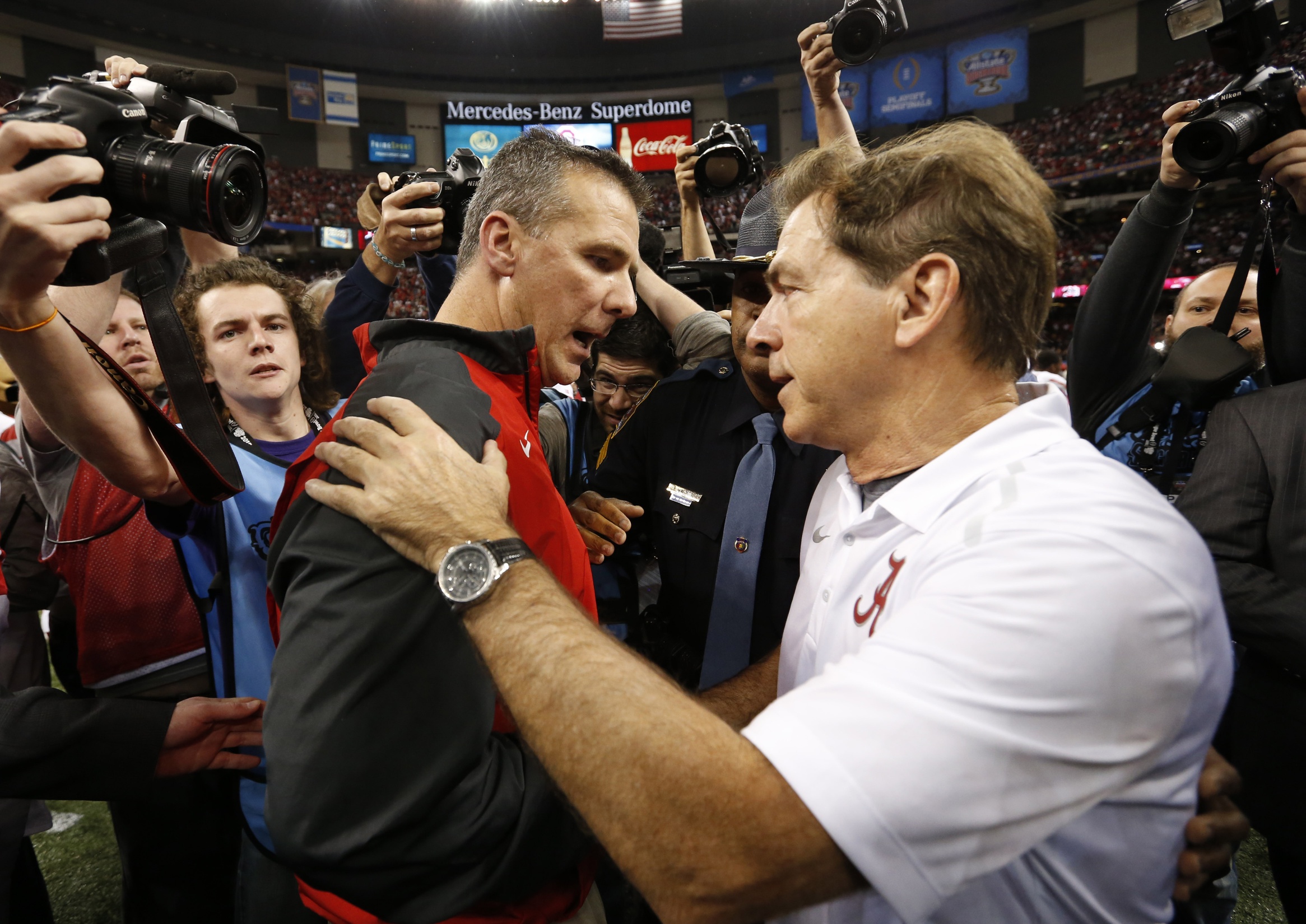 SEC
The 10 best college coaching hires in the past decade
Having an established coach who knows how to win titles in huge in college football, because the players all come and go every three or four years.
The coach becomes the face of the franchise and that one that delivers – both on the sidelines on Saturday in the living room of recruits out on the trail – is worth his weight in gold. Getting the right guy is critical.
Here are the 10 best coaching hires in the past decade:
Nick Saban, Alabama: You simply cannot dispute the man's track record. He's won four titles in the past seven years at Alabama, and when you add in the fifth that he won at LSU, we've really reached the point now where we need to add him to the Mount Rushmore of all-time college coaches. And the scary thought? He might have four more titles in him. The best thing Alabama ever did was bringing Saban aboard in 2007. He's a proven winner and he's showing not signs at all of slowing down.
Urban Meyer, Ohio State: Florida fans are never going to forgive Meyer for leaving Gainesville, and that hurt will never go away. Especially as long as he keeps winning at Ohio State, which he's done at a record pace, going 50-4 in his first four years in Columbus. He had already won two national championships before he got to OSU and he's quickly added a third there (in 2014). And he would have dearly loved to have had another chance this year. Meyer and his guys are firmly convinced they would have played Alabama tougher than Michigan State or Clemson did. They can be cocky that way.
Jimbo Fisher, Florida State: They say it's impossible to replace a legend, but Jimbo Fisher is doing a pretty good job of it in following in the footsteps of the great Bobby Bowden at Florida State since 2010. Fisher has already won a national title (2013) and had back-to-back unbeaten regular seasons (2013, 2014). He's a great recruiter, gathering top-five talent every year. Florida State is back to being a national power again, and that's all on Fisher.
Dabo Swinney, Clemson: I'm not sure even the most optimistic of Clemson fans expected all of this when Dabo Swinney, then the receivers coach, stepped in for the fired Tommy Bowden to be the interim coach in 2008. Swinney has turned the Tigers into a national power and were one play away from winning a national championship this year. They've passed Florida State in the ACC — for now — and are in position to contend for more national titles down the road.
David Shaw, Stanford: Speaking of replacing legends, it's the same with David Shaw at Stanford. No one really knew for sure what kind of head coach Shaw was going to be when he was promoted to replace Jim Harbaugh prior to the 2011 season. All Shaw has done is win three Pac-12 championships five years and has been right on the cusp of contending nationally. You can't rule out a 2016 title run for the Cardinal either.
Jim Harbaugh, Michigan: Speaking of legends, it's great to see Jim Harbaugh back patrolling the sidelines in Ann Arbor. It was a great hire to convince him to leave the NFL and return to his alma mater at Michigan. The man can coach, and he can recruit, and look for Michigan to be in the national title hunt very soon. Michigan has been down for a long time, but Harbaugh will bring them back to the top in a hurry.
Hugh Freeze, Ole Miss: Before Hugh Freeze got to Ole Miss, the only five-star recruits who showed up at Oxford were usually the sons of former Ole Miss greats. That's all changed under Freeze. His 2013 class set the table and this year's group might be just as good. There have been big wins (two over Alabama, the Sugar Bowl this year) but the titles aren't there yet. But they're coming. This was a great move by Ole Miss in 2012. It's been four fun years under Freeze.
Tom Herman, Houston: It was a stroke of genius for Houston to get Tom Herman. He's immediately made them national, which is tough to do when you sit outside the Power 5 conferences. It's nice that the commitment runs both ways too. Herman, the former Ohio State offensive coordinator under Urban Meyer, could have bailed after one year for jobs in the SEC or Big Ten, but chose to stay. They'll make playoff noise in 2016 with his explosive offense and ability to recruit.
Mark Dantonio, Michigan State: The Big Ten has been the Big Two for so many years that it's tough to break that stranglehold at the top. But Dantonio has been able to do that at Michigan State. He's beaten Ohio State twice in the past four years and has tossed that ''little-brother'' stuff from Michigan in the trash, beating the Wolverines seven times in the past eight years. Don't let that playoff beatdown to Alabama this year fool you. Dantonio can coach. He's had five seasons of 11 or more wins since 2010, with three Big Ten titles.
Art Briles, Baylor: Baylor could have been stuck with Big 12 bottom-feeder for years if it hadn't been for the arrival of Art Briles in 2010. The Bears play an exciting brand of football and they've threatened to contend nationally for several years now. He's had a Heisman winner (Robert Griffin III) and now he's consistently beating Texas and Texas A&M for the state's top recruits. They'll get over the hump soon.