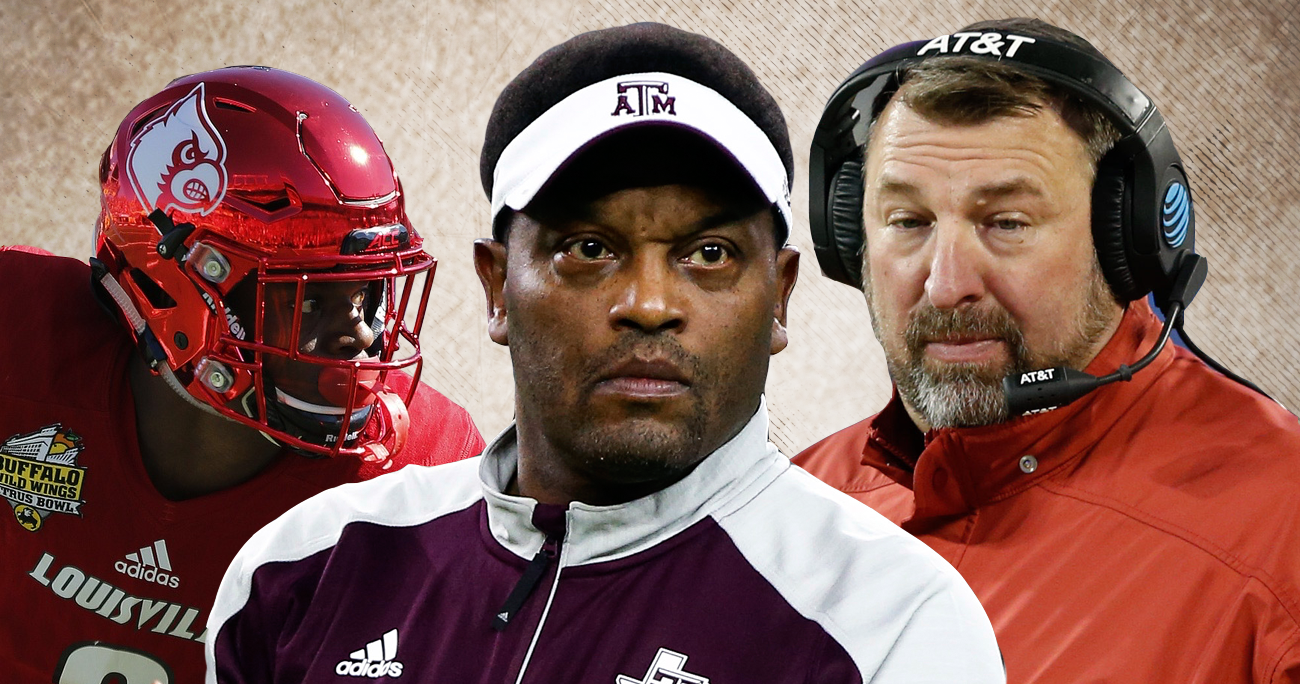 SEC
10 things I'm absolutely overreacting to after the bowl season
The bowl season is complete and only the national championship game remains. It was a crazy postseason that afforded plenty of emotions. Given that, here are 10 things I am definitely overreacting to.
1. At 6-6 the SEC was a shell of itself: We've been sugar-coating it all season. It can no longer be glossed over, the SEC is not the dominant conference it once was. Not when it goes 6-6 in the bowl season. Not when it's losing to teams from the Mid-American and American Athletic Conferences. Not when it goes 1-3 against the ACC. (It did go 2-0 against the Big Ten; some things never change.) It's a sad and steady slide that could reach its completion if Alabama should lose to Clemson on Monday.
Bowl records:
ACC: 8-3
Big 12: 4-2
SEC: 6-6
Pac-12: 3-3
Big Ten: 3-7

— Saturday Down South (@SDS) January 3, 2017
2. At 8-3, the ACC makes a case for best conference: While the SEC sloshed through 12 bowl games, winning only half, the ACC posted the best bowl record at 8-3. Even a mediocre Wake Forest team defeated a conference champion. Yes, it was the American Athletic Conference, but a ranked conference champion nonetheless. The Demon Deacons dumped No. 24 Temple to stave off a losing season while the conference also posted bowl victories over Oklahoma State and Michigan. That's not to mention Clemson's 31-0 annihilation of Ohio State.
Good time to bring this back. It's OK, B1G. You'll always have September, October and November. Y'all own those months, no doubt. https://t.co/sKFJszK7b6

— Chris Wright (@FilmRoomEditor) January 1, 2017
3. Old Dominion won 10 games this season (10-3); Notre Dame went 4-8: What is going on in college football? Up is down and down is up. Old Dominion won 10 games this season, including its bowl game; a 24-20 victory over Eastern Michigan in the Bahamas Bowl. College football legends Notre Dame didn't sniff a bowl game. One could argue that the Monarchs are a better football program today than are the Fighting Irish. Where's the Tylenol?
4. See, Florida can score points: Putting up 30 points in a game has almost become commonplace in college football today. You don't do it on a consistent basis and put your coach on the hot seat. But the Gators exploded(?) for that output in a 30-3 trashing of Iowa in the Outback Bowl. Florida had reached 30 points only three times (vs. Kentucky, North Texas, and Missouri) all season. In fact, over their past five games of the regular season, the Gators had not scored more than 20 points in any one of them. Did the Gators figure some stuff out, or is Iowa really that bad?
5. Was Auburn really the best choice for the Sugar Bowl? Granted injuries severely hurt the Auburn offense, but it wasn't doing that much anyway before QB Sean White went down. Neither was the defense, after the first quarter. The Tigers looked like anything but the second-best choice among SEC teams; especially the way Florida and LSU performed in those respective bowl games. Even Tennessee showed signs of life in its bowl victory.
6. How did Lamar Jackson win the Heisman? Here's a quarterback who was sliding into the abyss, even before LSU sacked him eight times and kept him out of the end zone; other than his own. Yes, the LSU defense is among the best in the nation and Louisville's offensive line is among the most generous in terms of handing out free backfield passes to meet Jackson. But that's when a team needs its Heisman Trophy winner to be at his best. The Tigers reduce Jackson to mediocrity, at best. He didn't deserve the prize and LSU just shined a bright light on that fact.
Another look at the 2016 Heisman winner getting manhandled by LSU today: pic.twitter.com/pmSFTiPwfo

— Saturday Down South (@SDS) January 1, 2017
7. Hey, look! Tennessee played some defense: Well for three quarters, anyway. After struggling mightily to keep offensive juggernauts Kentucky, Missouri and Vanderbilt under 45 points in consecutive games, the Vols held Big Ten contenders Nebraska to 14 points through three quarters. The Cornhuskers ultimately scored 24 points. Still, that matched the lowest total the Vols allowed all season long aside from lower-tier teams Appalachian State, Ohio University and Tennessee Tech.
8. Did Arkansas quit at halftime … again? Did Bret Bielema eat the team's halftime snacks? What happened in that locker room that would cause the Razorbacks to take an impressive 24-0 lead over Virginia Tech and promptly flush it down the toilet? It's one of the most unbelievable Jeckyll/Hyde turnarounds in college football history since, well, Arkansas' previous game with Missouri. The Razorbacks blew a 24-7 halftime lead in that one and lost 28-24. But on a bigger stage — the Belk Bowl — Arkansas blew a bigger lead, by a bigger margin; falling 35-24 to the Hokies. No wonder some are wondering whether Bielema the guy is better than Bielema the coach.
9. How does Kevin Sumlin still hold an office in College Station? In a year that looked to finally overcome previous late-season collapses, Sumlin's Aggies fell back into the comfortable position of also-ran status. The 33-28 Texas Bowl loss to Kansas State reaffirmed that position and left me scratching my head as to why he was able to travel back to campus with the team. Chip Kelly isn't doing anything.
10. Academics do matter in college football: At least when it comes to filling out the 40-game bowl field. Way to go Mississippi State. Getting it done in the classroom translated to earning a bowl invitation and the Bulldogs made the most of it. Entering 5-7, the Bulldogs squeaked out a 17-16 victory over Miami, Ohio in the St. Petersburg Bowl. Two blocks, including one to win the game, were a product of what else? Film study.
Now get back to those books, because 6-7 is about as good as it's going to get at this program for the foreseeable future.