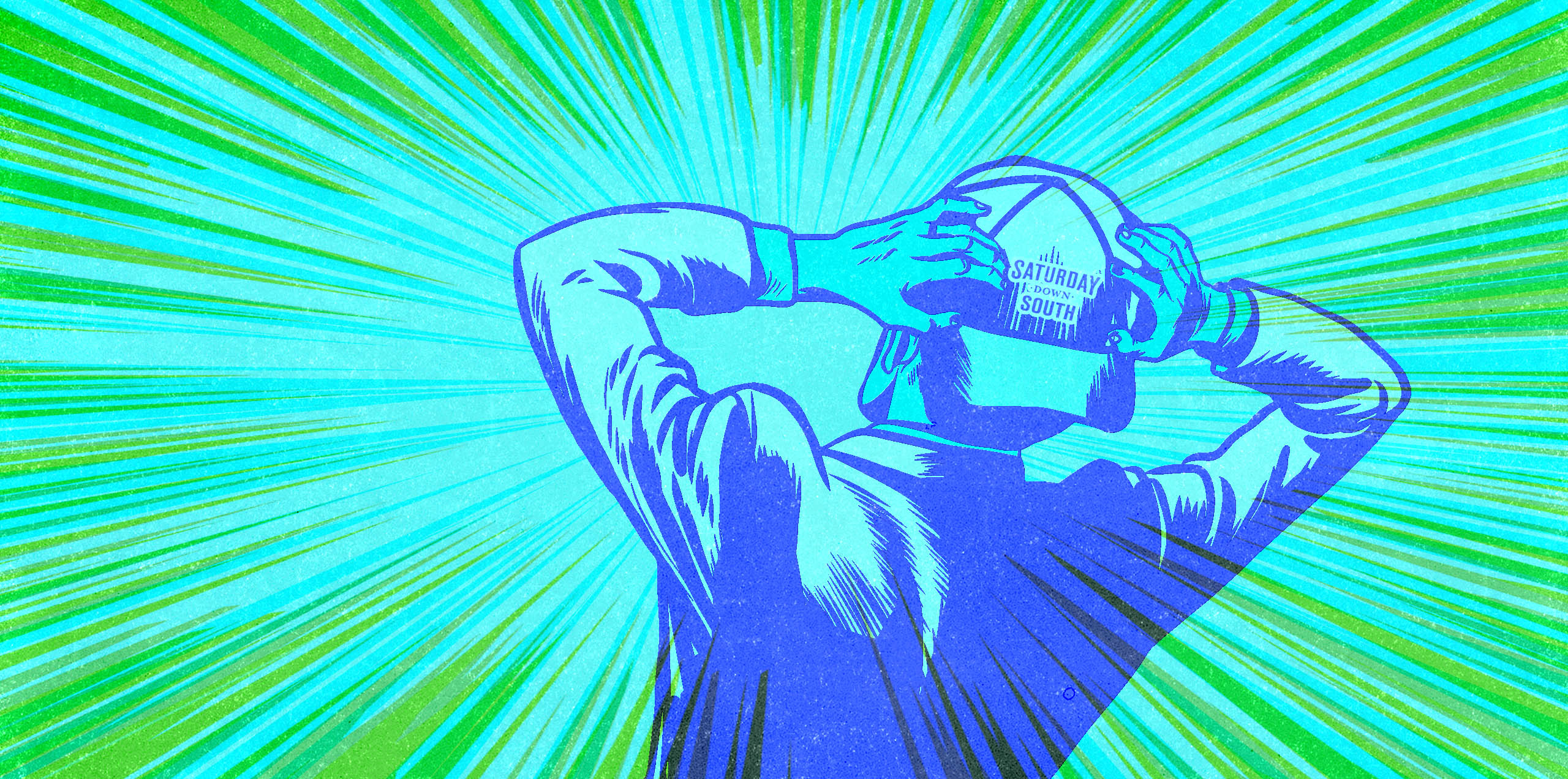 SEC
10 things I'm absolutely overreacting to after Week 3 in the SEC
Did anybody want to play football Saturday?
Kentucky nearly lost to an FCS program. No. 9 Ohio State trailed Tulsa in the second quarter. No. 3 Oklahoma scored just 23 points — its lowest output since the 2016 opener. No. 6 Clemson scored a single TD in the opening half and struggled to beat Georgia … Tech. No. 13 UCLA, No. 15 Virginia Tech, No. 19 Arizona State and No. 24 Miami lost. No. 16 Coastal Carolina almost did. Heck, No. 1 Alabama probably should have.
Players weren't the only sleep-walkers Saturday. The SEC already admonished the crew that worked Mississippi State's loss to Memphis. I'm sure that helped Hail State fans sleep well. And after watching Auburn-Penn State, I'm not sure anybody in stripes knows exactly what intentional grounding is. And they absolutely have no idea what targeting is.
Rough. All of it. Those are just some of the 10 things I'm absolutely overreacting to after Week 3 in and around the SEC.
10. Take a bow, Emory Jones
Florida lost, but Emory Jones gave Alabama everything it could handle Saturday.
The Gators' running game mauled Alabama's front 7. I'm quite sure Nick Saban can remember and recite similar poundings, but I can't.
Make no mistake: Florida ran out of time Saturday. The slow start doomed them. But if that game goes another 8 minutes, I firmly believe Florida wins.
The Gators' performance was surprising and illuminating.
I expected Jones to make mistakes, but I didn't expect him to lead an offense that outgained Alabama by 100+ yards.
Give the kid credit. All he heard for 2 weeks was that he should be watching Anthony Richardson, and all he did Saturday was very nearly deliver the season's most impactful upset.
9. Take a seat, Mike Norvell
How do you top arguably the worst loss in a program's modern history?
By getting pasted the very next week by Wake Forest.
Nothing against the Demon Deacons. But … come on. Clemson has beaten Wake Forest 12 consecutive years — only once by fewer than 14 points.
Mike Norvell is 0-3 this season with a loss to Jacksonville State and now Wake Forest.
The last time FSU started 0-3 was 1976 — Bobby Bowden's rookie season.
This just in: Mike Norvell is not Bobby Bowden.
He's 3-9 overall, with absolutely no evidence to suggest he's about to turn this around.
The big question is: Does FSU have the guts to do what USC did?
8. USC has never seemed more like an SEC team
Firing a coach 2 games into a season?
That's peak-level SEC. However surprising that decision might have been, there's no denying that's an impressive amount of devotion to football.
It also continues a rather curious/ominous streak: Clay Helton was the 3rd consecutive USC coach to be fired early in a season, joining Lane Kiffin and Steve Sarkisian.
If you're looking for a silver lining, at least Helton wasn't left on the tarmac?
https://twitter.com/DSJR1/status/1439033962853109765
7. 7 quirky questions that popped into my mind Saturday
1. Where have you been Demond Demas? Texas A&M's touted 5-star recruit didn't make an impact as a true freshman in 2020. He had his first career catch Saturday — a 70-yard TD.
2. Who is Nebraska's backup QB?
3. Remember when Miami was ranked No. 14 and some thought the Canes might challenge Alabama in the opener? Fun times. The Canes might not make a bowl game.
4. Can a team outside the top 10 lose — and move into the top 10? Florida absolutely is 1 of the 10 best teams in college football.
5. What did Josh Heupel not like about Hendon Hooker's spring performance? He's clearly the best QB the Vols have.
6. Is this the year Jim Harbaugh finally beats Ohio State? I'm beginning to think so.
7. Can a defensive back win "Catch of the Year?" No? Even if it's this one? Even if it's on 4th down and it would have been wiser to drop it? Here's a better question: DJ Graham, how in the hell did you catch that?
Interception of the year.

It's over.

Shut down the polls. #CFB pic.twitter.com/boTavfm3kv

— Trevor Sikkema (@TampaBayTre) September 18, 2021
6. Nebraska has to make a change at QB
Adrian Martinez is the Big Ten's version of Bo Nix. He has been afforded every single opportunity to prove he is the guy. And continues to prove he isn't really the guy.
The scary part is, he really might be the best quarterback Nebraska has.
That no longer matters. It's time to turn the page.
Why now? Especially after Nebraska played so valiantly against Oklahoma?
If you saw Nebraska's final drive, you already know the answer.
To recap: Nebraska's defense forced a 3-and-out to give its offense one last desperation try at a monumental upset.
Nebraska took over at its 17, no timeouts, 56 seconds to go 83 yards.
The only thing Martinez couldn't do was take a sack.
He took 2.
He absorbed a sack on first down, effectively eliminating all hope. On 2nd-and-forever, he threw a check-down completion for 6 meaningless yards. On 3rd-and-forever, he took another sack.
It was about as poor as I've seen a veteran QB operate in a last-drive situation.
5. Ranking the Power 5 conferences
1. SEC: No other league has 4 teams worthy of a top-10 ranking.
2. Big Ten: The B1G East is the 3rd-best division in college football, behind the SEC West and SEC East. That's not an insult, B1G fans. (But Auburn is the 4th-best team in the SEC West.)
3. Pac-12: It's Oregon or bust after 2 ranked Pac-12 teams lost nonconference games Saturday.
4. Big 12: Nothing of note, and its best team nearly lost at home to a below-average Big Ten team.
5. ACC: Clemson ain't Clemson. And 2 ranked ACC teams lost nonconference games to unranked opponents.
4. The 4 Playoff teams are …
1. Alabama, 2. Georgia, 3. Cincinnati. 4. Oregon
I know people are high on Oregon. That's fine. The Ducks are in the mix. They had a nice win at Ohio State. But let's also remember that they trailed Fresno State in the 4th quarter and had to rally for a 7-point win. At home. They are not Alabama.
As for Cincinnati? They wore down and dominated Indiana in the 4th quarter, on the road, with the world watching, ready to say I told you so. The Bearcats shut up the naysayers Saturday.
3. This is the worst Clemson offense since ___:
You have to go back awhile. Maybe the Kelly Bryant-led Tigers of 2017.
Those Tigers, like these Tigers, were in Year 1 of replacing a legendary QB. That year, Bryant took over for Deshaun Watson and the offense average just 33.3 points (32nd nationally). This year, DJ Uiagalelei is replacing Trevor Lawrence and the offense looks like some of Tommy West's stuck-in-neutral units from the late 90s.
We made excuses for Clemson in its opening loss to Georgia. But there's no hiding the fact anymore. Georgia Tech most certainly is not Georgia. It's not easy replacing a generational talent at QB and RB. I don't know that anybody in the ACC is good enough to change the league's unofficial moniker "Another Clemson Championship," but it's clear these Tigers aren't built to win Playoff shootouts.
2. I mean, he's not wrong …
Targeting is ruining college football.

— Danny Kanell (@dannykanell) September 19, 2021
Zakoby McClain is ejected for targeting.

Come on, man. What's he supposed to do? pic.twitter.com/sk2ozP1RKx

— Connor O'Gara (@cjogara) September 19, 2021
I don't even think I was overreacting when I described this targeting call against Zakoby McClain — reviewed and upheld — as the worst targeting call in a long, dubious list of terrible targeting calls.
Ultimately, Bo Nix's road woes and accuracy issues doomed Auburn, but this call certainly didn't help.
1. Is Alabama vulnerable?
The Tide certainly looked beatable Saturday at The Swamp.
And they still won. On the road. With a quarterback making his first true road start.
Even at their near-worst, they still win.
Momma, it just ain't fair.