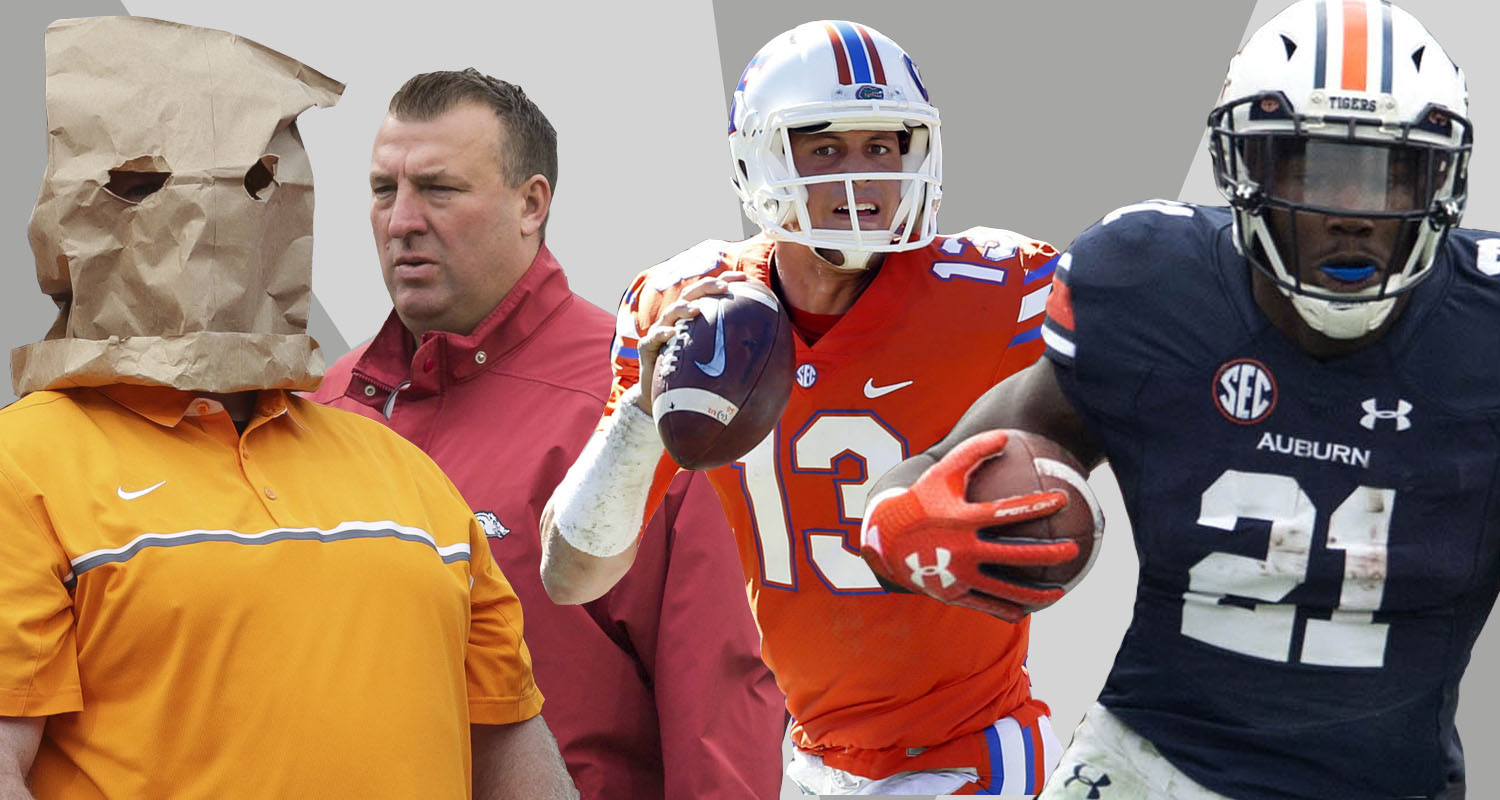 SEC
10 things I'm absolutely overreacting to after Week 13: The good, the bad and the downright unthinkable
How can Auburn be that good … and Florida and Tennessee be that terrible?
They're recruiting the same kids!
Get the popcorn ready, because some of the junk I watched in Week 13 almost made my head explode.
10. This just about sums it up …
@ScottStricklin and the UAA on chip kelly pic.twitter.com/8yNvyd8jdo

— The Brand (@Th3xBrand) November 25, 2017
Well, at least Stricklin warned you not to pay too much attention to all of those pesky "reports."
9. Sadly, this doesn't even count as an overreaction …
Florida should sit Franks, run on every play and get this season over with.

— Pat Dooley (@pat_dooley) November 25, 2017
8. And that's how you want us to remember you?
Baker Mayfield (or was it really Madonna and Michael Jackson?), look at what you started …
— Deadspin (@Deadspin) November 24, 2017
I've seen enough. It's time to start ejecting people. Quinton Flowers is, by almost every account, a class act who has overcome more tragedy than 99 percent of us will ever experience. This, by every account, is as classless as it gets. And this, not his life story of overcoming, is what he'll be remembered for.
Mayfield didn't start Saturday after cameras caught him acting the fool last week.
Charlie Strong needs to send a similar message to Flowers. Somebody else can start the USF's bowl game. The next-day apology was PR 101.
USF's Quinton Flowers releases statement on incident during #UCF game. pic.twitter.com/HOSuS6kH5L

— Matt Murschel (@osmattmurschel) November 25, 2017
But it didn't change the fact: Good kids do really, really stupid things.
7. Confession, I like alternate uniforms
Most of the time, anyway.
And, yeah, I think it would be cool if Alabama trotted out an all-black alternate jersey, especially if they went with all-black lids, too. Once every three years, you know, so every 5-star would have the opportunity to wear it before heading to the NFL.
But there's something to be said for tradition. And if you're going to change it, don't embarrass it.
Ohio State, you embarrassed yours Saturday.
OHIO STATE.

THAT TEA❌ UP NORTH.

THE GA❌E.#GoBucks #BeatTTUN pic.twitter.com/aPYrD08zO6

— Ohio State Football (@OhioStateFB) November 25, 2017
Those unis went over about as well as Jim Harbaugh running for mayor of Columbus.
Nice jerseys, Ohio State. Did the XFL finally liquidate the last of their uniforms?

— Mike Klauss (@thatmikeklauss) November 25, 2017
Ohio State is wearing the Oregon jerseys from the 2015 Playoffs, and playing exactly like that Oregon team in that game. #OSUvsMICH pic.twitter.com/uxCgPuZA2R

— Bernie Eddy (@BD_Eddy) November 25, 2017
These Ohio State jerseys suck. #MICHvsOSU

— Savanna Sullivan (@sav_sull) November 25, 2017
Call me a traditionalist, but these uniforms are AWFUL!!! Ohio State/Michigan game can't we put the alternates to the side!!! Please draw the line somewhere. #Tradition

— Kirk Herbstreit (@KirkHerbstreit) November 25, 2017
You know they've got to be bad if I agree with something Herbstreit says about his former school.
6. Which season was worse: Tennessee's or Florida's?
That's a tough call.
Florida opened the season ranked No. 17.
I didn't expect nearly that much from the Vols; I've been saying since Josh Dobbs threw his final pass that the 2017 Vols would be lucky to make a bowl game.
Turns out, I underestimated how bad they'd be. I never envisioned 0-8 in the SEC.
There's losing — plenty of SEC teams do that every year — and then there's what these two once-proud programs did this year.
Neither team seemed to respect its coach. If they did, they wouldn't have sabotaged the season with a credit-card fraud (Florida) or questioned every decision the man in charge made (Tennessee).
Here's the really, really scary news: These programs are so lost, this is not a one-year fix, no matter who walks through their respective doors.
5. Drew Lock is better than I thought
I'll admit it; I tuned out Lock after he threw 2 interceptions in the Week 2 loss at South Carolina.
Same old Lock, I thought. Throws 6 TDs against cupcakes, gets crushed by SEC competition.
I was wrong. Well, Luck still put up crooked numbers against the cupcakes, but he was the SEC's best quarterback against SEC competition, too.
Luck finished the regular season with a record 43 touchdowns, breaking Tim Couch's single-season SEC mark. He'll get a bowl game to add to that total, but of those 43, 25 came against SEC defenses. Only one SEC QB, Vandy's Kyle Shurmur with 26, threw more TD passes than that overall.
Lock is a junior with an NFL arm and NFL size. He passes the eye test.
He'll have a choice to make. My hunch? He throw his final TD pass for the Tigers in their bowl game.
4. Bret Bielema deserved better
No offense, Arkansas, but you're Arkansas.
Hey, I'm not the Executive Editor of the Washington Post, either, a'ight? (Although the guy who hired me at the Miami Herald is, so maybe one day? Nah.)
I can justify canning Butch Jones and Jim McElwain, but I'm not sure Arkansas made the best decision in separating from Bielema.
When Georgia fired Mark Richt, I predicted he'd rebound quicker than Georgia. Until Friday's no-show, that was looking pretty accurate, too.
I feel the same way about Bielema. He'll win 10 games somewhere before Arkansas does.
He got a bad deal.
3. Sorry, I'm still not all that impressed with Jake Fromm
He had a nice stat line Saturday, a perfectly workable 12-for-16 for 224 yards and 2 TDs.
Here's the rub: A lot of the yards were after the catch, but more critical to Georgia's goals, after the outcome was decided.
He threw one nice ball in the first half, but even that was the result of a blown coverage impacted by play-action.
He missed more "window" throws than he made. He threw one post pattern into double coverage that a) should have been intercepted and b) showed exactly the difference between his arm strength and Jacob Eason's.
It didn't matter Saturday.
It will next week against Auburn.
He has to play the game of his young career for the Dawgs to have a chance.
2. What about Alabama?
Criticizing Alabama is a national past-time.
You can imagine the reaction after the Tide lost the Iron Bowl.
I picked Auburn to win and came relatively close to the score. So the outcome didn't surprise me. But that's not an Alabama problem. That had everything to do with how good I think a healthy Auburn is.
Will Alabama make the Playoff? It should. It's one of the four best teams in America. But will Alabama make the Playoff?
That's an entirely different question.
The Tide clearly need Wisconsin to lose the Big Ten title game. That's when it will get really, really interesting: The No. 4 seed coming down to the two biggest, most powerful brands in college football — Alabama and Ohio State.
As much as you want to discredit Alabama's schedule, it stuffed a healthy, No. 3-ranked FSU into the corner in Week 1 and survived every SEC West test but one. It didn't, in other words, give up 55 points and suffer a 31-point loss to Iowa.
Alabama's not only better than Ohio State, it's more deserving than Ohio State.
1. How the Playoff poll should look Tuesday
Auburn should be an unquestioned No. 1.
You don't have to forget the two losses. But you do need to remember that Kerryon Johnson didn't play in the one-score loss at Clemson.
And then focus on the past month. Nobody has been better than Auburn. Two victories over No. 1-ranked teams in three weeks is unprecedented.
They should be No. 1 on Tuesday night, followed by No. 2 Clemson, No. 3 Oklahoma, No. 4 Wisconsin, No. 5 Georgia, No. 6 Alabama, No. 7 Miami.
Don't mistake that for me suddenly believing Wisconsin is Playoff-worthy. I like Ohio State by double digits in the Big Ten title game, which will end the Big Ten's Playoff hopes. It's just time to reward the Badgers for not losing. Yet.