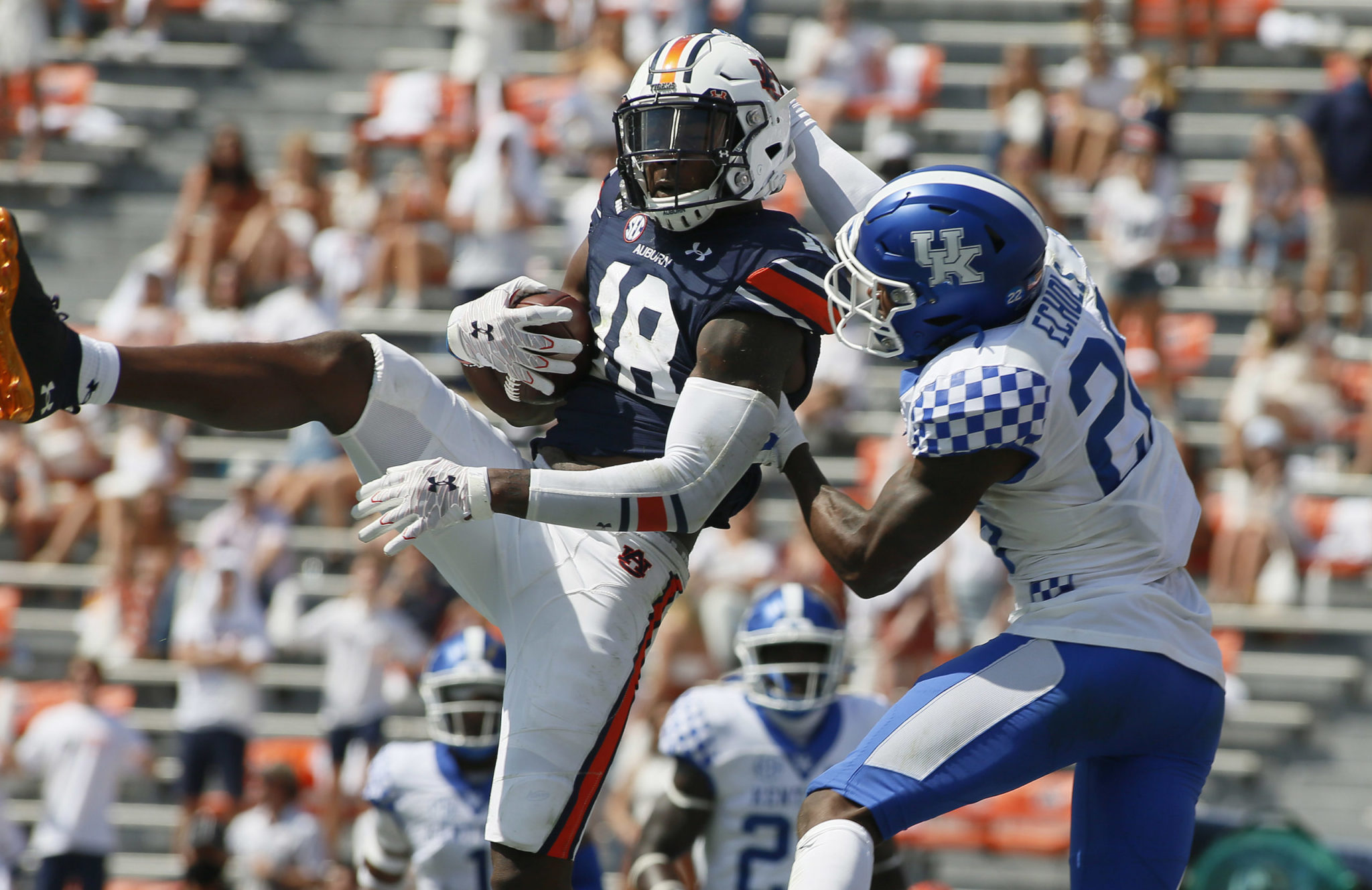 SEC
2021 NFL Draft: 5 SEC prospects who aren't getting enough hype ahead of draft weekend
The 2021 NFL Draft will take place in Cleveland from April 29-May 1, and it is likely that the SEC will lead all conferences in first-round picks once again.
Guys like Mac Jones, DeVonta Smith, Jaylen Waddle, Kyle Pitts, Ja'Marr Chase, Azeez Ojulari and others likely won't last past Round 1, but there are plenty of other SEC standouts who should hear their names called on Day 2 and Day 3 of the draft.
So, who are some of the guys that aren't getting enough love as the draft draws ever closer? Let's take a look at 5 SEC standouts who I think we should be talking about more in the buildup to the draft:
1. Eric Stokes, CB, Georgia
At one point, I was seeing Stokes getting some hype as a Round 1 pick. Then, I saw lots of mock drafts with teammate Tyson Campbell getting the Round 1 treatment. Now, I'm not seeing many mocks with either guys listed in the first round.
But, Stokes is absolutely a star. He was one of the best corners in the SEC last year, and he just turned in a blazing 40-yard dash time at his Pro Day:
https://twitter.com/PFF_AustinGayle/status/1367926615724994563
Speed is a great asset for a cornerback to have in today's NFL. Keeping up with the speediest receivers in the league is no easy task. Having that natural athletic ability to fall back on is a plus.
He's also a big play waiting to happen. He had 4 interceptions in 2020, returning 2 for touchdowns. I love Stokes' game and I'd love to get him in Round 2 or Round 3 on Friday.
2. Seth Williams, WR, Auburn
A couple of things are working against Williams ahead of the draft. First, he admitted receivers didn't really run normal routes in Gus Malzahn's offense:
Seth Williams is asked to explain how diverse his route tree is: "Here at Auburn, we didn't really run a lot of routes."

— Nathan King (@byNathanKing) March 18, 2021
He also had perhaps his worst game of the season against South Carolina's Jaycee Horn, who is likely a Round 1 pick:
Jaycee Horn's tape against Auburn is probably his best in 2020 — completely shut down Seth Williams.

▪️ 9 Targets
▪️ 1 Reception
▪️ 44 Yards Allowed
▪️ 2 INTs

(and body-bagged him on this play) pic.twitter.com/dd5kShccQI

— Austin Gayle (@PFF_AustinGayle) April 8, 2021
But, as I said, Horn is a Round 1 pick. While there are a lot of guys like Horn at the pro level, offenses are also a lot more dynamic than Auburn's was under Bo Nix in 2020.
When he needs to, though, Williams can make some huge plays. Look at this game-winning catch vs. Oregon in 2019:
AUBURN FOR THE WIN pic.twitter.com/raQBGfjQ6e

— Complex Sports (@ComplexSports) September 1, 2019
And this beautiful touchdown grab on a pass from Jarrett Stidham in 2018:
Seeing Seth Williams (@8_sethwilliams) be projected as a 3rd or 4th round WR in #NFLDraft. Williams makes draw dropping plays over & over again. If he's there, the @Ravens need to pounce at 104 or trade up. His catch radius and body control with @Lj_era8 is deadly combination.

— Chris Kokell (@RealCoachK) April 14, 2021
If Williams is paired with a competent quarterback and competent offensive coordinator, I'm confident he'll turn into a solid NFL receiver. It'll be important for whatever team drafts him to work with him a lot this offseason on his route-running, though.
3. Jamie Newman, QB, Georgia
Technically, Newman never played a snap for Georgia, but I'm going to put him on this list anyway. Heading into the 2020 season, Newman was getting buzz as a potential Round 1 pick. No one's draft stock was hurt more than his after he opted out.
If I were him, I would have strongly considered returning to school (at a school other than Georgia) for the 2021 season, but I'm not him, and he's made his decision.
Now, he's probably a Day 3 pick, but that doesn't mean he can't make an NFL roster. He got better as the Senior Bowl wore on after a shaky start, even throwing for a touchdown:
https://twitter.com/RespectDaBeard1/status/1355647855550025729
He can also run the ball, as he showed here during his Wake Forest days against NC State:
Jamie Newman was HYPE about his TD‼️ pic.twitter.com/ph8ReHkCzw

— Stadium (@Stadium) November 2, 2019
When he's at his best, he's a first-round talent. But, the problem is that we haven't seen him at his best in over a year. Still, I think he could be a great value as a Round 3 or Round 4 pick for a team that missed out on the Round 1 quarterbacks but still needs to take a flyer on someone at the position.
4. Landon Young, OL, Kentucky
Neither Young nor Kentucky offensive line mate Drake Jackson are getting enough attention, in my opinion. Both of those guys were key parts of lines that have dominated the SEC when it comes to running the ball over the last few years.
Benny Snell Jr., Lynn Bowden Jr. and Chris Rodriguez wouldn't have become stars if not for guys like Young and Jackson clearing the way ahead of them. I'm going to give the spot on this list to Young, though, because I like his potential a bit more.
He'll likely be a right tackle at the NFL level, though a move inside to guard isn't out of the question if he struggles early in his career against speed rushers. At 6-6 and 310 pounds, though, he has the size and strength to play on an NFL line for the next decade.
He'll probably still be on the board midway through Day 3, and that's when it'll be interesting to see which team decides to bring him in and see what he can do. If a team that likes to run the ball gets him, he'll have a chance to start right away.
5. Larry Rountree III, RB, Mizzou
Yeah, I'm going to use this last spot to be a bit of a homer. Larry Rountree III is an incredible running back. He scored 14 of Mizzou's 31 touchdowns in 2020 and is an absolute workhorse of a back.
He's not super smooth as a pass-catcher, which hurts him in today's NFL, as does the fact that running backs aren't as valuable as they once were. If Rountree had come along in the late-1990s or early-2000s, we'd be talking about him as a Day 2 pick. But, times have changed.
Still, there's going to be a spot in the NFL for someone who runs as powerfully as Rountree:
Watch: #Mizzou RB Larry Rountree spins his way into the end zone for his 40th TD of his collegiate career. pic.twitter.com/riIDXSzasy

— Andrew Kauffman (@AndrewABC17) December 19, 2020
He can even run a bit of Wildcat:
Larry Rountree III takes the direct snap for a 2-yard TD to extend the Mizzou (-2.5) lead to 10-0 over Arkansas
pic.twitter.com/RoJuHtuRHM

— Bet The Pigskin (@betthepigskin) December 5, 2020
I think Rountree will hear his name called on Day 3 of the draft. Whatever team ends up taking him will be getting a steal and a guy who can carry the load out of the backfield.