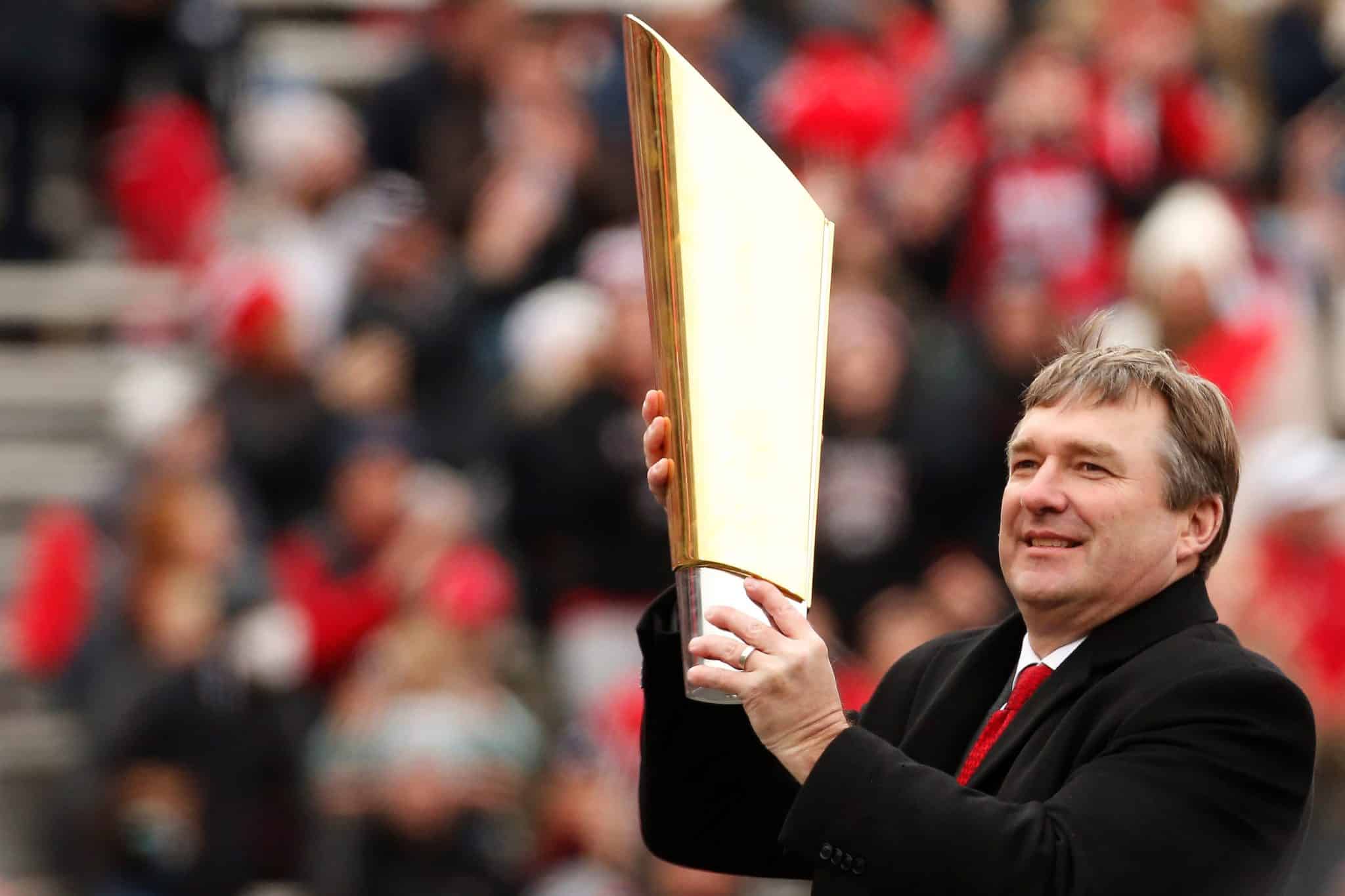 SEC
2022 SEC bowl projections entering Week 0
Last season was a testament to the SEC's continuing strength in football.
The league set a record with 13 bowl-eligible teams, though only 12 played in the postseason because Texas A&M pulled out of the Gator Bowl for reasons related to COVID.
And the College Football Playoff was again the SEC's playground, with Georgia and Alabama rolling in their semifinals to meet in the national title game for the second time in 5 seasons.
So how will things look in 2022? Expect a rerun.
We project the defending national champion Bulldogs and defending conference champion Crimson Tide to again make the 4-team field for the CFP. We also project Texas A&M to earn a bid to a New Year's Day 6 bowl, though several other conference teams could legitimately argue their candidacy as well.
We think that 12 SEC teams will make bowls this season. With the exception of a handful of tough challenges (Florida vs. Utah, Auburn vs. Penn State, South Carolina at Clemson) there are probably not many chances for nonconference losses looming for the league's teams.
The lineup is mostly the same as last season, with a couple of notes. The Las Vegas Bowl rotates with the Duke's Mayo Bowl for the next 5 years; this year, it's Vegas hosting an SEC team while Charlotte takes its turn inviting a Big Ten team. Also, the ReliaQuest Bowl is a different name for a familiar SEC postseason destination — it's the new corporate branding for what was the Outback Bowl in Tampa.
After the CFP and New Year's Day 6 spots are filled, the Citrus Bowl gets to select next in the SEC pecking order. Then there are 6 bowls considered equal: Las Vegas, ReliaQuest, Gator, Music City, Texas and Liberty. After that, the Birmingham Bowl gets to select an SEC team, followed by the Gasparilla Bowl.
So with that, we present the first set of bowl projections heading into Week 0. Spoiler alert: They won't change after this weekend no matter what happens in Saturday's Vanderbilt-Hawaii game (sorry, Commodores).
Bowl
Date
Location
Matchup
Peach (CFP semi)
Dec. 31
Atlanta
Alabama vs. Clemson
Fiesta (CFP semi)
Dec. 31
Glendale, Ariz.
Georgia vs. Ohio State
Sugar
Dec. 31
New Orleans
Texas A&M vs. Okla. St.
ReliaQuest
Jan. 2
Tampa
Kentucky vs. Michigan St.
Citrus
Jan. 2
Orlando
Arkansas vs. Wisconsin
Music City
Dec. 31
Nashville
Ole Miss vs. Penn State
Gator
Dec. 30
Jacksonville
Tennessee vs. Louisville
Liberty
Dec. 28
Memphis
S. Carolina vs. Iowa St.
Texas
Dec. 28
Houston
Miss. State vs. Texas
Birmingham
Dec. 27
Birmingham
Florida vs. Memphis
Gasparilla
Dec. 23
Tampa
Auburn vs. UCF
Las Vegas
Dec. 17
Las Vegas
LSU vs. Washington