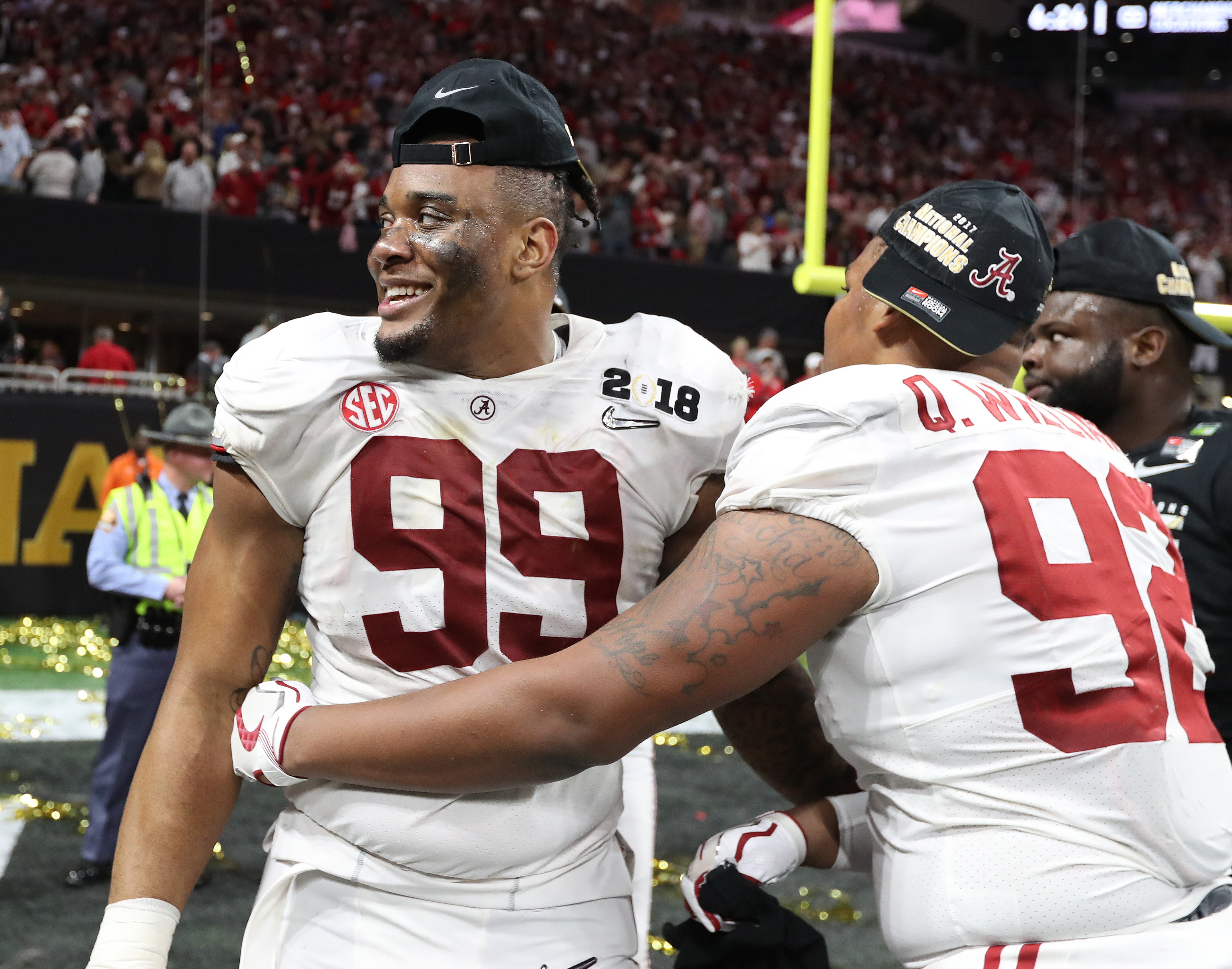 SEC
3 best 2019 NFL Draft prospects from each SEC West program
Last season, Alabama had a record 12 players drafted, including four in the first round. Every SEC West had at least two players drafted.
Not much has changed in 2018. The SEC West remains loaded with talent.
Ever so quietly, NFL Draft season is starting to creep up and the SEC is loaded as usual. Who are the 3 best 2019 NFL Draft prospects from each school? We'll start with the SEC West.
Alabama
Deionte Thompson, S
Projected round: 1st
Skinny: The 6-2, 196-pound junior has rapidly risen up draft boards with his heady and instinctive play this year, leading the team in tackles with 46 while also adding 2 INTs and 1.5 TFLs. He has shown tremendous range and playmaking ability in coverage and has proving capable of coming up in run support. He could be the first safety off the board next spring.
Raekwon Davis, DE/DT
Projected round: 1st
Skinny: It's been a disappointing season on the stat sheet for Davis (3 TFLs, .5 sack), but his stats aren't going to be what puts him in the first round. His rare size (6-7, 315), power, athleticism, balance and lateral quickness are what separates him from most. He's a truly gifted prospect.
Quinnen Williams, DT
Projected round: 1st
Skinny: Perhaps no prospect in all of college football has seen his stock rise quicker and higher than Williams, who has gone from potential question mark up front to likely first-round pick in 2 months. The 6-4, 295-pound redshirt sophomore has become a disruptive force thanks to a very good first step with the ability to collapse the pocket from the interior.
Arkansas
Hjalte Froholdt, Guard
Projected round: 3rd
Skinny: The 6-5, 315-pound senior is back to his more natural position of LG after giving C a try earlier in the year. He's a very powerful player who excels as a drive blocker and has shown improvement in pass protection, though he's still coming along from a technique perspective. He's still raw but has the upside to develop.
Armon Watts, DT
Projected round: 5th
Skinny: Watts took some time to develop, failing to register a sack in the previous 3 seasons, but has enjoyed a breakout senior season, leading the Razorbacks in sacks (5) and forced fumbles (3). At 6-5, 300-pounds, he has a good frame with enough athleticism and quickness to penetrate the line but needs to get more powerful at the point of attack.
Ryan Pulley, CB
Projected round: 6th
Skinny: He has bounced back nicely from the torn pectoral that cost him all of 2017 and is tied for second in the SEC with 3 INTs. The 5-11, 200-pound senior is strong against the run and physical in man coverage and has shown the ability to click and close on the ball in zone.
Auburn
Derrick Brown, DT
Projected round: 1st
Skinny: At 6-5, 325 pounds and blessed with rare athleticism, Brown is one of the more physically gifted players in the SEC. His combination of power and quickness makes him a nightmare to contain along the interior, and he has continued to improve his ability to split doubles, which he constantly faces. He's such a difference-maker up front that offenses have to plan around.
Nick Coe, DE
Projected round: 2nd
Skinny: On nearly any other team Coe would be the star up front, but he's often overlooked on a very talented Auburn defensive line. Other than Brown, Coe perhaps has more natural ability than anyone else on the defense, leading the Tigers with 11.5 TFLs and 6 sacks, including 3 against potential first-round OT Greg Little last week at Ole Miss. The best is still yet to come for the 6-5, 285-pound redshirt sophomore.
Jarrett Stidham, QB
Projected round: 2nd
Skinny: I know his play on the field has been far below preseason expectations, and he obviously is far from a finished product, especially when pressured in the pocket. Make no mistake, however, guys who are 6-3, 215 pounds with the natural arm talent Stidham possesses are few and far between, and his natural skill set will make him a hot commodity as draft day nears.
LSU
Greedy Williams, CB
Projected round: 1st
Skinny: After bursting onto the scene as a redshirt freshman last year when he led the SEC in INTs with 6, Williams has continued to prove why he's so highly thought of in the scouting community. At 6-2, Williams has ideal length to play man against some of the bigger and more physical receivers he'll face (check out his film against D.K. Metcalf) but also has the feet and hips to lock to the inside hips of quicker wideouts. He'll be in the running to be the first corner off the board.
Devin White, LB
Projected round: 1st
Skinny: White doesn't quite have the outrageous numbers this fall that he did last year, but his impact in the middle of the defense is hard to miss. (You'll notice that next week when he sits out the first half against Alabama.) At 6-1, 240, White has the size and strength to stack and shed interior linemen but also the quickness and range to drop into coverage and make plays sideline-to-sideline. He's a do-it-all type of LB who can stop the run, pressure the QB and cover backs and TEs.
Rashard Lawrence, DT
Projected round: 5th
Skinny: Lawrence (6-3, 315) hasn't made a huge presence on the stat sheet (3.5 TFLs, 1 sack), but he's been a catalyst up front, providing excellent flexibility for the Tigers' hybrid scheme, being able to line up at both the 5- and the 3-technique. His ability to take on double-teams and penetrate the line of scrimmage has made him a constant nuisance to offenses all year long.
Mississippi State
Montez Sweat, Edge
Projected round: 1st
Skinny: In my opinion, there is no better edge rushing prospect in the 2019 draft class than the 6-6, 250-pound Sweat, who has racked up 19.5 sacks in the past 20 games, including 9 in 7 games this year. He has ideal length, burst and flexibility off the edge with long arms to keep OTs out of reach and close passing windows. He also offers the versatility of playing either DE in a 4-3 front or OLB in a 3-4 at the next level, showing equal effectiveness rushing the passer from both a 2- and 3-point stance.
Jeffery Simmons, DT
Projected round: 1st
Skinny: The only thing preventing Simmons going in the top-15 is a well-known high school tape from 2016. Besides that, he's a genetic freak of nature at 6-4, 305 pounds with a frightening combination of quickness and power. He's a twitchy athlete who is stout at the point of attack with good hands to shed blocks. His first step often places him in opponent's backfield before linemen are out of their stances.
Elgton Jenkins, C
Projected round: 3rd
Skinny: There are some who believe Jenkins could ultimately be the first center picked next spring, and there's a legitimate case to be made in his favor. At 6-4, 310-pounds, Jenkins is powerful at the point of attack and has been able to consistently generate a push in the ground game, but has also shown the mobility to chip/scrape/combo and get to the second level. He's a smart player who can make pre-snap reads for the OL and is known for leadership skills.
Ole Miss
D.K. Metcalf, WR
Projected round: 1st
Skinny: There might not be a more physically imposing receiver in the country than the 6-4, 240-pound Metcalf, who's built like a DE but runs like a receiver. He's typically a nightmare to try and cover in man, particularly in the red zone, and while he won't ever run a 4.2 40, he has enough quickness and burst to get separation against man coverage. The biggest question mark for him will be his medical tests, because he's constantly been hampered by injuries the past few years and is out for the year with a neck injury.
Greg Little, OT
Projected round: 1st
Skinny: Some consider the 6-6, 325-pound junior to be the best OT prospect in the draft class. He's still coming along as a drive blocker but has shown excellent feet and shuffle in pass protection (which, let's face it, is the primary job of the modern-day OT), mirroring and using his long arms well. He's not on the same level as Laremy Tunsil in terms of athleticism or footwork, but he's not terribly far behind, either.
A.J. Brown, WR
Projected round: 2nd
Skinny: The 6-1, 230-pound Brown has been rewriting the Ole Miss record books and is again posting a monster season in 2018, leading the SEC in receptions (60) and receiving yards (805) while adding 5 TDs. He primarily has been working out of the slot, where his combination of short area quickness and strength in traffic makes him a dangerous threat to pick up chunk yardage after the catch.
Texas A&M
Landis Durham, Edge
Projected round: 3rd
Skinny: Durham got off to a bit of a slow start this year after a monster 2017 season in which he racked up 10.5 sacks. Lately, however, he has gotten back into a rhythm and found his groove, notching 3.5 sacks in the past three games, all of which were SEC foes. He's explosive off the ball with the ability to dip and bend underneath and run the arc, flashing active hands and a good repertoire of rush moves.
Jace Sternberger, TE
Projected round: 4th
Skinny: Sternberger has been among the most productive tight ends in the country and leads everyone at his position in receiving yards (496) and TDs (6) on 29 receptions. He leads the Aggies in all three categories, too. The 6-4, 250-pound junior has shown soft hands and the ability to stretch the field along the seams, providing an excellent safety blanket for QB Kellen Mond in the red zone and along the sidelines.
Trayveon Williams, RB
Projected round: 5th
Skinny: At 5-9, 200 pounds, Williams doesn't have ideal size or natural power, but the low center of gravity he runs with makes him hard to bring down. He has shown impressive vision and patience in Jimbo Fisher's offense, running for 798 yards and 8 TDs, averaging 5.7 yards per carry. Against Kentucky he flashed his hands out of the backfield (6 receptions, 72 yards), though the Aggies haven't used him much in the passing game on the season (13 receptions, 137 yards).