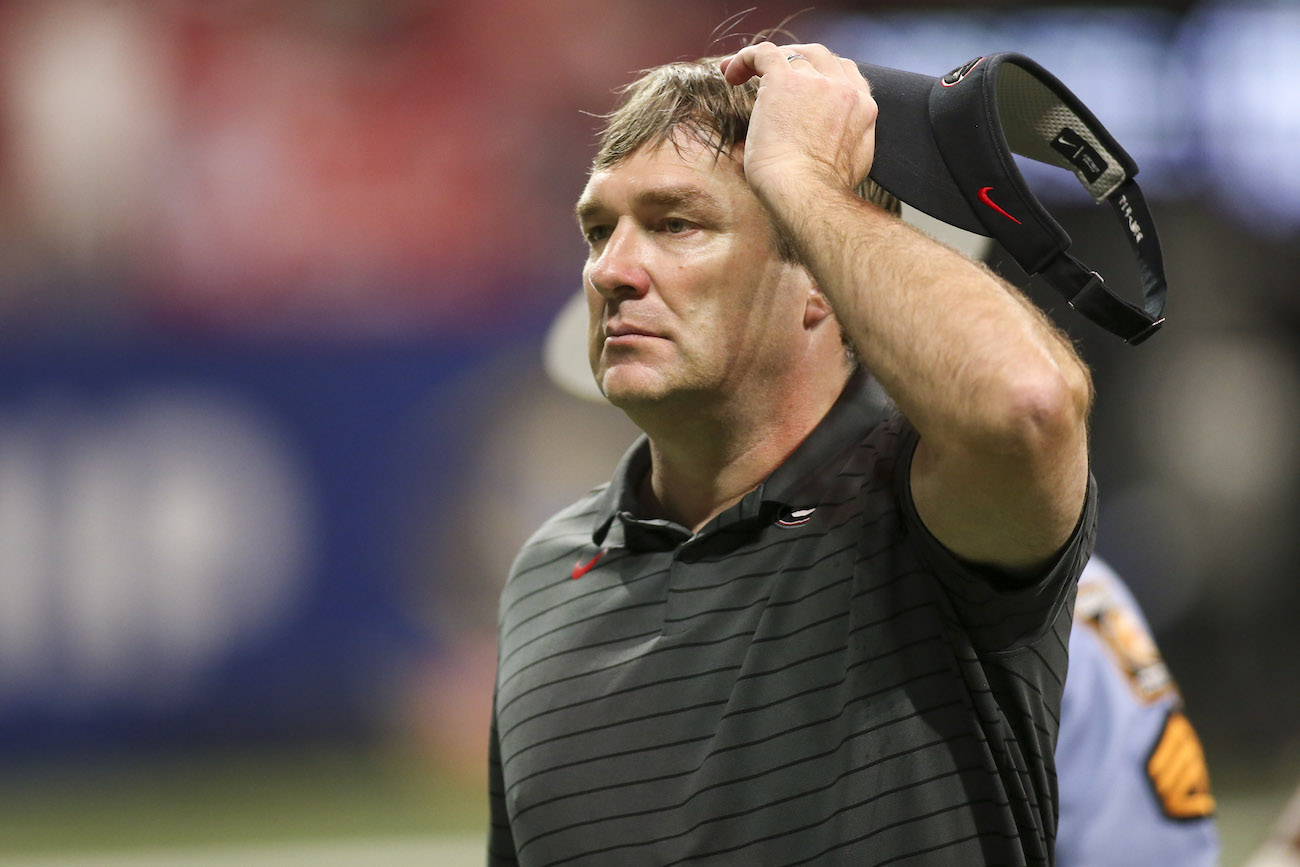 SEC
A New Year's resolution for every SEC football team
It's that time. Christmas is over, and the annual quest for self-improvement begins. New Year's resolutions aren't just for the folks in the stands or the press box. Here's a 2022 goal to make for every SEC team. Will they meet them? Getting there is half the fun.
West
Alabama: Have the No. 1 recruiting class … in the portal
Nick Saban found a new toy. Somewhere around the time he turned Jameson Williams from a transfer to a star, he realized that he could keep signing all the best high school players in the country … or just use the rest of the sport as a minor league to audition for the Tide. Sometime around taking Eli Ricks from LSU and Jahmyr Gibbs from Georgia Tech, Saban took control of the recruiting world yet again. Let's see him really turn it on for the portal now.
Arkansas: Keep Barry Odom
Behind every failed head coach, there's still a great coach. Barry Odom, who couldn't make it work at Missouri, has been wonderful at Arkansas as defensive coordinator. The temptation will be there for Odom to take a head coaching job again — but both for his career and for Arkansas, Odom is exactly where he belongs. Let's hope the Hogs can keep him there.
Auburn: A 3,000-yard passer
Auburn's offensive disaster with Mike Bobo is over, as is Bo Nix's time on The Plains. Somehow, in the school's history Auburn has had exactly 2 3,000-yard passing seasons. In an era when most teams will play 13 games, that's just not going to fly. New OC Austin Davis doesn't have to do anything insane, but if he can give Auburn another 3,000-yard passer in 2022, that would be a promising start to his current role.
LSU: A dialect coach
Fa-yum-lee. Really?
In total seriousness, LSU had the guy who got the culture and won a national title, and they ran him out of town. Brian Kelly didn't need to act like Farmer Fran from The Waterboy. As a guy who remembers when Rick Pitino invaded Lexington with "arenar" and "shooting god" in his vocabulary, there's something to be said for foreign and exotic.
Or there's fa-yum-lee.
Mississippi State: A kicker
We'd say a running game, but we're trying to be realistic. Mike Leach's cheap shot about student tryouts was a little tone deaf … but he wasn't entirely wrong. Between a pair of kickers, State finished the regular season 14-for-25 (56%) on field goals. That ranked 123rd in FBS football. For a team that had 3 losses come by 2, 3 and 3 points, that potential difference between 7-6 and 10-3 is one that a good kicker could easily deliver. (I suppose the good news is that the Bulldogs' bowl game didn't come down to a field goal?)
Ole Miss: Charlie Weis Jr. works as well as Jeff Lebby
The redemption of Lane Kiffin was one of the great stories of 2021. Ole Miss is one of the most entertaining teams in the country … but losing offensive coordinator Jeff Lebby to Oklahoma was a tough development. Kiffin turned to Charlie Weis Jr., his former OC at FAU. Here's hoping the reunion works as well as Rebels find the best one.
Texas A&M: QB solidity
Once, there was Kellen Mond. But he finished his career, and the reins passed to Haynes King, for about a game and a quarter, until he got hurt. And then it was Zach Calzada, who was good enough to beat Alabama, but up and down enough to leave the team via the transfer portal after the season. Now it's Max Johnson, in from LSU. Or it's King again. Or 5-star freshman Conner Weigman. Whoever it is, let's hope the Aggies can figure it out early and have a full season with a settled QB situation in 2022.
East
Florida: Direction
Florida's program has been driving 100 miles an hour down a one-way street since the Urban Meyer situation went sour around 2009. This doesn't mean everything has been awful. Since then, Florida has had a pair of 11-win seasons and a pair of 10-win seasons. But the trajectory of the program has never felt clear. Here's hoping Billy Napier can set a clear path and make some progress in that direction in 2022. That might not be a glamorous goal, but for the future of the program, it feels like an important one.
Georgia: Finishing the run
For the vast majority of the 2021 season, Georgia looked 12 feet tall and bulletproof. It all suddenly came crashing down with a couple subpar quarters against Bryce Young. But if Georgia's New Year's Eve goes according to plan, they'll open 2022 with a chance to make that SEC title game the least important game in recent memory. It's time for Georgia to finish their title chase, and that's the goal for 2022.
Kentucky: Wide receiver help
New OC Liam Coen's move to a passing offense helped Kentucky to a very solid 2021 season. This was despite Kentucky basically playing the season with 1.5 effective wide receivers. Wan'Dale Robinson was brilliant (and might come back for 2022) and Josh Ali competed well, despite missing several games due to injury. But Kentucky needs depth at the receiver spots, and their 2022 success might center on that situation.
Missouri: Defensive solidity
It was a nightmare 2021 season for Missouri's defense, right down to allowing Army to drive for a walk-off field goal in the bowl game. Coordinator Steve Wilks was widely assumed to be as good as fired, particularly after defensive line coach Jethro Franklin was fired midseason. But Wilks appears to have weathered the storm. That said, there are few seats hotter in the SEC, and Eli Drinkwitz's 3rd SEC season could well end with a different defensive coordinator if Wilks doesn't get Mizzou off to a solid start. Considering Mizzou's recruiting class, help is probably on the way… but will Wilks be the one who sees it through?
South Carolina: A smooth run for Spencer Rattler
Carolina's QB situation in 2021 was utter chaos. Enter Oklahoma transfer Spencer Rattler, whose career has resembled one of the roller-coasters at Carowinds. Is it too much to hope for a smooth second season at Carolina for Shane Beamer, and for Rattler to again flash the NFL potential he showed as a Sooner back in 2020? Time will tell.
Tennessee: Defensive improvement
Josh Heupel pulled off a pair of big tasks in Year 1 — bring offensive excitement and make Tennessee fun again. 2022 will be about improving defensively after a season that saw UT finish 11th in the SEC in defensive yardage and 12th in scoring defense. Tennessee doesn't have to morph into Georgia defensively, but even reaching the middle of the SEC pack would probably improve UT from 7-5 to perhaps 9-3.
Vanderbilt: Keep hope alive
In a season where 13 SEC teams achieved bowl eligibility, Vandy couldn't feel much farther away. Here's hoping that 2022 unveils some reason to be optimistic moving forward. Losing is one thing — hopeless losing just feels too much like the ghosts of Vanderbilt seasons past.