SEC
Arkansas QB Brandon Allen ready to hear his name called at NFL draft
FAYETTEVILLE, Ark. – The evaluations, workouts and film sessions are over now for former Arkansas quarterback Brandon Allen, and all that's left is for the clock to tick down to this week's NFL draft, which starts Thursday and runs for three days.
The clock ticks, ever so slowly. Seconds feel like minutes, minutes feel like hours, hours feel like days.
"It's the longest week of my life," Allen said with a laugh Tuesday. "I am so ready to see how it all plays out."
Allen is no different from the other 200-some players who will get drafted this week, and no different from the few dozen who are hoping to get drafted but don't. For now, they are in no man's land, with no team or city to call home. And then, like in Allen's case, probably on Saturday an NFL executive will stroll to the podium and announce his name, telling him where his next football journey will begin.
When the time comes, Allen will be surrounded by friends and family in Fayetteville, where he's been the hometown quarterback first at Fayetteville High School and then at the University of Arkansas for going on nine years now. His name will get announced,  and then he will be off, ready to chase the dream.
"It's been the dream for a long time, and it's almost here," he said. "This whole experience (leading up to the draft) has been great. It's a once in a lifetime thing and it's really been fun to go through. But now I'm ready to know what comes next."
Allen, who's started 34 games in the last three years for the Razorbacks, is one of the top 10 quarterbacks in the draft. Where in that top 10 is up for debate, and that's what the draft is all about. There's a lot of unknowns built into it, which is why players sit on pins and needles for several days while the process plays out.
Here's what we do know:
More than a dozen NFL teams have been actively involved with Allen through the NFL Combine, Arkansas' pro day and subsequent private workouts. And even though draft reports are kept more secure than CIA documents, there's a lot of love out there right now for Allen. "Everything he's done so far has really gone over well," agent Kyle Strongin said. "Everything he's done on the field has looked good and he's really impressed people in meetings. All that goes a long way."
Allen benefitted greatly from having a big senior year for the Razorbacks. The NFL draft is as much about potential as it is about a player's ability to contribute right away, and Allen's talent level is still trending upward. There are plenty of people who think he will be successful at the next level. "He gave them all a lot of really great film to look at," Strongin said. "He played really well in the SEC West, in a pro-style offense against the best defenses in the country. You throw in Brandon's tape, and you can see right away that he can play at the next level – and win at the next level."
There are some physical attributes that send up minor red flags, but Allen's mental makeup more than outweigh the flaws. "He's really smart and he picks things up very fast," Strongin said. "And I defy you to find anyone who's ever had a bad thing to say about Brandon Allen. He's just a really, really good kid and he's going to add a lot to whichever franchise takes him."
Success in the NFL has become predicated on having a good quarterback, which is why so much effort goes into finding a good one. Allen, despite a few flaws, falls into that class.
He's a good one. The question, one that gets answered for the first time this week, is this: How good?
NFL teams with the most interest
Some teams talked with Allen at the NFL Combine, others sent their quarterback coaches to Arkansas's Pro Day back on March 16 and a half-dozen more have worked him out privately since then. There are some interested teams – Cowboys, Panthers, Steelers, Lions, Bears – with veteran quarterbacks looking for a backup help and a future replacement. There are others with young starters – Buccaneers and Titans, among others – that need to add quality depth behind their young future stars. A few others are curious, as well.
Every case is different, as is every workout and meeting, Allen said.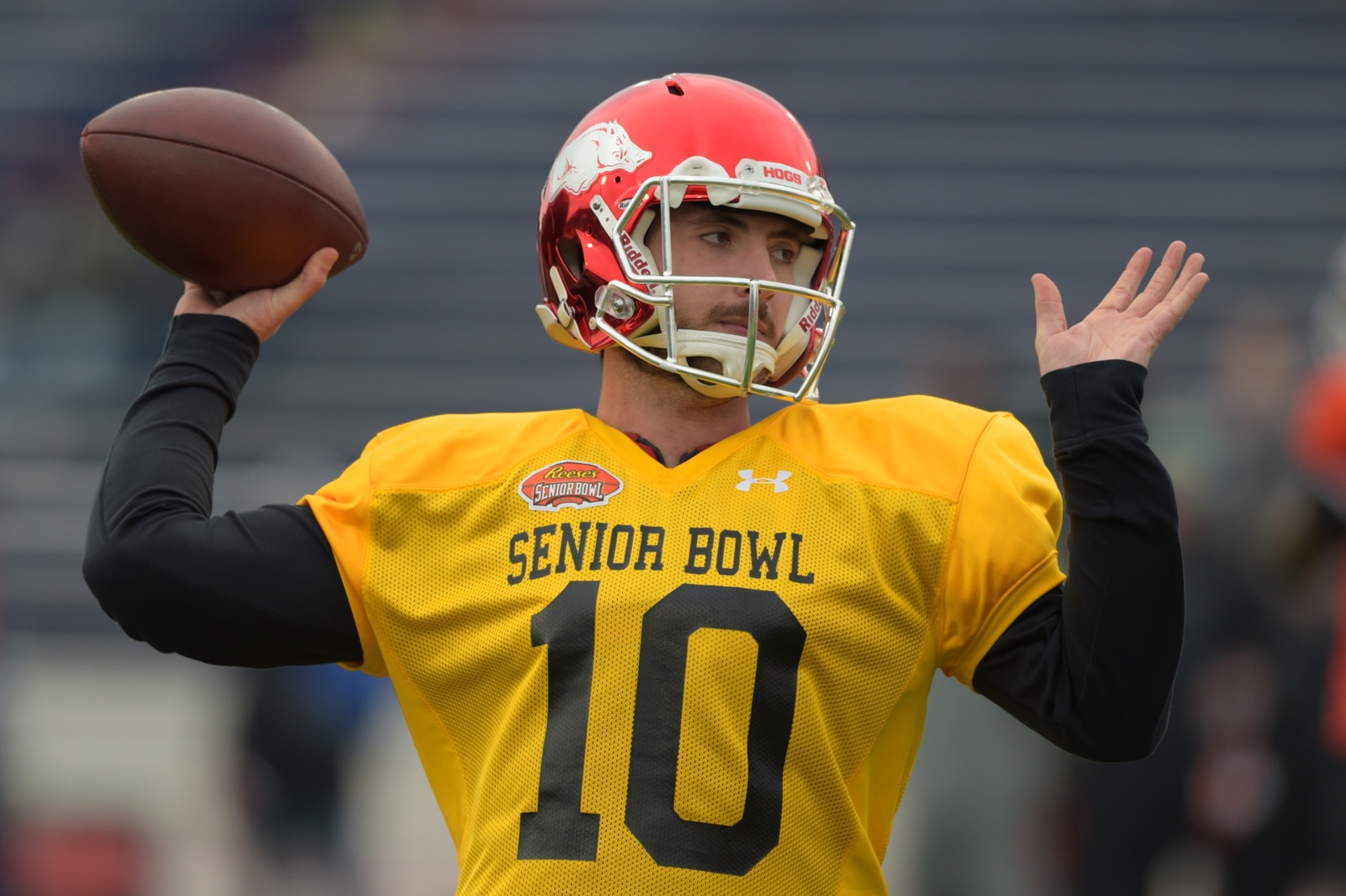 "It has been really different with everybody," he said. "A couple teams had already seen me throw, so they just wanted to meet and go over things on film and break things down in the meeting room. Others wanted me to learn some of their plays, and throw those routes during workouts. Nothing really surprised; nothing was really new to me.
"I think it's really been a good thing for me to have gone through so much at Arkansas. I had four different offensive coordinators in five years, so I was learning new terminology all the time. So a lot of times during interviews, coaches would start talking about certain plays or formations that they run, and I knew exactly what they were talking about. I never felt uncomfortable."
The draft works like this: The first round is Thursday night, the second and third rounds are Friday, and the fourth-through-seventh rounds are Saturday. Quarterbacks will likely go one-two on Thursday, with California's Jared Goff and North Dakota State's Carson Wentz the favorites of the Rams and Eagles, who have both made massive trades to move up in the draft. Memphis' Paxton Lynch – who Ole Miss fans remember well from the Tigers' upset win this year – and Michigan State's Connor Cook are the QBs likely next in line, though the jury is still out on Cook with a few teams.
Then there's the next group, and that includes Allen. It's a group with talent, but some concerns. It includes Mississippi State's Dak Prescott, Stanford's Kevin Hogan, Penn State's Christian Hackenberg and Ohio State's Cardelle Jones. It's like walking into an ice cream store with that group. They're all different, and bring unique skill sets – but unique flaws – to the draft table. Different teams like different things.
"NFL teams are always secretive when it comes to what they're thinking about players, and they'll never tell the truth publicly before the draft, especially when it comes to quarterbacks," said Strongin, Allen's Nashville-based agent. "But some teams have Brandon as high as fourth on their board among quarterbacks, so it will be interesting to see who's ready to pull the trigger when. Based on my conversations, there are several teams that are interested in having Brandon on their team.
"So you may say Saturday for getting picked, but I'm still holding out for Friday. It won't surprise me if someone makes a point of grabbing him early, before someone else does. That's just how it works anymore, especially with quarterbacks. If there's one you like, you make the effort to go get him."
Still trending upward in the right direction
Allen's big senior year in Fayetteville has put him in this position to get drafted. That certainly wasn't a given this time a year ago. But after throwing for 3,440 yards and 30 touchdowns – and only eight interceptions – Allen saw his draft stock skyrocket. It helps that he and new offensive coordinator Dan Enos meshed so well.
"We had a great time together," Allen said. "He's very creative, and once we got healthy, we really turned it on last year. What he did that helped so much was that we kept it simple while looking complex. I think we really did a great job of keeping defenses on their heels last year. They had no idea where we were going to attack, and we had a lot of weapons."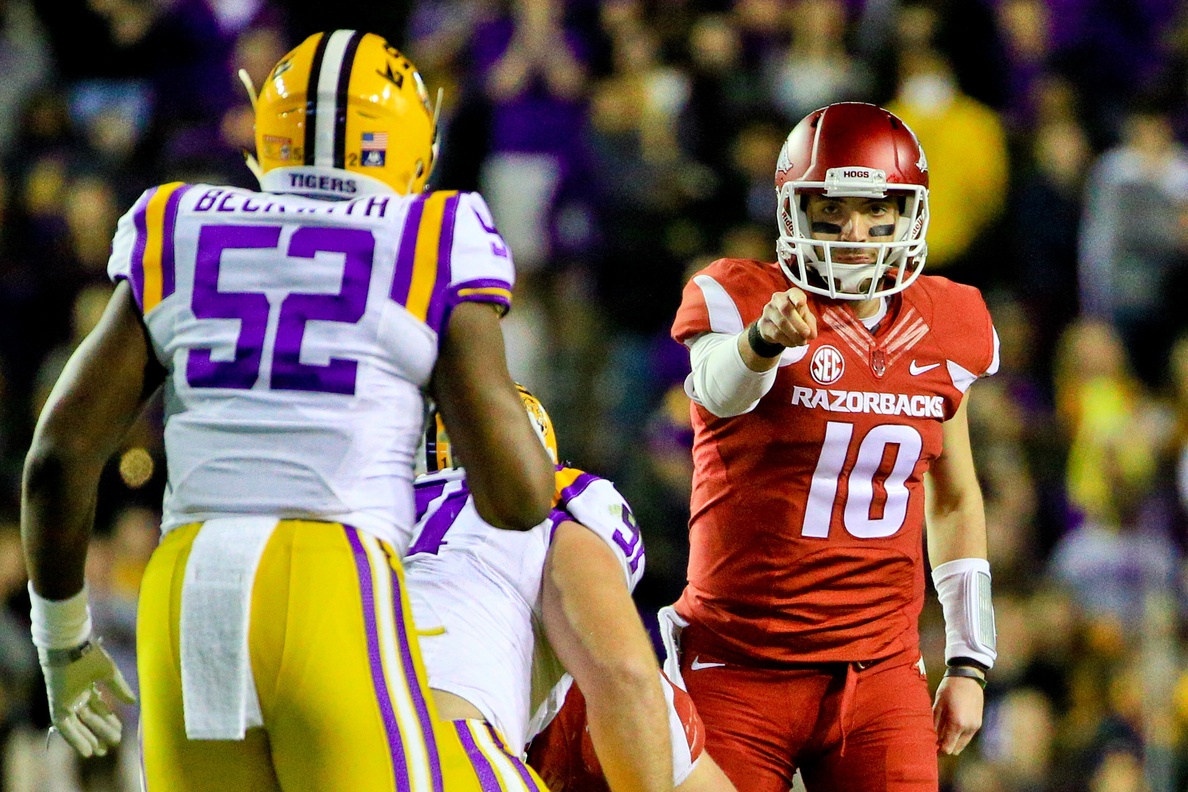 The wins over Ole Miss and LSU (in back-to-back years) were huge, because it helped Arkansas finally get over the hump as a team that could compete at the highest level in the SEC West. Allen threw for 442 yards and six touchdowns against Ole Miss and had NFL scouts roaring in the press box. He threw only 16 times in the win over LSU as the Razorbacks played smash-mouth football and ran for 299 yards – "doing whatever is takes to win," he said.
But even in defeat, Allen dropped jaws. In the 51-50 loss to Mississippi State on Nov. 21, Allen threw for 406 yards and seven touchdowns, only to get outdueled by Prescott, who threw for 508 yards, in the most entertaining game of the year.
"That's what I think most NFL people really love about Brandon. Not only can he make all the throws, but he just keeps on making them," Strongin said. "He's one heck of a competitor. and he proved that against great defenses all year."
The question marks
Allen doesn't have that prototypical quaterback size that everyone loves. Arkansas called him 6-foot-2 and 210 pounds, but he measured 6-1 at the combine. Of the top 10 QBs in this draft, only Allen and Prescott (6-2) are less than 6-foot-4. Allen's hand size also became a big deal at the combine, leading to all manner of sophomoric jokes from media types.
"They all ask about my size, and if it's been a problem for me as far as being successful. It's not to me," Allen said. "Look, I've played behind the biggest line in football – all of football – last year and it was never a problem. I find my lanes and a lot of it is about preparation and knowing where I want to go with the football.
"I had (right tackle Dan Skipper) in front of me last year and he's 6-foot-10. The year before, he was played guard and I had to throw over him all the time and it wasn't a problem. And I saw plenty of tall defenders in the SEC and that's not a problem. I know I can play, and to me my size has never mattered. I have good-sized hands and I haven't had many passes batted down."
It's his head that everyone loves too. He handles the "smart quarterback" label well. He's also someone who is smart, represents well and stays out of trouble, which is all critical for a "face of the franchise" kind of quarterback.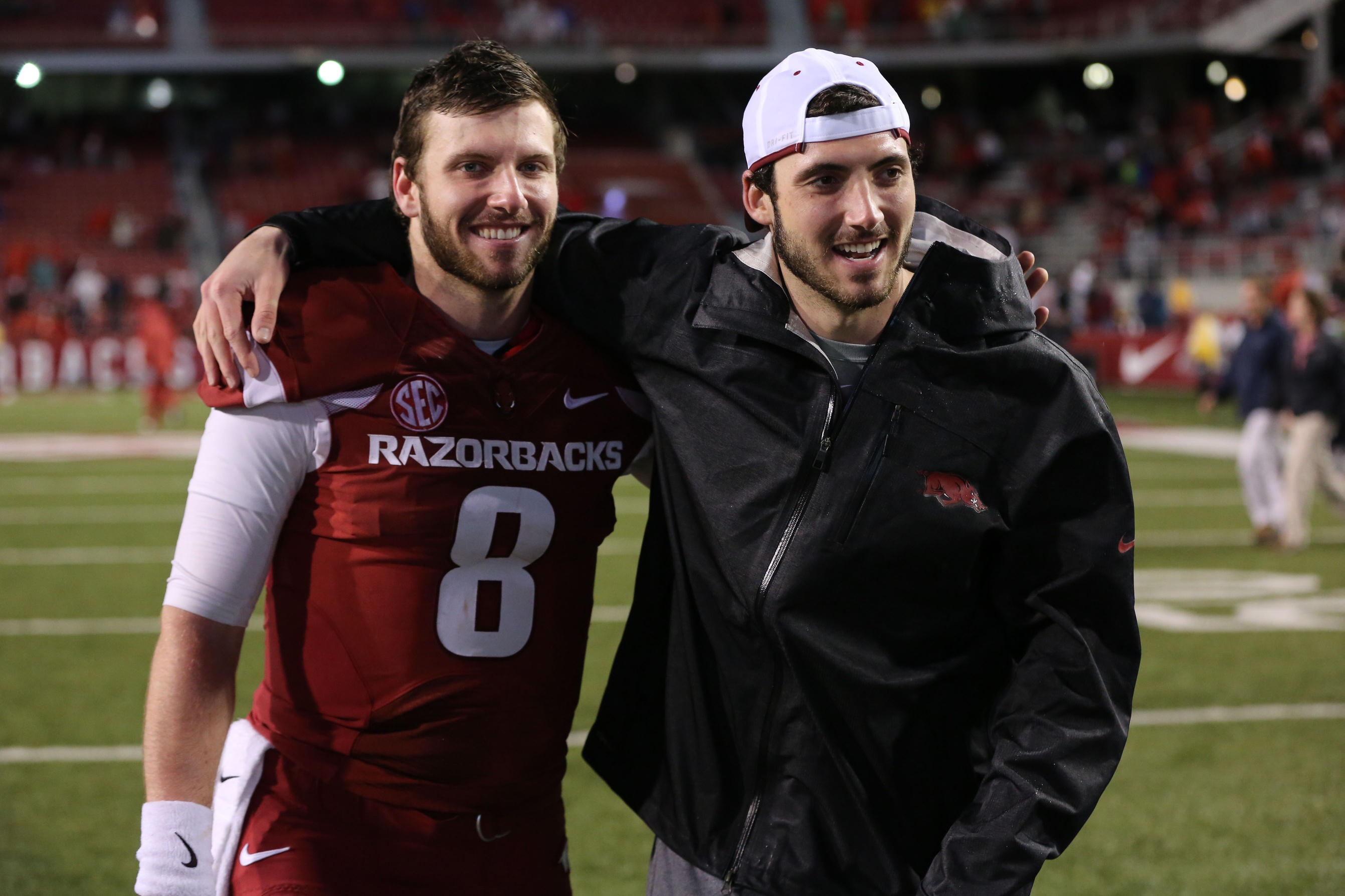 "I've been fortunate to be around the Allen family for years, and they are just great kids," says Fayetteville High School football coach Daryl Patton, who coached both Brandon and his little brother Austin, at FHS. (Austin is replacing Brandon as Arkansas' starter this year.) "Brandon is just a tremendous kid. He was a great player for us, and he won a lot of games on teams that weren't that talented. But he comes back around all the time and he'll do anything you ever ask of him.
"I always tell everyone that those Allen kids have done more for me than I've ever done for them. It just thrills me to no end to see the success he's had. I'm really, really happy for Brandon."
And there's more to come for sure. The next journey? It starts in a few days.
Finally.