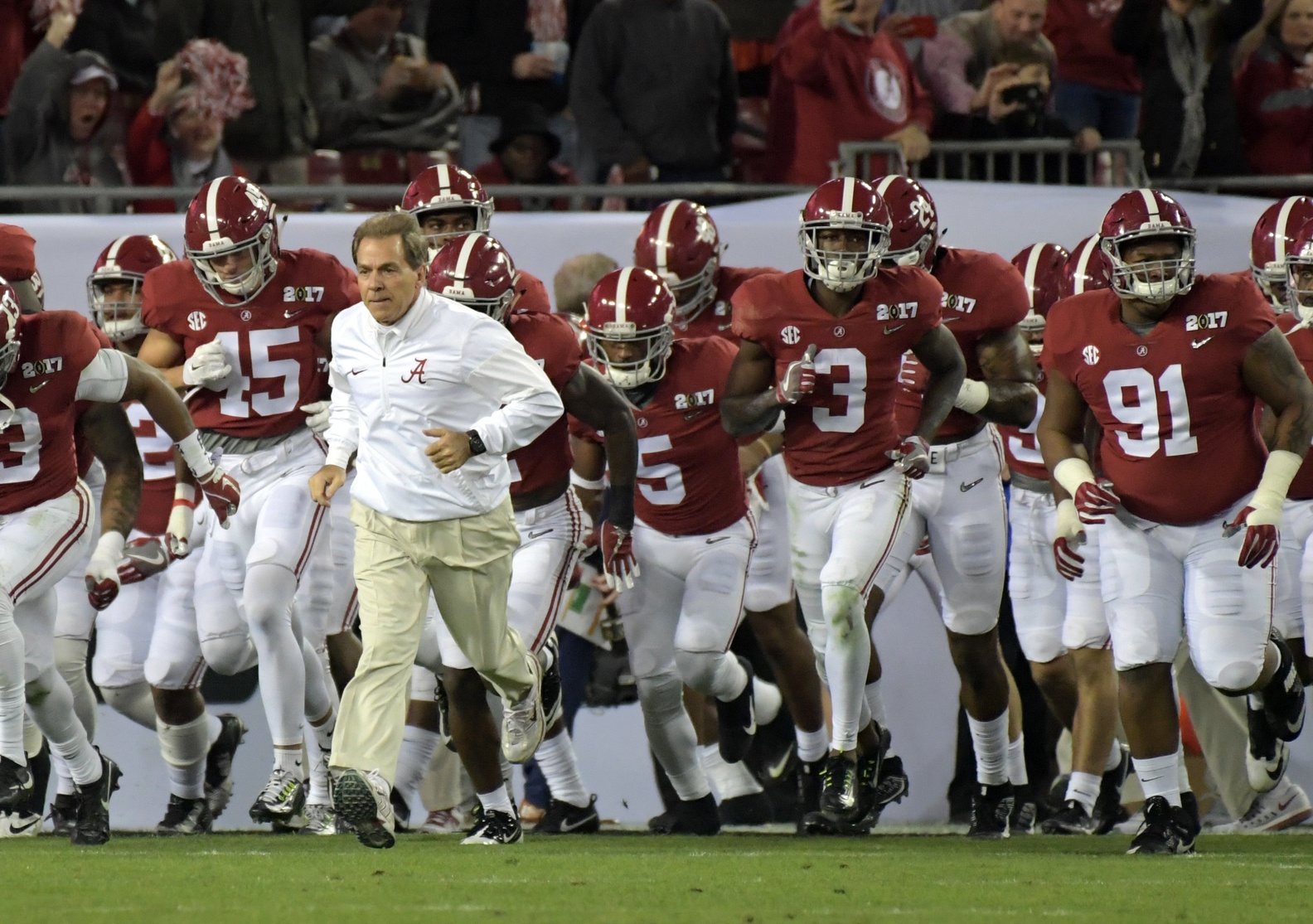 SEC
College football players are paid (indirectly), and that's the way it should be
Much has been made of the fact that Alabama coach Nick Saban will make something in the vicinity of $11 million in 2017.
Upon agreeing to yet another contract extension, this one through 2024, Saban has been given a $4 million signing bonus on top of his annual salary north of $7 million. The crazy thing is that he might still be underpaid.
As is usually the case when financial figures like these are released — the Crimson Tide strength coach, Scott Cochran, now makes $535,000 per year — a lot of belly-achers are up in arms that the players actually coached by Saban walk away with nothing. Some go so far as to say that they're a step above slave labor.
My response, however, continues to be this: Give me an effin' break. College football players are paid. They just get paid indirectly.
I'm not here to tell you that the NCAA operates a perfect system. Even suggesting that it's fair to student-athletes can be a stretch. But I push back when critics whine that players are being exploited solely for the monetary gain of others.
Even with most university athletic departments making more money than ever — thank you, TV-rights deals — very few of them are in the black. For every dollar made, another dollar is spent. Like a growth stock listed on the NASDAQ exchange, money is reinvested internally as opposed to paid out to shareholders in the form of dividends.
This is how Texas builds new lockers for its football players featuring 43-inch flatscreens. Cost? About $10,500 each.
Is it excessive? Absolutely. Still, is it necessary to compete in today's arms race? Absolutely. Clemson's new Football Center doesn't need a mini golf course. But if a 5-star recruit happens to love Putt-Putt, then it's money well spent.
The list of perks for being a football player at a big-time program is long and enviable. All the food you can eat. Lodging at what is typically the best dorm on campus. Enough team-issued gear — some recruits will turn spurn an adidas school in favor of a Nike school — to make for quite an extensive wardrobe.
Oh, and the opportunity to earn a degree sometimes worth hundreds of thousands of dollars yet not being on the hook for a nickel.
Let's not forget that somewhere between three and four percent of college football players make it to the NFL. Naturally, the odds are much better at Florida State than Florida A&M, but it's in no way guaranteed.
True, programs have more money than they know what to do with at this point, which is why coaches keep getting raises and scoreboards keep getting bigger. There are more administrators making six-figure salaries — oftentimes with ambiguous job descriptions — than ever before. Stadium suites on Saturday now rival what you see on Sunday.
Although let's not pretend like the collegiate experience for the players themselves hasn't gotten exponentially better, as well.
It's impossible to deny that a lot of them are products of underprivileged upbringings. So many of these kids come from nothing and would be going nowhere without football. That's one of the reasons why National Signing Day is so celebrated.
Daily, my Twitter feed overflows with messages from high schoolers — typically retweeted by the recruiting gurus I follow — filled with hashtags like #blessed when they receive a scholarship offer from a school. I'm yet to see a 4-star cornerback get offered by Oregon and then respond on social media with #exploited.
If college football is such a miserable existence, then why do prospects risk life and limb (not to mention concussions) to play it?
* * *
Football isn't basketball or baseball. In basketball, you only have to attend college for one year before being drafted. In baseball, you can be drafted out of high school. But football players have to wait at least three years.
To some degree, minor league baseball is like college football. The players usually aren't skilled enough to compete with the superstars we watch on television — the ones making millions of dollars — and need a few seasons to hone their craft. Only when they separate themselves from their peers are they called up to The Show.
Few know better than Hayden Hurst, who was a minor league baseball pitcher before becoming a tight end at South Carolina.
"They have everything you could possibly need. They give us so much stuff."
"In college football," Hurst told me, "they give you access to everything."
A 17th-round pick of the Pittsburgh Pirates in the 2012 Major League Baseball Draft, Hurst has seen the difference between the two sports a step below the highest level. In the minors, just getting a postgame meal was a challenge.
"You can go back to the cafeteria and get leftovers from dinner," he said, "if you made it back in time for dinner."
Compare that to his experience nowadays with the Gamecocks. According to Hurst, the food he gets in Columbia is "unbelievable." Additionally, he has help from an entire staff of people — from tutors and trainers to nutrionists and strength coaches — whose sole job is to develop him both on and off the field.
"They have everything you could possibly need," he said. "It's very accessible. They give us so much stuff."
There was no reason for Hurst to even pack a suitcase when he arrived at USC. Everything he wears is complimentary.
"When I go to class every day," he said, "it's something Under Armour."
Despite the fact that minor league baseball players are indeed pro athletes, the majority of them don't live like it. From cheapskate per diems to crummy hotel rooms, they're the ones being treated like college kids.
"It's night and day compared to minor league baseball with how SEC football is treated."
"You're playing a home game, then you're traveling 10-12 hours on a semi-decent bus to some remote town in the middle of Iowa," Hurst said. "That's nothing compared to these private chartered planes that we go on for road trips here. It's night and day compared to minor league baseball with how SEC football is treated."
To be fair, Hurst didn't come from a desperate situation growing up in the Jacksonville area. While he wasn't a country club kid — his father taught and coached at the private school he attended — his family could pay the bills. Nevertheless, even his fellow 'Cocks from humble beginnings seem to have all their needs met.
"I kind of come from a different background," he said. "But even some of my other teammates who do come from those backgrounds, I really never hear, 'Oh, man, we don't get this. We don't get that.' I think they realize how good they get it."
His coach, Will Muschamp, makes a fraction of what Saban does, about $3 million. But Hurst doesn't begrudge him for it.
"While, yes, the numbers are kind of high," he said, "I would say that that guy, with all of the stuff that he puts in, earns every cent of his paycheck."
* * *
After a 6-6 record last season, South Carolina went to the Birmingham Bowl and lost a matchup with USF.
No offense to the Gamecocks, who didn't even qualify for a bowl game the year before, but their loss to the Bulls was totally forgettable. It was one of 40-some postseason contests and unquestionably one of the least important.
But Hurst and the rest of his teammates were still given College Football Playoff-level treatment. A representative from the Birmingham Bowl showed up in Columbia with all kinds of freebies — this is how seemingly every player now has a set of Beats by Dre headphones. Imagine the shopping sprees that Alabama guys get year after year.
Rings used to be reserved for winning a national championship. These days, finishing atop the Big Ten West warrants a ring.
Forget about free books and tuition, which is priceless in the long run if players actually take advantage of it. The clothes, shoes and all the extras that are constantly being given away are worth thousands of dollars.
They're also getting stipends now, supposedly to pay for the cost-of-living expenses not typically covered by a full ride. Laundry money, grocery money, gas money — most of these kids are away from home for the first time. There's no accounting procedure for that cash, though. Tattoo artists are no doubt grateful.
This isn't to say that there aren't hard times. Many of these families can't afford to put money in their sons' accounts.
It's not unusual to hear stories about players going hungry on weekends because the cafeteria was closed. Scholarship players aren't allowed to have jobs during the season, and there's no time for one anyway.
You know who has similar problems? Pretty much every other student on campus — the ones who can't run a 4.4 40 or bench press 400 pounds. Practically all college kids are broke. It's a part of the experience. Find any successful graduate, and he can probably tell you about that month junior year when he lived off ramen noodles.
When the Birmingham Bowl rep finished handing out Beats to football players, he didn't head over to the chemistry department.
Don't worry, I know your next argument: 80,000 fans fill Williams-Brice Stadium on Saturdays in the fall to watch football, not lab experiments. Those 85 scholarship athletes deserve a piece of the pie, you say.
Well, you're right. They do. And I'm here to tell you that they are getting paid, just not in the form of a cashier's check. All that money bankrolls a lifestyle making them the envy of every other student — even the ones on academic scholarships — in town. And it's not only the future first-round picks, either.
Michigan just took its entire football program to Italy, and I'd venture to say that players didn't even need to exchange dollars for euros.
If a young man dreams of making it to the NFL, this is the only path. No minor league. No European league. If he doesn't agree with the college football model, well, nobody is forcing him to fax in that letter of intent.
These are the rules of engagement. A lot of people around them — not just the Sabans of the world — are making a lot of money, but let's stop comparing college football players to Chinese factory workers. Their scholarships are only becoming more valuable, too. Tuition costs keep going higher. Swag bags keep getting bigger.
But if you play football and think you're getting a raw deal, try baseball. There's a bus in the Gulf Coast League that will make room for you.