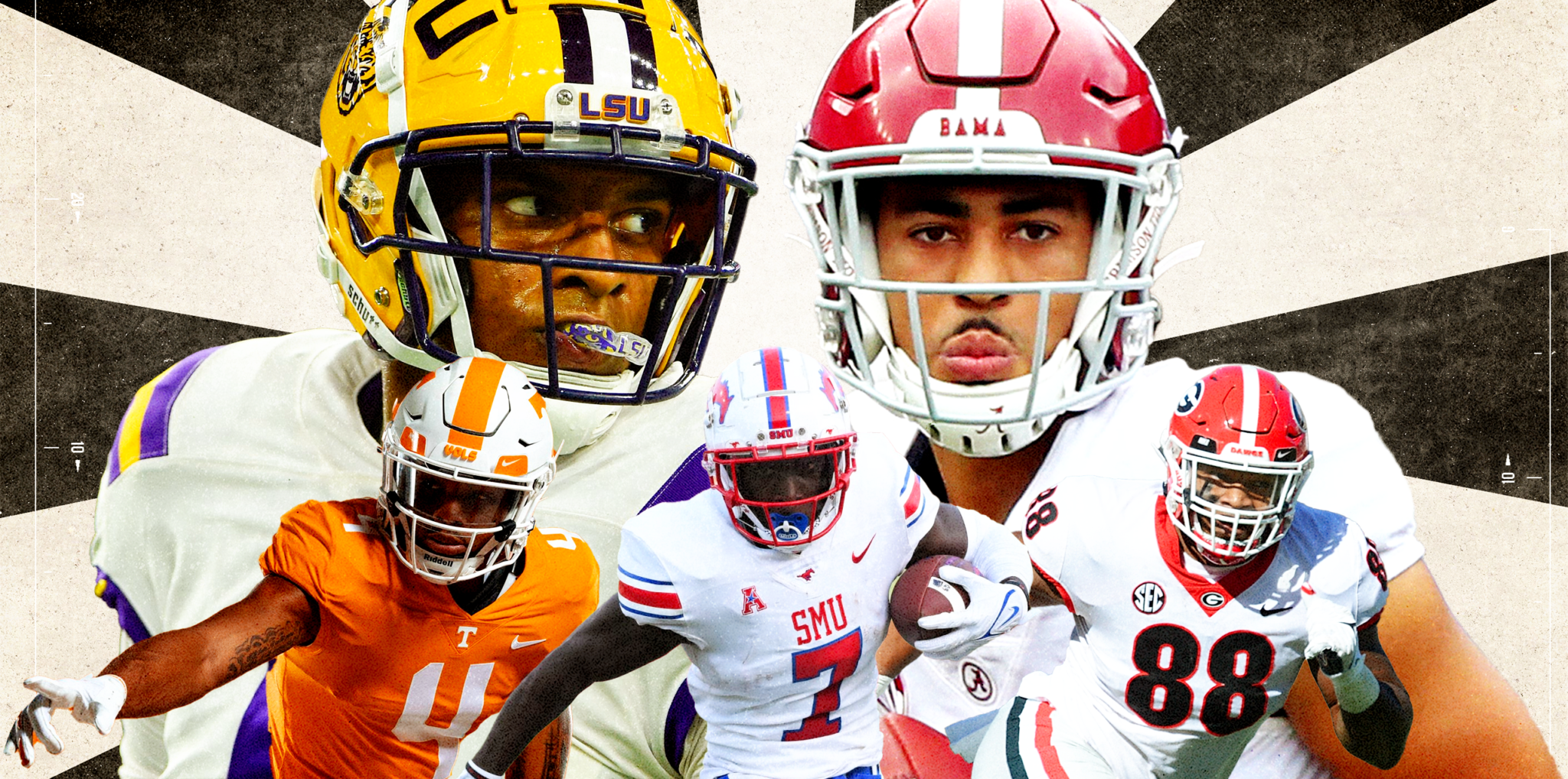 SEC
First and 10: Buy or sell? Taking stock of the SEC ...
1. I don't want to get on a soapbox, but …
It's pure nonsense, all of it. From the NCAA and coaches, to politicians and pundits.
For years we've heard how college – more specifically, the amateur model – teaches young people to embrace adversity and overcome it.
But suddenly, in the age of NIL and player movement, the shoe is full of pebbles on the other foot.
The universities are now dealing with adversity. And they're losing their collective minds.
"You open the hen house, then complain the foxes are feeding?" one SEC coach told me. "What exactly did everyone expect?"
We're deep into the most transformational time in college sports, an era of change moving so quickly and freely, it has handcuffed those comfortable with the typically glacial movement of the past. The panic and desperation is real.
And – I know this will shock you – it all revolves around money.
For more than a century, universities had complete control of an unimaginably unfair system that in no certain order:
— Generated billions and billions of dollars, turning collegiate conferences into private Fortune 500 companies under the umbrella (and government financial protection) of higher education.
— Traded higher education for those billions, allowing students who excel at sports access to the university ahead of those who didn't — and used that access as the flagpole of an argument they called "the amateur model."
— Proclaimed education and professional sport-specific development was a fair tradeoff for the billions and billions of dollars generated.
— Restricted movement of student-athletes from one university to another by forcing a season of ineligibility for those who tried to move, while university presidents, athletic directors and coaches – those with the most power in the process – moved at will from one university to another.
This scam didn't care about race or gender; it was an equal opportunity offender. Don't get caught up in hot-button narratives or inflammatory verbiage used to enrage those ignorant with the process.
This is all about money. The battle for it, and the desire to keep it.
The NCAA thought it had a get out of jail free card with NIL. Give players the ability to earn off their NIL, and it could slow the demand for a share of a much bigger pie: billions in media rights revenue.
Then they added one free transfer, with immediate eligibility, to the equation. (Non-revenue sports already allowed one free transfer, by the way.) The final move – taking the wrench and opening the fire hydrant on full blast — was doing business with "collectives" to help facilitate NIL deals.
Now all hell has broken loose: The collectives (see: boosters) have decided they'd rather give directly to student-athletes, not the university and athletic department.
Money that once flowed freely through universities and athletic departments now goes directly into the bank accounts of student-athletes.
The same student-athletes who are now using that money as leverage in a seedy transfer process that has made an unmitigated mess of roster management.
So what's the NCAA answer, you ask? Congress.
The irony is just so rich.
As comical as it sounds, a few college administrators – including SEC commissioner Greg Sankey – last week traveled to Washington, D.C., to ask for help from Congress, the most dysfunctional group on the planet.
The NCAA, which for the past 2 years has made a complete mess of trying to do right by student-athletes, is asking for help from a body politic that has forever made a complete mess of trying to do right by humanity.
The answer, everyone, lies within the amateur model.
Embrace adversity and overcome it.
"We've got to stop complaining," Notre Dame basketball coach Mike Brey said last week during the ACC spring meetings. "This is the world we're in. Last time I checked, we make pretty good money. So everybody should shut up and adjust."
2. Taking stock: Buy
We're post-spring practice and have moved into the critical time for program development.
What happens off the field – preparation and potential problems – will play a direct role on the 2022 season. Four months into the offseason, there are plenty of winners and losers.
The current SDS Stock Report for the 2022 offseason:
Buy stock …
— The Alabama wideouts.
What once looked like a significant problem at the end of last season could now be the best WR room in the SEC.
Alabama is in the running for star WR Jordan Addison, the Biletnikoff Award winner from Pitt who entered the transfer portal and will likely choose between Texas, Alabama and USC.
If Alabama lands Addison, its starting 3 receivers will all be from the transfer portal, including Jermaine Burton (Georgia) and Tyler Harrell (Louisville). All-American QB Bryce Young, who excels with deep throws, would have 3 new weapons who can stretch the field: Burton (19.1 ypc, 5 TD in 2021), Harrell (29.1 ypc., 6 TD) and Addison (15.9 ypc., 17 TD).
— Transfer portal > recruiting at Ole Miss.
With a combination of philosophy and need, the transfer portal might have saved the 2022 season for coach Lane Kiffin before it began.
UCF WR Jaylen Robinson became the latest projected stater or top backup to sign with Ole Miss from the portal, the 14th player to do so. Kiffin got a quarterback, 2 edge rushers, 2 tight ends, 2 wideouts and 2 tailbacks among the group.
The most important additions: TB Ulysses Bentley and Zach Evans. Despite the narrative, Kiffin's wide-open offense is based on a downhill run game (588 rush, 429 pass in 2021). Bentley (5-10, 185), while not the biggest guy, is the perfect fit for Kiffin's offense with his slashing style and quick, one-cut burst.
— Tennessee WR Cedric Tillman.
In a conference full of transfer wide receivers, the most important player at the position stayed home.
In yet another classic misuse by the former staff, Tillman spent his first 3 seasons at Tennessee on the bench, producing all of 8 career catches. Coach Josh Heupel arrived last year, saw Tillman's size (6-3, 215) and speed, and built the passing game around him.
The numbers were impressive (64 catches, 1,081 yards, 12 TDs, 16.9 ypc.), but his ability to draw (and beat) double coverage opened the middle of the field for the rest of a quickly emerging offense.
Tillman's numbers this season – in his second season with Heupel and QB Hendon Hooker – will be extraordinary.
3. Sell stock …
— Missouri quarterbacks.
Coach Eliah Drinkwitz tried all offseason to add a quarterback of significance, missing out specifically on Jayden Daniels (LSU) and JT Daniels (West Virginia).
Connor Bazelak, the starter for the majority of the past 2 seasons, left for Indiana. Brady Cook played well in a bowl loss to Army, but Army most certainly isn't an SEC defense.
Sam Horn, the jewel of Missouri's top 15 recruiting class, is also a top Major League Baseball prospect. If Horn is drafted in the first 2 rounds of next month's MLB draft, he will likely be offered a strong signing bonus to skip college football.
But there's hope: an NIL deal could keep Horn in Columbia. He's ranked as the No.71 prospect by MLB.com.
— Florida wide receivers.
QB Anthony Richardson is as healthy as he has been since his junior year of high school, and has looked impressive in offseason work.
The question: Who's on the other end of those B-B's he's throwing?
One of the best offensive coaches in college football (Dan Mullen) let his roster devolve into uncertainty at a critical spot on offense. Missed recruits, poor decisions in the transfer portal and poor development.
Meanwhile, the new staff missed this recruiting season on a couple of potential late possibilities and then on a few transfer portal options. It has left the offense without a legitimate weapon on the outside.
There's talented inconsistency (WRs Justin Shorter, Xzavier Henderson), and solid possession options (WR Trent Whittemore, TE Keon Zipperer). But either Richardson makes the group better, or other options emerge — including redshirt freshman WR Marcus Burke, or 3-star freshmen signees WR/TE Arlis Boardingham and WR Caleb Douglas.
Taking stock: big gainers
— The interior D.
Georgia's Jalen Carter, LSU's Maason Smith and Florida's Gervon Dexter are 3 of the top 4 interior linemen in college football.
Carter and Dexter are draft-eligible and projected first-round picks in the 2023 NFL Draft, and Smith had the most complete season of the trio in 2021.
All three are rare in their ability to stuff the run and collapse the pocket in pass situations. The dual-threat is unique, and only Clemson DT Bryan Bresee can match their disruptive ability on the interior.
"We're kind of seeing a resurgence of sorts on the inside," an NFL scout told me. "The edge guys are so important, but it wasn't long ago where everything was getting big inside to stop the run. If you're a guy that can do both, you increase your value exponentially. All four of those guys will be Day 1 picks."
— Kentucky QB Will Levis.
From competing for the starting job on an offense with no recent history of throwing the ball, to the top of many early NFL Draft boards.
What will 2022 bring: A Joe Burrow rise, or a Matt Corral fall?
— South Carolina ATH Jaheim Bell.
The first question from NFL scouts: Where does he play?
The typical follow-up answer: In a league more than ever focused on the passing game and finding mismatches, Bell (6-3, 230) – who is 2023 draft-eligible — could be a big winner.
He's a tight end/H-back/slot for now, and he is just beginning to reach his dynamic potential. He's a matchup problem anywhere on the field and averaged 16.6 yards per catch last season with 5 TDs.
The Weekly Five
The top 5 freshmen of impact in 2023
1. DE Mykel Williams, Georgia
2. OT Will Campbell, LSU
3. WR Evan Stewart, Texas A&M
4. OLB/DE Jihaad Campbell, Alabama
5. DT Walter Nolen, Texas A&M
6. Your tape is your résumé
An NFL scout analyzes a draft-eligible SEC player. This week: Tennessee QB Hendon Hooker.
"The framework is there. He's a big guy (6-4, 220) with good arm strength, but the stuff (Tennessee) does well, that short stuff on the outside, inflates his accuracy numbers. He's in an offense now that accentuates the positives, and puts him in position to be successful. But can he be a pre-snap guy that sees and reacts and makes multiple level throws?
"He forced a lot of throws last year, and he missed a lot of pressure packages. Took too many needless big hits. Is that just a byproduct of his first full season as a starter in a new offense, or is it more? He can climb (draft boards) this season, but he has to prove he can process and react."
7. Powered Up
This week's Power Poll, and one big thing: The big riser for 2022.
1. Georgia: CB Kelee Ringo.
2. Alabama: OLB/DE Dallas Turner.
3. Texas A&M: DE Shemar Turner.
4. Kentucky: OLB/DE JJ Weaver.
5. Arkansas: TB Raheim Sanders.
6. LSU: DE BJ Ojulari.
7. Ole Miss: TE Michael Trigg.
8. Mississippi State: WR Jaden Walley.
9. South Carolina: ATH Jaheim Bell.
10. Tennessee: WR Jalin Hyatt.
11. Florida: QB Anthony Richardson.
12. Auburn: DT Colby Wooden.
13. Missouri: WR Luther Burden.
14. Vanderbilt: QB Michael Wright.
8. Ask and you shall receive
Matt: What does Kentucky do with Chris Rodriguez? I don't know how you can allow a player to play once he gets a DUI. What example are you setting? — Ken Stoger, Louisville.
Ken:
There are plenty of moving parts to this story, and I don't want to minimize any of it. Drinking and driving is an incredibly dangerous and selfish decision. Why anyone would do such a thing – especially with so many rideshare options available – is difficult to comprehend.
Kentucky, as a university, will make a decision on Rodriguez and his punishment. Just like Alabama will do with defensive coordinator Pete Golding, who was arrested in February for DUI.
While they're individual university decisions, they're no doubt connected because of the nature of the offense – and because of the high profile for each man. Golding runs Alabama's defense; Rodriguez is the SEC's top returning rusher and has an NFL future.
My guess is both will be suspended at least 1 game, but I wouldn't be surprised if it's more. Gonzaga basketball coach Mark Few was suspended for the season-opener after his DUI arrest.
I would be shocked if either Golding or Rodriguez escape punishment for their arrests.
9. Numbers
6.8. Jimbo Fisher, QB Guru. The draft picks at Florida State, the development of Kellen Mond. And this: last year, Texas A&M averaged a paltry 6.8 yards per attempt.
Only Missouri and Vanderbilt averaged less yards per attempt, and Fisher stressed this spring that no matter who starters for the Aggies – Max Johnson, Haynes King or Conner Weigman – the ball must go downfield more often.
The 6.8 average was a full yard behind the 2020 average, an annoying trend for a coach whose quarterbacks have always been a central and dynamic factor in the offense.
In Fisher's 4 seasons at Texas A&M, his quarterbacks have averaged 7.4, 6.6, 7.8 and 6.8 yards per attempt. At FSU, his quarterbacks were consistently in the 8s.
"Explosive plays are a huge reason you win," Fisher said. "And if you give them up on defense, they're a huge reason you lose."
10. Quote to note
South Carolina coach Shane Beamer on the transfer portal: "We brought in a lot of experience at certain positions. Spencer Rattler won a conference championship (at Oklahoma), Devonni Reed played a lot of football at Central Michigan. We've upgraded talent and competition."