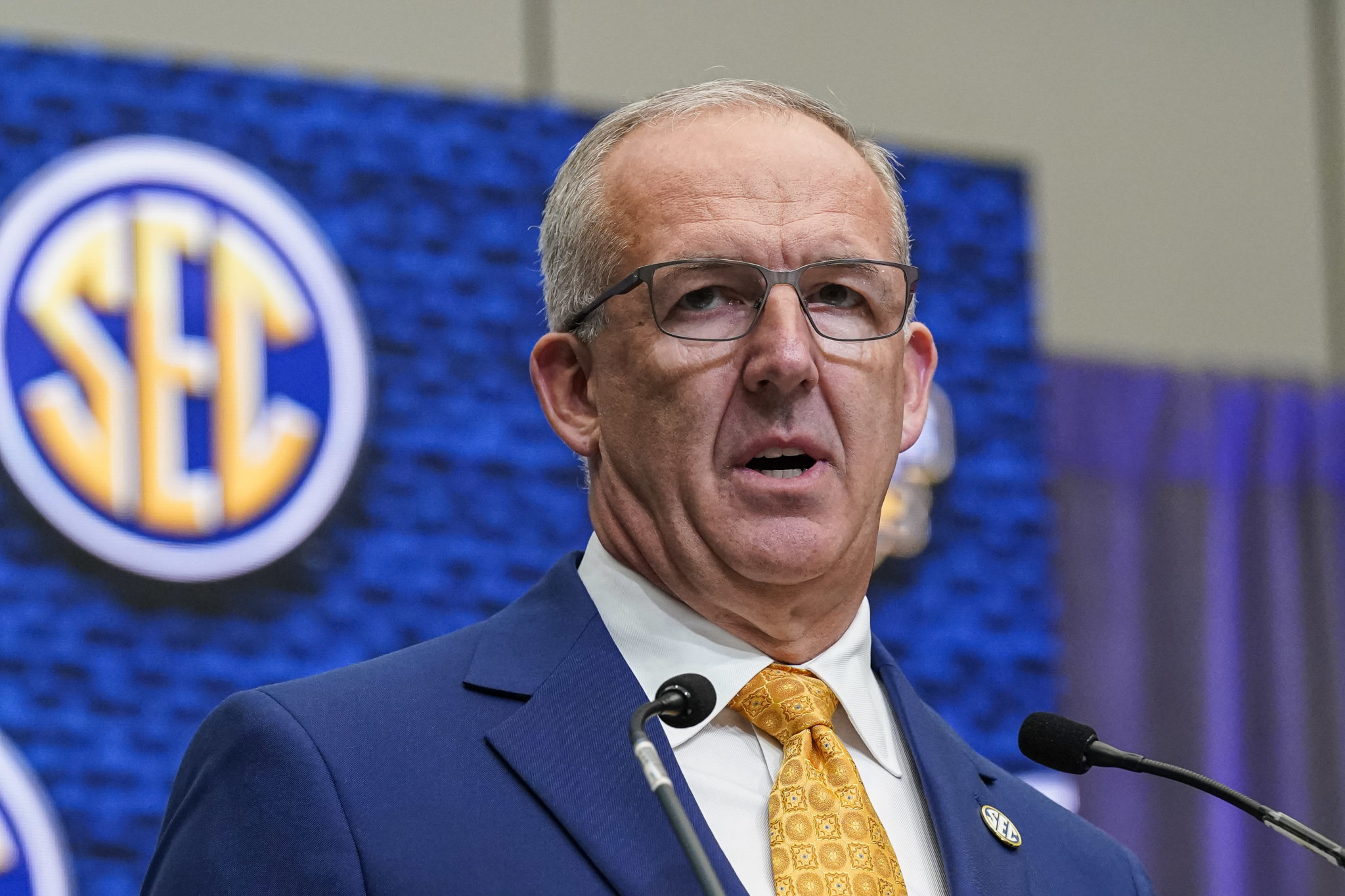 SEC
First and 10: Good luck getting SEC to play ball on 16-team CFP
1. I don't want to get on a soapbox, but …
At this point, I'm not sure what's worse: that they keep shoveling it, or that everyone keeps buying it.
So now we're at 16 — as in, let's try to expand the Playoff to 16 teams. Maybe even as soon as 2023 or 2024.
You read that right, 2023 or 2024.
Only there's one teeny-weeny problem: the boogeyman has all the leverage.
And good luck getting him to play.
"The whole thing is incredibly transparent," an SEC athletic director told me this weekend. "We don't need 16. We had 2 (teams) in 4 last year. It works well for us."
It doesn't, however, work well for others.
Over the last week, officials from the Big Ten, ACC and Pac-12 — the erstwhile "Alliance" — proclaimed the changing landscape of college football needs a 16-team Playoff.
The same Alliance that in February scuttled a 12-team expansion because (take your pick):
— The process was moving too quickly, ignoring any number of issues that affect (and stress) student-athletes.
— There was too much "uncertainty" in such a dramatic move.
— Student-athletes shouldn't be playing a 17-game season.
— Television shouldn't have a hand in dictating conference expansion in college football.
Five months later, they're zeroing in on 16 teams despite — the doozy of all doozies — their claim that the SEC pursued the original 12-team Playoff expansion to increase access for its expanding conference.
All it took was the Big Ten stabbing its partners in the back a few weeks ago to expose the charade for what it was. Once USC and UCLA announced they were joining the Big Ten — and once it financially destabilized the Pac-12 and, by proxy, the ACC and Big 12 — the tide shifted to more Playoff teams equals more Playoff revenue.
As soon as possible.
But the boogeyman isn't going to just give in and agree and move forward with 16 teams. The boogeyman knows what unfolded over the last 11 months, and why.
The boogeyman remembers the presidents of Washington State and Penn State in 2019 asking the College Football Playoff management committee to come up with an expanded format to increase access. The working committee — of which SEC commissioner Greg Sankey was asked to be part of — came up with a 12-team format that was initially embraced by all before Texas and Oklahoma asked to join the SEC.
It was there that the Alliance was birthed, kicking and screaming and eventually scuttling Playoff expansion not because of what's best for the game or student-athletes, but out of spite.
Now the Alliance wants 16 teams. Pac-12 commissioner George Kliavkoff, whose conference was left to die on the vine by the Big Ten, says it could happen before the contract expires after the 2025 season.
But there's a snag in the plans: any change to the current format must be unanimous among the 10 FBS conferences and Notre Dame.
The same procedural step that allowed Alliance to block the 12-team proposal. That means one "no" vote can end any discussion.
Hello, spite.
Spite in the hands of the most powerful conference in college football is a dangerous thing. It's also a powerful thing.
If the rest of college football wants a 16-team Playoff before the end of the current deal, the SEC wants something(s) in return. At the top of that list:
— All 16 teams at large, no automatic qualifiers.
— Texas and Oklahoma are SEC members, free and clear from the Big 12, on the first season of any expanded Playoff. In other words, if an expanded Playoff is approved for 2024, Texas and OU will be in the SEC in 2024.
Anything short of that, no deal.
"They played a dangerous hand when they pulled that (Alliance) stunt," a media rights industry source told SDS. "Do they think those SEC presidents are just going to forget it?"
2. A deeper problem
There are multiple obstacles to clear before a 16-team Playoff comes to fruition, and we haven't even addressed how it fits in a 1-semester calendar with as little impact as possible to academics.
But there's one obstacle that can't be seen, and may be the biggest of all: the SEC presidents have had enough.
Enough of their colleagues blaming them — and the man who speaks and works for them, Sankey — for the changing landscape of college sports. The move of Texas and Oklahoma to the SEC, numerous presidents and athletic directors in FBS said publicly and anonymously, was the Jenga piece that tumbled everything.
The SEC's desire for more left everyone with less.
"Every single conference would've done the same thing we did in accepting Texas and Oklahoma," Sankey said.
A year later, look at the narrative:
— Big Ten commissioner Kevin Warren spoke last week of being "bold" and "creative" in response to "a changing landscape" — or as we call it in the real world, a remarkably ballsy move that destabilized his Alliance partner, the Pac-12.
— ACC commissioner Jim Phillips decried the state of college sports during Media Days, saying there needs to be a "healthy neighborhood — not 2 or 3 gated communities." Nearly 5 months ago, he wanted a "complete review" of all things college football. Now he's interested in a 16-team Playoff.
— The Pac-12 is dealing with Stanford, Cal, Oregon and Washington, SDS sources say, refusing to sign any new media rights deal built by Kliavkoff because they're waiting future Big Ten expansion decisions. It should come as no surprise that Kliavkoff, desperate to keep his conference together and alive, is pushing 16 as soon as possible.
The SEC, meanwhile, has dominated the current 4-team Playoff and has twice had 2 teams among the 4. It has won 5 of 8 Playoff championships and 3 straight — and 12 of 16 national titles since 2006.
The SEC has a new, exclusive media rights deal with ESPN beginning in 2024 that will — after it's adjusted to add Texas and Oklahoma — guarantee each school nearly $100 million annually.
Translation: The SEC doesn't care what the Playoff looks like. It does, however, care how we got here.
Despite all the bickering and bantering at the surface level among the conferences for decades (see: the infamous Jim Delany letter extolling Big Ten academics vs. "SEC speed"), there was unity at the presidential level.
That all changed over the last year. That leads to issues of trust, which leads to impasse in negotiations, which leads to status quo until the end of the current Playoff contract.
Unless, that is, the boogeyman gets his way.
3. The move to 16, The Epilogue
Let's not bury what's important: money. That's what an expanded Playoff is all about.
Multiple industry sources told SDS over the last year that a 12-team Playoff would fetch as much as $1.2 billion annually. A 16-team Playoff — which eliminates byes for the top 4 seeds and increases the number of tournament games played from 11 to 15 (think content) — is a financial game-changer with multiple media partners (think NFL playoffs).
Understand this: Power 5 presidents know pay for play is coming, and they're searching for every possible revenue stream to support it (and not crush their athletic departments in the process).
So a 16-team Playoff more than likely will surpass the 12-team format. There also is a desire to reward the top teams in the country and not impact regular-season games, so a 14-team Playoff with 2 byes is also a possibility.
While the SEC won't walk away from that type of financial impact, there's a reason Sankey floated the "blue skies" idea of an SEC Playoff. If they don't get what they want, they can walk and hold their own Playoff.
Which Playoff will demand more revenue and generate the greater television ratings, you ask?
The one whose conference has produced 12 of the last 16 national champions.
4. Surging forward
It has taken all of 30 days for the panic to subside in the state of Florida.
Gators coach Billy Napier is beginning to show his recruiting chops.
Over the last 5 days, Napier and his staff finished a torrid month of July by landing commitments from four 4-star recruits. In each commitment, Florida beat SEC rivals and in the process raised its team rank in the 247Sports composite from No. 28 to No. 12.
The commitments of WRs Aidan Mizell (over Alabama and Georgia) and Andy Jean (Texas A&M, Miami) and DBs Jordan Castell (Alabama) and Ja'Keem Jackson (Auburn, Penn State) have calmed the nerves of the anxious on social media. It had gotten so bad, former Florida players were actively preaching patience for a coach who had yet to coach a down of football.
More important, the strong July showed elite recruits still on the board considering Florida — CB Cormani McClain (No. 3 overall), RB Cedric Baxter Jr. (No. 48), OT Monroe Freeling (No. 62), DT Kelby Collins (No. 70) — a surging program winning head-to-head battles it didn't in years past.
5. The Weekly 5
The most intriguing win total lines for the 2022 season, from our friends at Fan Duel:
1. Auburn: 5.5. They're begging you to take the over.
2. Arkansas: 7.5 Look at that schedule. Hogs could be better in 2022, and fall short of last year's 9-win season.
3. Kentucky: 7.5. If UK wins at Florida in Week 2, the over is a lock.
4. Florida: 7. It's all on QB Anthony Richardson. He plays to expectations, Gators hit the over. He doesn't, and woof.
5. LSU: 6.5. Brian Kelly's first team at Cincinnati won 10 games. His first at Notre Dame won 8.
6. Your tape is your resume
An NFL scout evaluates a draft-eligible SEC player. This week: Ole Miss TB Zach Evans.
"He got lost in that (coaching) shuffle at TCU, and because the turf toe (injury) forced him to miss the last month of the season. But he really played well last year, and his production would've been much greater. He's got a nice burst, but doesn't have elite speed. Really good vision on inside and outside runs, and makes quick plant and cut decisions. He's deceptively strong; the first hit is not bringing him down. He's solid as a receiver. Get him in open space, that's the key to everything. He's average to bad in pass protection, but that can be cleaned up. Get a full season in him for the first time in 3 years, and let's see the total package."
7. Powered Up
This week's Power Poll, and 1 big thing: best camp competition.
1. Georgia: DE Tyrion Ingram-Dawkins vs. Tramel Walthour vs. Mykel Williams.
2. Alabama: OT Tyler Steen vs. JC Latham vs. Tommy Brockermeyer.
3. Texas A&M: QB Max Johnson vs. Haynes King.
4. Kentucky: LT Deondre Buford vs. Kiyaunta Goodwin.
5. Arkansas: TB Dominique Johnson vs. Rocket Sanders vs. Rashod Dubinion.
6. LSU: QB Myles Brennan vs. Jayden Daniels vs. Garrett Nussmeier.
7. Tennessee: LT Jeremiah Crawford vs. Gerald Mincey.
8. Mississippi State: S Collin Duncan vs. Jackie Matthews.
9. South Carolina: TE Jaheim Bell vs. Austin Stogner.
10. Florida: CBs Jaydon Hill vs. Avery Helm vs. Jalen Kimber.
11. Ole Miss: QB Luke Altmyer vs. Jaxson Dart.
12. Auburn: QB Zach Calzada vs. T.J. Finley vs. Robby Ashford.
13. Missouri: QB Brady Cook vs. Tyler Macon vs. Jack Abraham vs. Sam Horn.
14. Vanderbilt: WR Quincy Skinner Jr. vs. Gamarion Carter vs. Daveon Walker.
8. Ask and you shall receive
Matt: If we're looking for the best possible conference, why not just kick Ole Miss, Mississippi State, Missouri and Vanderbilt out of the SEC, and add Florida State, Miami, Clemson and North Carolina? Chris Doughty, Atlanta.
Chris:
The easy answer is you're talking about 3 founding members (Ole Miss, Mississippi State, Vanderbilt) who are part of the original fabric of the conference, and another university that fit in the last round of expansion in 2012.
While it may seem easy to just swap universities to find the best 16 — and I'm not saying Ole Miss, Mississippi State, Vanderbilt and Missouri would be the 4 jettisoned — you're losing the history and tradition of what makes the conference unique. And believe it or not, there is conference life beyond football (though expansion is directly tied to the No. 1 sport).
The last 3 baseball national titles were won by Ole Miss, Mississippi State and Vanderbilt. If you want to know what life in the SEC is like (football and other sports), spend a weekend in Oxford and Starkville and soak it in. It lives and breathes SEC culture. There's genuine value to that.
There's no question Clemson, FSU, Miami and North Carolina are better brands and properties. But there are 2 guarantees moving forward with SEC membership: the league won't run off any member, and it won't hold any member to a media grant of rights deal.
9. Numbers
41. The Georgia offense — yep, the offense — led the SEC last year with 41 plays of 30-plus yards from scrimmage.
So while the focus is on how Georgia will replace NFL players from last year's defense (the defense won't be the problem in 2022), it should be how the Dawgs will replace the wildly underrated TB duo of Zamir White and James Cook, and WR Jermaine Burton.
Cook and White combined for 6 rushing plays of 30-plus yards and 12 of 20-plus yards. Burton had 4 plays of 30-plus yards and 6 of 20-plus.
Those, everyone, are explosion plays that make life a lot easier for a quarterback.
Kenny McIntosh and Kendall Milton will get the first shot at replacing White and Cook, but don't count out freshman Branson Robinson. One Power 5 coach who recruited him last year told me, "I could watch his tape all day. Those guys don't come along that often."
10. Quote to note
Arkansas coach Sam Pittman: "Change happens. It just depends on if you're willing to deal with the change, or are you going to fight the change? For us, we're willing to do whatever we can to make our football team the best."