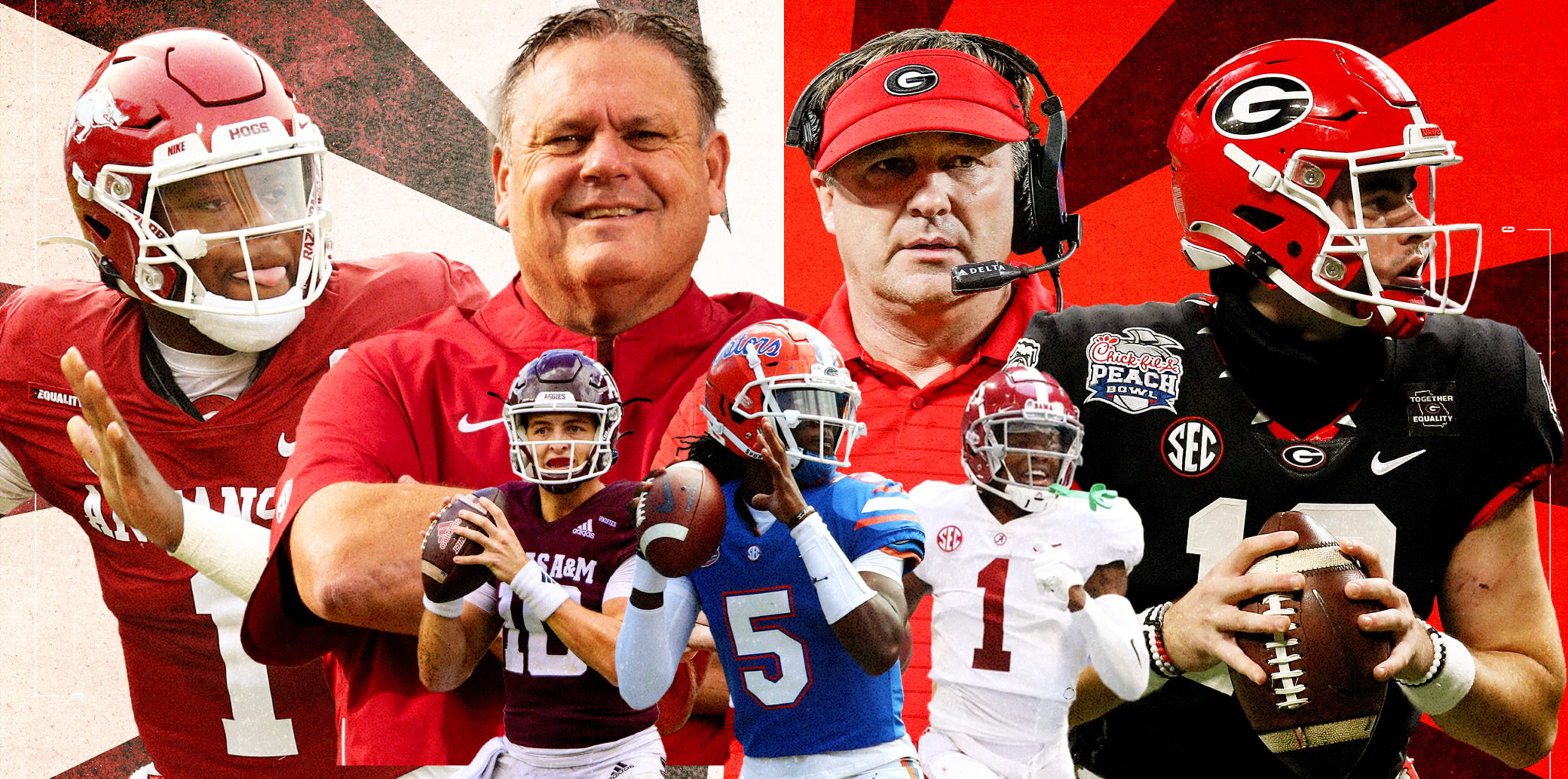 SEC
First and 10: Only one way to get to Hog Heaven -- beat the big boys. So bring on the gauntlet
1. I don't want to get on a soapbox, but …
Sam Pittman calls them logo games. Those who prove their worth, do it in logo games against the elite of college football.
Welcome, everyone, to the biggest logo game of the season for the Arkansas Razorbacks.
Until the next one.
"We've played (No.) 7 (ranked) and No.13. And we've got 1, 2 and 23 on the way," Pittman said. "They're all big."
And they're all logo games – all prove-it points in the grand plan of turning the Razorbacks into the college football blue-blood Pittman loved while growing up in Grove, Okla., a mere 75 miles from the rolling, bucolic hills of Fayetteville.
He called the Hogs with Frank Broyles as a boy in the late 1960s and early '70s, and did the same with Lou Holtz when he nearly won a national title. He knows what winning means to the state and everyone connected to it.
He knows it means winning those logo games, including the first two – Texas and Texas A&M — already dispatched by the Razorbacks.
And he knows it takes players. All those coaches after Broyles and Holtz never made it work because none could consistently land impact players to make it happen.
Two weeks ago, after emasculating old Southwest Conference rival and 15th-ranked Texas in Fayetteville, Pittman stayed up late into the night talking to recruits.
"Ten from the state of Texas," he says matter of factly.
After beating No.7 Texas A&M last week, recruits are beginning to believe in what Pittman and his players are orchestrating. One is an anomaly, two is a trend.
Three — this weekend at No. 2 Georgia — would be hog heaven.
"It might be surprising to other people, but it's not to us," Arkansas linebacker Bumper Pool said. "This doesn't stop here."
It's only beginning – and only getting tougher. The third step in this unexpected and now uncharted run to begin the season is Georgia, a preseason College Football Playoff favorite and, along with Alabama, the bar in the SEC.
When Arkansas runs on the field Saturday at Sanford Stadium, Georgia will have 4- and 5-star recruits all over the field. And here come the overachieving, overlooked Hogs, a group full of 5th- and 6th-year super seniors not far removed from a team that lost 9 straight to finish 2019, and the team that went 3-7 in Pittman's first season in 2020.
Many on this team played through a horrific 20-game SEC losing streak. They were on the field when San Jose State came to Fayetteville and won, and watched helplessly as North Texas was paid nearly $1 million to come to Arkansas as a rent-a-win — and won by 27.
They experienced rock bottom.
Now they're ranked No.8 in the nation, and the days of sneaking up on teams are long gone. Now they're staring at a white-hot Georgia team with a healthy, elite quarterback (JT Daniels) and plenty to prove after back-to-back underachieving seasons.
The Dawgs aren't looking past Arkansas, aren't going to sleepwalk until they arrive in Jacksonville on Halloween weekend to play Florida. This is a statement game for Georgia.
What better way for Arkansas to continue a magical season than doing what it does best: finding a way to run on Georgia (no one has), and confusing the Georgia passing game with defensive coordinator Barry Odom's patient yet effective umbrella defenses.
"We believe in ourselves, we believe in what we're doing," Pittman said. "The Razorbacks have a good football team."
The only way to prove it is to win logo games – and then capitalize with recruiting.
"We have to give kids a reason to come to Arkansas," Pittman said. "The strongest way to do that is to win football games against logo teams that have that tradition."
2. The building process
Pittman likes to joke about the last time he was at Arkansas for 3 seasons as the offensive line coach under Bret Bielema.
He left after the 2015 season to join Kirby Smart at Georgia, and says his wife, Jamie, wouldn't speak to him for a year. She loved Arkansas, he loved Arkansas.
Why in the world, after coaching stops in 16 cities at every level possible, would they pack up and leave a place they both adore? After 4 years in Athens, he was standing at the podium in December of 2019 wiping tears from his face.
The boy from Grove, Okla., had finally made it home for good.
"This is my last stop," Pittman said. "I'm going to do it my way."
It should come as no surprise then that a longtime offensive line coach wanted to run the ball and play defense. So he hired his best friend and former Missouri coach Barry Odom as defensive coordinator, and former Baylor offensive coordinator Kendal Briles to coordinate his offense.
Odom's defenses at Missouri (as head coach and defensive coordinator) were at times among the best in the conference, and the Baylor offense – despite what you think with the Heisman Trophy season of Robert Griffin III – was a power run-based system.
Pittman's philosophy runs opposite of where the game is headed: a quarterback-centric philosophy and a vertical passing game.
Make no mistake, the Hogs will go vertical – as Baylor did with QBs Griffin, Nick Florence and Bryce Petty – but only after they've gashed a defense over and over with a power run game. Just like they did last week against Texas A&M, when KJ Jefferson threw a perfect deep ball to Treylon Burks for an 85-yard touchdown.
This, everyone, is what "doing it my way" looks like:
In the 2 logo games this season, Arkansas has:
96 carries for 530 yards rushing.
23 pass completions for 384 yards (16.7 yards per completion).
A run/pass ratio of 96 to 38.
Texas (256 total yards) and Texas A&M (272 total yards) were both held well below their season averages.
"We have a way we go about things," Pittman said.
Good luck arguing the merits of that point.
3. Logo games, The Epilogue
The easy – and frankly, lazy – way of responding to Arkansas after the Texas game was simply stating the Hogs hadn't played anyone of significance.
That ended last weekend against Texas A&M, which has – depending on which SEC coach or NFL scout you ask – the best or second-best defense in the conference.
You're not doing what Arkansas did to the Aggies' front seven in the run game without everyone in the SEC (and the nation) taking notice.
It's not difficult to connect the dots to what Florida did 2 weeks ago to defending national champion Alabama in the run game, to what Arkansas could do to the rest of the SEC West Division.
Moreover, as good as Georgia's defense has looked this season, the marquee win over Clemson – and shutting down the Tigers' offense — has clearly lost some luster after Clemson's first month of the season.
Other than that, what has the Georgia defense faced? A whole lot of nothing (UAB, South Carolina, Vanderbilt).
That, too, is a lazy way of connecting the dots. Watch the tape; Georgia is terrific on defense.
But so was Texas A&M.
4. Orange and Blue perspective
I'm at the front of the Anthony Richardson train, but we can no longer ignore what Gators quarterback Emory Jones has accomplished in only the 4th start of his career.
Where else would we be trying to run off a quarterback who is 3-1 as a starter, and where a blown extra point is the only obstacle from a realistic chance of being unbeaten as a starter – with a victory over the defending national champions?
Jones would be in the Heisman Trophy race if that were the case.
Instead, we sit and wait for Richardson's hamstring to heal (he could play this week at Kentucky), and for him to unseat Jones as the starter.
"You see him really settling down and understanding," Florida coach Dan Mullen said of Jones.
He's only going to get better, and as he does, it's going to be difficult to keep him off the field. What Mullen has is about as close to what he had at Florida in 2006: a strong upperclassman (Chris Leak) the locker room loves, and a rare underclassman (Tim Tebow) who has to play.
He'll play both moving forward, just like he did in 2006 when an early-season loss at Auburn (a game that should've been won) was overcome with a national championship run in which both quarterbacks played separate, key roles.
5. The Weekly Five
Five picks against the spread:
Ole Miss (+15.5) at Alabama
Arkansas (+19) at Georgia
Tennessee at Missouri (-3.5)
Florida (-8) at Kentucky
Auburn at LSU (-4)
Last week: 4-0-1.
Season: 14-5-1.
6. Your tape is your résumé
An NFL scout breaks down a draft-eligible SEC player. This week: LSU G Ed Ingram.
"There are some in our league who won't touch him because of the off-field stuff. I'm not a big believer in that, especially if a guy makes young guy mistakes, straightens it out and is invested in getting better. That's where I'd put Ingram. He's pretty athletic, and he has really good feet. Long wingspan, and can reach and push. And he's a mauler. He likes to mix it up. Just a really powerful lower body. You're not going to push him around or get him off his base. He's a mid-round guy that, if he continues to show better athleticism, could move into the second."
7. Powered Up
This week's Power Poll, and one big thing: What's important at the quarter post?
1. Georgia: Is this Kirby Smart's best defense – or has Georgia not played an offense that can stress it?
2. Alabama: The Tide are the definition of the state of college football: the quarterback means everything.
3. Arkansas: QB KJ Jefferson's ability to accurately throw the deep ball and keep safeties from run support.
4. Florida: The Gators' pass rush is its best yet under Mullen – and Florida is 3rd in the nation in sacks over the past 3 years.
5. Ole Miss: Rebels may have the most complete offense in the nation.
6. Texas A&M: No matter who plays QB – Haynes King or Zach Calzada – they're not winning big games with the uncertain state of the offensive line.
7. LSU: New coordinator, same confounding defense.
8. Kentucky: The new offense must throw the ball downfield for UK to win games against SEC elite.
9. Auburn: New staff may finally have reached the end with inconsistent QB Bo Nix.
10. Missouri: New defense, new DC: 31 ppg. in 3 FBS games.
11. Mississippi State: QB Will Rogers is legit; the defense isn't.
12. Tennessee: Josh Heupel is a next-level play-caller.
13. South Carolina: The defense is good enough until the offense can't sustain. Then everyone suffers.
14. Vanderbilt: The lines of scrimmage are, in a word, terrible.
8. Ask and you shall receive
Matt: How many times have we heard the Alabama defense isn't what it used to be? They'll make a statement this week against Ole Miss. — Pat Franklin, Fairfax, Va.
Pat: You better prepare yourself to win a 41-38 type game – or worse, lose. Alabama's elite defenses under Nick Saban have always had dominant defensive fronts. It's not there this season, especially on the interior.
It has been a long time since I've seen Alabama unable to get off blocks on the interior and the second level. That's exactly what happened at Florida, and what will happen again against Ole Miss. The Rebels' passing game is far and away more dangerous than Florida's, and that will put more pressure on the defense to get stops.
I've spoken to 2 scouts who say they now believe that Ole Miss QB Matt Corral will be the first quarterback taken in the 2022 NFL Draft. The Rebels' skill players are dangerous, and they're top 10 in the nation in rush offense.
If Alabama wins, it will be because the Tide outscore Ole Miss. Or the defense gets one (or more) stops than the Ole Miss defense, which is a notch above average.
9. Numbers
123.3. In 3 years under coach Dan Mullen, Florida has rushed for 123.3 yards per game against Kentucky.
These Gators lead all Power 5 schools with 322.5 rushing yards per game.
More distressing for Florida: take away 2 long runs – of 76 yards from WR Josh Hammond in 2019 and 38 yards from TB Dameon Pierce in 2020 – and Florida is averaging 85.3 rushing yards per game against Mark Stoops' wildly underrated defenses.
10. Quote to note
"We kept our poise, we kept playing the next play when we competed well. I still think there's some 3rd downs and situations that we need to clean up and get better." – Alabama coach Nick Saban on the play of his defense against Southern Miss.