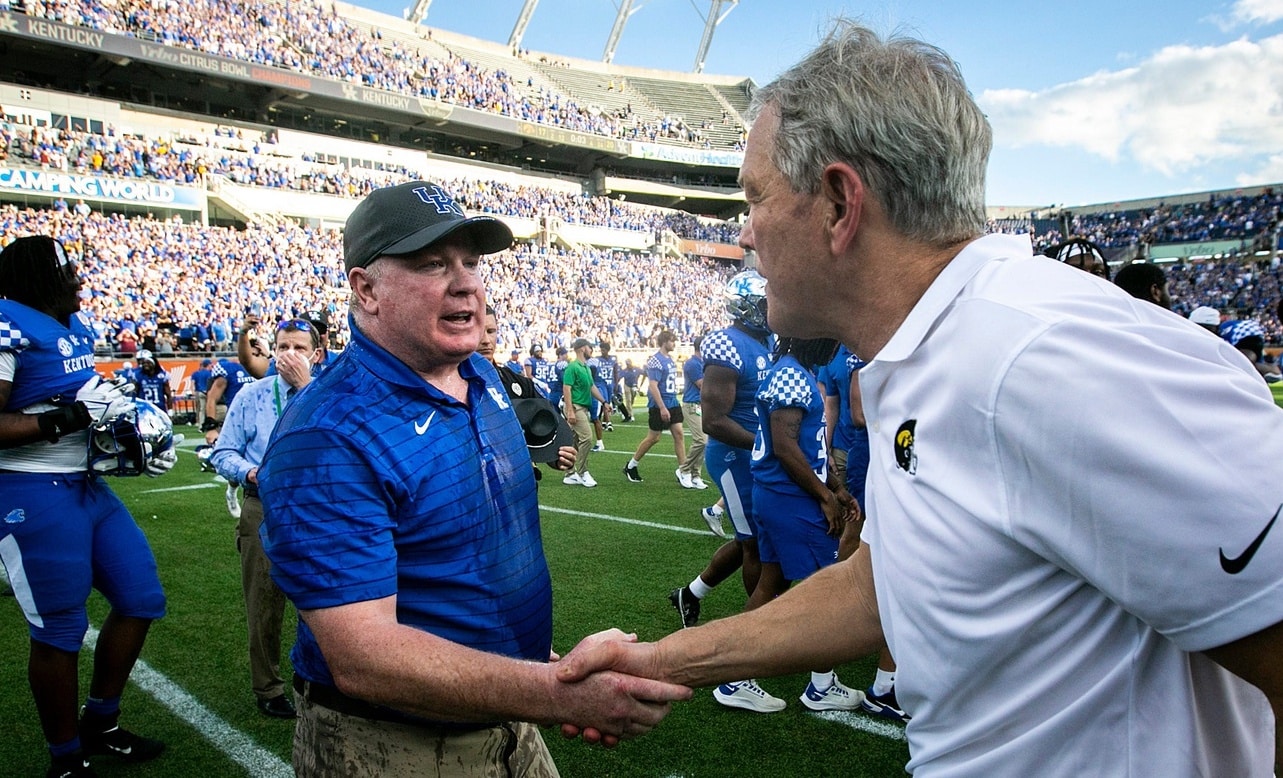 SEC
First impressions of every 2022 SEC bowl game
Temper your expectations.
In this era of the transfer portal and opt-outs, non-Playoff bowl matchups aren't usually what they appear to be. Complain about that if you will, or realize that a system with postseason games without a path to a national championship was inevitably going to have issues once there was more money involved.
As of this writing (Monday afternoon), we don't have a long list of opt-outs, and the transfer portal is as fluid as ever. I'll do my best to break down the 11 SEC bowl games based on the information we do have at our disposal.
So here are my first impressions of the SEC's postseason slate:
Las Vegas Bowl
Teams — Florida vs. No. 14 Oregon State
When — Dec. 17, 2:30 p.m. ET (ABC)
Where — Allegiant Stadium (Las Vegas, Nev.)
First impressions — So, um, does anybody know what to expect from Florida's quarterback situation? We know that Anthony Richardson is off to the NFL. We also know that redshirt freshman Jalen Kitna was kicked off the team on child pornography charges while Ohio State transfer Jack Miller has yet to play a down this year after breaking his thumb. My advice for Billy Napier? Just go wildcat rotating between Montrell Johnson and Trevor Etienne. Oregon State has a top-20 run defense nationally, but it's middle of the pack (No. 60) in yards per carry allowed. If there was ever a time for Napier to grant the wishes of the Florida faithful with a run-heavy approach, this is it.
Gasparilla Bowl
Teams — Mizzou vs. Wake Forest
When — Dec. 23, 6:30 p.m. ET (ESPN)
Where — Raymond James Stadium (Tampa, Fla.)
First impressions — The good news for Mizzou is that Luther Burden is, as of this writing, not going anywhere. That's ideal against a Wake Forest pass defense that ranks in the bottom 15 nationally in passing yards/game allowed. The bad news is that leading receiver Dominic Lovett hit the transfer portal. He had 18 more catches than any other Mizzou player, and he was No. 3 in the SEC in receiving. That was for a struggling passing offense. Mizzou doesn't want to get into a shootout with Sam Hartman and Co. Brady Cook's mobility was the difference in the Arkansas win. With Lovett gone, this would seem like an opportunity to lean on that … assuming Eli Drinkwitz isn't about to give true freshman Sam Horn the keys to the offense. I wouldn't bank on that.
Liberty Bowl
Teams — Arkansas vs. Kansas
When — Dec. 28, 5:30 p.m. ET (ESPN)
Where — Simmons Bank Liberty Stadium (Memphis, Tenn.)
First impressions — Get your track shoes on. This one has "footrace" written all over it. Both teams failed to crack the top 100 against the run, and both have versatile, dynamic running quarterbacks to stop. Jalon Daniels and KJ Jefferson should both be among the nation's top returning signal-callers in 2023, which suggests they'll have their full arsenals on display. It's conceivable that the Hogs will have to try and track down Daniels without Bumper Pool and Drew Sanders. Yikes. The good news? A heavy combination of Jefferson and Rocket Sanders could still be all she wrote against a Kansas team that got trucked for 427 rushing yards against the Bijan Robinson-led Texas ground game.
Texas Bowl
Teams — Ole Miss vs. Texas Tech
When — Dec. 28, 9 p.m. ET (ESPN)
Where — NRG Stadium (Houston, Texas.)
First impressions — In a battle of 2 teams that ended the season going in different directions, it's Texas Tech who has "momentum." I put that in air quotes because in this era of bowl games, I'd say that's pretty irrelevant. More relevant is Quinshon Judkins and Jaxson Dart providing a 1-2 punch for Lane Kiffin's offense. Texas Tech ranked No. 90 in FBS against the run, and despite the 3-game winning streak to end the regular season, it surrendered north of 200 rushing yards in 4 of its last 5 games. Something tells me we'll see Kiffin empty the bag of tricks to try and get some positive vibes back after a frustrating November.
Gator Bowl
Teams — No. 19 South Carolina vs. No. 21 Notre Dame
When — Dec. 30, 3:30 p.m. ET (ESPN)
Where — TIAA Bank Stadium (Jacksonville, Fla.)
First impressions — Fingers crossed that this ends up being one of the best bowl games. Notre Dame starting quarterback Drew Pyne entered the transfer portal, and as of now, we don't know what Spencer Rattler's next move is. But with a couple of young, energetic coaches, I'd hope that they'll both treat this like the Super Bowl. South Carolina has an opportunity to win 9 games for the first time since 2017, but obviously beating the likes of Tennessee, Clemson and Notre Dame to close the season would be better than any single win that the 2017 squad had. Marcus Freeman's defense only surrendered 1 300-yard passing game all year, and it was to UNC standout Drake Maye. This is a tricky task for a South Carolina passing game that finished the regular season as hot as one could. The good news for Shane Beamer? Win or lose, no mayo dumps this year.
Orange Bowl (New Year's 6)
Teams — No. 6 Tennessee vs. No. 7 Clemson
When — Dec. 30, 8 p.m. ET (ESPN)
Where — Hard Rock Stadium (Miami)
First impressions — Cade Klubnik vs. Joe Milton in a New Year's 6 bowl? Yep. Bizarre, that is. But for a pair of guys who should be 2 of the more high-profile returning QBs in 2023, this feels significant. The good news for both teams is that they won't be facing Shane Beamer, who destroyed each of their Playoff paths in the final 2 weeks of the regular season. Both bounced back with a promising showing with their likely QB1 for 2023, which means this has a chance to be a major boost game for offseason vibes. Can Tennessee's defense show up with bad intentions like it did against Kentucky? Or will this be the liability it was against South Carolina and Florida? Also, we don't know for certain which cast and crew will be catching lasers from Milton. Squirrel White is an interesting pick for a potential game MVP.
Music City Bowl
Teams — Kentucky vs. Iowa
When — Dec. 31, noon ET (ABC)
Where — Nissan Stadium (Nashville, Tenn.)
First impressions — Again? Also, if Will Levis doesn't play, will we see forward passes attempted? The Kentucky quarterback is off to the NFL, but his bowl status is to be determined. Iowa, meanwhile, lost Spencer Petras to injury and backup Alex Padilla entered the transfer portal, meaning that Iowa's starting QB in this game will be attempting his first pass of the year. That was for an Iowa passing game that ranked dead last in Power 5 with 6 touchdown passes, and Indiana was the only Power 5 team with fewer yards per attempt.
Kentucky also fired offensive coordinator Rich Scangarello, which suggests this could be a limited game plan. That's not ideal against an Iowa defense that allowed the fewest rushing touchdowns (4) in America and was No. 2 in yards per pass attempt allowed. Hence, why the over/under is just 31.5. If you thought last year's Iowa-Kentucky bowl game was a rock fight, well, you ain't seen nothin' yet.
Sugar Bowl (New Year's 6)
Teams — No. 5 Alabama vs. No. 9 Kansas State
When — Dec. 31, noon ET (ESPN)
Where — Caesars Superdome (New Orleans, La.)
First impressions — Alabama's history in non-Playoff/national championship bowls under Nick Saban is … a mixed bag.
2008 Sugar Bowl vs. Utah: L, 31-17
2010 Capital One Bowl vs. Michigan State: W, 49-7
2013 Sugar Bowl vs. Oklahoma: L, 45-31
2019 Citrus Bowl vs. Michigan: W, 35-16
I thought the 2019 Citrus Bowl was a positive for an Alabama team that got to turn the page to the Mac Jones era. Will Jalen Milroe do the same? Or will he give Alabama motivation to pursue a quarterback in the transfer portal?
Speaking of motivation, what will the motivation be to tackle Deuce Vaughn and potentially Adrian Martinez if he returns from injury? Even a motivated Alabama team could struggle with that duo.
Nonetheless, I fully expect many to play the results and ignore the fact that the Tide have plenty of underclassmen who have a prime opportunity to shine on a big stage.
Peach Bowl (Playoff semifinal)
Teams — No. 1 Georgia vs. No. 4 Ohio State
When — Dec. 31, 8 p.m. ET (ESPN)
Where — Mercedes-Benz Stadium (Atlanta, Ga.)
First impressions — Well, LSU just had 2 different quarterbacks combine for more than 500 passing yards against Georgia. One would think that any path to an Ohio State victory involves hitting on those chunk plays in the passing game. The Buckeyes have arguably the best receiver in America in Marvin Harrison Jr., but we found out on Monday that Jaxon Smith-Nijigba won't return from his nagging hamstring injury. That's a big break for Georgia.
But perhaps we should also ask the other question — what makes us think Ohio State can slow down this Georgia offense? Stetson Bennett IV has been unstoppable against ranked foes, and the Buckeyes got gashed in the passing game by Michigan. Ohio State will have to flip it into a new gear, a la 2017 Alabama, in order to make it a 60-minute game against Georgia.
ReliaQuest Bowl
Teams — No. 22 MSU vs. Illinois
When — Jan. 2, noon ET (ESPN2)
Where — Raymond James Stadium (Tampa, Fla.)
First impressions — A Bret Bielema-Mike Leach bowl game. Lovely. These coaches are both a walking soundbite, but their offenses couldn't be more different. Illinois is No. 6 in Power in rushing attempts per game, and MSU throws the ball more than anybody in America. It's the second consecutive game that MSU will face a high-octane rushing attack with a true bell-cow back.
Chase Brown will be a handful for that experienced MSU defense, which has been vulnerable against the run at times but made an emphatic statement by holding Ole Miss' prolific ground game below the century mark. Both teams are chasing win No. 9, which means a lot for a pair of programs at the bottom of their respective conferences historically. A Top-25 finish is certainly worth playing for.
Citrus Bowl
Teams — No. 17 LSU vs. Purdue
When — Jan. 2, 1 p.m. ET (ABC)
Where — Camping World Stadium (Orlando, Fla.)
First impressions — If we get Garrett Nussmeier against Aidan O'Connell, this has the potential to be a fun shootout. Both quarterbacks got to sling it in conference championship games, albeit in losing efforts.
Speaking of losses, I'd think LSU would like to avoid its 3rd consecutive season with at least 5 losses. Finishing Year 1 of the Brian Kelly era on a 3-game losing streak would be a bit of a buzzkill after having a Playoff path in late November.
This should be a much different feel than last year when an LSU team with an interim coach trotted out 39 scholarship players for a bowl game. Kelly deserves credit for that, not only for what he did in the transfer portal but also by retaining players from the previous regime. At the same time, Kelly will get his first real dose of how quickly things change in the SEC if he ends the season on a 3-game skid.