SEC
IMG Academy has become Ground Zero for recruiting ... and college football's superpowers know it
Championships are built on recruiting, and no high school program in America has more stars than IMG Academy. Almost overnight, it has become the most important recruiting ground in the country. If you want to win, you better win here first.
BRADENTON, Fla. — It's just another Wednesday in the middle of spring high school football practice. The southwest Florida sun is relentless.
Finally, after positional drills and special-teams work, it's time for full-squad 11-on-11 action. But the first shotgun snap from center is errant, which results in an aborted play and quick whistles from frustrated coaches.
In many ways, it resembles what you might see at any prep program in America. However, this is no ordinary prep program. This is IMG Academy, which has become the premier powerhouse in the nation. Most notable, the prestigious private institution has achieved said status in less than half a decade's time.
Aside from that initial hiccup, the rest of 11-on-11 is awfully impressive to witness on both sides of the ball.
The offensive line is as enormously built as it is technically sound. The defensive signals from the secondary — "Under Strawberry Cherry!" — are quite advanced for a collection of teenagers. The pace is rapid, yet the vibe is relaxed.
In addition to a few locals, parents and media, assistant coaches from a dozen college teams are watching today's festivities: Arizona, Arkansas, Connecticut, Florida State, Fordham, Georgia, LSU, Notre Dame, Penn State, Syracuse, Vanderbilt and Wisconsin. Georgia, actually, has two coaches on hand.
For most high school squads, they're lucky if 12 institutions make an appearance over the course of an entire year.
This is far from unusual, though. These days, no recruiting trip is complete without at least one check-in at IMG. While many of these visits are planned, it's commonplace for an assistant to show up unannounced.
Alabama running back Bo Scarbrough is arguably the best ball carrier in the SEC when healthy. Ole Miss quarterback Shea Patterson is maybe the conference's most exciting signal caller. In the ACC, Florida State quarterback Deondre Francois was the league's rookie of the year in 2016. Each is an IMG graduate.
IMG is an Under Armour school. ESPN broadcasts the Under Armour All-America Game, so its national recruiting director, Tom Luginbill, is well versed on the subject.
"Do you have to absolutely get every single kid out of that school to win a national title? No. Do you have to recruit it diligently every year and get a few kids if you're gonna be a Florida State or a Florida or a Miami or an Alabama? Yes, I think you do." -- ESPN national recruiting director Tom Luginbill
"You start to get a sense of the caliber of player that was coming in there, year in and year out, and all of a sudden that number started to grow and expand and become more talented and deeper each and every year," Luginbill said.
Last signing day alone, IMG had recruits ink national letters of intent to continue their careers at Alabama, Baylor, Colorado, Florida State, LSU, Michigan, Michigan State, Nebraska, Notre Dame, Ohio State, Penn State and Texas A&M, among others.
From 2014-17, the SEC signed 10 5- or 4-star IMG players. The Big Ten signed 7, the ACC 5.
"Do you have to absolutely get every single kid out of that school to win a national title? No," Luginbill said. "Do you have to recruit it diligently every year and get a few kids if you're gonna be a Florida State or a Florida or a Miami or an Alabama? Yes, I think you do."
Bradenton resides in the same state as one SEC blue blood (Florida) and two more from the ACC (Florida State and Miami). The battleground is far from limited to that pair of Power 5 conferences, though. Michigan headlined the Big Ten's presence at IMG by holding a week of its spring practice here last year.
"It's a war out there," LSU coach Ed Orgeron said recently when talking about recruiting. IMG has become Ground Zero.
* * *
According to the composite rankings at 247Sports, there are 321 recruits rated 4- or 5-stars across the country for the class of 2018.
Florida is home to 53 of them, most in the nation. Only Texas (44) and California (41) are even close. Nobody competes with the Sunshine State when it comes to producing college players.
Of those 53, an incredible 13 were on the spring roster at IMG Academy. That's right, almost one quarter of the blue-chip recruits in the most talent-rich state in the union wore identical high school uniforms. For comparison's sake, all of Louisiana has 11. Louisiana, by the way, is considered a recruiting hotbed.
Nowhere else from sea to shining sea is it possible for a college coach to see this much ability on one practice field simultaneously.
Chasing IMG's stars of 2018
[table "" not found /]
At the receiver position alone, IMG possessed a pair of 4-star targets in Joshua Moore and Brian Hightower. Moore is the No. 13 wideout in the country, while Hightower is No. 15. Defensive backs have to pick their poison.
Nevertheless, IMG also fielded a duo of 4-star cornerbacks in Houston Griffith and Brendan Radley-Hiles. While Griffith is the No. 8 cover man in the nation, Radley-Hiles is No. 10. Theoretically, they should be able to handle Moore and Hightower one-on-one in coverage since they're ranked even higher at corner.
Defensive end Xavier Thomas, 5-stars and the No. 2 recruit in America, was physically superior to everyone he practiced against back home in Florence, S.C.
But at IMG, Thomas is perfecting his pass-rushing skills against a trio of 4-star offensive linemen every day. Center Verdis Brown, guard Curtis Dunlap and tackle Reuben Unije are all in the Top 20 nationally at their position.
That doesn't include Daniel Faalele, the 6-foot-8, 400-pound Australian import who had never even played the game before coming to Bradenton. He's yet to suit up on a Friday night, but he already boasts 19 offers — Alabama, Florida State, Miami, Michigan and Utah among them — and a rating of 3-stars based on what he's done on the camp circuit.
IMG's spring roster featured eight players weighing 300 pounds or more. Vanderbilt, which is in the SEC, had nine.
The overwhelming majority of these players don't come to IMG to get recruited, though. Chances are, they've already been discovered.
"Most of the kids that end up at IMG as seniors were recruitable athletes as sophomores and juniors at their own respective high schools in different states," Luginbill said, "so their own recruiting process didn't start once they got to IMG."
Despite not even assembling a team until 2013, IMG's alumni include 20 Under Armour All-Americans and 63 signees with FBS programs. On the field, the Ascenders have a 30-1 record the past three years and finished the 2015-16 campaigns ranked in the Top 5 nationally. This isn't just a melting pot of stars. They know how to win.
"They've gone out and they've targeted guys that obviously were very, very successful prior to arriving at IMG," Luginbill said, "but they've done it again at the premium positions that separate the good from the great."
Luginbill has seen a few prep teams in his time that were similarly stacked, but not many. And not year after year like this.
IMG's rapid rise in star power
[table "" not found /]
* * *
IMG Academy is in Bradenton, but only one of its 81 players is a local product.
Just 10 are from Florida. Half the nation — 25 of the 50 states — is represented, not to mention two each from Canada, Japan and Mexico and one apiece from Australia, Bolivia, Hungary, Poland, Puerto Rico and Sweden.
So why do all these prospects come halfway across the country, if not halfway around the world, to play football in this sleepy town of 54,000 or so? Nowhere can they better prepare themselves for the college game. The coaching is top notch. The competition is unmatched. The facilities must be seen to be believed.
According to its official website, IMG is built around an eight-pronged "athletic and personal development training methodology."
Physical conditioning, athletic body management, nutrition, vision training, mental conditioning, leadership training, college prep, life skills — needless to say, it runs deeper than routine blocking and tackling.
[mid-article-ad]
Not only do IMG athletes have access to things you tend to only get in college, but there are NFL-caliber amenities at every turn. There isn't a weight room, per se. There's a Performance and Sports Science Center, sponsored by Gatorade, that houses everything from a hydrotherapy room to a hyperbaric chamber.
It's so much more than on-the-field development, though. Recruiters love the off-the-field lessons being taught, too.
Since almost every IMG student, be it a football player or another sport-specific athlete, lives on campus, they're used to being away from home. Going off to college isn't as much of a culture shock.
They learn time management. Their diets are better. They already know their way around a film room. It's all football, all the time. Additionally, the academic curriculum is designed for players to graduate a semester ahead of schedule. Of the 21 IMG recruits who signed NLIs in February, 20 were early enrollees.
Today's college freshmen are getting more playing time than ever before, and IMG's high school seniors arrive readier than most.
But it doesn't happen automatically. A prospect isn't going to be all he can be just by roaming the hallways. Many coaches can meet a kid and figure out in five minutes if he's hungry to be great or only going through the motions.
"If they take advantage, the chances of succeeding at the next level are so far greater than if they hadn't been there," Luginbill said. "But if they don't take advantage of it, then they're not going to make it. Pure and simple. It won't matter how talented they are."
The aforementioned Faalele could be IMG's ultimate litmus test. Again, he's 6-8 and 400. Growing up in Melbourne — not to mention being of mixed Samoan and Tongan heritage — he knew nothing about the sport. But on the rugby pitch and basketball court, he showed rare athleticism for someone his size.
Still, he'd never watched a football game start to finish. Faalele sat out his entire junior year at IMG to do nothing but train, practice and learn.
He might be the most massive hunk of unmolded clay in football history. If his skills begin to catch up with those of Brown, Dunlap and Unije, who were seemingly born in three-point stances, there's no telling how impenetrable Faalele can be.
* * *
Prior to IMG Academy, coach Kevin Wright won state championships at Carmel and Warren Central, which are football factories in Indiana.
In between, Wright was the offensive coordinator at his college alma mater, Western Kentucky. The son of the legendary Larry "Bud" Wright, one of the winningest high school coaches of all time, the profession is in his DNA.
When Wright got the initial call from IMG, he didn't know much about the place. He'd heard of it, of course, but he needed to consult Google to fill in the blanks. Before considering the job, he had to sort out details of a cross-country move for himself, his wife and two children. Today, he lives a 3-wood away from campus.
Entering his third season, Wright is yet to lose. This despite a one-and-done roster that rivals John Calipari's in college basketball.
"The Kentucky analogy is interesting because I think that we've started to grow a little bit," Wright said. "People forget, we've only had football four years, so everybody who came early was a junior or senior."
"You have to have systems that are flexible enough that, based on who you do have, you're not always making wholesale changes." -- coach Kevin Wright
In addition to his wizardry with Xs and Os, Wright is on first-name basis with the likes of Michigan's Jim Harbaugh, Notre Dame's Brian Kelly and Ohio State's Urban Meyer. But coaching essentially an all-star team comes with unique challenges.
"You don't have guys from fourth grade all the way through like at a lot of places," he said. "We get guys at different points in their career, so it's different from the standpoint that every year you're building on the guys that are returning from a culture standpoint first and foremost, and that's increased. That's gotten better and better as we've gone and as the program has grown."
Originally, Wright had about 50 players at his disposal — standard for a high school squad. However, by the time IMG takes the field this fall, he'll have 120 or so. The school will blaze a trail by fielding two teams, one being a nationwide traveling road show and the other playing a conventional in-state schedule.
"The big thing there is you gotta have great coaches, which I feel like we got a really good staff and we're continuing to add to it," he said. "And then from an offensive and defensive standpoint, you have to have systems that are flexible enough that, based on who you do have, you're not always making wholesale changes."
Wright employs what he describes as an "up-tempo, one-back, inside-zone, outside-zone, play-action" scheme offensively.
But it's not plug-and-play when it comes to personnel. Two years ago, he had Patterson in shotgun formation. And then last season, it was Kellen Mond, who is an early enrollee at Texas A&M and already in the mix to be the starter.
On the surface, it's easy to watch Patterson and Mond and label them as a pair of dual-threat QBs. According to Wright, they were completely different. While Patterson was a pocket passer who used his mobility to escape the rush and extend plays, Mond's running was more by design since he had tailback-like feet.
At most high schools, the chance to coach a Patterson or a Mond comes once in a lifetime. For Wright, he had them back-to-back.
IMG claims that it doesn't recruit. Inquiries about becoming a member of the team are supposedly inbound, not outbound. The staff is also quite vague when asked money-related questions. It costs $72,500 per year for boarding players, which is a small fortune no matter which side of the tracks these kids reside. While financial aid is readily available, Wright has to fight the notion that he's gotten away from the spirit of high school football and just poaches everybody else's studs simply because he can.
"You think the head coach at IMG is going to be the most popular guy in high school football across the country? He's going to be the exact opposite," Luginbill said. "He's going to be the least popular. And the problem is they have advantages that others don't have, and they have every right to utilize them."
* * *
Moore certainly didn't come to IMG Academy from Yoakum High School in southern Texas to get noticed.
When the 6-foot-3, 175-pounder arrived, he had 53 offers, from every corner of the Power 5 footprint. His twin brother Jordan, a 4-star safety, is committed to Texas A&M.
Even though it can give Moore everything he needs to get ready for the next level, IMG doesn't compete for titles. Remember, Moore is from the Lone Star State. Nowhere in America is prep football more worshipped, so he could've been a god as a senior had he dragged Yoakum to its first state championship in school history.
In order to commit to IMG, Moore had to change his way of thinking about what his goals were as a football player.
"It was very hard, but one thing my parents always told me is I have to do what's best for me at all times," he said. "It's an opportunity that I couldn't pass up. Yeah, it's always going to be hard when you're away from the people you've grown up with your whole life, and by that I mean my parents, my brothers, my sisters, all my siblings, of course my friends back home, my coaches, stuff like that."
Following his junior season, Moore had nothing left to prove at Yoakum. Nobody at practice could stay with him. But at IMG, corners like Griffith and Radley-Hiles can throw a blanket on him in coverage.
"Back at Yoakum, I was the best player that stepped on the football field no matter where I went," he said. "And when you come here, you're lined up against a dude that has just as much talent as you. You definitely got to bring your A-game every day. If not, you get embarrassed."
Just because you're a great high school football player, that doesn't mean you're a fit for IMG. It takes a special breed to live this kind of lifestyle at such a young age. There are certainly more successes than failures, but getting an opportunity at a program like this guarantees nothing. You still have to put in the work.
"You're either going to get exposure or you're going to get exposed," Moore said. "That's one thing I had going through my mind every time I step out here at IMG, is that I'm not going to get embarrassed. I have one job to do, and that's to dominate. It's definitely different for me in Yoakum. I didn't have this kind of competition back in Yoakum."
During our initial chat, Moore gave the impression that he was all in on the IMG experience. But two weeks later, he was on his way back to Texas.
"You're either going to get exposure or you're going to get exposed." -- wide receiver Joshua Moore
According to Moore, his decision had nothing to do with IMG itself. He described his short time there as "perfect." However, forces beyond his control led to him packing his bags and returning to the people he left behind.
"Just some family issues of mine going on back home," he said. "Just didn't feel comfortable being 19, 20 hours away from home, and I've got stuff going on back home. Another thing was having the opportunity to play with my brother one last time. It would have been a lot easier if he had come here with me, but obviously he didn't. That played a big part in it, as well."
While there was talk about Jordan also coming to IMG, ultimately he stayed at Yoakum. He's maintained his pledge to the Aggies, too. They never spent any significant time away from each other until Joshua — he remains uncommitted — left in January. Playing together as seniors before going to college had to have been a draw.
[bottom-article-ad]
From a recruiting perspective, are the Moore twins a package deal? A&M fans sure hope so, although Joshua threw water on that idea.
"I'm going to do my own thing regardless," he said. "That's what I tell everybody."
* * *
This is a zero-sum game. As IMG Academy gets stronger, the schools that its players leave behind are inevitably weaker.
Take IMG's offensive line, for instance. Six of them weigh 300-plus pounds, with three tipping the scales at 385 or more. This past year, they were bigger than the blocking unit for the NFC-champion Atlanta Falcons.
Dunlap is about to begin his third year at IMG after starting for Ed White in Jacksonville — he was a tackle there, but he's a guard here — as a freshman. Previously playing for Mount Carmel in Chicago, Brown only got to Bradenton in January. While Ed White is just a run-of-the-mill Florida team, Mount Carmel is iconic in Illinois.
Dunlap is a 4-star prospect with 35 offers. One could understand if some of his old Ed White friends felt jilted.
"A couple of them were, but it was more or less positive," Dunlap said. "They were all saying, 'You've got a great opportunity to be a better football player going to IMG, and just make the best of it.'"
"You can't worry about who are you upsetting. You've got to worry about you first before you can take care of anybody else." -- center Verdis Brown
Brown, another 4-star recruit with 19 offers, got more of a hard time from the boys back home on his way out the door. After all, Mount Carmel has won 12 state championships. Donovan McNabb and Simeon Rice played there.
"The good friends I still talk to are still going to the school," Brown said. "We talk a lot. They were happy for me because they knew IMG was a better move for me to come. Some of them were kind of upset. But, like my family said, you can't worry about who are you upsetting. You've got to worry about you first before you can take care of anybody else."
When Dunlap was at Ed White, the coaching he received — "You're big! Be aggressive! Hit somebody!" — left a lot to be desired. At IMG, he's learned the importance of proper technique, especially with regard to footwork. He also understands the game so much better after all the time spent in the film room.
Not only is Brown fitter, but increased flexibility means snapping and pulling at the same time. He couldn't do that at Mount Carmel.
Nevertheless, Ed White and Mount Carmel can't simply replace special players like Dunlap and Brown, respectively. IMG is providing them with a set of circumstances — athletically and academically — to be envied, for sure.
That being said, at what point does IMG look less like a high school football team and more like a group of trained mercenaries? To be fair, during the practices I witnessed, I was surprised at the brand of teamwork on display. Kids weren't just pushing themselves to be better. They pushed each other, as well.
But for every blue-chip prospect IMG adds to its arsenal, that's one fewer — maybe the only one, too — at John Q. Public High School.
"That's the down side," Luginbill said. "What you just touched on there is the single biggest complaint and the single biggest issue that people are going to have with IMG Academy."
Of course, Luginbill recognizes all the positives that IMG can offer each player. The environment. The structure. The discipline. Some come from nothing. Now they have a more defined path.
Still, imagine being Reagan High School in San Antonio. You've got Mond on your roster. As a junior in 2015, he was the District 26-6A Offensive MVP. You should be preparing for a state-title run with him as a senior in 2016. Instead, he leaves for IMG. Coincidence or not, Reagan ended up getting smoked in the first round of the playoffs.
* * *
In college, the spring game is little more than an intrasquad scrimmage. And they're becoming more boring and vanilla by the year.
But in high school, the spring game is just that: an actual game held in the spring. East Ridge High School took a bus from Clermont, about 20 miles west of Orlando, to Bradenton for a measuring-stick matchup with IMG Academy.
Alabama, Arizona, FIU, Illinois, Lafayette, LSU, Memphis, Miami, Missouri, Nebraska, Oklahoma, Ole Miss, Oregon, Penn State, South Carolina, Syracuse, Texas A&M, Vanderbilt, Virginia — those are the schools I saw on the sideline. Many were there to show some love to their commitments. Others hoped to catch a glimpse of the uncommitted.
And it's not just the sheer number of assistant coaches in attendance. It's who some of the high-profile programs actually sent.
For the Crimson Tide, it's co-offensive coordinator Mike Locksley and co-defensive coordinator Tosh Lupui. For the Rebels, it's offensive coordinator Phil Longo. For the Ducks, it's co-offensive coordinator Mario Cristobal.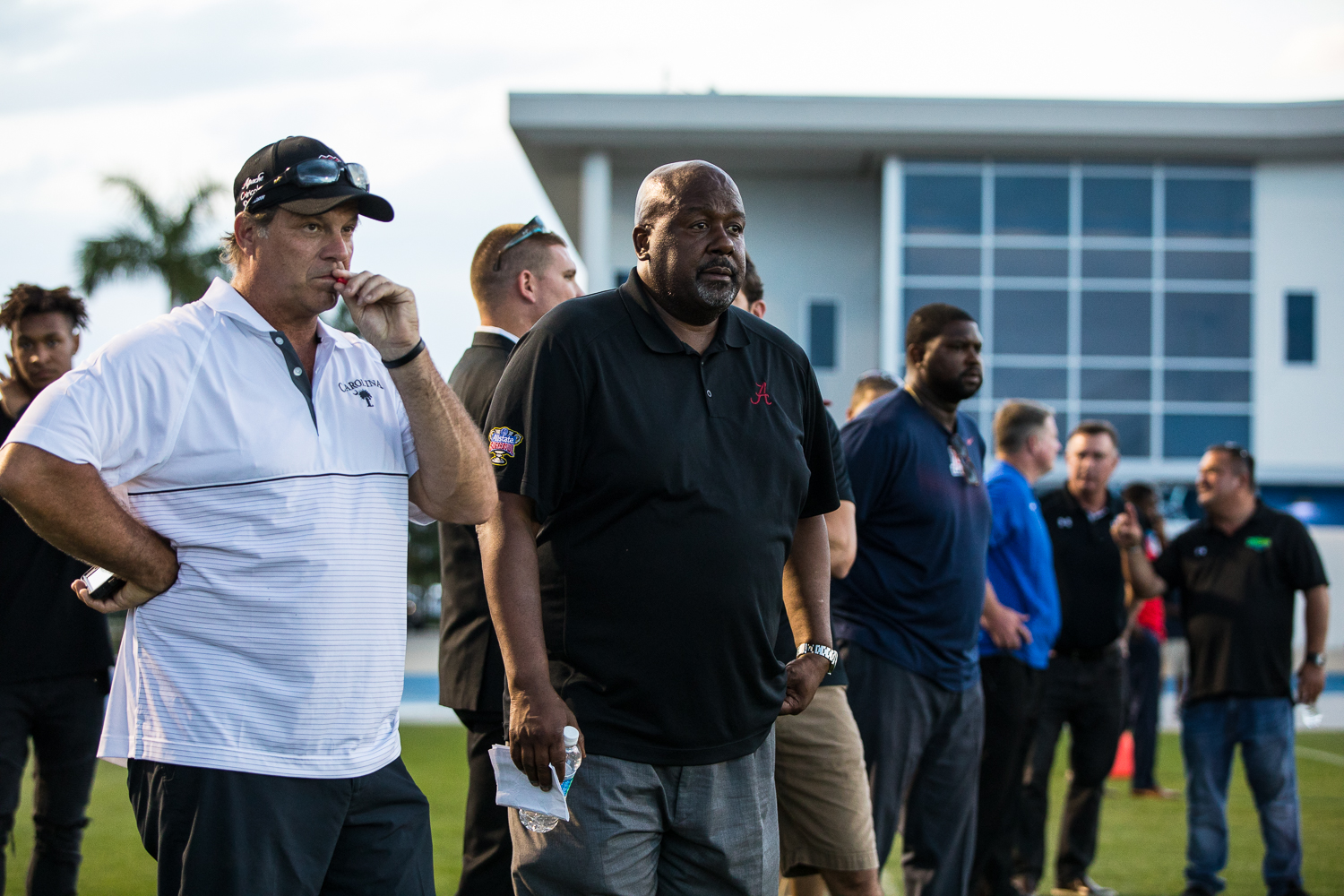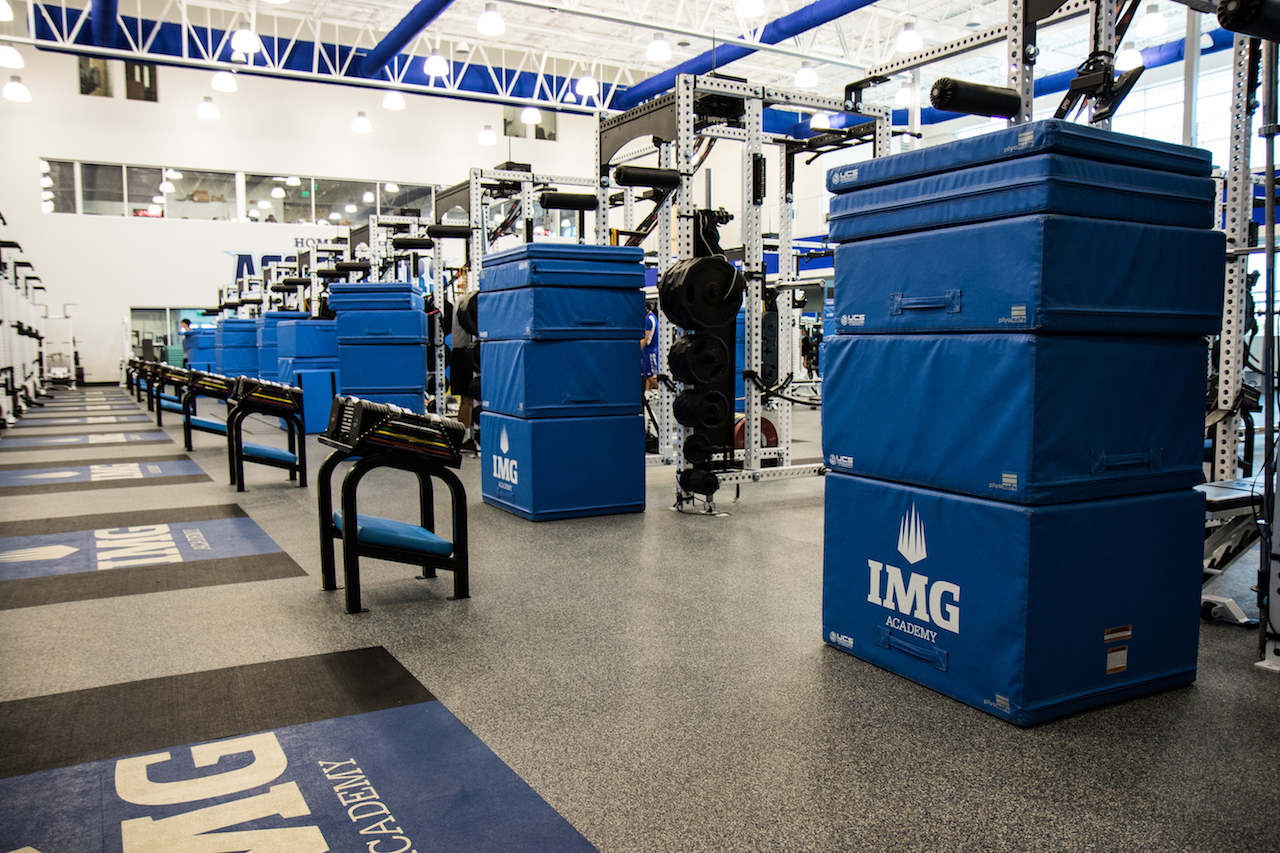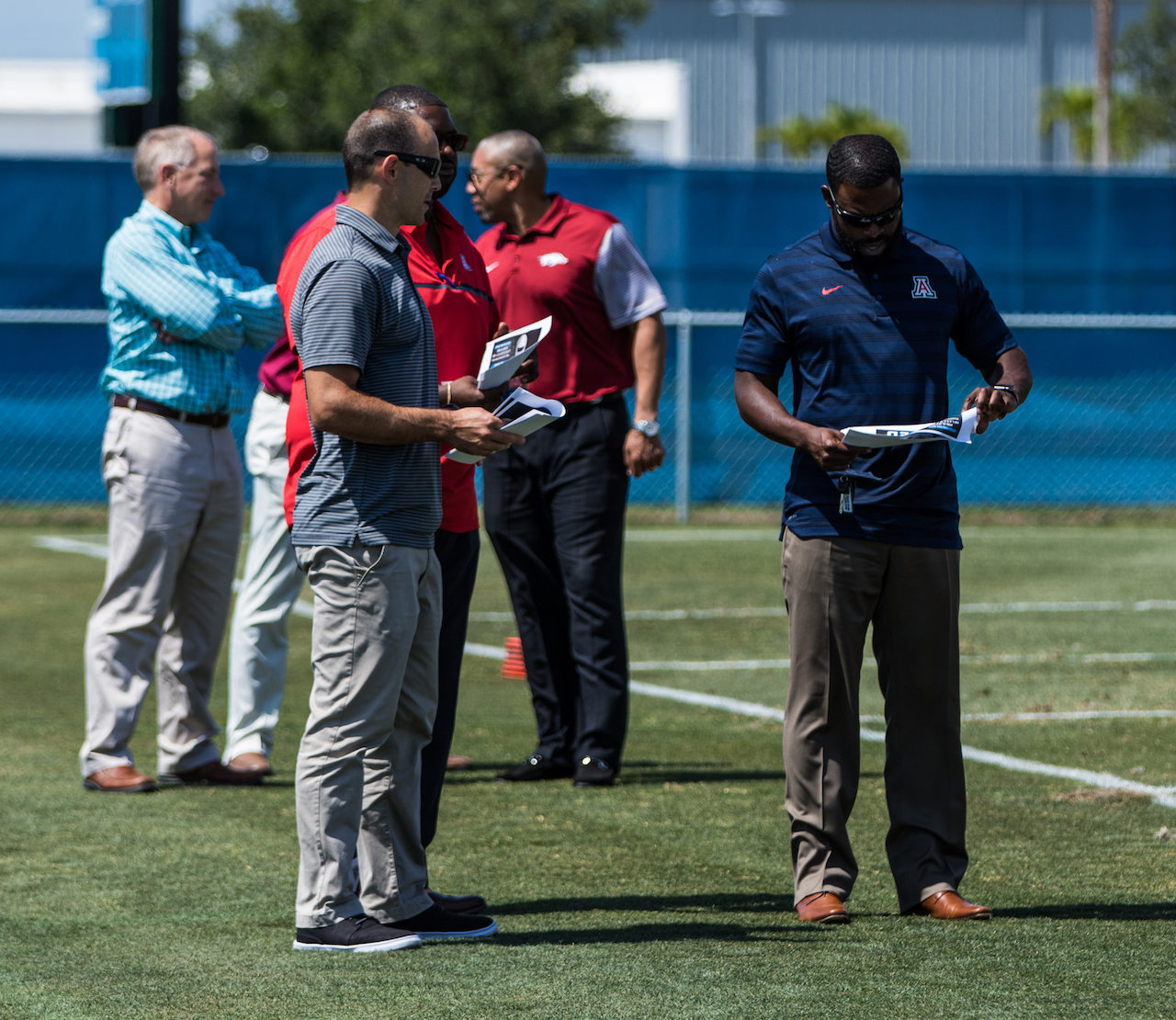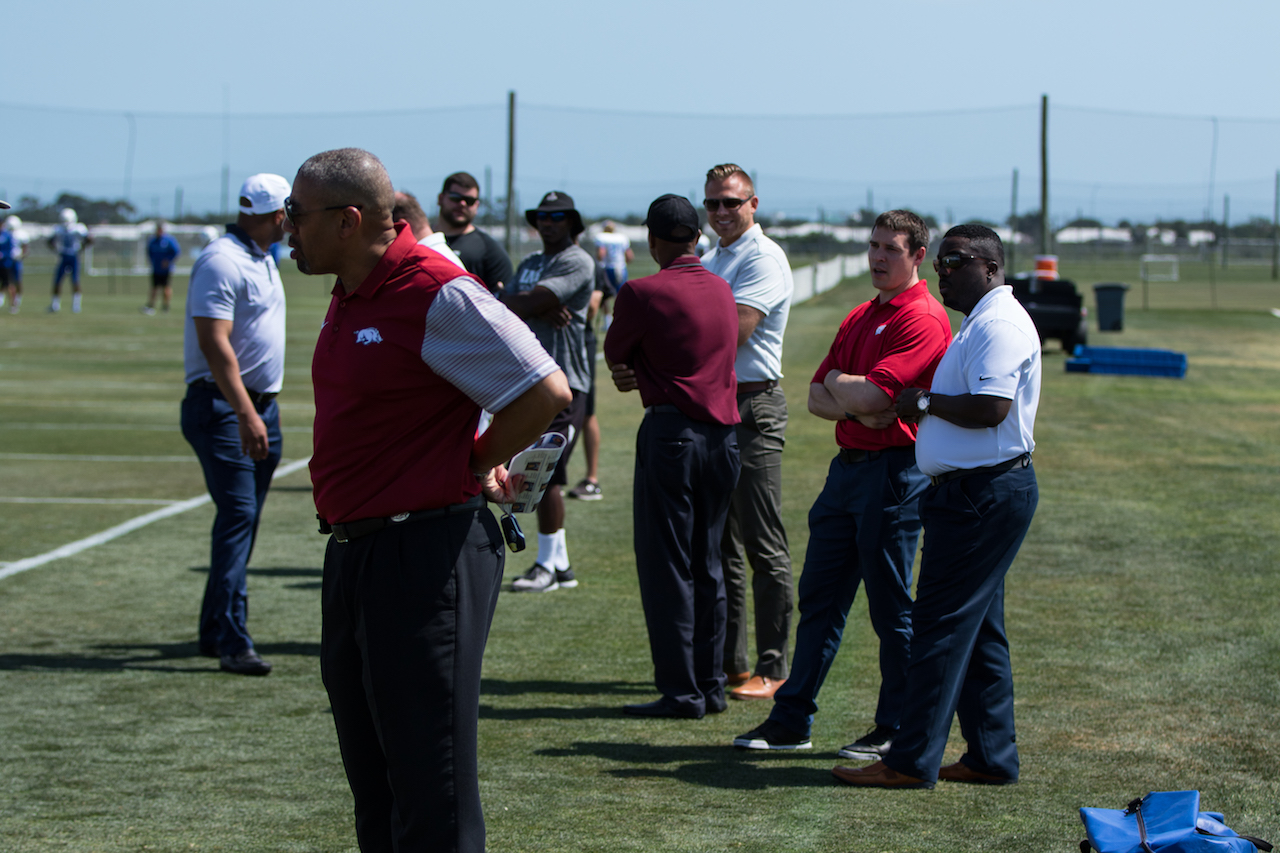 Mond, who just wrapped up spring drills at Texas A&M, was there to ham it up with former teammates. As was wide receiver Jhamon Ausbon, another IMG class of 2017 signee already with the Aggies. They were joined by Saivion Smith, a class of 2016 cornerback who is leaving LSU, and Jordan Anthony, a class of 2017 linebacker en route to Michigan.
The star-studded onlookers — coaches and players alike — weren't disappointed with what they saw on the field.
Quarterback Artur Sitkowski, a Miami commitment, threw the ball well and ran for a touchdown in the first quarter to help quickly make it 21-0 Ascenders. Not one but two representatives from "The U" nodded in approval.
On the other side of the ball, Thomas couldn't be stopped by East Ridge's undersized and overmatched offensive line. That was true on defense and special teams, as he recorded multiple sacks and also blocked a field goal that was returned for a TD by fellow defensive end Nolan Smith, who has committed to Georgia.
In addition to two interceptions, Radley-Hiles brought back a kickoff for six with ankle-breaking agility. The entire sideline erupted.
"I feel bad for this quarterback." -- quarterback Artur Sitkowski
You have to give East Ridge credit, though. Outmanned — IMG dressed almost twice as many players — and outgunned, the Knights lost by a respectable score of 49-20. Many of the 200-300 in the bleachers expected 77-0.
East Ridge signal caller Zach Conde's uniform turned from gold to green upon being driven into the turf so many times.
"I feel bad for this quarterback," Sitkowski said to nobody in particular between series.
But it wasn't a flawless performance. IMG committed a lot of penalties, including several personal fouls. The mammoth O-line was leaky here and there, as well. Spring ball is finished, but Wright has more coaching to do.
* * *
Remember that scene in "The Blind Side," when coaches from all over descend upon Memphis to see Michael Oher practice?
At IMG Academy, that's called "Wednesday." LSU, Clemson, Ohio State, Oklahoma, Arizona — on a daily basis, the Power 5 visitors list is long and distinguished. Georgia, Notre Dame, Wisconsin, Texas, Oregon.
Plus, there are a dozen Michael Ohers to watch.
IMG has at least one 4-star recruit at quarterback, tailback, receiver, center, guard, offensive tackle, defensive tackle, defensive end, linebacker and corner. And that's just for the class of 2018.
For the class of 2019, three Ascenders have achieved 5-star status. There are only seven 5-star prospects in Florida, by the way. Three play for Wright.
Two already pledged their allegiance to the SEC. Smith, mentioned above, has committed to Georgia. While tailback Noah Cain is undecided, another ball carrier, Trey Sanders, promised himself to Alabama.
That's two 5-star rising junior running backs on the same high school team — they won't have IMG's backfield to themselves, either. Rising senior T.J. Pledger, an Oklahoma commit and 4-star prospect himself, deserves his fair share of touches. If ever there was an argument to play with more than one ball, this is it.
If a college coach with national-championship aspirations doesn't have his foot in the door at IMG right now, then it might already be too late. So many of his peers are racking up points by the bushel at hotels in the Bradenton area.
On the hardwood, AAU destroyed high school basketball once and for all. Hoops recruiting will never be the same.
Is IMG capable of casting the same spell on the gridiron? Could similar academies pop up all over the nation and fill their rosters full of standouts from helpless and unsuspecting programs? That would be dystopian indeed.
Don't expect it to happen, though. At least not any time soon. Officials at IMG say there's no plan to build a clone facility elsewhere. As for a competing company trying to play copycat — CAA in Los Angeles perhaps? — understand that IMG started as Nick Bollettieri's tennis academy way back in 1978.
Simply securing the land necessary would require crazy cash. IMG sits on 450 acres and continues to expand.
"If you want to spend the time on the investment financially and the accreditation and everything that it would take to pull it off," Luginbill said, "it would be a massive endeavor."
More than likely, IMG remains on an island for the foreseeable future. It's a one-stop shop for blue-chippers and recruiters alike.
If a college coach with national-championship aspirations doesn't have his foot in the door at IMG right now, then it might already be too late. So many of his peers are racking up points by the bushel at hotels in the Bradenton area.
Alabama and Florida State will kick off the 2017 campaign Labor Day weekend in Atlanta. The Crimson Tide and Seminoles might start No. 1 and No. 2 in the preseason polls, respectively. 'Bama will likely lean heavily on Scarbrough running the rock. FSU must get a big day from Francois through the air.
No matter the outcome, IMG wins. That's all Wright and Co. have been doing lately.
Photos Credit: Will Ogburn-Saturday Down South
* The original version of this story credited Artur Sitkowski with 2 TD passes in the first quarter of IMG Academy's spring game. They were actually thrown by one of IMG's other QBs, Zack Annexstad.
John Crist is the senior writer for Saturday Down South. He's a member of the Football Writers Association of America and a voter for both the Heisman Trophy and Biletnikoff Award. Connect with John via email, Twitter or Facebook.