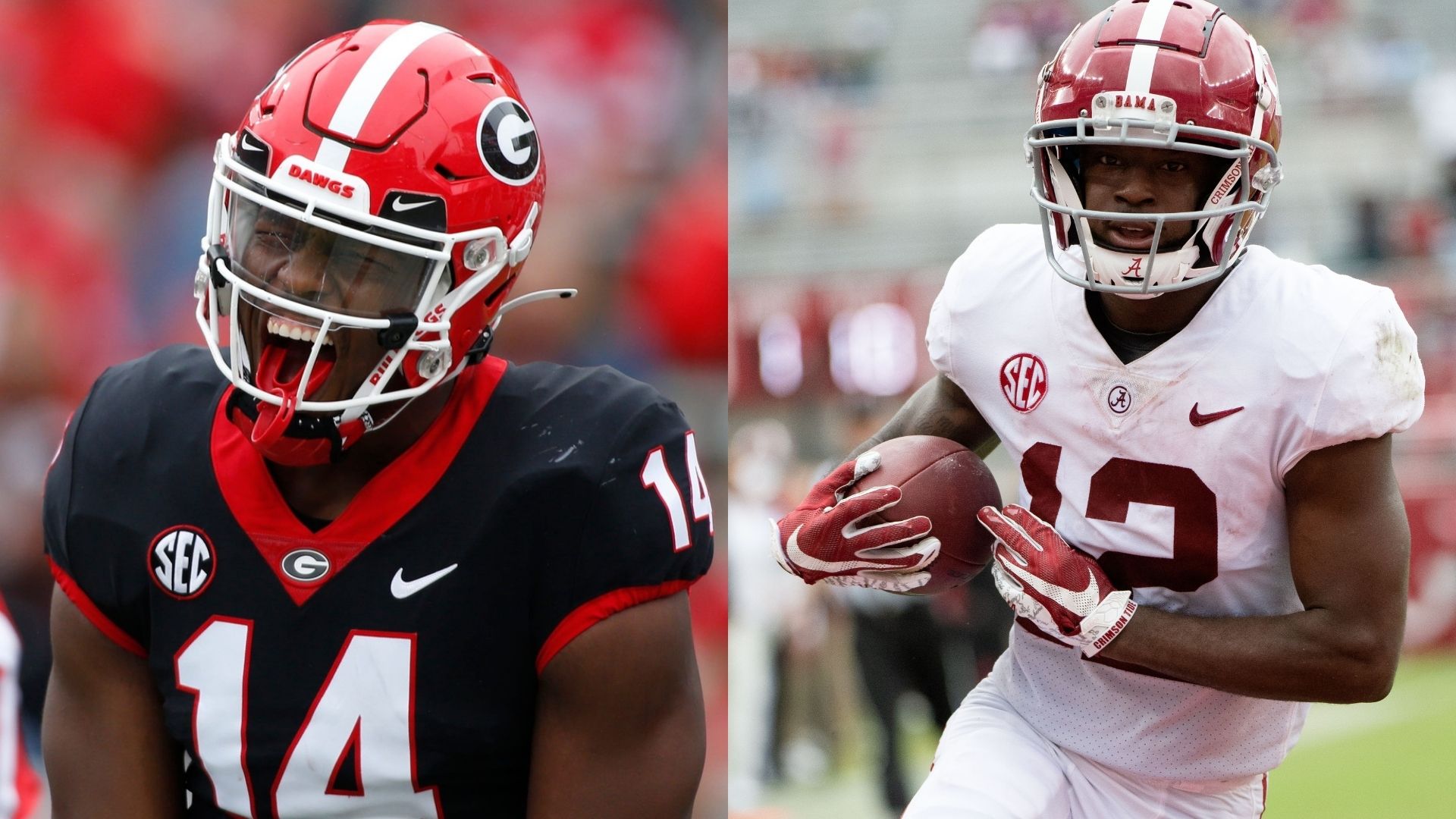 SEC
Impressive spring game efforts show why Arik Gilbert and Christian Leary could be X-factors for title pushes
It's only spring.
Those 3 words should be followed by any sort of sweeping declaration in mid-April. It's too early to declare that an unproven player is destined for stardom based on a spring game performance. It's a controlled, intra-squad scrimmage with 1-hand touch on quarterbacks, (somewhat) limited blitz packages and often made-up scoring systems.
At the risk of being a prisoner of the moment, though, Alabama and Georgia both looked like they had a potential X-factor catching passes during their respective scrimmages. Georgia tight end Arik Gilbert and Alabama receiver Christian Leary were those guys. By season's end, perhaps, we'll be talking about them as difference-makers for a national championship run.
That might sound like much for guys who played a combined 19 snaps last year (all came from Leary). But both showed why they could become unique, prolific weapons in their own right. Leary had 5 catches for a game-high 105 yards and a score while Gilbert racked up 3 catches for 49 yards and 2 touchdowns (he also drew 2 defensive pass interference calls). Both of them had reasons to feel encouraged on Saturday following their first quiet seasons with their respective teams.
Of course from a physical standpoint, they don't really have much in common. Leary is a 5-10, 175-pound slot receiver. Gilbert is a 6-5, 250-pound tight end.
Well, at least that's what Gilbert is at now. The ESPN2 broadcast crew revealed that Gilbert ballooned to north of 300 pounds by the time he rejoined the program in January. Smart said in spring that conditioning and learning the playbook were points of emphasis for the former LSU transfer. A year after Gilbert's wild transfer portal entry brought him to Athens — he initially committed to Florida but never enrolled because of academic issues — Smart praised Gilbert's first real banner day in a Georgia uniform.
"Today was a little bit of icing on the cake…

…what he's been through and overcome is such a great story, but he's not where he needs to be."

– Kirby Smart on Arik Gilbert pic.twitter.com/4nWl4gufg4

— DawgsHQ (@DawgsHq) April 16, 2022
For a guy who isn't yet "where he needs to be," Gilbert still looked like the player who flashed massive upside at LSU in 2020 as the highest rated tight end recruit ever. He made a catch in traffic for the first touchdown of the day, he somehow came down with a ball near his shoelaces in the back of the end zone on a busted play and he ended the afternoon with a long catch and run to set up the game-winning field goal.
It was exactly the type of effort Georgia fans could've hoped for with All-American Brock Bowers and promising tight end Darnell Washington both sidelined with injuries this spring. The fact that early enrollee Oscar Delp went for a team-high 91 yards had ESPN color analyst Greg McElroy throwing out the possibility that Georgia should run 14-personnel with 4 tight ends on the field at the same time (I disagreed with McElroy's notion that UGA should run Rob Gronkowski-like fades to Gilbert in the red zone because he hasn't shown he can win 1-on-1 matchups on the outside yet).
If there was ever someone who could make that work, it's Todd Monken. Georgia was the only SEC program to have 3 tight ends play 300 snaps in 2021, and that was with Washington banged up and Gilbert sidelined for the entire year. This group, assuming it's with a healthy Bowers, should be even more of a matchup nightmare.
Smart admitted that Georgia is as thin as it's been at receiver, but at tight end, Gilbert's emergence could present UGA with one of the most unique personnel matchups of all the contenders. It'd be an ace-in-the-hole in a potential SEC Championship game against, let's say, the reigning conference champs.
Speaking of Alabama, Leary could end up checking an underrated box for Bryce Young. With Jameson Williams (NFL), John Metchie (NFL), Slade Bolden (NFL) and tight end Jahleel Billingsley (transfer to Texas) all gone, Alabama has a major hole to fill in the slot. Here's how many snaps each of those guys played in the slot in 2021:
Bolden, 538
Metchie, 236
Williams, 196
Billingsley, 128
If we include transfers Javon Baker (18) and Agiye Hall (15), Alabama lost 1,131 slot snaps worth of production from 2021. That's a ton. Even if JoJo Earle is considered the favorite on the depth chart to overtake Bolden's role as the primary slot receiver, there are still plenty of ways in which Bill O'Brien could utilize Leary's skill set.
Go figure that Leary's biggest play of the day was actually on a deep go-route in which he got behind the secondary for a 52-yard touchdown:
52 yard TD from Milroe to Christian Leary pic.twitter.com/Zi3kMywYBx

— Kyle Henderson (@Rivals_Kyle) April 16, 2022
Remember, Leary was a 10.5-second 100-meter dash guy in high school. He might be primarily used as a slot guy catching passes over the middle of the field, but he's not lacking top-end speed. Saban said before the spring game that Leary was among the young receivers who were "showing a lot of promise."
What's also worth remembering is offensive line play the biggest Achilles' heel of this 2022 squad. Well, at least it was last year and it appeared that the loss of Evan Neal didn't exactly help the group on Saturday, though it was missing 2 starters. Young is going to need a quick, shifty target that he can rely on to get separation near the line of scrimmage. They need to get the ball out of his hands quicker. Having the Heisman Trophy winner shake off free rushers and target outside receivers on slow developing plays isn't ideal.
It was backup Jalen Milroe who had the connection with Leary on Saturday. Developing that connection with Young might be an ongoing process for Leary, who probably hasn't had a whole lot of reps with the first-teamers since showing up on campus as a 4-star early enrollee in 2021. Then again, Williams developed an instant chemistry with Young after enrolling in the summer.
Nobody is saying that Leary is going to become an All-American or even an All-SEC player like Williams was. Perhaps the same will be true of Gilbert, who still shares a position with Bowers. If that was the takeaway from Saturday, Smart's words should serve as a constant reminder. Both still have a long way to go to become key contributors for championship-caliber teams.
But think back to when Alabama and Georgia faced off in the title game. None of the 3 offensive players who scored touchdowns were projected to be starters at this time last year. That was Bowers, AD Mitchell and Cameron Latu. It was Latu who became a revelation in spring, which led to him taking over primary tight end duties while Billingsley was in and out of the lineup.
Maybe Leary is in line for a similar emergence after his showing on Saturday, and maybe Gilbert's great story will continue with him catching a key pass for Georgia in another national championship game.
Yeah, it's only spring, but those championship X-factors appear to be blossoming before our eyes.