SEC
I've been critical of Greg Sankey throughout this offseason, but he's now the smartest guy in the room
I think even Greg Sankey would admit that he hasn't been perfect throughout this COVID-fueled offseason.
The SEC commissioner's handling of the schedule was, um, bizarre? To have another Power 5 conference like the Big Ten go rogue and announce a 10-game conference schedule was one thing. Sankey and his fellow Power 5 commissioners were admittedly caught off guard by that. Waiting a month to announce the exact same plan as the Big Ten certainly gave off the vibe that Sankey was on his heels a bit.
That theme continued again last week when, as many SEC fans know, it took over a week for the conference to announce which 2 games would be added to each team's 2020 schedule. And so, on Friday at 4 p.m. ET, the league offered up 2 hours notice that it would show the televised schedule unveiling at 6 p.m. ET.
Why? That's a good question. In the conference where "It Just Means More," certainly nobody would be surprised if athletic directors fought against a seemingly random selection system that had no such precedent. Either way, Sankey came off like a commissioner on his heels.
But then the past 72 hours happened, and don't you know it, Sankey looks like he dug his heels into the ground. In a group of Power 5 commissioners like the Big Ten's Kevin Warren and the Pac-12's Larry Scott who seemingly shot themselves in the foot at every turn from Saturday through Monday, Sankey seemed like the smartest guy in the room.
Why do I say that?
Warren's inexperience showed in a big way over the weekend. Just 4 days after airing a 2.5-hour TV special to unveil the Big Ten's 2020 conference-only schedule, reports surfaced that Warren preferred a spring season, and that he had planned on announcing the cancelation of fall sports Tuesday, but that he was seeking the support of other Power 5 conferences on that (that's ironic considering that Warren went rogue with the scheduling stuff and didn't need Power 5 support then).
But wait, there's more!
The Big Ten presidents reportedly voted 12-2 to cancel the fall season. That leaked to the likes of Dan Patrick and Chris Solari of the Detroit Free Press on Monday morning. By the way, neither one makes up things like that. For a couple of hours, it appeared the Big Ten was set to cancel its season … until it wasn't. At least not yt. Numerous national writers then reported early Monday afternoon that a vote didn't take place and that nothing definitive had been decided.
The Big Ten's Monday consisted of coaches like Ohio State's Ryan Day and Michigan's Jim Harbaugh sharing strong opposition to any notion that the season should be canceled. Day and Nebraska's Scott Frost expressed the desire to "seek other playing options" if the Big Ten were to punt on the season.
Hey, and then on Tuesday, the Big Ten did officially cancel its fall season in hopes of playing in the spring.
Awful communication, awful leadership, awful everything. How many Big Ten fans do you think said to themselves, "man, our commissioner is failing right now."
Meanwhile, Sankey came out in the midst of all of Monday's craziness with this public statement: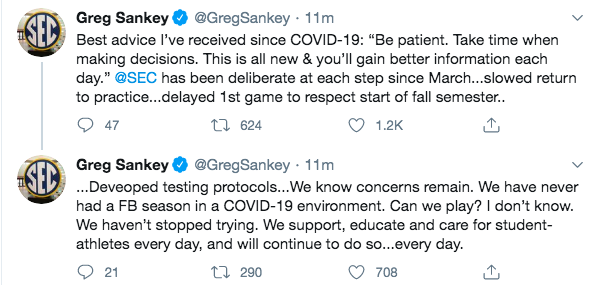 Sankey has been consistent on those first 2 words — be patient. He's right. What's the point of delaying the season, implementing universal testing protocols and continuing to seek solutions if you aren't willing to see that through?
He didn't come out and say "we're playing football no matter what" because at a time like now, he can't guarantee that. He repeated that Tuesday morning on Dan Patrick's show. What he can guarantee is that he's not going to have knee-jerk reactions. He's not going to make decisions unless he understands the potential ramifications. The last thing he wants is to have a report leak that SEC university presidents voted to punt on a season, only to go back a couple of hours later and pretend like that never happened.
Sankey has made his stance as clear as ever. If we were to find out that he's suddenly pulled a 180 a la Warren, you'd better believe he'd communicate that. And to be honest, I wouldn't expect that considering how deliberate Sankey has been.
I've been critical of that approach at times because while I do think the SEC was smart to have conference-wide testing policies released in the first week of August, it felt like there should have been a more firm stance on that during voluntary workouts. That was back in June, by the way.
But if we're being honest, SEC fans are probably thanking their lucky stars that Sankey is their commissioner. At least they should be.
They have a commissioner who has been clear about communication, which seems pretty important at a time like now. On Tuesday morning, Sankey went on "The Dan Patrick Show", ironically enough, and talked about an idea that picked up plenty of steam in the wake of the Big Ten's botched communication.
Greg Sankey on if the SEC would add any teams for a year during @dpshow appearance:

"There are probably any number of legal, contractual, media, I could just go down the list of reasons that that's not quite practical."

— SEC Mike (@MichaelWBratton) August 11, 2020
Oh, and what about if the other Power 5 conferences punted on a season and the SEC felt like it had a handle on its testing and protocols through camp?
"I don't think that's the right direction, really," Sankey said before the Big Ten's announcement on Tuesday. "Could we? Certainly. So, there's a difference between can you do something and should you do something in life. And so, we're actually set up with our schedule, with our own health protocols, that we could if that was the circumstance; operate on our own. I'm not sure that's the wisest direction, but you know, there's been a lot of interesting things have happened since March in college sports."
In other words, that's not impossible. Again, as Sankey said, that's why the scheduling move was made in the first place. The SEC is on the same page.
That's something else Sankey absolutely deserves credit for. Unlike the Big Ten, where you've got university presidents pitted against athletic directors, coaches and players, the SEC seems united on its stance. You're not seeing leaked reports of anonymous SEC athletic directors predicting the demise of the season. Instead, you're seeing quotes like this from Eli Drinkwitz (via 101 ESPN radio show "Karraker & Smallmon" on Tuesday):
"I can tell you on the record, not one of these anonymous sources that people want to put on Twitter and put all, you know, all these fake rumors out there and cause the media to get into a tizzy and it's just not good for public health," Drinkwitz said on the show. "I can tell you on the record, the SEC is steadfast in their plan (to play).

"Commissioner Sankey has been steadfast in his approach to this. He's not been flippant, he has been methodical, the athletic directors and presidents have all marched with his message and our coaching staff, we are planning on playing September 26."
They've all been on the same page. That's leadership.
Sankey might be the relatively soft-spoken, marathon-running dad who looks more like an assistant soccer coach than the leader of a premier college athletics conference, but man, he embodied the latter during this defining time.
And look. It's not as if Sankey has simply been going to the beat of his own drum. He said from the jump that he's going to let the advice of medical officials dictate his decision-making. As he said again on his TV appearance Tuesday morning, Sankey repeated that the medical advisory board gave the green light to continue with their preparations.
That's another thing to remember with all of this. If universities weren't putting protocols in place to properly test, distance and essentially acknowledge the virus' presence, this would be a different discussion. That's why sports shut down back in March. None of those protocols were in place.
Some people, I'd argue, haven't used the past 5 months wisely. They sat on their hands and pretended like the virus would either go away or that they didn't have any sort of responsibility.
(OK, we all know I'm talking about the NCAA.)
Sankey, on the other hand, showed time and time again that he's an adult. He didn't let a headline scare him into making a monumental decision, nor did he seem to be at odds with players like Scott, who reportedly said that the Pac-12's #WeAreUnited movement was "a misguided PR stunt."
There have been plenty of people who have been misguided in the past 5 months, but Sankey certainly hasn't been one of them. At least not during these defining moments.
It's becoming clearer and clearer with each passing day — the SEC is in good hands with Sankey at the controls.