SEC
Monday Down South: Welcome to the new SEC, where It Just Means More Offense
Weekly takeaways, trends and technicalities from the weekend's SEC action.
Georgia's defense is in a class of its own
Georgia 44, Tennessee 21. Whatever flimsy vestiges remained of the "SEC Defense" era, Saturday might have been the day that buried them for good. The offenses woke up scoring, went to bed scoring, and never stopped scoring in between.
Five of 7 games featured one or both teams putting up at least 40 points. All but one cleared the over/under, most of them with ease. Alabama and Ole Miss staged the highest-scoring regulation game in SEC history while dodging a hurricane. Florida and LSU gave up a combined 86 points in losses despite scoring 79 points themselves. Half of the league's starting quarterbacks topped 300 yards passing with multiple touchdowns and no interceptions. At the end of the day, the SEC accounted for 4 of the top 5 passing offenses nationally this season in terms of yards per game and 7 of the top 20. The conference as a whole has never flown higher.
But then, in the middle of the deluge, there was Georgia, solid as a rock, carrying the banner for SEC D into a new decade like it's 2009 and the notion of a shootout is fundamentally indecent. The spirit of the aughts is alive in Athens.
Monty Rice, that'll work. pic.twitter.com/UfxNYx4ZXv

— SEConCBS (@SEConCBS) October 10, 2020
This is what happens when you assemble a unit that rolls 3-deep with blue-chip recruits who play like their future is riding on every snap. Fresh from their annual suffocation of Auburn, the Bulldogs methodically squeezed the life out of Tennessee, limiting the Volunteers to just 214 total yards and throttling them into submission in the second half.
After managing 2 touchdown drives before halftime (one of which covered just 36 yards following a turnover on downs by Georgia's offense), the Vols' first 6 possessions after the break yielded a single first down, a net gain of -6 yards and 3 turnovers by overwhelmed QB Jarrett Guarantano under a steady barrage of pressure. In the 3rd quarter alone he was stripped 3 times and picked once, turning a narrow edge into an insurmountable deficit in a matter of minutes.
Tennessee's much-hyped offensive line, the one consisting of 4 starters who arrived as 5-star recruits flanking a 6th-year senior at center, was overrun and collapsed in a heap. Including sacks – Guarantano was dropped 5 times in all – the Vols finished with -1 yard rushing with a long gain of 8.
Among Power 5 teams, Georgia ranks No. 1 for the young season in total defense, rushing defense, pass efficiency defense and yards per play allowed; it's No. 2 in scoring D only because of the freebie touchdown the offense gave up Saturday on a botched shotgun snap on the second play of the game. No other SEC defense ranks in the top 20.
Still, given the current, high-octane landscape of the sport, whether a championship-caliber defense is enough to deliver an actual championship in 2020 opposite a (relatively) pedestrian offense is an open question. The Bulldogs have physically dominated ranked opponents in consecutive weeks, but they remained behind Alabama in the new AP poll and opened as 7-point underdogs ahead of this week's blockbuster trip to Tuscaloosa.
The big questions that followed them throughout the extended offseason – the new quarterback, the new offensive scheme, the same lack of explosive plays that doomed last year's run – will follow them into the defining game of the regular season. After last year's SEC Championship Game loss to LSU, that list must include the defense's viability against elite downfield passing attacks like Bama's.
But that caveat applies to any defense, and whatever doubts there may have been about where Georgia's falls among the nation's best have been more than answered by the way the Bulldogs have opened the season. If it's possible to win big the old-fashioned way in this chaotic, unpredictable year, Kirby Smart has build the only team in America that might plausibly pull it off.
Texas A&M is moving in the right direction
Texas A&M 41, Florida 38. You never want to jump to too many conclusions based on one game, especially one decided by a last-second field goal. Texas A&M trailed for most of the afternoon, continued to struggle on defense, and had its fair share of dysfunction on offense, as well. But the footnotes shouldn't obscure the headline: For the first time in Jimbo Fisher's tenure, the Aggies actually looked like a team worth the massive investment they've put in.
Kellen Mond delivered the best performance of his career, by far, finishing with 338 yards passing, 3 TDs, and his best passer rating (180.8) vs. a ranked opponent. Sophomore RB Isaiah Spiller looked like a bonafide workhorse, rumbling through tacklers en route to a career-high 174 yards and 2 TDs on 6.4 per carry, the best individual day by an A&M back since Trayveon Williams' exit for the NFL. Junior WR Caleb Chapman looked like the big-play receiving threat that had been sorely missing, using every inch of his 6-5 frame to exceed his career totals for catches (9), yards (151), and touchdowns (2) – the first 150-yard receiving game by an A&M wideout since Christian Kirk in 2017.
https://twitter.com/PFF_College/status/1315008580588838912?s=20
The Aggies were efficient, scoring on 7-of-9 possession and finishing 13-of-15 3rd-down conversions. They were resilient, erasing a 28-17 deficit in the 3rd quarter and a 38-31 deficit in the 4th. They were balanced, a word that hasn't been used in connection with Texas A&M's offense in a big game in eons. The offensive line owned the second half, fueling Spiller's breakthrough and sparing Mond his usual burden of trying to carry the offense himself.
All caveats apply re: Florida's defense, which officially graduated from "concerning" to "full-blown problem" on Saturday, and re: A&M's defense, too, which was only marginally less flammable than it was in last week's 52-24 loss at Alabama. (Although to their credit, the Aggies did do a number on the Gators' all-cosmos TE Kyle Pitts, holding him relatively in check after an early touchdown reception to cap an epic opening drive.) Florida's offense scored on 6 of its first 8 possessions, as well, and was likely on its way to the winning points on the 9th until a fumble with less than 4 minutes to play set up A&M's offense at midfield instead.
But it's been long enough since Texas A&M even found itself in position to take advantage of a timely break in a prove-it game that even the lucky bounce counts as progress. That doesn't make the Aggies contenders, or guarantee that they'll be able to sustain the highlights. It is a tangible step in the right direction, though, at the exact moment they needed one. For now, that's worth its weight in oil.
Ole Miss is the most exciting team in America
Alabama 63, Ole Miss 48. Are the Rebels a good team? Absolutely not. Are they a fun team? As long as you're not rooting for their opponent, a thousand percent yes. Lane Kiffin took over an outfit with no immediate expectations whatsoever and has proceeded to deliver on the promise of prolific offense, zero defense, and a compelling inferno of big plays each and every week.
The box score Saturday night was one of the most spectacular in SEC history: 1,370 yards of total offense, 111 points, 68 first downs, 16 plays of 20+ yards, 4 100-yard receivers, 3 100-yard rushers (including a 206-yard, 5-touchdown performance by the Herculean Najee Harris), and, somehow, 3 punts. Alabama hit paydirt on 10-of-12 offensive possessions, coming up short only via a) A goal-line fumble by Harris — the first of his career — that stopped a 79-yard drive one yard shy of the end zone in the 1st quarter; and b) A 3rd-down sack that forced a punt in Ole Miss territory on the subsequent possession. From that point on, it was damn the torpedoes: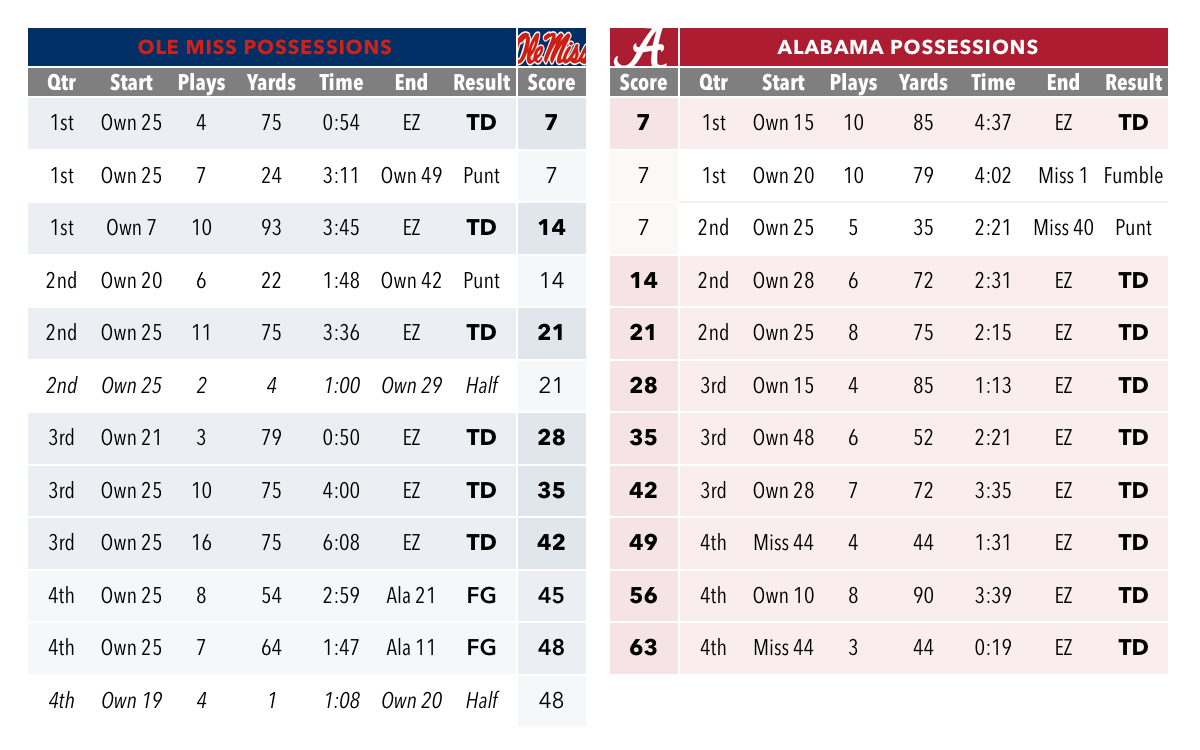 We know all about Alabama's offense, which currently leads the nation in scoring after finishing in the top 3 each of the past 2 years. But the attack Kiffin has built around QB Matt Corral is a burgeoning monster in its own right. Through 3 games, Ole Miss ranks 2nd nationally in total offense and 5th in yards per play; individually, Corral is the top-ranked quarterback nationally according to ESPN's QBR metric (just ahead of Bama's Mac Jones) and ranks 2nd in pass efficiency (just behind Jones). He's tied for the FBS lead in passes gaining 30+ yards (11) despite playing one fewer game than each of the other 4 quarterbacks in double digits. The top skill players, RB Jerrion Ealy, WR Elijah Moore and TE Kenny Yeboah, are collectively averaging 377 scrimmage yards per game.
Combine that with the nation's most generous defense — Ole Miss is dead last in both total and scoring D by significant margins — and you have an outfit that can potentially hang with everyone on its schedule and potentially lose to them all by the same turn, with no particular mandate from the fan base or anyone else except to keep it interesting.
As it stands, the Rebels are 1-2, gained 600+ yards in both losses, allowed 400+ yards rushing in the win, and have been a blast to watch every week.
Should we worry about Alabama's defense? Sure: Ole Miss consistently caught the Tide out of position and successfully exploited their longstanding issues adjusting to tempo. The 48 points allowed is the most any Bama team has given up to an unranked opponent in the AP poll era (since 1936) and the most a Nick Saban-coached team has ever allowed to any opponent, period. We're a long way from the hey day of the sweltering defenses that defined the first half of the Saban era, for which, in retrospect, then-defensive coordinator Kirby Smart probably didn't get enough credit at the time.
Still, outside of maybe a fleeting moment early in the 4th quarter after Ole Miss scored to knot the score at 42-42, there was never a real sense that the Rebels were really about to pull the thing off. When the Tide needed to, they scored at will. And while this defense may not be a vintage edition, it's not about to get into the habit of allowing 40 points on a weekly basis, either. Georgia poses a much different challenge this weekend, and frankly one that figures to fall squarely in Saban's wheelhouse. Put it this way: Given a choice between facing Kirby's Bulldogs and Kiffin's Rebels, here's betting after Saturday that Saban will take the former a hundred times out of a hundred.
Mississippi State's offense is on the rocks
Kentucky 24, Mississippi State 2. Last week, Kentucky gained 559 yards on 7.6 per play and lost. This week, the Wildcats gained 157 yards on 3.0 per play and won by 3 touchdowns. And frankly it wasn't as close as the score suggests.
https://twitter.com/SECNetwork/status/1315122617297383426?s=20
It's hard to imagine a meltdown more complete than Mississippi State's in less time. The offense the Bulldogs rolled out in Lexington bore no resemblance to the one that announced its arrival at LSU by carpet-bombing the defending national champs for 44 points and 623 passing yards on national television, or for that matter even to the one that followed up that triumph by falling face-first into a stunning upset at the hands of a team riding a 20-game losing streak. Even by the standard of losing to Arkansas, Saturday night achieved an unprecedented level of futility: An offense that put the ball in the air 70 times and failed to score a single point.
I repeat: 70 passes. Zero offensive points.
It doesn't seem possible, but Mississippi State found a way. Between them, QBs KJ Costello (who was briefly benched in the 3rd quarter) and Will Rogers (who yielded back to Costello in the 4th) combined to finish 45-of-70 passing for 232 yards, no touchdowns and an astounding 6 interceptions – 4 via Costello, 2 via Rogers, a true freshman in the first action of his career. Do the math on that: 232 divided by 70 comes out to 3.9 yards per attempt, a depressing number under any circumstances, but especially so when it's repeated that many times to such meaningless effect. The Bulldogs managed a single completion that covered 20+ yards, went 3-of-17 on 3rd-down conversions, and came up empty on 3 opportunities in the red zone.
Mike Leach, the toast of college football following the win in Baton Rouge, responded in high Leachian fashion:
Mike Leach hints that he may have to "purge" some players from the team. Ones he thinks aren't fitting in with what he's trying to do.

"We're going to have to check our group and see who really wants to play here."

— Tyler Horka (@tbhorka) October 11, 2020
If you've ever wondered why a coach with Leach's track record was consistently snubbed for more high-profile jobs for the better part of two decades, that quote pretty much sums it up. As much mileage as he's gotten out of the "eccentric" side of his persona, when things are aren't going well, his schtick plays very differently. It wore out its welcome at Washington State, where he was 21 games over .500 over his last five years but lost seven straight vs. rival Washington and responded poorly when asked about it. His petulant "blame the players" mentality was a recurring theme in Pullman, and one of the reasons a former Wazzu player described playing for Leach as "a little bit like a dictatorship."
Know this: It's not going to get any worse than 45-of-70 for 3.9 yards per attempt, 6 INTs, and zero points. That's a rock-bottom, nowhere-to-go-but-up stat line if ever there was one. But at the rate the Bulldogs have regressed the past two weeks, whether it will get any better than the initial bonanza at LSU anytime soon is an open question, whether Leach wants to hear it or not.
LSU has much bigger problems than we thought
Missouri 45, LSU 41. First of all, credit to Missouri for its arguably its biggest home win in years – the upset marked its first win over a ranked team in Columbia since 2013 – under some pretty dire circumstances: In addition to rolling out a brand new starter behind center, the Tigers were severely shorthanded due to  COVID-19 protocols and assorted injuries, which hit especially hard at wide receiver and defensive tackle. But redshirt freshman QB Connor Bazelak was a revelation, connecting on 29-of-36 attempts for 406 yards and 4 TDs to 4 different receivers in his first career start, and the run defense was stellar, holding LSU to a paltry 49 yards on 2.5 per carry.
And for as badly as it was burned by LSU's high-octane passing game, at the end of the day the defense held its own by denying LSU on 4 straight plays inside the 1-yard line to preserve the win – a dramatic, game-winning goal-line stand that came off almost 30 years to the day after the infamous "Fifth Down" game on the same field. Just as it was beginning to look like Eli Drinkwitz's debut season was destined to go down as a long, fruitless slog with no payoff, his first win as Mizzou's head coach instantly flipped the script and will serve to justify whatever growing pains still lie ahead.
Just stopped by to see the new tradition after a Mizzou win and look who was there. @CoachDrinkwitz #lightthedome pic.twitter.com/h7Q1EiZ1QP

— Chad Bass (@cbassmizzou) October 11, 2020
All of that said, let's be real: LSU is in a dark place right now, for reasons that go well beyond the mass exodus from last year's national championship team. In many ways the Tigers were straight-up outplayed by what should have been a plainly inferior opponent – the defense was gashed for 8.6 yards per play, and Missouri finished with a 107-yard edge in total offense on the same number of snaps. Despite some gaudy individual stat lines, the offense was stoned on the ground and went 0-for-10 on 3rd down. If not for 3 Mizzou fumbles, which led directly to 17 points for LSU, the game likely would have been over long before it came down to the final yard.
That's all bad enough on its own. But taken with the Tigers' opening-day flop against Mississippi State – especially in light of the Bulldogs' subsequent collapse – it's a flashing siren. No one in their right mind expected LSU's revamped lineup to approach the heights of the 2019 juggernaut. But it was expected to hold the line as, at minimum, a Top-25 team. Two losses in 3 games at the hands of double-digit underdogs from the bottom half of the conference is not going to get it done with all of the heavy hitters still looming.
Ironically, the area that has suffered the least in transition (on paper, anyway) is the passing game, where Myles Brennan passed for a Burrow-esque 430 yards and 4 touchdowns on Saturday on 9.0 per attempt. Terrace Marshall Jr. (11 catches for 235 yards, 3 TDs vs. Mizzou) is on an All-America pace in Ja'Marr Chase's absence, while 5-star freshmen Arik Gilbert and Kayshon Boutte are right on schedule to become fixtures. (Gilbert, especially, is already on the cusp of becoming a star.)
But those numbers have come at the expense of some very sketchy defenses so far, and no other area has looked remotely in sync. In the losses, the offensive line has struggled to open holes for the backs or to protect Brennan, who's faced consistent pressure, and the secondary has been burned to a crisp by offenses that have looked downright anemic in their other games. Derek Stingley Jr.'s presence on Saturday made no difference against the most obscure quarterback LSU will face the rest of the season.
Doesn't get much more open than this…

Mizzou (+450 ML) tied again with LSU pic.twitter.com/GOZr5PTexP

— br_betting (@br_betting) October 10, 2020
Ed Orgeron was straightforward after the loss: "It was all on the defense." The man in charge of the defense, first-year coordinator Bo Pelini, is officially in the "embattled" phase of his tenure until further notice. Because as bad it's been so far, when you consider the offenses that remain on the schedule – Florida, Alabama, Texas A&M, Ole Miss – it's still only a glimpse of how bad it can get.
Superlatives
The best of the week.
1. The Quarterbacks. We're going in a slightly different direction this week to account for the unusual volume of high-wattage performances on offense — how could we single out just one? Seven starting QBs on Saturday accounted for 300+ yards passing and multiple touchdowns without an interception: LSU's Myles Brennan (29/48 for 430 yards, 4 TDs); Alabama's Mac Jones (28/32, 417 yards, 2 TDs); Missouri's Connor Bazelak (29/34, 406 yards, 4 TDs); Ole Miss' Matt Corral (21/28, 365 yards, 2 TDs); Texas A&M's Kellen Mond (25/35 for 338 yards, 3 TDs); Arkansas' Feleipe Franks (22/30, 318 yards, 4 TDs); and Florida's Kyle Trask (23/32, 312 yards, 4 TDs).
Collectively that lineup posted a 74% completion rate for 2,586 yards, on 10.8 per attempt, with 23 TDs and an overall pass efficiency rating of 196.7.
2. The Running Backs. Again, we're not splitting hairs this week. Seven running backs accounted for at least 150 yards from scrimmage: Alabama's Najee Harris (206 yards rushing, 5 TDs on 9.0 per carry + 43 yards receiving); Ole Miss' Snoop Conner and Jerrion Ealy (248 yards, 4 TDs on 6.2 per carry + 33 yards receiving); South Carolina's Kevin Harris (177 yards, 2 TDs, 8.1 ypc); Texas A&M's Isaiah Spiller (174 yards, 2 TDs, 6.4 ypc); Auburn's Tank Bigsby (146 yards, 7.3 ypc + 16 yards receiving); and Arkansas' Trelon Smith (81 yards, 3.9 ypc + 78 yds, 1 TD receiving).
3. The Wide Receivers. While the passing stats tended to be fairly widely distributed, 6 wideouts came in well above the rest of the pack: Ole Miss' Elijah Moore and Kenny Yeboah (18 for 324 yds, 2 TDs); Alabama's DeVonta Smith and Jaylen Waddle (19 for 284 yards, 1 TD); LSU's Terrace Marshall Jr. (11 for 235 yards, 3 TDs); and Texas A&M's Caleb Chapman (9 for 151 yds, 2 TDs) in just his second career start.
4. Georgia LBs Monty Rice and Azeez Ojulari. Rice (inside) and Ojulari (outside) led the usual swarm of Georgia 'backers against Tennessee, combining for 13 tackles, 4 TFLs and 3 forced fumbles in game that went from competitive to blowout in the blink of an eye. In all, 7 different UGA linebackers recorded at least 1 tackle vs. the Vols, and it only felt like they were all on the field at the same time.
5. Missouri LB Nick Bolton. Bolton led a short-handed defense against LSU with 11 total tackles and 3 passes defended, including a crucial deflection on the game-winning series on the goal line. For the season he's tied for the SEC lead with 36 tackles in 3 games, alongside a pair of highly active Razorbacks, Jalen Catalon and Bumper Pool.
Honorable Mention: Florida WR Kadarius Toney, who had 7 catches for 92 yards and 2 TDs in the Gators' loss at A&M. … Georgia WR Kearis Jackson, who hauled in 4 receptions for a team-best 91 yards and a touchdown in the win over Tennessee. … Arkansas WRs De'Vion Warren and Mike Woods, who combined for 176 yards and 3 TDs on 11 catches in a losing effort at Auburn. … Missouri RB Larry Rountree III, who churned out 121 yards on 6.6 per carry in the Tigers' win over LSU. … Kentucky LBs Jamin Davis, DeAndre Square, Jordan Wright and Jamar Watson, who collectively accounted for 28 tackles, 3 TFLs, 3 QB hurries and 3 interceptions in the course of shutting out Mississippi State's offense. … Auburn LBs Zakoby McClain, Owen Pappoe and Colby Wooten, who combined for 29 tackles, 3 TFLs, and a pair of QB hurries by McClain in the Tigers' down-to-the-wire, 30-28 win over Arkansas. … South Carolina LB Ernest Jones, who racked up 13 tackles with 3 TFLs in the Gamecocks' blowout win over Vanderbilt. … Tennessee LB Henry To'o To'o, who finished with a team-high 11 tackles and 2 TFLs in the Vols' loss to Georgia. … Tennessee punter Paxton Brooks, who averaged 47.2 yards on 6 attempts, including 3 that pinned UGA inside its own 20-yard line, and drove 3 of his 4 kickoffs for touchbacks. … And Georgia kicker Jack Podlesny, who was 3-of-3 on field goals from 47, 34 and 51 yards out.
– – –
The scoring system for players honored in Superlatives awards 8 points for the week's top player, 6 for 2nd, 5 for 3rd, 4 for 4th, 3 for 5th, and 1 for honorable mention, because how honorable is it really if it doesn't come with any points? The standings are updated weekly with the top 10 players for the season to date.