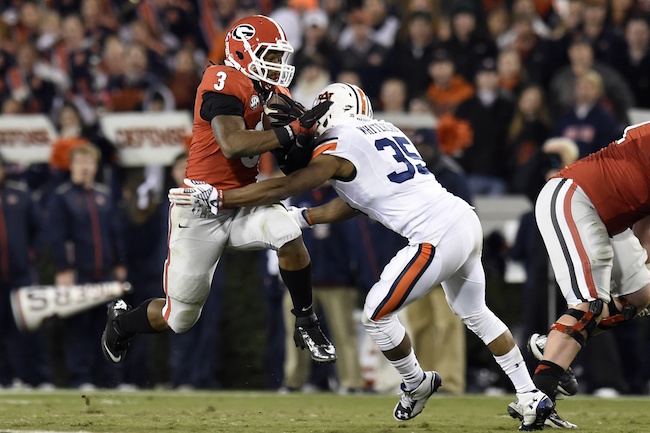 SEC
Ranking the SEC's cross-divisional rivalries
Some rivalries are significant because of the sheer number of times the two teams have faced each other. It's hard to get excited about a "rivalry" with a team you've only played once or twice in the lifetime of both schools.
Others are significant because of how the two teams push each other to be better. The equal skill and talent makes for games that are exciting to watch.
Then there are rivalries built on hatred. When your rivalry has a name that wasn't forced upon it — we're looking at you Arkansas and Mizzou — you know it's one of the best rivalries in college football. It doesn't matter if it sees No. 1 versus No. 120, it's still big for both teams and the full sea of fans.
Here's a look at how we've ranked the SEC's cross-divisional rivalries based on these three criteria:
HISTORY
1. Auburn vs. Georgia – Georgia leads 56-55-8 (.471 winning percentage)
2. Alabama vs. Tennessee – Alabama leads 52-38-7 (.536 winning percentage)
3. Florida vs. LSU – Florida leads 31-28-3 (.500 winning percentage)
4. Ole Miss vs. Vanderbilt – Ole Miss leads 50-38-2 (.556 winning percentage)
5. Kentucky vs. Mississippi State – Mississippi State leads 22-21 (.512 winning percentage)
6. Arkansas vs. Missouri – Missouri leads 4-2 (.667 winning percentage)
7. South Carolina vs. Texas A&M – Texas A&M leads 2-0 (1.000 winning percentage)
WIN % IN LAST 10 YEARS
1. Ole Miss vs. Vanderbilt – Series tied 5-5
2. Florida vs. LSU – LSU leads 6-4 (.600 winning percentage)
3. Arkansas vs. Missouri – Missouri leads 2-1 (.667 winning percentage)
5. Auburn vs. Georgia – Georgia leads 8-2 (.800 winning percentage)
5. Kentucky vs. Mississippi State – Mississippi State leads 8-2 (.800 winning percentage)
6. Alabama vs. Tennessee – Alabama leads 9-1 (.900 winning percentage)
7. South Carolina vs. Texas A&M – Texas A&M leads 2-0 (1.000 winning percentage)
BRAGGING RIGHTS
T1. Alabama vs. Tennessee – The Third Saturday in October
T1. Auburn vs. Georgia – The Deep South's Oldest Rivalry
T1. Florida vs. LSU
4. Arkansas vs. Missouri – Battle Line Rivalry
5. Ole Miss vs. Vanderbilt
T6. South Carolina vs. Texas A&M
T6. Kentucky vs. Mississippi State