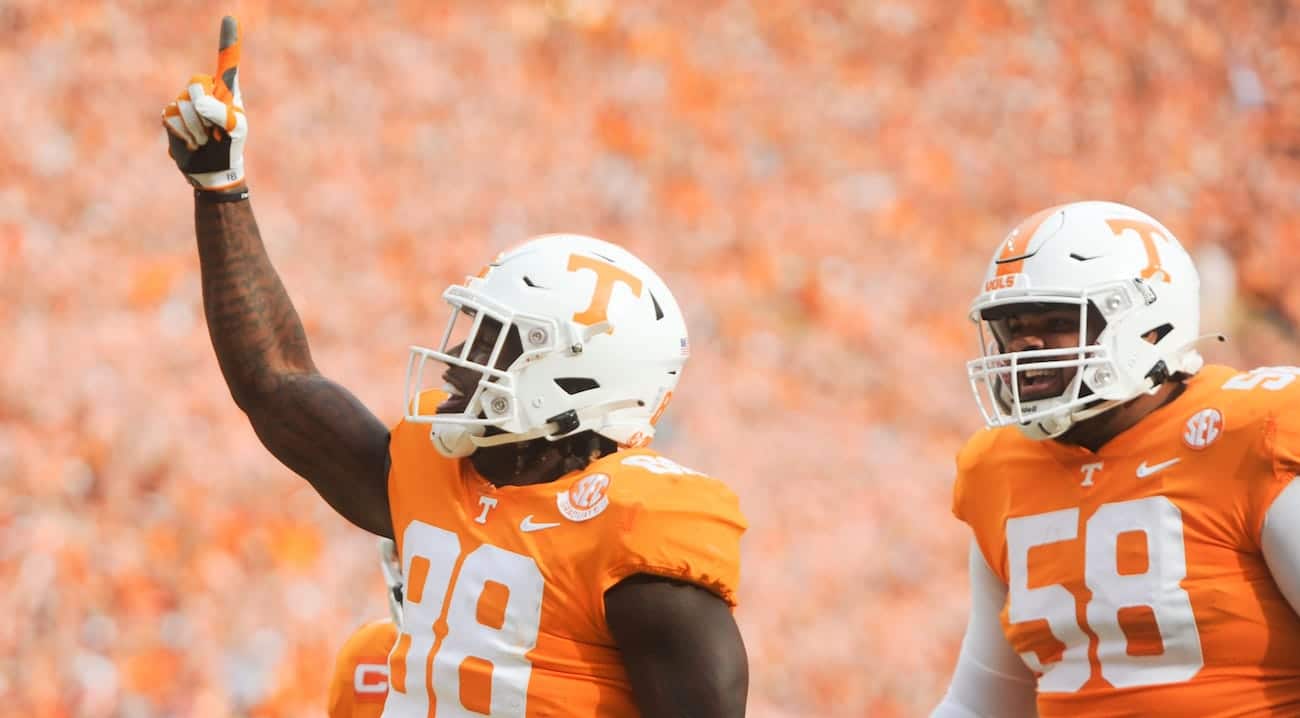 SEC
Rapid Reaction: Tennessee topples Alabama in instant classic in Knoxville
Bryce Young was back, just in time for Alabama's most grueling challenge in a season already full of them.
But with Peyton Manning and other Tennessee royalty watching, Young's presence and poise couldn't rescue the 3rd-ranked Crimson Tide from their 1st loss to the Volunteers in the Nick Saban Era.
It took everything imaginable for the Volunteers to finally end The Streak. It was the game of the year in college football, and Rocky Top came out on top.
Young's sprained right shoulder looked OK, and he looked more than OK. But the Bama defense wasn't OK for most of the day, and No. 6 Tennessee, which is quickly becoming the story of college football in 2022, didn't miss its moment of glory again against its longtime SEC nemesis.
After Will Reichard missed a 50-yard field goal with 15 seconds left, the Volunteers gained 45 yards on 2 plays, leaving just enough time for Chase McGrath to boot a 40-yard field goal as time expired and lift the Vols to a 52-49 victory over the mistake-prone Tide that gave Tennessee its first win over Bama since 2006.
And Erik Ainge got his wish.
Finally, he's not the last Tennessee quarterback to beat Alabama.
That honor belongs to Vols senior Hendon Hooker, who is building his Heisman Trophy case with each passing week. On Saturday, he played possessed in front of more than 100,000 fans at Neyland Stadium who had waited for this day for seemingly forever. Hooker threw for 385 yards and had 5 touchdown passes, with 1 rare interception that ultimately didn't cost him or the Vols.
The 6-0 Volunteers finally had their 38th victory in a brutally intense rivalry in which they still trail 59-38-7 in the all-time series.
Alabama was its own worst enemy in a mostly forgettable 1st half full of defensive lapses and penalty flags, continuing its season-long trend of showing a lack of discipline in big road spots. In Week 2 at Texas, they committed 15 penalties, the most in the Saban Era. In Week 5 at Arkansas, they committed 10 penalties.
On both days, the Tide escaped with the victory. There were big lessons to be learned but ultimately no damage done on the scoreboard, in the big picture.
But on Saturday, the floods of flags in these road showdowns finally cost the Tide in the most dramatic way possible. There were 9 flags alone in the 1st half, costing the Tide 71 yards and a ton of momentum while the sea of orange at Neyland Stadium basked in every single 1 of those flags. By the 4th quarter, Bama had 14 penalties for just over 100 yards, and that number would grow to 16, tied for the most in school history, and then 17, breaking the school record.
The Tide actually outgained the Vols 279-247 in the 1st half as they tried to dig their way out of a 28-10 hole that included a 21-7 deficit after the 1st quarter. It was the 1st time Alabama allowed 21-plus points in any quarter of football since giving up 23 points to eventual national champion LSU in the 2nd quarter of a 46-41 home loss to the Tigers on Nov. 9, 2019.
Jahmyr Gibbs' 8-yard touchdown run that momentarily tied the game at 7 midway through the 1st quarter was the only thing keeping the Tide from being completely blown away in that ghastly opening period, as the Vols smelled blood and sensed it was finally their time. Hooker hooked up with junior wideout Jalin Hyatt on 2 scoring passes of 36 and 11 yards to give Tennessee that 21-7 bulge that was on borrowed time.
Hooker and Hyatt were just getting started.
At the end of this instant classic in Knoxville, they would connect for all 5 of Hooker's touchdowns, including a 13-yard TD with 3:26 left that put Hyatt over 200 yards receiving and tied the game at 49-49.
By halftime, Bama had reasserted itself, serving notice that the Vols weren't going to completely run away after taking the 28-10 lead. They scored the last 10 points of the half on Young's 7-yard touchdown pass to Ja'Corey Brooks with 6:46 left in the 2nd quarter and a 43-yard field goal by Reichard with 36 seconds left.
Suddenly, 28-10 had become 28-20, and the Neyland Faithful had to be feeling a little — or a lot — uneasy after all the heartbreak Bama had inflicted on their program over the past decade and a half.
And right on cue, the resilient, battle-tested Tide tied the game at 28-28 on another Gibbs TD run, this time from 26 yards with 11:11 left in the 3rd. Young connected with Brooks again on the 2-point conversion, it was deadlocked at 28 and the entire state of Tennessee was having crimson-colored nightmares — again.
But not even a minute later, the Vols swung the craziness back in their favor — again, for the moment — when Hyatt caught his 3rd touchdown of the day, a 60-yard strike from Hooker to give Tennessee a 34-28 lead. But McGrath blew the extra-point attempt, because of course he did. And the Tide soon had their first lead of the game when Gibbs — who else? — ran it in from 2 yards with 4:27 left in the 3rd after a previous Bama touchdown by Jase McClellan was called back because of a holding penalty.
Gibbs would go over 100 yards rushing on the afternoon, the Tide and Vols were making everyone breathless — their fan bases, the college football world that was watching this SEC war closely, and themselves — and it was 35-34 Bama late in the 3rd quarter.
The Tide was indeed turning, and shell-shocked Vols fans had seen all this before. And then what they hadn't seen in such a long time happened when Hooker threw his first interception in 262 pass attempts, with senior DeMarcco Hellams picking off Hooker.
It all looked like it was coming apart for the Vols, until it wasn't. This isn't the same old Tennessee, and that was on display all day at Neyland. The Volunteers had yet another response, and for the 4th time on Saturday it was Hooker to Hyatt, this time on a 78-yard connection down the middle that gave Tennessee the lead back. Hooker's 2-point toss to Princeton Fant gave the Vols a 42-35 lead that wouldn't last too long because Young wouldn't let the Tide go away.
He led the Tide on a 10-play, 75-yard march that culminated — naturally — on 4th-and-goal from the 1 with Young finding old reliable Cameron Latu for a tying touchdown that set up the ultra-dramatic, 11-yard fumble return for a touchdown by Dallas Turner that gave Bama a 49-42 lead.
Yes, another short-lived lead.
And at the end of the long, winding and emotionally exhausting afternoon, Young had piled up 455 yards passing in his return and didn't throw an interception.
Bama's Heisman Trophy winner was back and in form, but the sloppy Tide weren't undefeated anymore heading home to play Mississippi State.
Instead, the Vols' dream season was alive and ticking, and nobody in Knoxville has to hear about 2006 anymore.