SEC
Sad fans are sad: Week 9
We bring you the best of sad fan shots from the weekend of college football. Be sure to tweet the best ones as they happen on Saturdays to @SDS.
Of course, there were plenty of sad Georgia fans in Jacksonville. This one probably had a sense of things to come as it was still early in the game. Florida only held a 6-0 lead, but Georgia had just committed an illegal substitution penalty to give the Bulldogs third-and-15 from their own 35-yard line. Not long after that, the Gators made it 13-0 with Treon Harris' 66-yard touchdown throw to Antonio Callaway.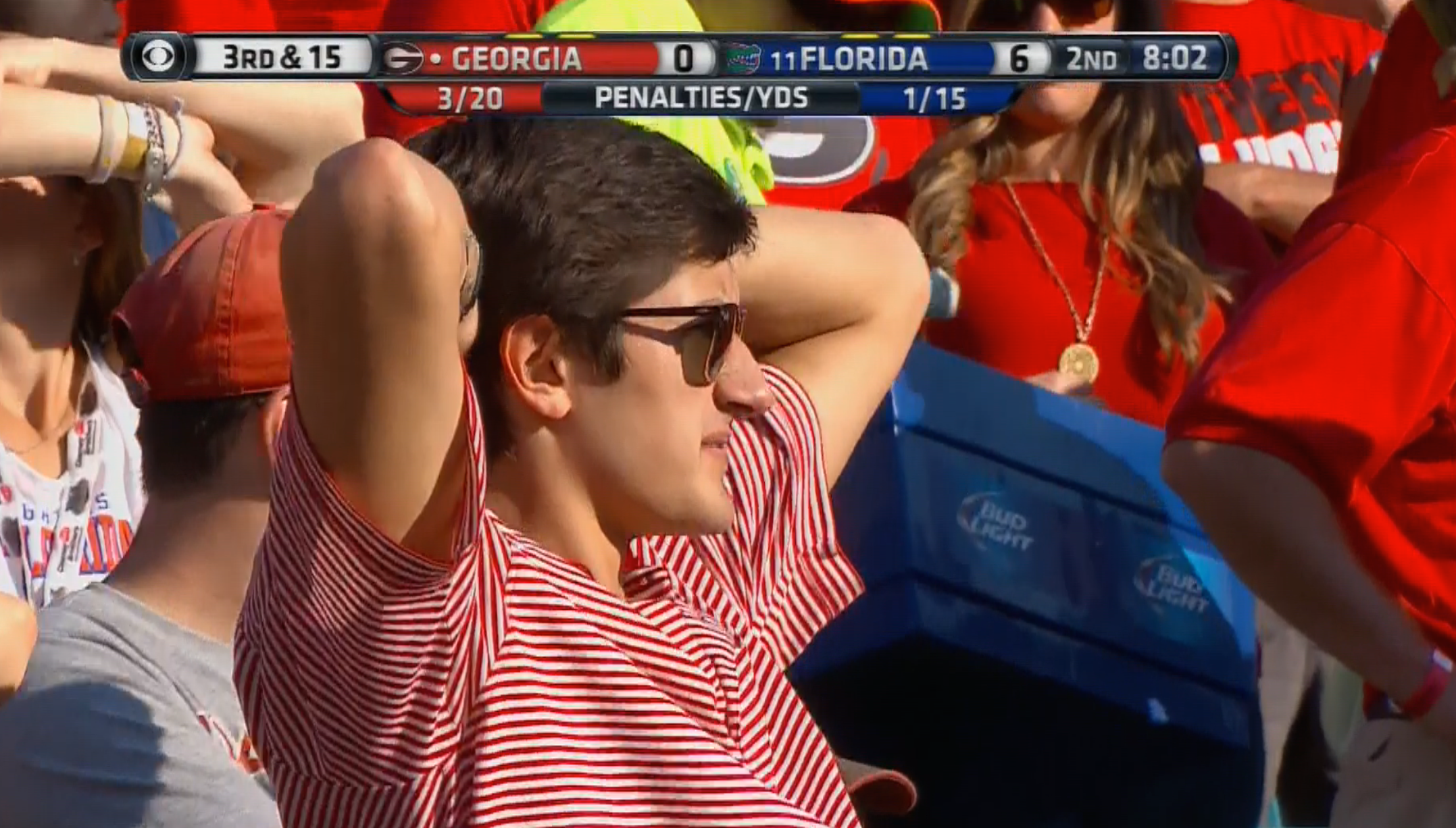 Things eventually got out of control. This poor guy stuck around in the midst of empty seats and just watched backup RB Jordan Scarlett go for 60 yards in the fourth quarter.
And starting RB Kelvin Taylor put the exclamation point on the blowout with a 16-yard TD run two plays later as another stray Bulldogs fan was there to watch.
Florida #Gators 27 Georgia 3 Yep, a Georgia fan at the stadium… pic.twitter.com/hVbtTZ2c4H

— Erick J Morales (@ejmorales) October 31, 2015
There was also this Georgia fan, who was likely deflated after realizing even his unique costume was no match for the Auburn sad fan coming up after this …
Some dress up as Mario for Halloween. Mario dresses up as a Mad Max Georgia fan. pic.twitter.com/fgaSbt3U5y

— Dr Cork Gaines (@CorkGaines) October 31, 2015
Your Tigers might have lost to the Rebels, but you win best Halloween costume of the day.
Strong Halloween costume game, Auburn fan. @drpepper pic.twitter.com/ePs4a01GwW

— J.B. Long (@JB_Long) October 31, 2015
Not bad, but you still don't top the originality of Larry the Dr. Pepper Guy.
Beetlejuice is an Auburn fan. #MISSvsAUB pic.twitter.com/8tFZ2xbsYb

— Bowl Fiesta (@bowlfiesta) October 31, 2015
Sad coaches are sad.
Every auburn fan right now pic.twitter.com/6NtXzyu2iH

— Megan Fahrmeier (@MeganFahrmeier) October 31, 2015
You have to be sad if you don't see your team match the effort you put into your outfit for the game. You got to love the two mini Kentucky helmets.
https://twitter.com/PeeryNotPerry/status/660686514557427712
We had to show you this one. Fans were really showing some creativity on Halloween, including this fan at the Arkansas vs. Tennessee-Martin game who dressed up as a member of the Cobra Kai from Karate Kid. He isn't a sad fan but maybe an aggressive fan?