SEC
SDS Mailbag: Best SEC win total bets, regional fast food rankings and football season marriage advice
We might be less than 100 days away from SEC football, but the dog days of summer are almost upon us.
Several SEC teams are still alive in the NCAA Softball Tournament. The SEC Baseball Tournament wraps up this weekend and then the NCAA Tournament begins in that sport, too. Several SEC squads figure to be in the hunt for a spot in Omaha.
But, after baseball and softball wrap up, the long summer months will seem to drag on until Sept. 4 finally arrives. So, make sure to soak up all the baseball and softball you can over the coming weeks!
Now, let's dive into your questions for this week's Mailbag:
Joe:
SEC win totals have been released for the 2021 season. What's your favorite bet?
According to the folks at DraftKings, LSU's over/under is set at 8.5 wins. I like the Tigers to go over that total. You can get +100 odds if you bet the over, and that seems like good value to me.
I think they'll go 4-0 in nonconference play (against UCLA, McNeese, ULM and Central Michigan). I also think they'll beat Mississippi State, Auburn, Kentucky and Arkansas. That's 8 wins right there. Then, they only need to beat 1 of Florida, Alabama, Texas A&M and Ole Miss to reach 9 wins and hit the over.
Even though the game at Ole Miss is sandwiched between a home game against Florida and a road trip to Alabama, I think the Tigers have enough talent to beat the Rebels. They will have a strong quarterback in either Myles Brennan or Max Johnson, a superstar receiver in Kayshon Boutte and an experienced offensive line. That should be enough to light up the scoreboard against an Ole Miss defense that has trouble getting stops.
To me, the Tigers are a 9- or 10-win team this year. I also like the over on Florida at 9 wins (-139 odds). I think the Gators are a lock to at least push with 9 wins. From there, all it takes is 1 upset of Georgia, Alabama or LSU for that bet to pay out.
@SChinni12:
What marriage advice do you have for a newlywed to keep the peace during football season?
My best advice would be to write about sports for a living. I'm lucky that I get to watch college football all day on Saturday because I'm working throughout the day. But, don't worry — I also have some actual advice for you!
The important thing is to be prepared. Look at the schedule ahead of time. Know when your team plays and when the biggest games are. To keep your spouse happy, you will probably have to give up 1 window of football on Saturdays (and Pac-12 after dark doesn't count). There's the noon window, the mid-afternoon window and the primetime window.
Pick 2. That's all you get. During the other window, do something fun with your spouse. The cliche during the fall is apple picking. That sounds awful, though. Go to a wine tasting or something.
This way, you'll still get plenty of football viewing in and you'll keep your significant other happy. It's all about compromise, my friend!
Robert:
Out of the 4 regions (South, Midwest, Northeast and West), which has your favorite regional fast food? For example, I just ate at Bojangles. The South also has Krekel's, Zaxby's, Cookout, Whataburger and others. The Midwest has Portillo's, Steak 'n Shake and more. The West has In-N-Out and the Northeast has Dunkin Donuts and Wawa.
I've lived in all of these regions, and while I don't necessarily eat a ton of fast food, I do have some opinions, so buckle up!
In terms of diversity of options, the South is the place to go. All those delicious chicken places, burger joints and others make it the best in terms of having a lot of different styles of food to choose from.
The worst is the Northeast. Dunkin Donuts isn't good. There, I said it. Having lived in Philadelphia for a while, Wawa is delicious, but it isn't a typical fast food place.
Out West, In-N-Out burgers are divine, but their fries are severely overrated. Growing up in the Midwest, I am very partial to Steak 'n Shake, as I spent many late nights there with my friends between the ages of 16 and 18. Their fries are incredible and their milkshakes can't be beat.
I'd rank those 4 regions like this:
South
Midwest
West
Northeast
That is the right answer, and I won't be accepting any arguments at this time.
@Dobbe8:
Why does Piggly Wiggly need to list "butt wipes" on their aisle sign?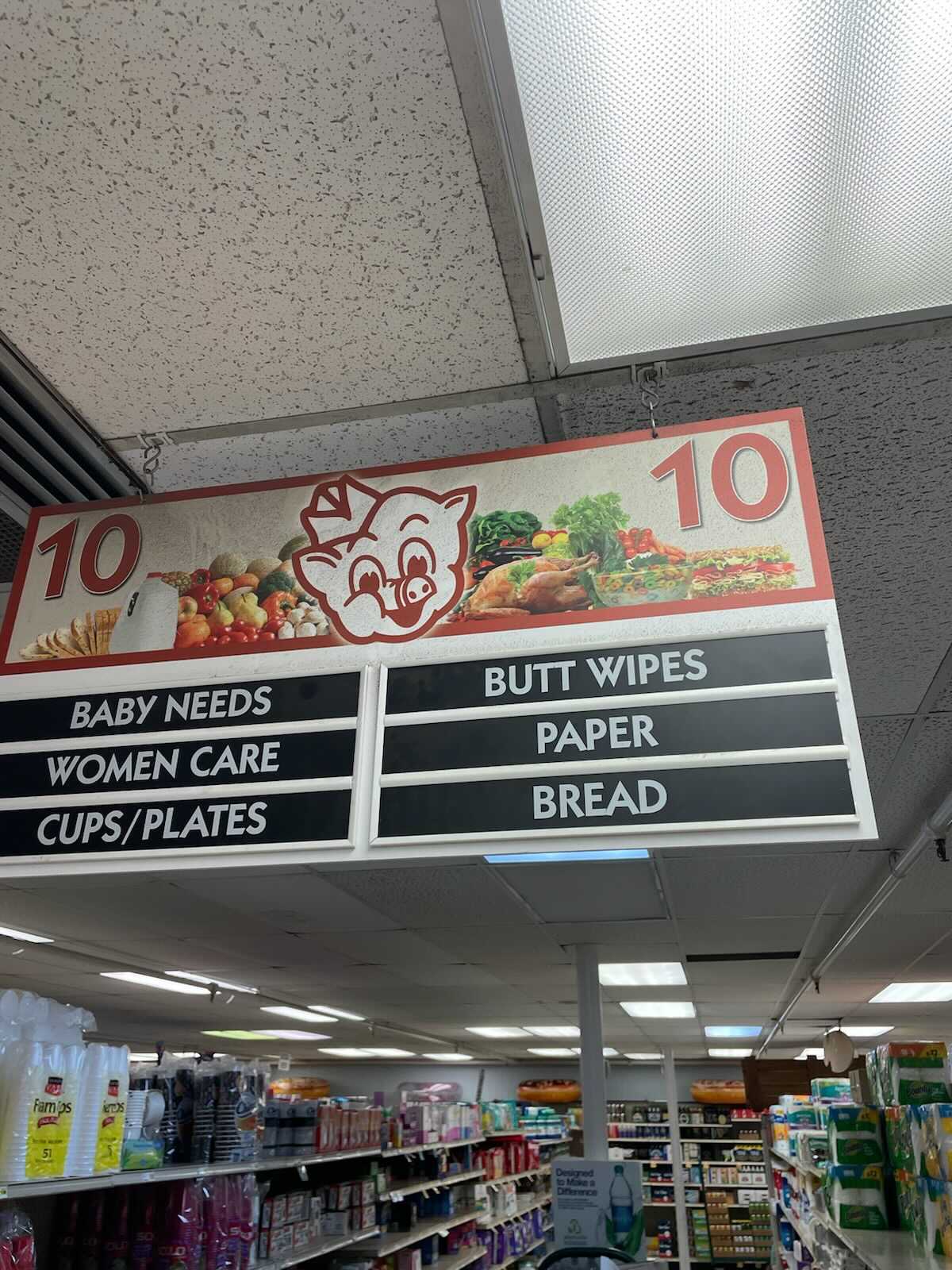 That is hilarious. I have 2 possible explanations. The first is that the employees simply find it funny. There's really no need to specify "butt" in the wipes listing. They could simply put "wipes." But (butt), I bet the person in charge of the signs found it funny.
Another possible explanation was that employees were getting asked where the wipes were so often that they felt the need to advertise it more clearly. Maybe that's a product that particular Piggly Wiggly is selling a lot of? Also, it seems weird to have it share an aisle with bread. Maybe that's just me.
Either way, this is just one of many reasons why Piggly Wiggly is the best. No confusion when you're trying to find the wipes there!
Have a question for next week's Mailbag? Tweet at us using #SDSMailbag or email me at ASpencer@SaturdayDownSouth.com.