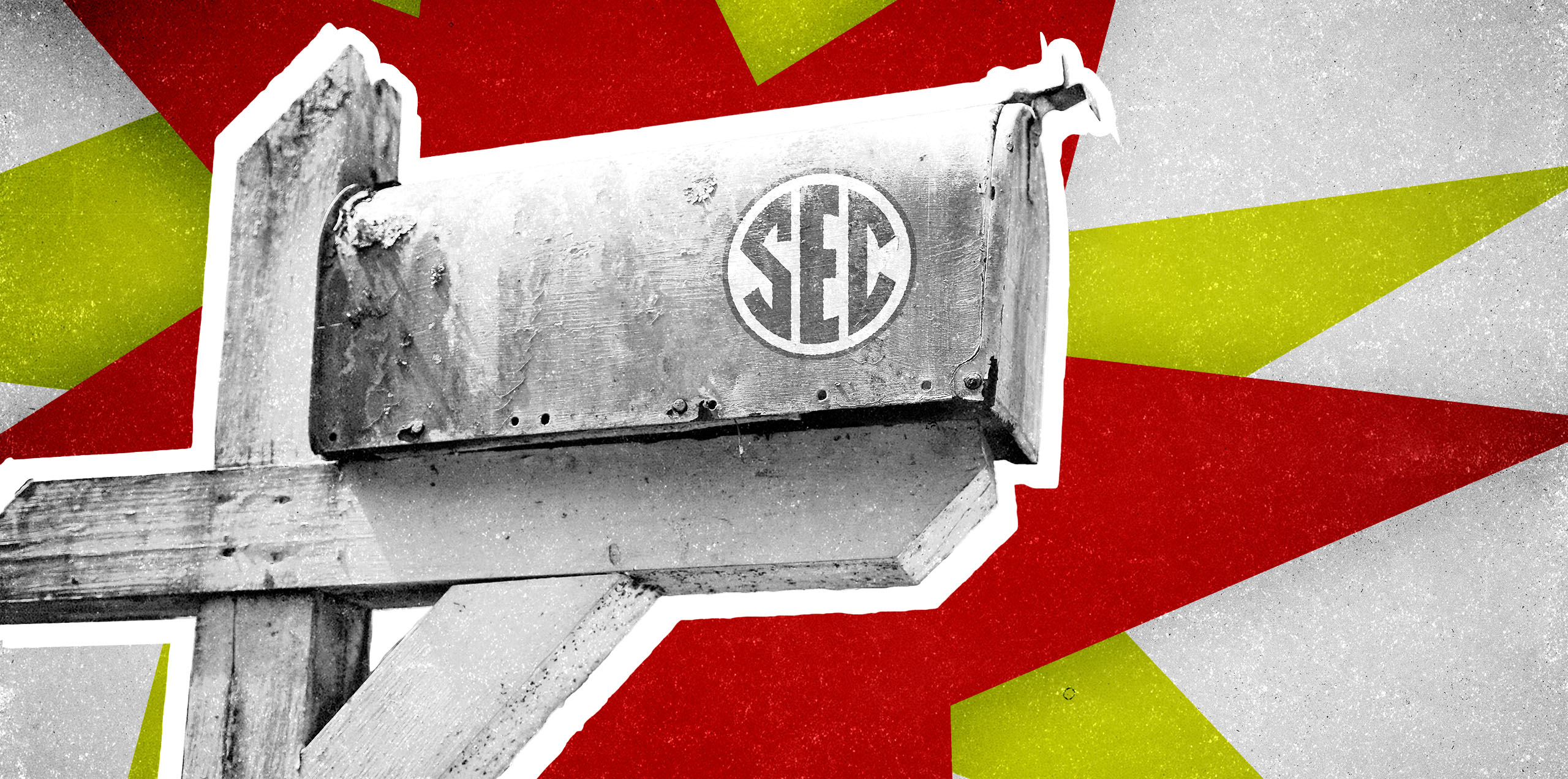 SEC
SDS Mailbag: SEC Hard Knocks, regional nonconference rivals for SEC teams and All-Star Game rankings
We're less than 50 days away from Week 1 of the college football season, y'all! There's football next month (with Week 0), then our fall schedules are absolutely loaded with great games every weekend!
This week is always a rough one on the sports calendar, as the MLB All-Star Game means no big-time U.S. pro sports leagues play on Monday, Wednesday or Thursday.
Watching NBA Summer League games and watching the U.S. lose in the Gold Cup semifinals thanks to truly baffling roster selection just isn't cutting it for me.
Bring on more baseball and let's keep marching toward Week 1!
Now, let's dive into your questions for this week's Mailbag:
Shane:
If there was an SEC version of "Hard Knocks," which school would be the best option for the 2023 season?
If you apply the relevant rules from the NFL to be chosen for "Hard Knocks" (no teams with first-year head coaches, no teams that have made the playoffs within the past 2 seasons), it narrows down the field a bit.
I'll include SEC Championship Game appearances as "playoffs," so that eliminates Georgia, LSU and Alabama from contention. The "no first-year head coaches" stipulation eliminates Mississippi State and Auburn.
While I'm a huge Lane Kiffin fan and would love to see him on the show, there's only 1 answer to this question, and that's Texas A&M.
Give me Jimbo Fisher. Give me a bunch of deep-pocketed Texas oilmen. Give me the drama surrounding a team that finished a very disappointing 5-7 last year. Conner Weigman, Evan Stewart, Ainias Smith and others give the Aggies plenty of star power on the field.
I'd watch every episode of "SEC Hard Knocks: College Station," and I bet y'all would, too.
Robert:
I've always thought it was unfair that Georgia, South Carolina, Kentucky and Florida play a nonconference Power 5 rivalry game every year, leaving only 3 open spots for nonconference games. If you're the AD for each remaining SEC school, who do you schedule for an annual nonconference rivalry? The only rules are: it has to be a Power 5 opponent and it needs to be regional, so no cross-country games.
I wouldn't label it as "unfair" for those 4 schools mentioned above, as there are other SEC schools that do play Power 5 opponents every year, but I see your point.
So if each of the other schools had to have a Power 5 nonconference regional rival, here's what I'd go with (note: I'm not including Texas and Oklahoma as potential opponents for Texas A&M/Arkansas, as they'll be in the SEC soon enough):
Alabama: Miami – It's not necessarily "regional," but it's a program with a lot of history that is located somewhat closer to Tuscaloosa than any other available team (especially with Clemson playing South Carolina and Florida State playing Florida already).
Arkansas: Oklahoma State – With Oklahoma off the board, we go with another former rival for the Hogs. Mike Gundy vs. Sam Pittman would definitely be one of the more interesting head coach matchups of the year.
Auburn: UCF – With Florida off the board, UCF draws Auburn. Gus Malzahn against his former school. Who wouldn't watch that?
LSU: Baylor – Dave Aranda goes against his former program every year. Baylor is a solid Big 12 program. LSU is a strong SEC school. This could be one of the better games of the bunch on an annual basis.
Mississippi State: Texas Tech – Call it the Mike Leach Bowl. No running plays allowed. If neither team scores at least 40 points, both are assessed a loss.
Mizzou: Kansas – The biggest no-brainer on the list. I'm glad this rivalry is back on the schedule in the coming years.
Ole Miss: Virginia – If Memphis would hurry up and join a Power 5 conference, that'd be great for the Rebels. Until then, we'll give Ole Miss another well-dressed fan base to go up against. Ole Miss students can teach UVa folks a thing or 2 about tailgating, though.
Tennessee: Virginia Tech – It makes sense geographically and would just be a fun game to have on the schedule every year.
Texas A&M: Houston – With the Cougars joining the Big 12 this fall, they're ready for a step up in competition. A rivalry with the nearby Aggies would be a fun yearly matchup.
Vanderbilt: Northwestern – I don't know how "regional" this is, but it's a matchup that should absolutely happen every year.
These would all be pretty interesting games, if you ask me (which Robert did). It'll be worth keeping an eye on how nonconference scheduling in the SEC changes moving forward.
Tommy:
Predict how many games Texas will win this fall. Are the Longhorns really "back?"
Let's start with nonconference. I have the Longhorns beating Rice and Wyoming and losing to Alabama. So that's a 2-1 start. In Big 12 play, I'll break it down week-by-week below:
Week 4 at Baylor – L
Week 5 vs. Kansas – W
Week 6 vs. Oklahoma (in Dallas) – W
OFF WEEK
Week 8 at Houston – W
Week 9 vs. BYU – W
Week 10 vs. Kansas State – L
Week 11 at TCU – W
Week 12 at Iowa State – W
Week 13 vs. Texas Tech – W
That's a 9-3 overall record and a 7-2 mark in Big 12 play. Does that qualify as "back?" I'm not sure. I'm not even sure if it'll be enough to get the Longhorns into the Big 12 Championship Game.
Still, that would signal a marked improvement from recent years. Is Texas on the right path? Sure. Is it "back?" Not yet.
@Dobbe8:
Rank the pro sports All-Star Games. Is the MLB All-Star Game the best of the bunch?
Yikes.
There certainly isn't much competition for the title of "best All-Star Game" in pro sports, is there? They're all pretty bad in their own way. I'd have to agree with you, though – the MLB version is the best.
The Home Run Derby is still somewhat entertaining, I guess, and the MLB All-Star Game is at least the closest to how the real game is actually played.
The NBA All-Star Game features even less defense than is normally played in the NBA. The Pro Bowl is an absolute disaster. The NHL All-Star Game at least gets credit for being innovative, even if it's not a huge draw in terms of viewers.
I'll rank them like this:
MLB
NHL
NBA
Staring at a blank TV for 4 hours
Pro Bowl
It might be time to do away with All-Star Games altogether.
Have a question for next week's Mailbag? Tweet at us using #SDSMailbag or email me at Adam.Spencer@XLMedia.com.