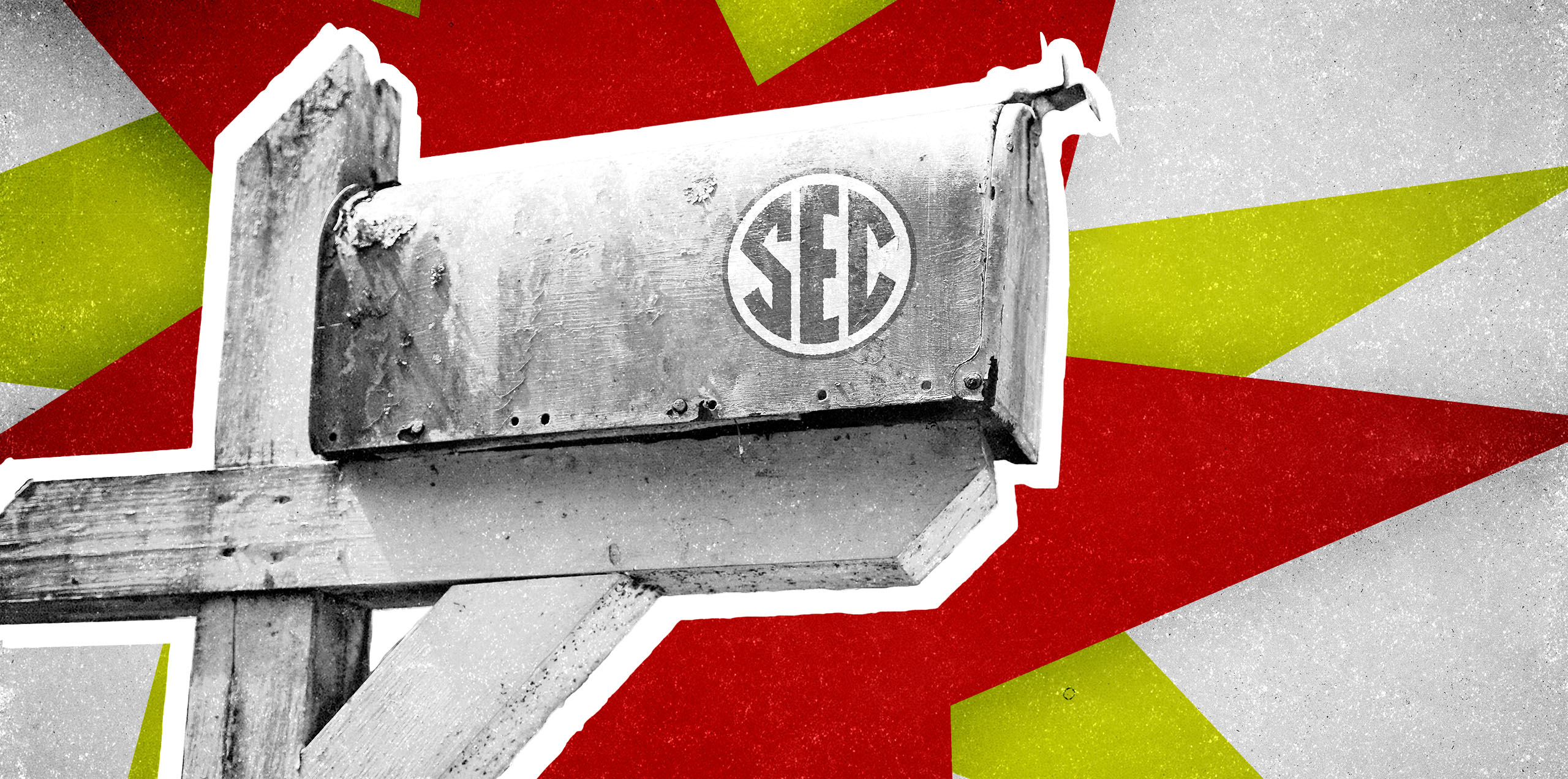 SEC
SDS Mailbag: Snapping streaks against Alabama, Arch Manning prediction and Texas A&M's future outlook
The super-regional round of the NCAA Baseball Tournament starts today! Five SEC teams are still alive among the 16 squads competing for spots in Omaha.
There should be some packed stadiums all across the country, from Auburn-Oregon State in Corvallis to Arkansas-North Carolina in Chapel Hill and everywhere in between.
I'm still riding with the Tennessee Volunteers to win it all and think they make quick work of Notre Dame in Knoxville this weekend.
Whatever happens, this weekend's slate of games should be intense! Now, let's dive into your questions for this week's Mailbag:
Jason:
What's your prediction for where Arch Manning will end up?
I'll say both where I think he'll end up and where I wish he'd end up. We'll start with the wish. I would love it if he committed to Ole Miss. Archie and Eli both played there, obviously, and I think he'd be an awesome fit in a Lane Kiffin offense.
However, most experts think it's a 3-school race at the moment, with Texas, Alabama and Georgia all in the mix for his commitment.
So, I'm going to predict Georgia. I don't think Manning will want to potentially wait 2 years for the Longhorns to join the SEC. That period of transition for Texas is going to hurt it in the race for Arch.
Georgia is fresh off its first title since 1980. The Bulldogs recruit at an elite level. Yes, Alabama wins a ton of titles and recruits well, too, but Arch could really become a legend at Georgia, in my opinion.
However, I wouldn't be surprised to see any of those 3 teams land Arch's commitment for 2023 and beyond.
Garrett:
Can Texas A&M take the next step and move forward into the upper echelon of the SEC this year? Can we win the games we are supposed to and knock off Alabama to win the SEC West? Clemson during Dabo Swinney's early years comes to mind when looking at the way our program is trending. It took Dabo 4 seasons to start winning 10 games consistently and 8 years to win a national championship at Clemson. Can A&M overcome their history of mediocrity and finally compete for championships?
Well, they've already shown they can beat Alabama! I think the Tide will win this year's rematch in Tuscaloosa, but at least the Aggies know they can compete with the best of the best.
As for competing for an SEC title, I don't think that'll happen this year or next year, but I do think they'll be ready to take that next step by 2024. I am on the record with a way-too-early prediction (even by normal way-too-early prediction standards) that Texas A&M will win the 2024 national championship.
But, that means Aggie fans have to be patient. Let this historic 2022 recruiting class come together. Let 5-star QB Conner Weigman develop. Then, by 2024 (which, like Swinney at Clemson, would be Jimbo Fisher's 8th year with the Aggies), they'll be ready to win it all.
I do think that this fall, though, the Aggies need to win 10 games. The schedule is there for it to happen. Another 8-4 regular season would have Aggie fans (understandably) feeling pretty upset.
John:
Neither Tennessee nor Arkansas have beaten Alabama since 2006 (the year before Nick Saban took over in Tuscaloosa). Which team will be the first to snap that lengthy losing streak?
Good question. I don't think either will this year, because I believe Alabama will go 15-0 and win the national title this season.
Both the Hogs and Vols play the Tide every year, too, so the opportunities should be equal. And they're both programs on the rise – Arkansas under Sam Pittman, Tennessee under Josh Heupel.
I do worry about what will happen if the scheduling model changes, though. For example, if the SEC goes to 3 permanent rivals and 6 rotating league games per year (which I think is the best model), there's no chance Arkansas keeps its yearly game with the Tide (big sigh of relief from Fayetteville there).
But, the Vols would likely remain one of Alabama's permanent rivals, so for that reason, I'll say they snap their losing streak against the Crimson Tide first. I still don't expect it to happen for at least 2-3 more years at the earliest, though!
@Dobbe8:
Quinn Ewers is driving an Aston-Martin. Bryce Young has a BMW. CJ Stroud has a G Wagon. What fancy car would you want to drive if you were a star QB with unlimited NIL potential?
Well, I'd really like a Toyota Tacoma for my next truck. Black or gray. But, that seems like a pretty attainable goal, even without an NIL deal. So, let's dream bigger. I also would love a classic Jeep Wrangler, but again, that is way more affordable than any of the cars mentioned above.
I'll go with a G Wagon, too. My wife has that atop her list of dream cars, so I'll be a good husband and get a black Mercedes-Benz G-Class with my hypothetical NIL money. I'd want it customized with a great sound system and LED lights.
Plus, since I'm a quarterback in this scenario, the G Wagon is big enough to bring a few receivers or linemen with me to practice or out to dinner. Win-win situation!
I wouldn't mind driving an Aston Martin for a couple of weeks, though. I could live the James Bond lifestyle for a while.
Have a question for next week's Mailbag? Tweet at us using #SDSMailbag or email me at ASpencer@SaturdayDownSouth.com.