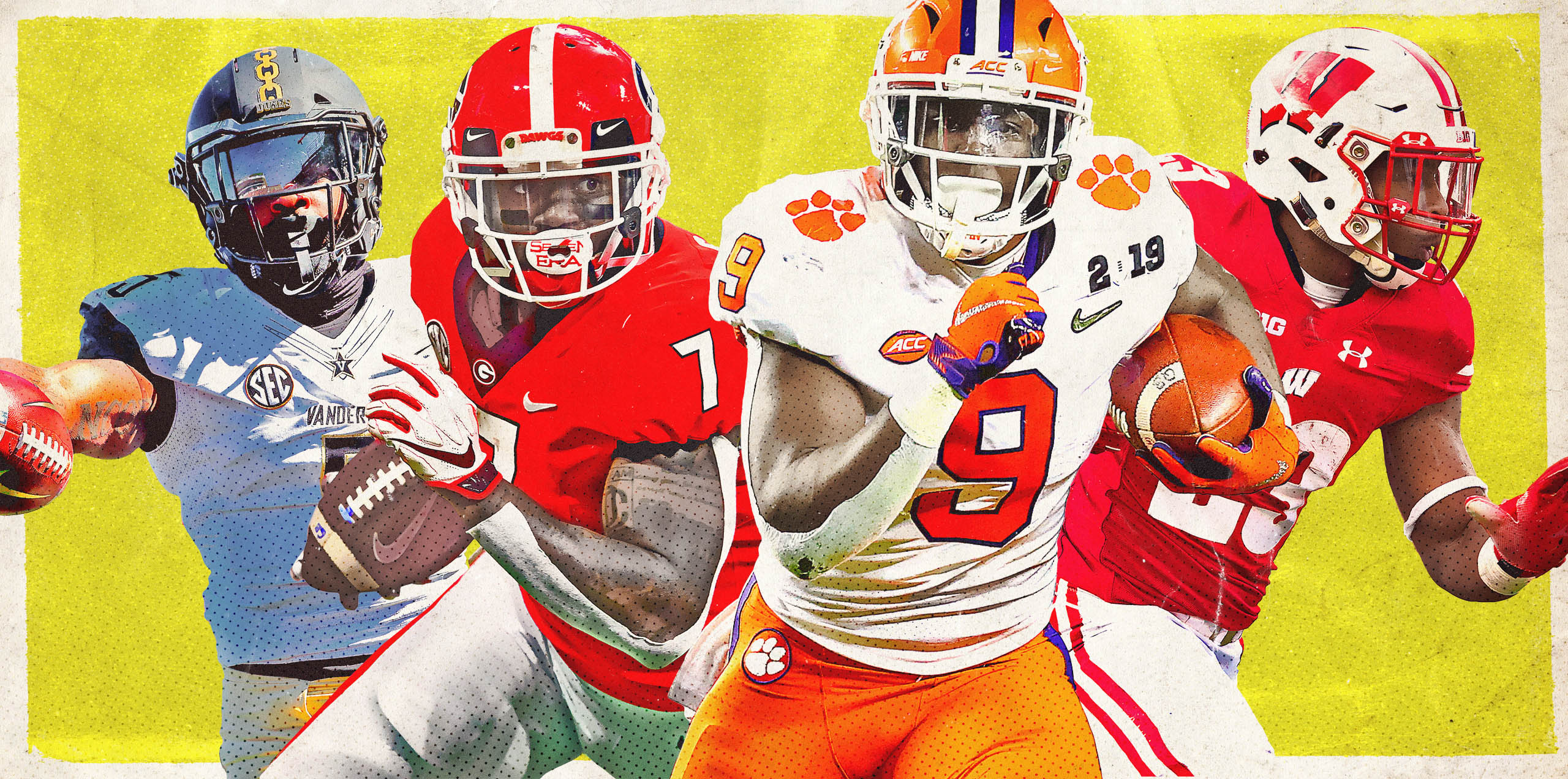 SEC
The SDS Top 25: Ranking the nation's best running backs for 2019
Editor's note: SDS Top 25 Week continues with a look at the nation's best running backs. Later Thursday: The 25 best defensive players in the SEC.
What a beautiful time of year it is.
It's that time of year when I get to roll out rankings that you completely agree with and tell me how smart I am.
Right?
OK, maybe it's not that time of year. Maybe it's the time of year when I roll out rankings that you have serious, heated internet comments about. Maybe it's the time of year when you share a story like this but quote-tweet it with some snarky dig at my inability to rank properly.
Or maybe it's the time of year when we can discuss these things in a healthy, constructive way that doesn't question anyone's integrity.
Wishful thinking? Probably.
Anyway, here are my Top 25 running backs in the nation for 2019:
25. Trey Sanders, Alabama
Why not start with the guy who has played in as many college games as I have? But don't tell that to the 5-star true freshman, who already predicted a Heisman Trophy for himself in 2019. I have no problem with the confidence, and I'm especially high on a guy who has such limited wear and tear after spending his past 3 years in a crowded backfield at IMG. Even with Najee Harris expected to do big things — I'll get to him later — I like Sanders' chances of getting plenty of work in 2019. Just maybe not a Heisman.
24. John Emery Jr., LSU
The 5-star tailback in the SEC who has an even better path to play is Emery, who would love nothing more than to take the work that Nick Brossette got in 2019. Granted, that's not a given in a backfield that saw Clyde Edwards-Helaire get double-digit carries in 8 games last year. But in this new RPO-based system with Joe Brady, I like the odds of Emery carving out a major role in this offense from the jump.
23. Reggie Corbin, Illinois
Corbin might not make a lot of these types of lists because he's a senior and he's had a relatively inconsistent career. One could chalk that up to the revolving door of coordinators, quarterbacks and Illinois trailing a ton. But quietly, he had 8.5 yards per carry in a 1,000-yard season. One has to think an offense with such limited playmakers will turn to a guy like Corbin more than it did in 2018.
Reggie Corbin just SHREDDED Penn State's defense. #Illini pic.twitter.com/XVOxNAf5hx

— Dustin Schutte (@SchutteCFB) September 22, 2018
22. Ricky Slade, Penn State
The raw numbers from his freshman year won't blow you away (45 carries, 257 yards), but this is about great talent meeting great opportunity. Slade has both things in his sophomore season in Happy Valley. No longer will he share a backfield with 2nd-round pick Miles Sanders. Instead, Slade will be a major focal point of a Penn State offense that'll have a first-year starting quarterback. The home-run play ability is there, which means much like Saquon Barkley a couple years ago, he won't need much to take over a game.
21. Pooka Williams, Kansas
So I debated not having Williams on here because of his domestic battery case. As we found out this week, Les Miles suspended him for one game. On the field, though, we're talking about someone who eclipsed 1,000 yards on 7 yards per carry as a true freshman. He's also a talented pass-catching weapon out of the backfield (33 catches in 2018) for a team that lacks firepower. Williams might be small, but as long as he's on the field, he'll be at the top of every scouting report.
20. Anthony McFarland, Maryland
Remember when you were on the edge of your seat wondering if Ohio State was going to lose to Maryland? The dude scoring all the touchdowns was McFarland. That day, McFarland nearly hit 3 bills, which gave him over 500 rushing yards in a 2-week stretch. That ability is there, and the opportunity for more touches (131 last year) will be as well with Ty Johnson off to the NFL. McFarland might not be built like a 3-down Big Ten back, but he'll be all sorts of productive again after a 1,000-yard season as a freshman last year.
19. Lamical Perine, Florida
I know Florida fans aren't going to like Perine only being at No. 19 because there are plenty who believe he has All-American upside. I'm not disputing that, nor am I disputing the belief that he'll get featured back work, which has been extremely rare at Florida in recent memory. Perine has all the tools needed to be that guy. He runs through arm tackles, he blocks extremely well and he can catch passes. What's the only thing holding me back? The production has been good, not great so far. Maybe a Jordan Scarlett-less backfield will change that.
18. Kylin Hill, Mississippi State
If there's a hill that I'm going to die on this year, it's that Kylin Hill is going to be fantastic if he can stay healthy. When he was right last year, he was fun to watch in Joe Moorhead's system. We saw flashes of his ability against Kansas State and Auburn, and the run he had while not at 100% against Alabama was next-level stuff. It's the versatility that stands out with Hill. He's an inside-outside back with great downhill speed and ability to make plays in the passing game.
Mississippi State has a versatile weapon out of the backfield in Kylin Hill. pic.twitter.com/IMNL5od6RT

— PFF College (@PFF_College) June 4, 2019
Last year marked the first time in 6 seasons that Moorhead's featured back didn't reach at least 268 touches and 1,738 yards from scrimmage. I think Hill gets closer to that mark in 2019.
17. Salvon Ahmed, Washington
Don't blink or you might miss the Washington tailback. I feel like I've been saying that about Myles Gaskin the past 10 years, but now, it's finally Ahmed's chance to be that guy. Based on what we saw in a limited sample size, he's plenty capable. He might not be a 250-carry back like Gaskin, but he won't have to be in order to become an All-Pac-12 guy. Ahmed will add plenty in the passing game and hit on enough home run plays to make him a fast friend of Jacob Eason.
16. Spencer Brown, UAB
How many returning backs have rushed for at least 1,200 yards and scored double-digit touchdowns each of the past 2 seasons? Wisconsin's Jonathan Taylor was one (more on him later), and Brown was the other. Brown was a steady, productive bell-cow back for the 11-win Blazers. The workload is certainly there. Rare it is to see a returning back with a pair of 250-carry seasons under his belt. Nobody would be surprised to see the 220-pound back rack up the work again in 2019.
15. Jermar Jefferson, Oregon State
I love what we saw from Jefferson as a freshman. With Artavis Pierce injured, Jefferson ran away with the bulk of the carries. A 1,300-yard, 12-touchdown season is no joke, much less for a freshman. So why am I not even higher on Jefferson? Well, he'll be back to more of a split backfield. Pierce is healthy and B.J. Baylor has had a really strong spring, which suggests that Jefferson's 239 carries could diminish a bit. But the guy has already shown that he's more of capable of being an exceptional Power 5 back.
14. Greg McCrae, UCF
He's small, but don't underestimate the junior tailback's potential. With all eyes on McKenzie Milton last year, McCrae racked up an impressive sophomore season with 1,182 yards and 10 touchdowns on just 133 carries. After starting off as a change-of-pace back,McCrae flipped the switch in the second half of 2018. He had 804 rushing yards and 8 touchdowns in UCF's final 6 games. He averaged 8.1 yards per carry and scored a TD against LSU. With Milton not expected to return for the start of 2019 and possibly longer, McCrae is the new focal point of the offense.
13. Michael Warren II, Cincinnati
I might not be high enough on Warren, who ranks 2nd among returning backs in 2018 rushing scores (19), and 6th in rushing yards (1,389). His vision is exceptional, which we got plenty of reminders of during his breakout season. And while the AAC had an incredibly bad year defensively, what Warren did in bookend games against Power 5 teams was impressive (combined for 55 carries, 308 rushing yards and 5 scores against UCLA and Virginia Tech). If there's a Group of 5 running back who could sneak into the Heisman conversation, it's Warren.
12. Cam Akers, Florida State
Man, I'd be so much higher on Akers if I knew he had an offensive line in front of him. The balance, the power, the burst … it's all there. The guy who had a 1,000-yard season as a true freshman didn't progress the way many thought he would in 2018, and I'd argue the subpar offensive line play was definitely a factor.
So what makes me think he can be better in 2019? A couple of things. One of which being that FSU was 7th worst among Power 5 teams in penalty yards per game, which makes it tough for a running back to even get opportunities. I expect that to improve. Akers also appears to be past the nagging ankle injury that hobbled him throughout 2018. That combination — plus FSU even just being slightly better than the offensive disaster that was 2018 — should bode well for a bounce-back season.
11. CJ Verdell, Oregon
Part of the reason there's optimism that Oregon will win the Pac-12 is, in addition to having an exceptionally talented quarterback in Justin Herbert, the Ducks have a proven complement in the backfield with Verdell. In his first season of action, he eclipsed 1,000 yards and hit double-digit scores. He also caught 27 passes and was a key part of Oregon's 3-game winning streak to end the season. The walk-off winner he had earlier in the year against Washington was a pretty cool moment for the freshman:
"CJ VERDELL WINS IT FOR OREGON!" pic.twitter.com/kkFlDprBiA

— SportsCenter (@SportsCenter) October 13, 2018
I like the odds of Mario Cristobal finding ways to use Verdell's burst out of the backfield with so much attention on Herbert. A sophomore slump seems unlikely.
10. J.J. Taylor, Arizona
Want a weird stat? Among the top 50 leaders in rushing yards in 2018, all but 1 had at least 7 rushing touchdowns. Who was that one, you ask? Taylor, oddly enough. Want another stat? OK, what about how Taylor was 7th in FBS in rushing last year and only 3 of the 6 backs who ranked ahead of him will be back in 2019. Now he has new running backs coach DeMarco Murray in his corner. Taylor is devastating, shifty and just a nightmare to deal with in space. Good luck to anyone who has to do that.
9. Najee Harris, Alabama
I loved that Harris was unhappy with his role after the national championship. To me, that shows why he's hungry. And fortunately for him, Josh Jacobs and Damien Harris leaving means he'll get fed more than ever. The guy who only had 3 games with double-digit carries last year is in line for a significant workload increase, even with the arrival of the aforementioned Trey Sanders. Harris will finally be the top dog in that backfield, which means we'll get to see more than flashes from the former 5-star recruit.
Will he get a Derrick Henry-like workload? I'd highly doubt it, but I tend to think Harris will be the first Alabama back since Henry to get 200 carries because he'll have running lanes galore with all the attention on Tua Tagovailoa and those Alabama receivers.
8. J.K. Dobbins, Ohio State
Man, I was ready for Dobbins to explode last year. After watching how much fun he was in space, I was ready for the 1,500-yard, 20-touchdown season. Instead, he had a somewhat disappointing year sharing the workload with Mike Weber in Ryan Day's offense. Dobbins actually got more work, but the overall production was down 350 yards (7.2 yards per carry as a freshman, 4.6 as a sophomore).
With Weber off to the the NFL, Dobbins should be on the field more, which will help his production even if his 230 carries doesn't see a significant jump. The Ohio State junior might not be getting the preseason Heisman love that he did last year, but he's a good candidate to work his way into that conversation if he returns to the guy who came out blazing as a true freshman.
J.K. Dobbins first 3 games:

55 carries
425 yards (7.7 AVG)
3 TD's pic.twitter.com/uPFRSq7hVc

— Buckeye Videos+ (@BuckeyeVideos) September 18, 2017
7. AJ Dillon, Boston College
The ultimate throwback on this list, the bruising Dillon was in the Heisman Trophy conversation last year until a nagging ankle injury sidelined him for a month in the middle of the season. He still hit solid 10-game numbers (1,108 yards, 10 touchdowns), and is likely to rack up another season of 1,000 yards and 10-plus scores. The only thing preventing me from putting the punishing back even higher on this list is the lack of involvement in the passing game. Boston College is pretty one-dimensional when Dillion is on the field. Don't get me wrong, it's a solid dimension, but there are more versatile, efficient backs in the country.
6. Ke'Shawn Vaughn, Vanderbilt
I love me some Red Mamba. And in my defense, I loved him before it was cool. I'm talking back when I first met him at 2016 Big Ten Media Days, where he was the only sophomore in the room. In his first year of action in Nashville, the former Illinois transfer was better than Derek Mason could have ever imagined. Inside/outside, short yardage/home run plays … you name it, Vaughn did it. It's not every day you see a back rip off 7.9 yards per carry in the SEC. Vandy didn't even realize how good Vaughn was until the middle of the season.
He essentially missed 2 games (went down vs. Florida and Tennessee and missed the entire Kentucky game), but had 724 rushing yards and 7 touchdowns in his final 4 healthy showings, including that absurd 243-yard effort in the Texas Bowl. Vaughn has a new coordinator and offensive coordinator around him, but there's no reason why he can't lead the SEC in rushing.
5. Eno Benjamin, Arizona State
So remember at this time last year when we were all bracing for a Herm Edwards disaster in Tempe? We probably should have remembered that Benjamin was a breakout star waiting to happen. He just needed the opportunity. That's exactly what he got last year for the surprising Sun Devils with 300 carries (!), 1,642 yards and 16 scores. He added another 35 catches in the passing game, too, which was a testament to how much trust he earned with the new coaching staff. He's everything you'd want in a lead back — shifty, durable and just a nightmare to bring down.
In what looks like a really strong year for tailbacks in the Pac-12, Benjamin stands above the rest.
https://twitter.com/Pac12Network/status/1058816843756920832
4. Kennedy Brooks, Oklahoma
Sure, Heisman winners are cool and all, but the Sooners aren't as powerful of an offensive juggernaut without Brooks. The redshirt sophomore was a revelation last year in Lincoln Riley's offense. Brooks averaged 8.9 yards per carry while racking up 1,056 yards and 12 touchdowns even though he shared the backfield with Trey Sermon. Add in T.J. Pledger and there definitely aren't many backfields in America with Oklahoma's depth.
But Brooks is the best of the bunch because of how smooth he is (Riley said he runs like "he's running in the park with his Labrador"). Everything just looks easier with him. With Jalen Hurts in town, I wouldn't expect Brooks' production to fall off, though he probably won't get 250 touches like other backs on this list.
3. D'Andre Swift, Georgia
If you're giving me one running back to watch on a given Saturday, it's Swift. Why? Anyone who watched him operate knows the answer, but in case you haven't seen the Georgia junior in action, let me give you a brief rundown. In the same way that Allen Iverson had a devastating crossover, Swift has been known to deliver a devastating jump cut or two:
D'Andre Swift from 20 yards out. Wow pic.twitter.com/N9ocudMssh

— Craig Sager II (@CraigSagerJr) November 3, 2018
If there's a more appropriately named player in the country than Swift, I haven't found it. Without Elijah Holyfield sharing the backfield, there's reason to belief that Swift will get upwards of 225 touches this year (watch out for those swing passes). Yes, I realize that big things are expected of Zamir White, as well as James Cook. But with White coming off his second major injury in the past couple years, I'd be surprised if his workload prevented meant that the efficient Swift (6.8 yards per carry, 1 TD per 17 touches) didn't have a monster junior year.
2. Jonathan Taylor, Wisconsin
Taylor only at No. 2? Am I crazy? I've watched a lot of Taylor the past couple years. In fact, I argued in the middle of his freshman season that he needed to be getting serious Heisman consideration. He's more than just another Wisconsin back. His vision and acceleration are special, which is why he had over 4,000 rushing yards in his first 2 seasons in Madison. Even if he leaves after this season — I expect he will — he'll go down as one of the best tailbacks in Big Ten history.
But the fumbles, man. The fumbles, the fumbles, the fumbles. The Doak Walker Award Winner lost 10 fumbles in his first 2 seasons. Ask any Wisconsin fan and they'll tell you that's the most frustrating thing about Taylor. If he can fix those ball-security issues, he's the clear top dog on this list.
1. Travis Etienne, Clemson
Is it cliché to have Clemson at No. 1 on a preseason list? Oh well. I don't care. Etienne is the back I'm starting my team with for a few obvious reasons. He doesn't shy from contact, he has breakaway speed and he has proven big-game experience. In Clemson's 3 postseason games last year, he racked up 351 rushing yards and and 6 total touchdowns on just 42 touches. I mean, that burst, though.
https://twitter.com/espn/status/1079165197825310720
When the Tigers needed to rely on him after Trevor Lawrence went down against Syracuse, Etienne had a career-high 203 rushing yards and 3 touchdowns. He might not be the load that A.J. Dillon or Najee Harris are, but Etienne is tougher to square up. That's why he scored in 23 of 28 career games. The 1-2 punch that he and Lawrence will form in 2019 has potential to be one of the best we've seen in college football in the 21st century. Etienne is plenty worthy of being dubbed the best back in America.