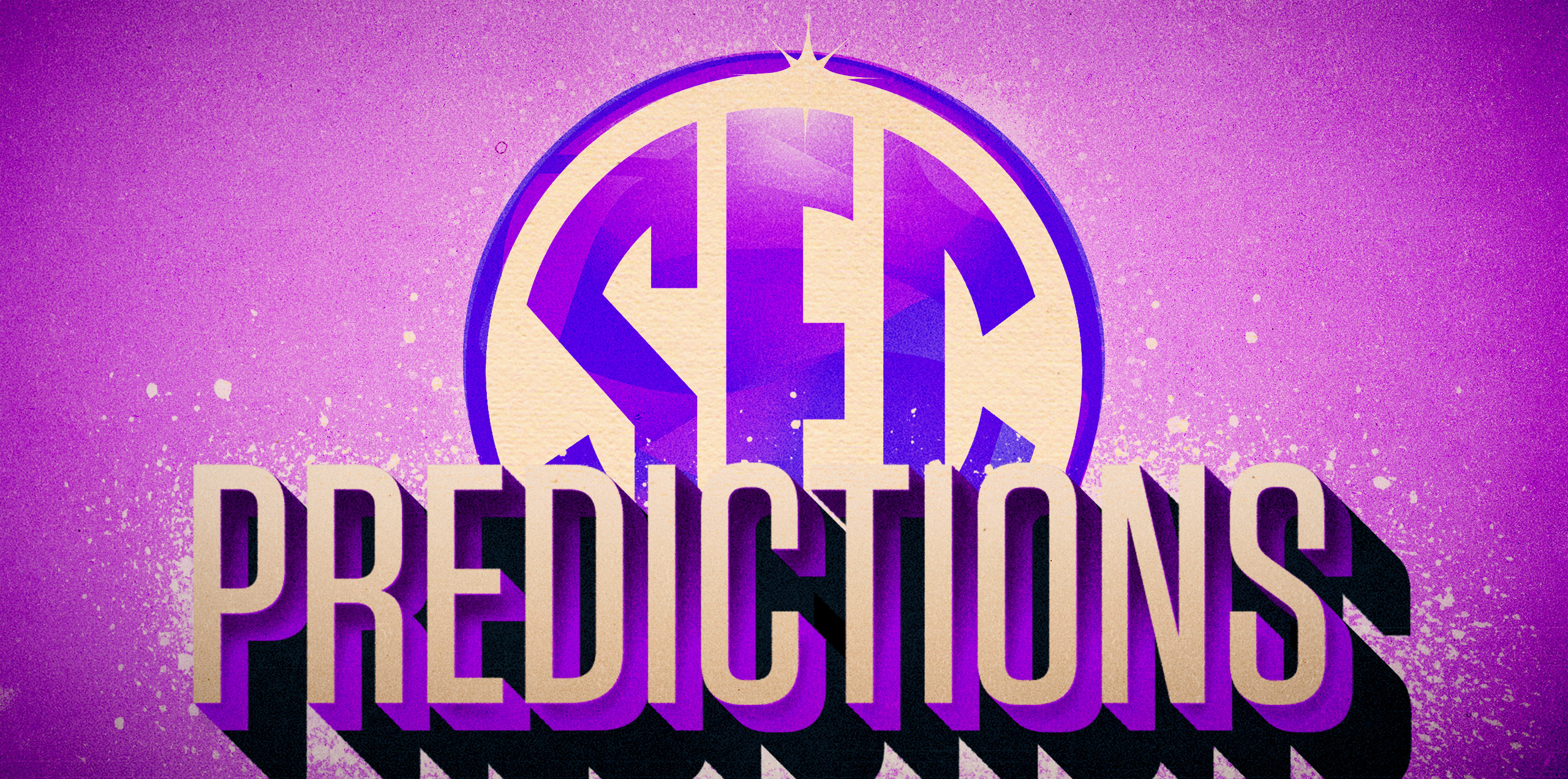 SEC
SEC Week 5 predictions (and bets)
It's that time again, time to make our predictions and bets for the upcoming weekend of action in the SEC.
Once again, this season it's news desk editor Michael Bratton (@MichaelWBratton) and SDS Podcast co-host Chris Marler (@CMarlerSDS) making the weekly SEC picks against the spread.
Michael had his fourth consecutive winning week to open the season during Week 4, bringing his season total to 22-12 against the spread. Chris didn't fare quite as well, but he's holding steady with a .500 record for the season with a 17-17 record.
Here's how the guys predict the Week 5 games in the SEC (minus the Vanderbilt-Tennessee State contest):
South Carolina at Kentucky (-2)
Michael: This line has swung all the back around to Kentucky after opening with South Carolina as a slight favorite but the damage had already been done. How so? Despite what some may think of Kentucky as a football program due to its historically low position on the SEC totem pole, this Wildcat team is for real. They have physically dominated in both league games played this year and are playing with a serious chip on their shoulder. Any euphoria that may have been experienced after whipping Mississippi State up and down the field in the second half of last weekend's game likely disappeared the moment the Wildcats found out they would be an underdog at home to a team they have beaten four games in a row. South Carolina looked good last week coming off an unexpected bye but the Gamecocks won't have that advantage heading into this game.
Kentucky 27 South Carolina 24
Chris: Remember like 20 years ago when you thought we'd have flying cars in 2018. And, instead, we have Bird Scooters and Carolina-Kentucky as the SEC Game of the Week. What a time to be alive y'all! Anyway, each week Kentucky proves why no one should keep sleeping on them. And, each week the media and Vegas sportsbooks hit the snooze button.
I've bet against Kentucky twice this year, and don't feel confident either way on this game. But, the best win on Carolina's resume is against Vandy (with an extra week off). It's gonna be hard to get up emotionally for a 3rd big game in the month of September, but if you think I'm betting against Benny and a dude named Kash then you're out of your mind. Oh, and the under is once again the play here.
Kentucky 24 South Carolina 20
Tennessee at Georgia (-31.5)
Michael: This is one of my favorite bets this week. Everyone is piling on Tennessee following the humiliating loss at home to Florida, so naturally, the huge line is justified by public perception but the Vols aren't likely to turn the ball over six times in a single game for the rest of the season. I have all the respect in the world for Georgia but the Bulldogs are banged up right now and were out-physicalled last week against Missouri. Missouri! I've been spot on picking against the Vols in the biggest games of the year (picked West Virginia to hammer the Vols and Florida to win by double digits last week) and I'm just as confident picking Tennessee to cover this enormous spread — provided that Jarrett Guarantano plays in this game (Jeremy Pruitt has said all week that he will).
Georgia 35 Tennessee 17
Chris: Remember that scene from Happy Gilmore when Shooter McGavin invited Happy to meet up with the guys at "the 9th Green at 9?" So Happy got all dressed up and excited and even showed up early. Then at 9 O'Clock, no one came and the sprinklers turned on. That's exactly what it was like watching the UT team and fans last week against Florida. There was so much anticipation and excitement all week. Not to mention that awesome hype video. Then kickoff happened and the embarrassment and letdown ensued.
Also, in keeping with the movie theme, watching Tennessee try to not turn the ball over and function as an offense was like watching Bambi try to walk on ice. That being said Tennessee is not as bad of a team as they looked last week, and I can't see another 6 turnover game happening. UGA will win, but I think the Vols get a "Bless Your Heart" backdoor cover late in the 4th.
Georgia 41 Tennessee 13
Southern Miss at Auburn (-27)
Michael: I like this line much better at opening (Auburn at -29.5) but I'll still roll with the Eagles in this one. Auburn's top 10 ranking isn't justified at this point, the Tigers aren't playing great football at the moment and could have been in a real fight against Arkansas last week if the Razorbacks had any clue on special teams. Auburn's offensive line remains a huge question mark and Jarrett Stidham simply hasn't been the same quarterback since he was hurt late last season. Just under four touchdowns is too many points to lay on Auburn the way they are playing.
Auburn 31 Southern Miss 13
Chris: I can only assume that Auburn looked miserable last weekend because they were still upset over the LSU loss or even more upset that they had to pretend to care about Arkansas. Statistically, Southern Miss looks great. They actually average over 100 yards more per game in total offense and about 50 yards less per game in total defense than Auburn. However, they throw the ball an average of 37 times a game which is a recipe for disaster with that Auburn D-Line and their ability to get to the Quarter back. I'm not sure what number will be higher for Auburn: the margin of victory or the number of players who'll announce a transfer. I'd guess it's probably around 4 for both.
Auburn 41 Southern Miss 10
Lafayette at Alabama (-48.5)
Michael: They can't seem to make lines high enough for Alabama games these days. Nearly a 50 point spread is insane but how can you pick against a team that seems to score at will against a program that has already been destroyed by one SEC team (56-10 at Mississippi State)? The only game Alabama has yet to cover at this point is the Texas A&M game. I typically don't recommend taking this many points but I'm going to do so myself this time.
Alabama 63 Lafayette 10
Chris: Gross. Louisiana is coming off a loss at home to Coastal Carolina, and earlier this year they lost 56-10 to Mississippi St. The glutton for punishment continues this weekend as they have to face Tua and the high powered Alabama Offense. They'll be doing so with a defense that ranks 106th in scoring and 116th in yards per play nationally. How in the hell does that even happen when 2 of their games were against Grambling and Coastal Carolina. Maybe Saban keeps takes his foot off the gas against his former assistant. Or, maybe it's just another joyless crimson bloodbath.
Alabama 62 Louisiana 10
Florida at Mississippi State (-7.5)
Michael: Here's another game I love this week. Florida coming off a beatdown of a bad Tennessee team that turned it over six times and Mississippi State coming off a bad loss against a Kentucky team that doesn't match up physically with them. That's a perfect recipe for line overreaction and that's what's been delivered. Mississippi State should be favored by double digits in this one based solely on the personnel of both teams but add in the extra energy of the players and crowd based on the unique circumstances of this one and the Gators will be walking right into a buzzsaw come Saturday night in Starkville. If Mississippi State doesn't play like a pissed off team with something to prove in this one, they might as well cancel the season come Sunday. Hail State wins big in this one.
Mississippi State 35 Florida 17
Chris: The Prodi-Mull Son returns to Starkvegas in a game both teams desperately want, and need, to win. I feel like this line is way lower than it should be because of each team's respective performance last week. Miss St got boat raced in Lexington, but still comes into this game ranked 15th in the S&P Rankings and 9th in Vegas' Power Rankings. Florida's defense looked a lot different with the return of Jefferson and Reese. However, we saw what a mobile QB did against this team when they played Kentucky. And, Terry Wilson is nowhere near as good as Nick Fitzgerald. I like Miss St to cover, but the real play is the under.
Mississippi State 24 Florida 13
Ole Miss at LSU (-12)
Michael: I liked this line better at opening when it was at Ole Miss +13.5 but I think I'll stick with the Rebels in this one. It would be impossible to not be impressed with what the Tigers have done this season but the two biggest wins of the season have come against overrated teams in Miami and Auburn. The perception of LSU as an elite top 10 team may be a bit overblown at the moment based on the reputation of their resume — which is arguably the best in the nation at this time. When you factor in injuries to LSU's offensive line and the lack of a pass rush displayed in the Louisiana Tech game (the Tigers got two sacks on Tech's 52 pass attempts) that could be a real issue in this one. If Jordan Ta'amu has time to throw the ball, he's going to put up points on this defense. Ole Miss may not be able to stop LSU's ground game but I feel fairly confident in this one being close into the fourth quarter.
LSU 31 Ole Miss 27
Chris: This is the most confusing game of the week for me. LSU is undefeated and ranked 5th in the country vs. an Ole Miss' team and a defense that is weaker than Hugh Freeze's iPhone passcode. AND, it's an 8 PM kickoff in Death Valley. So, why does this line keep moving in favor of Ole Miss? Like square feet math and most of the words Ed Orgeron speaks – I just don't understand it.
LSU's offense has been less than impressive, but that would almost have to change against this porous Rebels D. I'll take Coach Oeux and the Tigahs.
LSU 34 Ole Miss 21
Arkansas vs. Texas A&M (-21) — Game in Arlington
Michael: I'm rolling with another big dog here as Arkansas showed me something in last weekend's loss to Auburn. The Razorbacks played better on both sides of the ball outside of a handful of plays that defined the game and if the special teams unit would have shown up, there's a chance Arkansas could have been even more competitive against the Tigers. I'm also a big believer in Alabama taking a toll on most teams, as we saw with Ole Miss last week against Kent State, I'm expecting Texas A&M to still be hurting coming off an incredibly physical game against the Crimson Tide. Don't be surprised to see the Razorbacks draw up some trick plays in this one to keep the Aggies on their heels. This will be the first game for Chad Morris against his alma mater and the fact that he often refuses to say the school's name in public settings should tell you how personal this one is for him. I like the Razorbacks to keep this one close but fall in the end.
Texas A&M 28 Arkansas 24
Chris: Arkansas comes into this game in the midst of a dogfight for sole ownership of last place and biggest trainwreck in the SEC this year. The Hogs showed signs of life last week in their 31-3 loss to Auburn though. They outgained the Tigers by 65 total yards, and they only allowed 91 yards rushing as well.
A&M dropped out of the Top 25 last week, but moved into the #1 Spot in the Moral Victory Power Rankings (just ask their fans). The Aggies have been a pleasant surprise, and should undoubtedly win this game. They're 4-0 ATS this year while Arkansas is 0-3. I'm gonna fade both those trends since this game has been won by double digits just once in the last 5 years.
Texas A&M 41 Arkansas 23