SEC
SEC QB Power Rankings, Week 1: It's Mac Jones' time at Alabama, but Bryce Young's is coming
Quarterbacks: There are a lot of them! Each week throughout the season, SEC QB Power Rankings will help you keep the game's most important position in perspective by ranking the SEC starters 1-14 according to highly scientific processes and/or pure gut-level instinct.
1. KJ Costello, Mississippi State
KJ Costello facts: He was born and raised in California, he broke Carson Palmer's high school passing records at Santa Margarita Catholic, and earlier this year he became the first person ever with a bachelor's degree from Stanford to opt for grad school in Starkville. (Feel free to fact-check that last one.) In the absence of any clearly established stars among returning SEC starters, he also begins the season as the best bet to separate himself from the pack.
Admittedly, that has as much to do with the prolific track record of Mike Leach's Air Raid attack than it does with Costello's tenure as the starter at Stanford, which ended prematurely due to injuries and ineffectiveness in 2019 as the Cardinal offense collapsed in a heap. Still, he was considered one of the most sought-after players on the grad-transfer market last winter for a reason: He started out as a major recruit, he was arguably the best quarterback in the Pac-12 in 2018 (his only full season as a starter), and he remains very much on the radar of pro scouts hoping to see a return to his sophomore form.
He purposefully chose to follow Leach to Mississippi State after seeing his system up close — Leach's Washington State teams were 4-0 vs. Stanford in Costello's years there, including a 41-38 shootout in 2018 in which Costello threw for 323 yards and 4 TDs in a losing effort — and he'll be the most highly-touted QB in Leach's offense since Tim Couch at Kentucky in the late 1990s.
Plenty of other variables figure into that equation, too, including Costello's health (his issues last year began with a concussion) and the status of the surrounding cast. But as long as he remains upright, the basic premise of the arrangement and the gonzo stat lines that come with it should translate just fine.
– – –
(Last week: N/A)
2. Mac Jones or Bryce Young, Alabama
It's a lot easier to cast Jones as a mere placeholder in this race than it should be. He looked like the real deal at the end of last season in his audition to succeed Tua Tagovailoa. Yes, there was the one legitimately bad interception in the Iron Bowl loss to Auburn, in addition to the fluky one that everyone remembers; otherwise, though, he didn't miss a beat, finishing the year with 14 TDs to 3 INTs, a stellar efficiency rating (186.8), and a handful of highlight-reel throws. The offense continued to roll in his 3 FBS starts, hanging 48 points on Arkansas, 45 on Auburn, and 35 on Michigan in the bowl game.
So it's no surprise that Jones is atop the depth chart for Saturday's opener at Missouri, and it won't be a surprise if he stays there for the rest of the year. Hell, he could very easily turn out to be the best quarterback in the SEC.
That said … when a talent as hyped as Young is involved, it's usually safe to assume it's a when-not-if situation. Young may not be as far along at this point as he'd hoped after missing out on spring practice due to the pandemic. But he will likely command plenty of reps in blowouts, and once he's up to speed it's easy to imagine a point at which – a la Tua in his freshman season in 2017, or Trevor Lawrence in '18 – his potential is just too obvious to ignore. As a rule, this generation of 5-star quarterbacks does not sign up to wait their turn.
Of course, if Young is destined to supplant Jones this year, ideally it will be on the Lawrence timeline, a month or so into the season, rather than at halftime of the dang national championship game. Jones' performance will obviously have a lot to do with that, especially in an Oct. 17 date with Georgia that will test his viability against a Playoff-caliber defense. If he passes, he'll likely be entrenched for the long run. If not, expect the torch to be passed sooner rather than later (if hasn't already by then). As usual when it comes to Alabama position battles, this is a good problem to have.
– – –
(Last week: N/A)
3. Kyle Trask, Florida
Before Feleipe Franks' season-ending ankle injury last September, Trask's college career was on schedule to end just like his high school career: With Trask sitting all 4 years behind a more touted starter. Once his opportunity arrived, though, he seized it, emerging as a steadier hand behind center than Franks had ever been, and eventually as Florida's most productive quarterback since Tim Tebow for a top-10 team that clinched an 11-win season in the Orange Bowl.
That may not be enough to make him a coveted prospect at the next level — although it might, depending on whom you ask — but it does make Trask the entrenched starter going into a new season for the first time since he started playing organized football. The Gators' chances of surpassing Georgia in the East hinge largely on Trask's arm and decision-making, both of which inspire significantly more confidence than anyone at this time last year could have guessed.
– – –
(Last week: N/A)
4. Kellen Mond, Texas A&M
At this point in his career, Mond is who he is: A talented but inconsistent passer who's unlikely to make a great leap forward as a senior. But it would be nice if he had a little more help from his surrounding cast. Mond accounted for 2/3 of A&M's total offense in 2019, the 2nd-highest individual share in the SEC behind only Joe Burrow, and for an astounding 86% of the total in the Aggies' 5 losses — a direct result of both a) an anemic ground game vs. upper-crust defenses, and b) big deficits in each of those games that forced the offense to abandon the run altogether and rely almost solely on Mond's arm after halftime.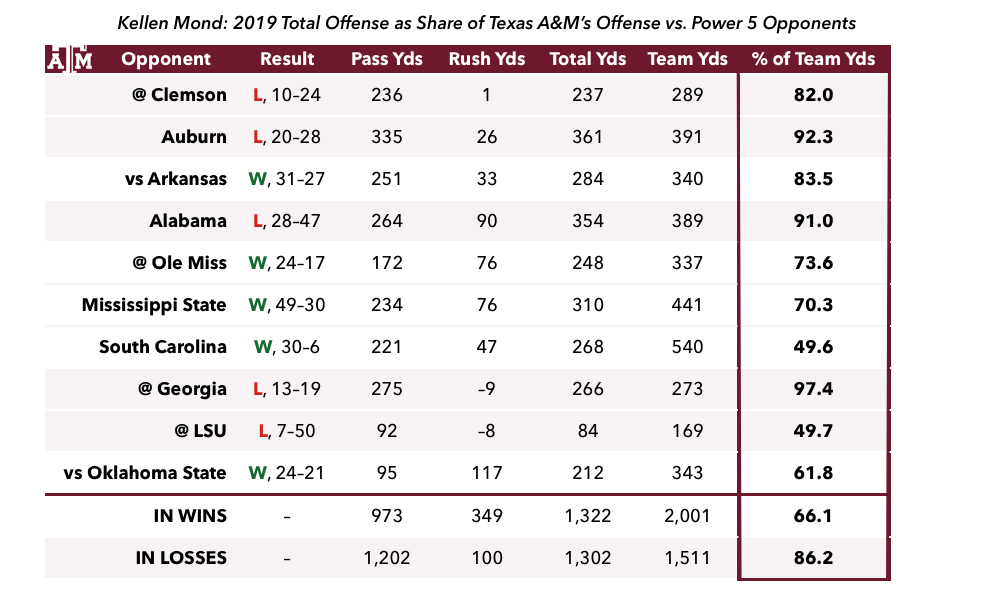 Jimbo Fisher's offense isn't designed for that level of imbalance, and the outlook on that front isn't much better in 2020. The top 4 wideouts in last year's rotation are all out of the picture, having either declared early for the draft (Kendrick Rogers, Quartney Davis), opted out of the season (Jhamon Ausbon), or been ruled out due to injury (Camron Buckley). The remaining receivers who saw the field combined for all of 6 receptions. Sophomores Isaiah Spiller and Jalen Wydermyer flashed as true freshmen at running back and tight end, respectively, but almost everyone else who'll touch the ball this season will be new. Maybe somewhere in that cast there's an unsung star in the making. More likely, Mond is on the hook for more of the same.
– – –
(Last week: N/A)
5. Bo Nix, Auburn
Year 1 of the Bo Nix era at Auburn opened on a high note, with a dramatic, last-second win vs. Oregon in the season-opener, and closed on even higher one – a 48-45 triumph over Alabama in an instant-classic edition of the rivalry. Everything in between? Well … let's just say beating Bama as a true freshman tends to render everything else kind of a blur.
There were other glimpses along the way of the potential that made Nix a 5-star recruit. He looked the part in blowout wins over Mississippi State and Arkansas. He quickly resolved his early turnover issues, going INT-free after Halloween, and was the coaches' choice in December for SEC Freshman of the Year. As a team, Auburn improved on its dismal 2018 scoring average in SEC play by a solid 9 points per game. Still, the overall picture was one of a work very much in progress, especially against the top half of the schedule. Nix turned in his worst outings in losses to Florida, LSU and Georgia, and ultimately finished in bottom half of the league in completion percentage, yards per attempt and overall efficiency.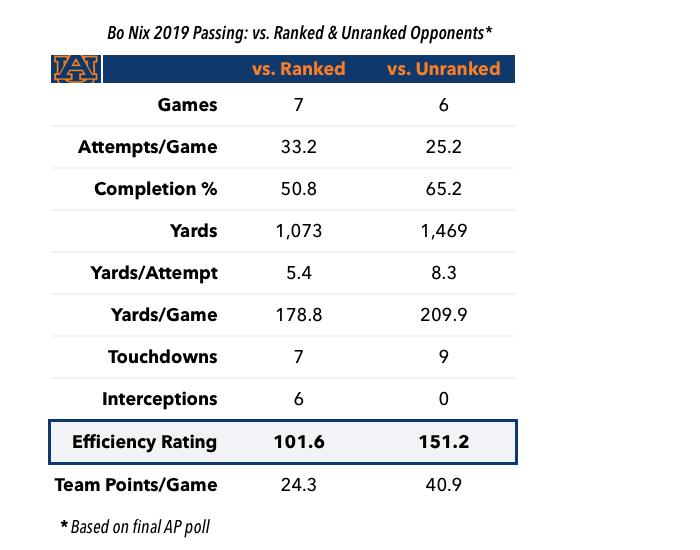 Par for the course for a rookie, even one as hyped as Nix. But the prospect of a sophomore surge comes with a caveat, too: Just how high is the ceiling as a long-term starter? On the optimistic side, Auburn fans have every reason to expect the light to come on sooner rather than later – it's easy to imagine an older, more confident Nix emerging from the pack in Year 2 as one of the SEC's savviest and most efficient passers. Athletically, though, the jury remains out. For a blue-chip prospect, there wasn't much beyond the numbers that pointed to a vast reserve of untapped, next-level talent. Surge or no surge, there's a good chance that the version of Nix the Tigers get in 2020 is essentially the finished product.
– – –
(Last week: N/A)
6. JT Daniels or D'Wan Mathis, Georgia
It's probably unfair to say the Bulldogs had given up on Mathis as a viable contender to replace Jake Fromm, but they certainly weren't counting on him. In fact, for most of his first year on campus, it was unclear whether he would ever play football again after undergoing emergency brain surgery in May 2019 to remove a cyst; he subsequently sat out all of last season and wasn't officially cleared for contact until February — just in time for a spring session that was abruptly canceled. By then, Fromm was well on the way out for the draft and Georgia had already added its presumptive 2020 starter, Wake Forest transfer Jamie Newman, who spent the offseason being talked up as a dark-horse Heisman candidate. With the addition of Daniels, a redshirt sophomore with 3 years of eligibility remaining and his choice of transfer destinations, as well as true freshman Carson Beck, Mathis was beginning to look like the odd man out in the team's long-term plans.
As the season looms, though, the best-laid plans have given way to a situation in which Mathis has emerged as both the sentimental and practical favorite to start Saturday's opener at Arkansas. Newman opted out of the season at the start of the month; meanwhile, Daniels, although he has practiced in a limited capacity, has yet to be cleared for full contact on the surgically repaired knee that cost him the entire 2019 campaign at USC. His status could be a game-time decision, or it could turn out that the decision has already been made in favor of Mathis, who has reportedly come on strong in recent practices while taking a majority of the first-team reps.
One way or the other, there is some urgency to settle on the best available option and get him up to speed as quickly as possible. No one is sweating a trip to Fayetteville, but on the other side of that is a 3-game stretch against Auburn, Tennessee and Alabama that offers no margin for a learning curve.
– – –
(Last week: N/A)
7. Myles Brennan, LSU
For a guy who's been in the fold as long as he has, Brennan remains a remarkably blank slate. After 3 years backing up Danny Etling and Joe Burrow, Saturday's trip to Mississippi State will not only mark his first career start: It will be his first notable action outside of garbage time.
Fortunately for him, the pressure of following Joe Burrow is mitigated somewhat by the fact that no one in their right minds expects him to look anything remotely like Joe Burrow. Burrow so thoroughly demolished the existing standard for LSU quarterbacks that what would have been considered a banner season a year ago now qualifies as a significant drop-off. Imagine, for example, that Brennan throws 30 touchdown passes, am ambitious but plausible mark that no Tiger QB had ever hit prior to 2019; now, that same number will only get him halfway to Burrow's insurmountable record (60 TD passes in a single season still blows my mind. 60!). A high bar looks mediocre by comparison.
It doesn't help Brennan's case, either, that rest of the starting offense is also brand new outside of WR Terrace Marshall Jr. and LT Austin Deculus. Factor in the departure of passing-game savant Joe Brady for the NFL, and the preliminary needle is pointing to "average SEC starter." We'll have a clearer idea of which direction it's moving and how quickly soon enough.
– – –
(Last week: N/A)
8. Feleipe Franks, Arkansas
At Florida, Franks almost always came out looking better on paper than his erratic reputation suggested, and although he was clearly the odd man out after last season, he represents an obvious upgrade to what has been the league's most consistently depressing position over the past 2 years. Under Chad Morris, the Razorbacks churned through 8 starters who collectively went 4-20 overall and 0-16 in the SEC. By contrast, landing a former blue-chip recruit who oversaw a 13-3 record with the Gators in the same span was a major coup.
At 6-6, 228 pounds, Franks is an automatic NFL prospect with the raw arm strength and baseline athleticism to back it up. His decision-making and accuracy, on the other hand, leave a lot to be desired. His last coach, Dan Mullen, deserves credit for rehabbing a guy who looked broken at the end of his redshirt freshman campaign in 2017 into a viable starter whose upside remained intact; at the same time, Franks' inability to unlock that potential with any kind of consistency was maddening. He's yet to throw for 300 yards in a game, and only 52 of his 354 career completions have gone for 20+ yards.
Downfield opportunities should increase at Arkansas, if only out of necessity as he's likely to spend much more of his time in comeback mode. Sophomore wideouts Treylon Burks and Trey Knox had their moments as true freshmen despite the black hole behind center and look like solid breakout candidates with the benefit of a real QB. That's a standard Franks can definitely meet, in a situation where it will definitely be appreciated.
– – –
(Last week: N/A)
9. Jarrett Guarantano, Tennessee
Guarantano survived an emotional roller-coaster of a 2019 season — a wild ride in which he was demoted, scapegoated, chewed out on national TV, and finally restored to the top of the depth chart in the midst of a 6-game winning streak that restored optimism to the program, all in the span of a few weeks. More than once in the course of that journey it looked like he'd taken his last snap as a Vol; instead, thanks to the NCAA's decision to grant a blanket waiver of eligibility for 2020, he could conceivably hold down the job for 2 more years.
First, of course, he has to survive 2020, no minor feat considering the renewed expectations based on the way last year ended and the potential backlash if that momentum fails to carry over. Guarantano is a 5th-year senior with 25 career starts; he is who he is, which at this point in his career is a guy who's rarely going to light up the stat sheet — in 3 years in and out of the lineup, he has yet to pass for 200+ yards in consecutive games — and who remains prone to imploding at inopportune times. It's possible he would not have regained his job last year if his understudy, Brian Maurer, hadn't been repeatedly bounced from the lineup by injuries, and with Maurer and 4-star freshman Harrison Bailey waiting in the wings, Guarantano could be subject to another quick hook. If he has turned a corner, he doesn't have long to prove it.
– – –
(Last week: N/A)
10. Matt Corral or John Rhys Plumlee, Ole Miss
Possibly no one stood to lose more from the decision to fire head coach Matt Luke last December than Plumlee — not because of Luke, but because it also meant the departure of OC Rich Rodriguez, whose spread-to-run philosophy fit Plumlee's game like a glove. An afterthought at the start of the season, he wasted no time establishing his explosive rep, quickly supplanting Corral as the starter and finishing as both the SEC leader in rushing yards per game and the only true freshman nationally (at any position) to crack 1,000 yards rushing. Even more promisingly, the majority of that output came against Alabama, Missouri, Auburn and (most memorably) LSU.
https://twitter.com/ESPNCFB/status/1195889834763550720?s=20
As a sophomore, though, just what Plumlee's role will look like in transition from Rodriguez's offense to Lane Kiffin's is an open question. Ominously, the list of dynamic, one-dimensional athletes behind center who have seen their production plummet post-Rodriguez is a distinguished one: At his previous stops, Pat White (West Virginia), Denard Robinson (Michigan) and Khalil Tate (Arizona) all became household names under RichRod, only to fade quietly back into their surroundings as soon as he was gone. And although Kiffin himself has made hay in the past with the likes of Blake Sims and Jalen Hurts, his biggest success as a play-caller has come on the arms of traditional pocket guys like Matt Leinart and Matt Barkley.
Corral, despite being a Southern California native named Matt, is hardly in that class. But his skill set is a better fit for a scheme that emphasizes pushing the ball downfield, and he's reportedly capitalized on a minor injury to Plumlee by taking command of the job in preseason camp. The official depth chart for Saturday's opener vs. Florida doesn't designate a starter, leaving open the possibility that both will play as they did for much of last year. Unlike last year, this time around it appears Corral will play the central role with Plumlee relegated to the change of pace.
– – –
(Last week: N/A)
11. Terry Wilson, Kentucky
Incredibly, the Wildcats are still waiting for the SEC's verdict on Auburn transfer Joey Gatewood's status more than 9 months after he announced he was joining the team. If Gatewood is cleared to play – and it's hard to imagine why he wouldn't be, unless Auburn is actively obstructing his eligibility ahead of Saturday's opener – he's a candidate for immediate playing time on raw talent alone.
In the meantime, the job falls to Wilson, who missed nearly all of last season to injury after going 10-3 as a starter in 2018. In many ways Wilson was regarded as an afterthought in that run, if not a liability – he attempted fewer passes per game than any other full-time SEC starter for a unit that ranked 12th out of 14 teams in both total and scoring offense. He's not about to break any records with his arm.
Then again, as Kentucky proved last year when it all but abandoned the forward pass over the second half of the season, a savvy, athletic QB in a scheme built around his strengths can go a long way. Wilson isn't in the same category as a runner as the immortal Lynn Bowden Jr. – who is this side of Lamar Jackson? – but he's certainly enough of a threat to allow the offense to continue to do what it did best last season after Bowden made the full-time switch from receiver, with the added bonus of expanding the passing game from "barely existent" to "sometimes functional."
https://twitter.com/WildcatTDs/status/1038637201544957953?s=20
Just enough of that to earn opposing secondaries' respect and UK's vastly underrated o-line will handle the rest.
– – –
(Last week: N/A)
12. Shawn Robinson, Missouri
Robinson has some starting experience to his credit at TCU, where he started seven games as a sophomore in 2018 before his Horned Frogs tenure was derailed by injury. At Mizzou, he's only been a bystander due to NCAA transfer rules that kept him on ice for all of 2019. Athletically, he compares favorably to last year's primary starter, Kelly Bryant, but after watching the Bryant experiment go gradually sideways over the second half of the season, it's probably best to reserve judgment until there's actually something to judge.
– – –
(Last week: N/A)
13. Collin Hill, South Carolina
It remains to be seen just how committed the Gamecocks are to Hill, a grad transfer via Colorado State who followed his former head coach, Mike Bobo, to Carolina over the offseason. But his surprise promotion over sophomore incumbent Ryan Hilinski is obviously not an encouraging sign for Hilinski's growth. Despite his well-documented struggles last year as a true freshman, Hilinski is a blue-chip talent who is, or was, still seen as the future of the program. Instead he's already lost ground to Hill, who initially seemed less like a threat to Hilinski's job than a veteran insurance policy after suffering 3 ACL tears in 4 years at CSU. In his 11 career starts in Fort Collins, the Rams went just 3-8, with 2 of those 3 wins coming vs. FCS opponents.
It's always possible that Hill vindicates the decision by playing well, or that Hilinski reasserts himself as the starter. It's also possible that both are only keeping the seat warm for true freshman Luke Doty, a top-100 prospect who has split time between quarterback and wide receiver in the preseason in an effort to get on the field as quickly as possible, but whose long-term home is behind center. Who knows how his role will ultimately unfold. But even flirting with the prospect of one true-freshman starter passing the baton to another one in consecutive seasons before the season has even started cannot be good.
– – –
(Last week: N/A)
14. TBD, Vanderbilt
The Commodores were bereft at quarterback in 2019 and opted to start over from scratch with a QB-heavy recruiting class featuring two high-school signees (Ken Seals and Mike Wright) and a pair of JUCO transfers (Jeremy Moussa and Danny Clark) for good measure. There was very little separation among the new arrivals as recruits – all four were tabbed as generic 3-stars – and there's no sign of a consensus favorite heading into the opener vs. Texas A&M. Not that it really matters: If last year's revolving door is any indication, all of them can expect to get their turn in due time.
– – –
(Last week: N/A)
Cover image: Stanford-to-Miss State transfer KJ Costello, Mac Jones, Kyle Trask, Myles Brennan and Kellen Mond via USA Today.