SEC
The Ultimate SEC Championship Preview: Alabama will score. How long can Florida keep up?
Alabama is heavily favored, but you can get +400 odds for Alabama to just win the game with DraftKings exclusively through SDS. It's an awesome opportunity for new users. Learn more here.
Everything you need to know about Saturday's SEC Championship Game between Alabama and Florida.
Well. This doesn't quite have the same energy as we expected, does it?
We thought we had a deal here. Alabama in vintage form. Florida ascendant. Two unstoppable offenses. A couple of legitimate contenders on a roll. Playoff at stake. Heisman at stake. Winner take all, etc. A right proper showdown to cap a helter-skelter season.
Now? Different deal. Bama held up its end, arriving in Atlanta without a blemish or even an especially close call, having outscored its 10 opponents by 32.7 points per game, the widest margin in the country. But Florida's loss to LSU – to the ghost of LSU, really, the same deflated, depleted remnant of a team the Crimson Tide had just left for dead in Baton Rouge a week earlier – abruptly cast this weekend's proceedings in a different light. A 9-1 team riding a 7-game winning streak is an easy sell; an 8-2 outfit coming off an inexcusable home loss is another story entirely. Rather than as contenders, the Gators limp in as wildcards, spoilers, and heavy underdogs. (The point spread has held steady all week at Alabama -17.) And rather than the high-stakes showdown that has loomed for the past two months, the title game looks more like what it has often been over the past decade: A Bama coronation.
Click here to get +400 odds on Alabama to win the SEC Championship Game with SDS and DraftKings Sportsbook.

DRAFTKINGS SPORTSBOOK APP
States: MI, NY, NJ, PA, CT, AZ, CO, IL, IN, IA, MD, NH, TN, VA, WV
Strictly speaking, there is still a glimmer hope outside the Yellowhammer State that it doesn't have to be that way. Florida's dream season is not actually dead yet: The Playoff committee merely sniffed at the loss to LSU, dropping the Gators from sixth to seventh in its weekly Top 25 and thereby leaving them within more plausible striking distance of a Playoff slot with an upset than most of us assumed in the immediate aftermath of Marco Wilson's instantly infamous shoe toss. Kyle Trask dropped in the Heisman straw polls after committing 3 turnovers in the loss, but clearly remains a viable candidate with a star turn in a win. Freak show tight end Kyle Pitts is reportedly 100% after sitting out last week due to an unspecified injury. The paths back to national relevance still exist.
Even with a win, though, which is a long shot to begin with, many of the paths likely lead to dead ends. Alabama appears to be a holy lock for the Playoff, win or lose, along with the winner of the ACC Championship Game and, presumably, Ohio State. (The Buckeyes are three-touchdown favorites over Northwestern in the Big Ten title game, which is possibly generous to Northwestern.) To have any shot at the fourth and final ticket, Florida will almost certainly need Notre Dame, a 10.5-point underdog vs. Clemson, to deal the Tigers their second loss just to enter the discussion. And should it happen, that discussion will also include potentially unbeaten Cincinnati; potentially unbeaten USC; the winner of the Big 12 Championship Game between Oklahoma and Iowa State, which currently sits 1 spot ahead of the Gators in the committee rankings; and a potentially 8-1 Texas A&M outfit that beat Florida head-to-head in October. That's the best-case scenario, and only if the Gators pull off what would be easily the biggest upset in SEC Championship history.
The more likely scenario is closer to what the point spread predicts: A decisive Bama win that entrenches the Tide as the No. 1 seed, propels either Mac Jones or DeVonta Smith to the Heisman, and serves as a sobering measuring stick for Florida as it transitions into the Playoff-or-bust phase of Dan Mullen's tenure. A week ago, the Gators would have deserved more of the benefit of the doubt, regardless of the spread. Maybe they still do. But now it's up to them to prove it all over again.
When Florida has the ball


Rumors of Alabama's defensive demise earlier this season were greatly exaggerated, albeit for perfectly good reasons. In October, Ole Miss lit up the Tide for an incredible 647 yards, the most ever allowed by a Bama defense, in the highest-scoring regulation game in SEC history. The following week, Georgia racked up 268 yards and 24 points in the first half alone, most of that output coming on the arm of UGA's pedestrian, soon-to-be-benched QB, Stetson Bennett IV. At that point, in light of modest but sustained declines over the previous two years, the forecast seemed clear enough: This team's championship hopes rested with the offense.
From that point on, though, Bama's defense has looked like … well, like Bama's defense, as if all it ever needed was a quick reset in the locker room. The Tide pitched a second-half shutout against Georgia, forcing a pair of key turnovers in the process, and have subsequently allowed fewer touchdowns over their last 6 games (5, including garbage time) than Ole Miss scored back in October all by itself: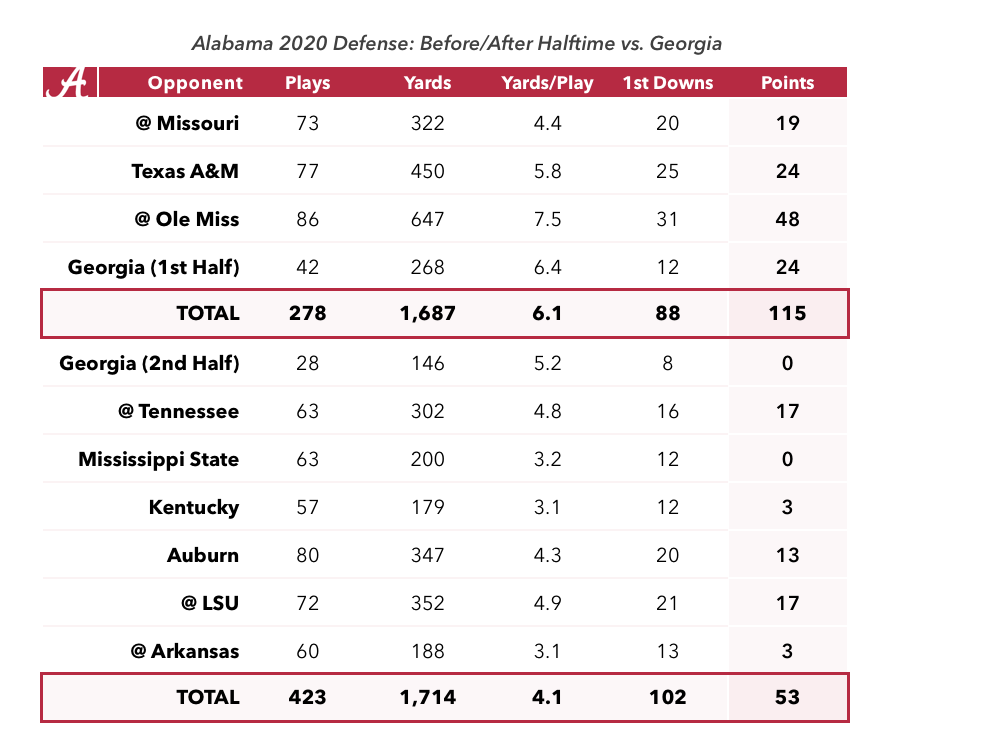 Like clockwork, second-year coordinator Pete Golding's unit comes in at or near the top of the SEC rankings for the season in almost every major category, including scoring defense (1st), total defense (3rd), rushing defense (3rd), pass efficiency defense (1st), takeaways (tied for 1st) and yards per play allowed (1st). Nature is healing, as they say.
Now, just how relevant is that turnaround opposite a passing attack as consistent, diverse, explosive as Florida's? Very much to be determined. The Gators have reliably hit their marks against the best defenses on the schedule, hanging 38 points on Texas A&M and 44 on Georgia, and haven't come close to being shut down anyone else; even in the loss to LSU, frustrating as it was, Florida put up 609 yards on a healthy 8.2 per play, its best totals since the season-opening win at Ole Miss. If there's any remnant of the Bama D that was set ablaze in Oxford that remains vulnerable, this lineup has the weapons to exploit it.
That begins, of course, with Trask, an unflappable, hyper-efficient pocket type who has left the "overachiever" label in the dust as a senior with a school-record 40 touchdown passes in 10 games — 10 more than any other FBS quarterback this season, and, at four TDs per game, slightly ahead of the furious pace set by Heisman winner/box score legend Joe Burrow through the end of the regular season last year. Statistically, Trask has been stellar across the board, also ranking among the top 10 nationally in completion percentage, yards per attempt, overall efficiency and Total QBR. What really gives opposing defenses headaches, though, is the sheer number of options at his disposal: Eleven different players are over 100 yards receiving on the year, seven of whom have multiple touchdowns and all but one of whom (the leader in both receptions and yards, senior Kadarius Toney) is a former 4- or 5-star recruit. On every snap, the Gators boast big, blue-chip targets on the outside (Trevon Grimes, Jacob Copeland and Justin Shorter) who excel in out-muscling smaller DBs along the sidelines; a versatile, all-purpose threat in the slot (Toney); a reliable rotation out of the backfield (Malik Davis, Dameon Pierce, and Nay'Quan Wright) whose contributions as receivers function as an extension of the running game; and, when healthy, the most unique downfield talent in the college game in Pitts, a 6-6. 240-pound matchup nightmare who averages 17.8 yards per catch and accounts for a first down or touchdown on an SEC-best 64.2% of his targets.
Pitts is a difference-maker well beyond his stat line. He was visibly miffed on the sideline last week after being ruled out of the LSU game just before kickoff, and his absence was sorely felt in the red zone, where Florida came up empty on two of its eight trips and had to settle for field goals on two more. With his most gifted target on ice, the night was a mixed bag for Trask. On one hand, he finished with a career-high 474 yards and 2 touchdowns on 10.1 per attempt; on the other, he turned in season lows in terms of efficiency (151.9) and QBR (64.9) against a thoroughly depleted secondary. And while 1 of his 2 interceptions against the Tigers can be dismissed as a fluky deflection, the other was without a doubt his costliest mistake of the season:
Five-star freshman Eli Ricks with the pick-six pic.twitter.com/8W9ThP3ss3

— Rivals (@Rivals) December 13, 2020
Gators fans would prefer to write that off as an uncharacteristic lapse, and for the time being, they can. Meanwhile, Pitts' return to the lineup poses the same problem for Alabama that he's posed for everyone else: Who is supposed to cover this guy? Strictly from a size/athleticism standpoint, junior CB Patrick Surtain II may be the ideal specimen for the job — at 6-2/202, he's filled out into the kind of long, physical corner NFL scouts covet in press coverage, and he enters the weekend as the highest-graded DB in the nation according to the film-eaters at Pro Football Focus. (He's also 1 of 5 finalists for the Nagurski Trophy, awarded to the nation's top defensive player.) That has the makings of a grown-man battle, especially in goal-to-go situations where Florida does its best to get Pitts on an island. But Surtain is primarily an outside corner, whereas Pitts operates mainly as a traditional tight end or H-back, and Bama can use all the size it can muster opposite Grimes (6-4/218), Copeland (6-0/203), and the ironically named Shorter (6-5/225), too. True freshman Malachi Moore is a rising star in the nickel role, but at 6-0/182 can hardly be expected to hold his own against Pitts in single coverage.
More likely, the job of running with Pitts downfield will fall largely to the safeties, Jordan Battle and Daniel Wright, goats of the Ole Miss game and arguably the most improved defenders this side of the post-Georgia divide. Moore and the linebackers can do their part to make Pitts' life difficult underneath, particularly in preventing him from getting a clean release off the line, which they did not do vs. the Rebels' Kenny Yeboah. Over the top, though, they have their work cut out for them, to say the least.
Key matchup: Florida OT Jean Delance vs. Alabama DL Christian Barmore
Delance, a senior transfer from Texas, has been a mainstay for the Gators at right tackle, logging 23 consecutive starts over the past 2 years. He's also become the resident whipping boy, frequently singled out as the weak link on an injury-plagued front: Per PFF, he's posted the lowest pass-blocking grade among Florida's regulars while allowing at least 3 QB pressures in every game this season, including a brutal afternoon against Georgia in which he allowed 7. Against LSU, Delance and RG Stewart Reese were both benched after combining to allow a strip sack just before the half that set up an easy LSU field goal as time expired. Still, the updated depth chart for this weekend lists them back among the projected starters.
The last guy a struggling offensive lineman wants to see on the other side of the line right now is Barmore, an aspiring first-rounder who is living up to the preseason hype lately with 4 sacks and a forced fumble in the last 3 games.
Christian Barmore: DT1

So many NFL teams need a disrupter like him in the middle of their DLpic.twitter.com/h9Bsdp1tU0

— Kev Mahserejian (@RotoSurgeon) December 12, 2020
Technically, Barmore is a backup, having come off the bench in all but 2 games; in fact, he's the most disruptive member of the d-line rotation, a 6-5, 310-pound, Marcell Dareus type who looks like a war daddy but still has the capacity to rev it up as a pass rusher. Along with outside 'backers Christopher Allen and Will Anderson Jr. off the edge, he poses an enormous problem (literally) for quarterbacks on the most basic level of setting their feet in the pocket and surveying the field. Nothing the Tide can do on the back end can limit the Gators' downfield success as effectively as a rush that consistently forces Trask off his spot.
When Alabama has the ball


It's a testament to the abundance of Alabama's offense as a whole that a talent like Najee Harris qualifies as the third wheel. In a different era in Tuscaloosa — say, 2015 — he would have been the headliner: A 6-2, 230-pound workhorse on the nation's No. 1 team who passed on the draft and lived up to the hype as a senior is straight out of central Heisman casting. Through 10 games, Harris has topped 100 scrimmage yards in 8 of them, logged more touches than any other player in the SEC, and scored more touchdowns than all but one other player nationally. Even if he's not quite the most prolific running back in the country on the stat sheet, he's certainly the one who comes closest to the platonic ideal of an RB you usually only see in Create-a-Player mode in the old NCAA Football video games.
Still, in the context of this attack, Najee is often relegated to The Other Guy. The Main Guy, at least for most of the season, is/was QB Mac Jones, the national leader in yards per attempt, pass efficiency and QBR, and according to most oddsmakers still the actual Heisman front-runner entering the final weekend to make an impression on voters. Still, it must be specified, because the distinction could just as well apply at this point to Jones' favorite target, WR DeVonta Smith, who has rocketed up the charts in the weeks since Jaylen Waddle's season-ending ankle injury at Tennessee left him as the main attraction for the first time in his decorated career. Smith has responded with gusto, hauling in 38 catches for 771 yards (20.3 ypc) and 11 touchdowns in the last 6 games alone.
In case you didn't know, Devonta Smith is ridiculously fast. pic.twitter.com/zr53vWef6D

— CBS Sports (@CBSSports) November 28, 2020
At this point in the season, countering an attack that's put up at least 41 points on more than 6.0 yards per play in every game is the definition of a "pick your poison" situation. Last week, Arkansas resolved to limit big plays and actually succeeded, holding Smith to a long gain of just 10 yards and the rest of the receivers to a long of just 23 by refusing to allow them to take the top off of the Razorbacks' umbrella zone; instead, Jones was content to work underneath to TE Miller Forristall (6 catches for 52 yards, both career highs), WR John Metchie III (5 for 72 yards) and slot WR Slade Bolden (4 for 43 yards) en route to a 38-3 halftime lead and a 52-3 final score fueled in part by turnovers and special teams (including Smith's 84-yard punt return for a TD). More aggressive approaches in the secondary, like Georgia's and LSU's, have fared worse.
Florida's defense under coordinator Todd Grantham is not an "umbrella zone" kind of operation. It's a notoriously blitz-happy, boom-or-bust unit that lives and occasionally dies by its aggression, often depending on the opposing quarterback. So far this year, the Gators have faced three QBs who might be broadly classified as "draftable": Ole Miss' Matt Corral, Texas A&M's Kellen Mond and Arkansas' Feleipe Franks; the rest of the schedule has consisted of borderline veterans with a tenuous grip on the starting job and no realistic pro potential (South Carolina's Collin Hill, Georgia's Stetson Bennett IV and Kentucky's Terry Wilson) and freshmen (Missouri's Connor Bazelak, Georgia's D'Wan Mathis, Vanderbilt's Ken Seals, Tennessee's Harrison Bailey and LSU's Max Johnson). The results speak for themselves: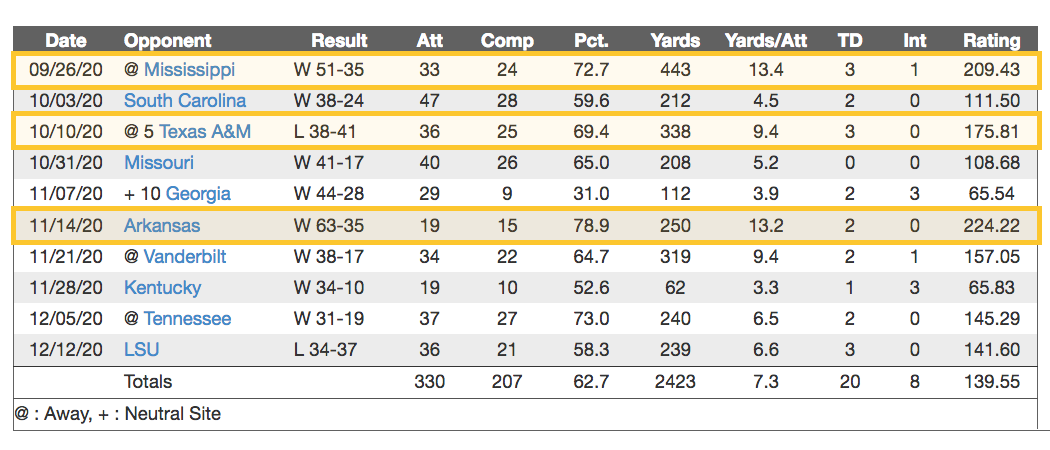 Two of the red-flag games, against Ole Miss and A&M, are distant memories by now, but the results in the meantime hardly amount to a Bama-like turnaround. LSU's first-time starter, Johnson, was named SEC Offensive Player of the Week for his role in last week's upset, and fellow freshman WR Kayshon Boutte burned the Gators for 108 yards and a touchdown on 5 receptions — making him the 5th opposing receiver this year to top 100 yards on 15+ per catch.
You're not going to find any particular category or matchup where Florida's defense (or just about any other defense, for that matter) has a notable edge on Alabama's offense, especially when Bama is putting the ball in the air. But the area that has the best chance of narrowing the gap is probably the pass rush, where DEs Zachary Carter and Brenton Cox Jr., a 5-star transfer from Georgia, have been among the SEC's more disruptive edge-rushing tandems all season. The Tide's starting tackles, future pros Alex Leatherwood and Evan Neal, aren't weak links by any means, and PFF recently graded Bama's o-line as a unit as 1 of the top 10 fronts in the country. But they're not impenetrable, either, having already allowed more sacks this year (14) than they did in all of 2019 (12), a number that doesn't include Georgia's pass rush forcing a turnover on the first play the game. If the Gators have a chance of holding the Tide relatively in check it will be by getting to Jones before the ball leaves his hands.
Key matchup: Alabama WR John Metchie III vs. Florida CB Kaiir Elam
Let's just go ahead and concede that DeVonta Smith is going to get his. The other side of the field is a closer call. Metchie hasn't exactly been quiet since Waddle's injury, pulling down multiple receptions in 4 of the last 5 games with 3 touchdowns in the same span. But the weekly explosiveness he flashed over the first half of the season hasn't been in evidence for a while: His yards-per-catch average over the last 5 games (11.6 on 19 catches) is less than half what it was over the first five (23.8 on 21 catches) on nearly the same number of opportunities.
With Waddle in the lineup, Metchie accounted for 7 receptions of 30+ yards, including a pair of long-haul touchdowns against Texas A&M and a 40-yard TD to kick off the scoring vs. Georgia. Without Waddle: Zero receptions of 30+ yards.
Elam, a true sophomore, is the only member of the UF secondary to start every game this season and accordingly has endured his share of ups – 13 passes defended, best in the SEC – and downs:
https://twitter.com/SECNetwork/status/1327770124288471041?s=20
Against LSU, Elam was singled out for PFF's National Team of the Week, one of the few bright spots on a disastrous night for the Gators on both sides of the ball. (And especially for his counterpart, Marco Wilson.) The secondary will have to take its victories where it can get them against the Tide, and as dangerous as Metchie can be on long balls limiting most of the damage to Smith's side of the field would qualify.
Special teams, injuries and other vagaries
Hang on: Does Alabama actually have a kicker? Nick Saban obviously thinks so, anointing homegrown sophomore Will Reichard "the best kicker in the country" earlier in the season, and the evidence backs him up: Reichard has yet to miss on field goals (11/11) or extra points (66/66), good for the nation's longest active streak across both categories without a miss. Bama fans have been burned too many times before to let their guard down now, but all signs point to Reichard — the consensus No. 1 kicker in the 2019 recruiting class out of nearby Hoover, Ala. — being the real deal.
Florida kicker Evan McPherson has a solid track record in his own right, having hit on 48/56 career attempts, but is coming off a devastating miss from 51 yards out as time expired against LSU that would have forced overtime. Altogether he's still an impressive 4/6 from 50+ yards on the season.
In the return game, DeVonta Smith and Kadarius Toney have each taken a punt back for a touchdown in the past 3 weeks, surprisingly accounting for the SEC's only punt return TDs this season. Possibly no two players in America are more electric with the ball in their hands – but only if their respective defenses can actually force a punt, and the opposing punter is foolish enough to give them a chance.
https://twitter.com/onlygators/status/1332753753414524928?s=20
On the injury front, Pitts' apparent return to the lineup leaves the biggest question mark surrounding Alabama's leading tackler, sophomore LB Christian Harris, who left the win over Arkansas with a shoulder injury; he's questionable for Saturday night, as is RT Evan Neal, who sat out the Arkansas game reportedly due to contract tracing after a backup lineman tested positive for coronavirus. Harris and Neal both remain listed as starters on the official depth chart.
Bottom line
Alabama's going to score a bunch. How long can Florida keep pace?
As improved as Bama's defense has been over the course of the season, the array of skill sets among the Gators' receivers presents a unique problem for any opposing defense, even one as talented as the Crimson Tide. Alabama can account for Pitts or Toney; accounting for both is a different problem. And if the answer involves Patrick Surtain moving into the nickel then it potentially leaves the Tide vulnerable on the corners. The comfortable, patient Trask we've seen most of the year has all the tools he needs and is not a good candidate to wilt under pressure.
But at least the prospect of Alabama's defense mounting sustained pressure is within the realm of plausibility. And if it becomes a reality Florida doesn't have much else to hang its hat on. The ground game exists largely to keep the defense honest, and the right side of its o-line is a liability. Bama has no such caveats or millstones. It can match the Gators' greatest strength, the downfield passing game, and raise them both a solid rushing attack on Najee Harris' shoulders and a top 10 defense.
In a game likely to involve just a few defensive stops, most of them will belong to the Tide. Until Florida can say the same this is as far as its ascent under Mullen can go.
– – –
Alabama 44, Florida 31

DRAFTKINGS SPORTSBOOK APP
States: MI, NY, NJ, PA, CT, AZ, CO, IL, IN, IA, MD, NH, TN, VA, WV